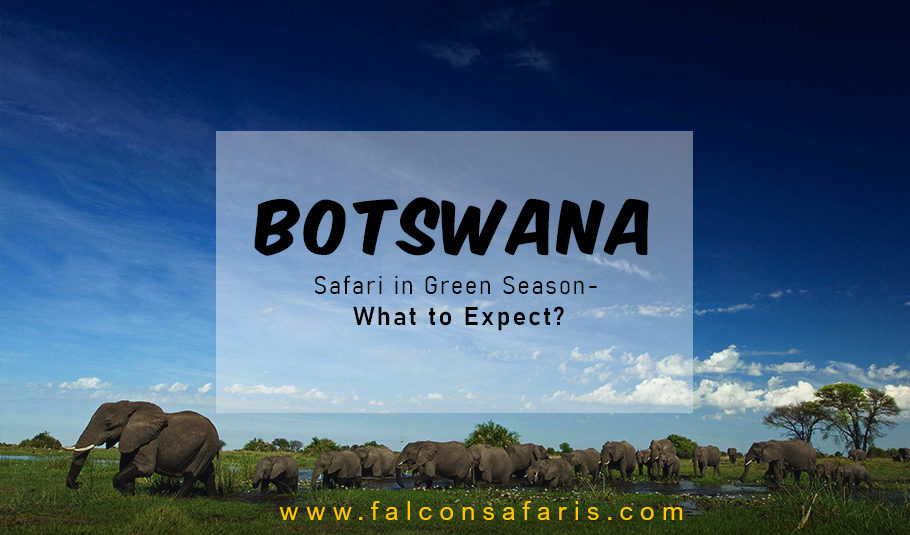 Many travelers around the globe are of the opinion that Botswana is one of the premier Safari destinations in Africa. This is the reason why inquisitive safari-goers often enquire 'When is the best time to go on Botswana Safari?
Traditionally, the dry season (June to September) was considered the best time to visit Botswana.
But, if you want to witness Botswana in a completely different light, then consider going in the green season. The green season is the low season which also means a substantial reduction in the prices of Botswana Budget Safaris. Indeed; Great news for those who are planning a Botswana Safari on a budget. Going forward with this blog we are going to tell you why Botswana in Green Season is the traveler's best-kept secret.
What is Botswana's Green Season?
The green season in Botswana is the specific period that falls in the warm rainy months. This is the summer months of roughly December through April.
The region experiences a high level of life-giving rainfall during this time. This helps in sustaining the ecosystem including all flora and fauna. Also, the arid landscape stays beautifully lush green throughout.
Rainfall generally indicates new life in Botswana. Most animals give birth to new offspring this time. Expect to observe new lives exploring the luscious green landscapes in Botswana.
Should I Go For Safari In Green Season?
The answer is definitely a 'yes'. You should definitely visit Safari in Botswana during the green season.
Generally, the peak season for visiting Botswana is from May to October (Dry/Winter Season) when the game viewing is the easiest. It's because of the sparse vegetation in winter; animals are easily sighted at shrinking waterholes or on riverbanks.
But the problem lies that the dry season has already been marketed so well that everyone knows about this. Moreover, the dry season in Botswana coincides with the summer vacation timings in the northern hemisphere. This makes the popular safari destinations overcrowded. Hence if you want exclusivity, consider Safari in Botswana in the Green Season, between December and April. With less number of visitors and affordable Botswana Safari Packages, you are definitely going to love the Green Season wonders.
What to Expect in Green Season?
The Green Season in Botswana is full of plenty of surprises and offers a bounty of magical experiences. Let's take a look at the top six things to expect during the safari in green season:
Great Wildlife Sightings
Most of the animals present in Botswana give birth to their young ones during the Green Season. You are going to witness many animals roaming around the wilderness as heavy rains blossom the vegetation around.
Lions, cheetahs, wild dogs and elephants go around preying upon the vulnerable young for securing their next meal.
A Birding Paradise
Botswana transforms into a bird lovers' paradise from the months of February to march.
Cranes, Storks, Herons, and egrets gather just before the rising tides in the Okavango Delta each year to feed on the insects present over there.
Kingfishers, colorful kites, and cuckoos hover in the air while migratory birds move south.
Bee-eaters flock to the sky with bright colors while eagles and falcons glide overhead.
Around 50,000 flamingos flock to the Makgadigadi Salt Pans which transform into wetlands.
The Longest Land Migration
As the green season starts, around 20,000 zebras migrate from north to south while marching across the country. Their migration towards the Savuti area of the Chobe National Park is visually intriguing.
They migrate across the central Kalahari Desert to Makgadikgadi Pans National Park. The park is home to the largest salt flats in addition to zebras and flamingos.
Photographer's Dream Destination
After a long dry spell, the rains transform the dry dusted winter landscape into a luscious green paradise. The clean air around makes the colors of nature appear richer and brighter.
The lighting, while the cloud–stacked sun is setting across the blue African Sky, is intense. The occasional rainbow streaks after rains across dramatic skies are a treat for any photographer's camera lens.
Besides the green landscape, birds, wildlife, and eruption of wildflowers are a treat for your eyes as well as the cameras.
Witness The Predator Action
Apart from the lighting, the thing that attracts the photographer is the amazing prey-predator action. Predator activity reaches its peak during the green season.
Cheetahs, lions, hyenas, leopards, and wild dogs prey on the weak and vulnerable ones to feed their own young ones.
Great Value For Money
If you travel in the green season, the prices drop as much as 50% because of the green season deals. The Botswana safari on a budgetis a real deal for all the safari lovers out there. The accommodation rates during this season are reasonable. The animals are still there in the green season. It's just that you need to wait to sight them as they are widespread. Also, the lesser number of crowds makes way for a more intimate and personalized experience.
Overview of Safari in Botswana throughout the Green Season
December
Start of the rainy season with frequent thunderstorms in the afternoon.
More surface water. Family herds of elephants and buffalo move into woodlands.
Daytime temperatures into the mid-30 °C.
Antelopes and Impala start to give birth.
Bright blue Sky with lush green vegetation. The Ideal time for photographers.
Sightings of wild dogs are rare as they move far.
Lions and Leopards do not move far as they mark their territories against intruders
January
Abundance of life throughout Botswana because of the rains.
Breeding of Migrant Birds.
Lots of young animals spread over the area.
A great time for bird watchers and photographers.
Vegetation is bright and green.
Older bulls present in areas where good food is available.
Herds of elephants and buffalo move further into woodlands.
February
High daytime temperatures.
Afternoon thunderstorm.
Good times for bird watchers as birds are still nesting after the breeding season.
Young animals are growing and trying their best to escape predators.
Great time for photographers as skies remain clear and blue. Vegetation is green and bright.
Older Bulls remain in the marsh area.
Elephants and Buffalo move deeper into woodlands.
March
Nearing the end of the rainy season.
Migrant birds start to return to Europe and North Africa.
Lions and Leopard's sightings are good as they remain in their territory.
Daytime temperatures can reach 30°C but mornings and evenings are chilly.
Warm clothes are recommended.
April
End of the rainy season and the start of the dry season.
Vegetation is still green and the skies are blue. Ideal for photographers.
Daytime temperatures can be 20°C. Evenings and mornings are chilly.
Warm clothes are recommended.
As surface waters dry up, elephants and buffalo may be seen now.
Difference Between The Dry Season and Green Season of Safari in Botswana
| | | |
| --- | --- | --- |
| Attributes | Green/Summer Season | Dry/Winter Season |
| Timing | December to April | May to October |
| Animal Sightings | Birds can be sighted more easily. | Animals congregate near water resources. Game viewing is at its best. |
| Photography | Ideal for bird photography as migratory birds are in residence. There are more young animals spotted with more foliage around, so suitable for wildlife photography. | Suitable only for wildlife photography. |
| Temperature | The temperature starts to rise considerably as rains arrive. In November, the temperature can be extremely hot around 40°C. | Average Temperatures vary between 28°C and 33°C. |
| Crowd | A fair share of the crowd visits Botswana from January to March. December and April attract a good number of crowds too. | May to September attracts an excellent crowd. In October a good number of crowds visit Botswana. |
| Cost | Rates in the low season are in between low and high. Some lodges give seasonal offers which may be half of what they offer in peak seasons. | Traditional business models sell a traditional game viewing experience for higher costs. |
| Price per Night | Moderate Camps- $550-$600Premier Camps- $650-$825Top-end camps- $850-$1000 | Moderate Camps- $825-$950Premier Camps- $1250-$1700Top-end Camps-$1550-$2400 |
| Number of tourists coming in 2018 | 135,550 | 245,281 |
What Are The Pros And Cons Of Going To Safari To Botswana In The Green Season?
Let's take a look at the pros and cons of visiting Botswana in the Green Season.
| | |
| --- | --- |
| Pros | Cons |
| The parks are at their scenic best. A perfect attractive destination for photographers for mainly two reasons-Dramatic skies and vivid green landscapes. Wildlife activities at their best with prey-predator action. Amazing birding experience. A unique safari experience with low season rates. Witness exceptional wildlife activities bursting with life. | All the wild animals are present there in the bush. But they are not as prominent as in the dry season. You need to wait patiently to spot them. Some areas and lodges may be closed due to floods and rains. It may rain. Afternoon showers are more desirable as compared to constant downpours. |
Want To explore Botswana Safari in the Green Season?
Do consider Safari in Botswana in Green Season and you are never going to regret it. It will be one of the most unforgettable experiences of your life with unbelievable scenery and extraordinary wildlife action.
Our safari experts assure you that traveling in Green Season can be best with affordable Botswana safari packages.