Heaven for wildlife and a treasure for tourists, Botswana has placed itself in Africa's most desired Botswana destinations Safari. Long stretched territory, eye-catching landscape, vast wildlife, and humble people, that's what Botswana stands for. Wondering Where To Go In Botswana? Here are the top five must-see Botswana Destinations.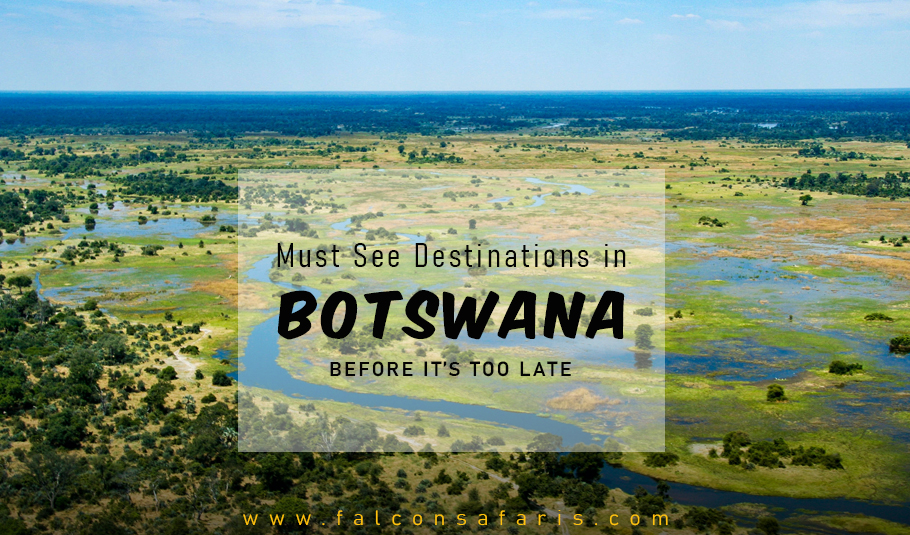 OKAVANGO DELTA – BOTSWANA'S BEST WILDERNESS
If you want to view the wildlife in action, then there is no perfect place than Okavango Delta. This is the biggest inland delta in the world and a UNESCO World Heritage Site. It's home to over 500 bird species. For bird – watching there is no perfect place than this. Here you can experience the wildlife in traditional canoe or Mokoro.
The Best Time To Visit Okavango Delta place is July to September. When it comes to Okavango wildlife the biggest predators that live here are cheetah, wild dog lion, leopard, and hyena. Walking Safari, Game Drives, Boat Cruises, on-foot game drives, and mobile safari are the Okavango delta activities that you can enjoy. One more thing if you are fund fishing then this place is perfect for you.
CHOBE NATIONAL PARK – WELCOME TO THE ELEPHANTS KINGDOM
Chobe National Park with an area of 10,700 sq. km is the first Botswana National Park. The name came after the Chobe River, which is the main highlighted area of this park. Where The Big Mammals Are! Chobe National Park is home to over 120,000 elephants. This is the only place in Africa where you can find herds of animals crossing rivers.
Apart from a large number of elephants, sable, roan, and greater kudu are animals that can be found occasionally. Lions, wild dogs, and leopards can be seen on a regular basis. The Best Time To Visit Chobe National Park is between August to October. When it rains it brings back wildlife. This is the place to see wildlife migration. Boat Cruises, Photographic Safaris, and Game Drives are the Botswana Safari Activities that you can experience here. A Safari In Chobe National Park is the best experience that you can have in Botswana Destinations.
MOREMI GAME RESERVE – THE BEST PLACE FOR BIRD-WATCHING!
Moremi Game Reserve located on the east side of Okavango Delta, offers vast wildlife and wilderness. In 1962 Ba Twana Batswana, the name of the local people built this park to protect the wild animals.
Although it is a small game reserve, still you can find a large variety of animals. This is the perfect place to spot the Big Five (Cape buffalo, the African elephant, the leopard, the lion, and the black rhinoceros). And if you're a bird enthusiast, perhaps there is no perfect place other than this. You can watch over 500 bird species. Imagine what it looks like when thousands of birds fly together! The other animals that you can spot are giraffes, buffalo, various antelope, wild dogs, hyenas, and cheetah.
What Is The Perfect Time To Visit Moremi Game Reserve?
The Best Time to Visit Moremi Game Reserve is between July to October. It's the dry months and ideal for a safari trip.
KALAHARI CENTRAL ­ – THE RED SAND PARADISE
Central Kalahari known as the" great thirst "is vast and beautiful. Extended to an area of 52,800 sq. km it is a place famous for its exclusivity. Less crowd, more nature. The local people call it Central Kalahari Game Reserve, CKGR. Less rain and high temperature make the red sand dunes, which look stunning. The night is magical with millions of stars sparkling in the sky. But when it rains the dry land turns green, and a great migration happens—a perfect time to see the wildlife return.
What Is The Best Time To Visit Kalahari Central?
The Best Time to Visit Kalahari Central Is May or June, after the rain. Here you can you Nature walk, game drives, star gazing, bird- watching. Seeing the Bushman and their cultural dance is a plus.
SAVUTI AND KWAI RIVER VALLEY – SEE THE UNEXPECTED!
Savuti (pronounce as Savuti) means mystery or unpredictable. It is located on the east side of Chobe National Park. On the west side, it is stretched on the edge of the Okavango Delta.
The wildlife that can be found here is African Buffalo, African bush elephants, black rhinoceros, southern giraffes, African leopards, lions, and plain zebras including antelope species.
What Is The Best Time To Visit Savuti And Kwai River Valley?
The Best Time To Visit Savuti And Kwai River make a visit would be from June to September. It is the dry season and a lot of wild activities can be seen.  Activities that you can expect here are a game drive, bush walk, and bird watching. Botswana destinations is a land of adventure. You can never find such variations in wildlife anywhere else in the world. That's why it welcomes many tourists every year from every corner of this world.
If you want to visit this beautiful land, Falcon Safaris will happy to make your travel plan. For any quires please visit us. Let's begin your journey to Best Africa's safari destination.