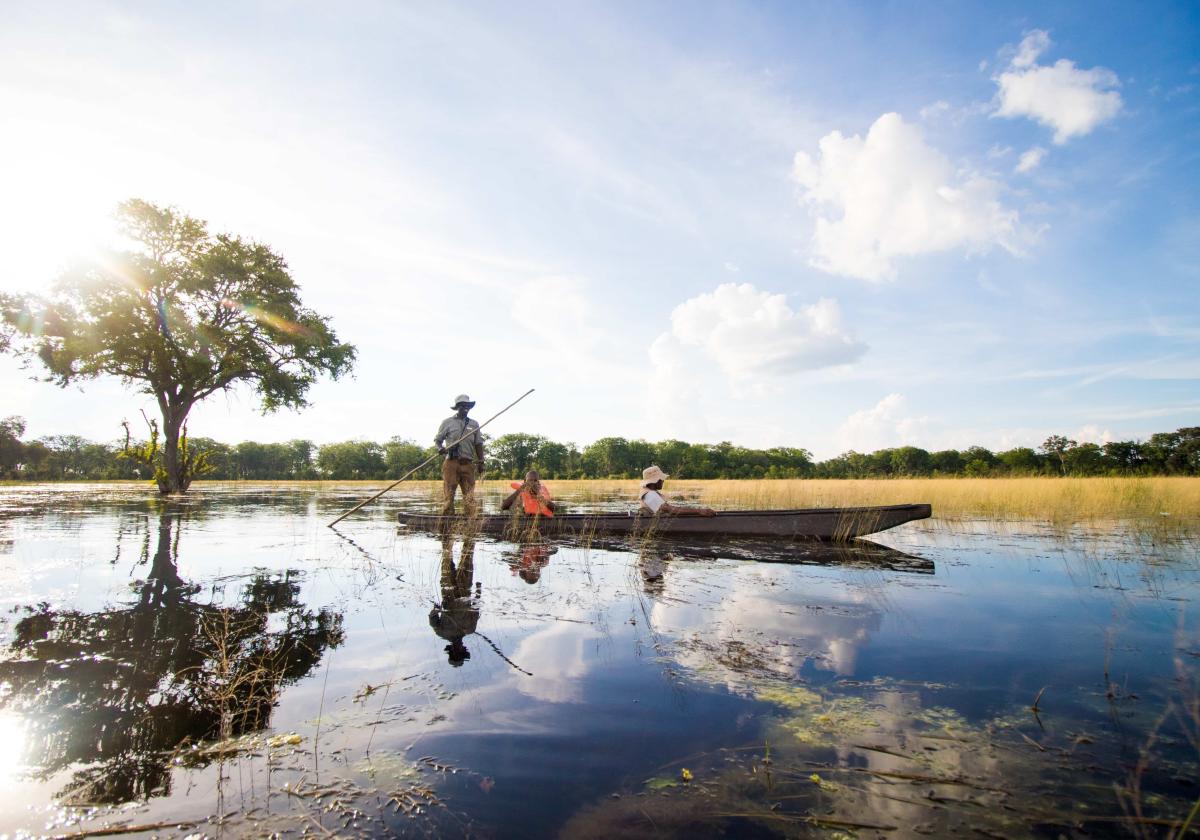 There are so many places that you can visit in Botswana but there are some other attractions that stand out more than others and are worth visiting during Botswana Safari. These make the list of the top Tourist Attractions In Botswana.
The Okavango Delta, one of the seven natural wonders of Africa, is a large inland delta. It forms when the Okavango River cuts through the centre of the Kalahari Desert. It is the source of life to a large variety of animals and birds and some of its flood waters flow into The Moremi Game Reserve and Lake Ngami.
The delta is such a beautiful sight and also a good place to see different types of animals. The best time to view wildlife is between May and October during peak flood season. At this time, wildlife is easy to spot as it will be more concentrated on the delta islands. There are a number of safari camps, which may offer walking safaris or island camping trips on the Okavango.
Chobe National Park is one of the biggest tourist attractions in Botswana. It is easily accessible by car making it more affordable as compared to other parks in the country. Although it is not the biggest park in the country; it is the most diverse and has the largest concentration of game. It boasts of large elephant herds, eland, zebra and giraffe and most of the animals are best seen while enjoying a cruise on the Chobe River. The Best Time To Visit Botswana is between April and September when the weather is less hot but cooler and drier.
Tsodilo is a UNESCO World Heritage Site in Botswana's north western region. It was designated a World Heritage Site in 2001 due to its unique religious and spiritual significance to local peoples, as well as its unique record of human settlement over millennia. Over 4,500 Bushmen rock paintings cover an area of approximately 10 km2 in the Kalahari Desert. Tsodilo Hills is a spiritual outdoor art gallery with 400 sites depicting hunting scenes, ritual dances, and safari animals. Some rock art is over 20,000 years old, and archaeologists have discovered that people lived in this area as long as 100,000 years ago. There are three main hills that can be hiked by visitors and a small museum which is very informative.
Moremi is a small reserve with a diverse wildlife population. It is located in the eastern Okavango Delta, adjacent to Chobe National Park. Its birdlife is unparalleled, with over 500 species to be seen through binoculars. The best time to visit is from July to October, and 4x4 safaris combined with water-based mokoro trips are the best way to see the abundant wildlife. Wild dogs, as well as the Big Five, are frequently spotted here, thanks to the recent reintroduction of both black and white rhino. Within the park, there are a few camps, some of which are only available to fly-in safaris. The others are in high demand among those on a self-drive safari. Several lodges and camps located just outside the reserve provide wildlife viewing.
The Central Kalahari Game Reserve is the second largest game reserve in the world covering an area of 52,800 km². It is famous for its wildlife including the rare ones such as the brown hyena, wild dog, blue wildebeest, gemsbok and red hartebeest. The land is flat and covered with sand dunes from which you can see grass, little bushes and trees. There are 4 river valleys fossilised with salt pans that meander through the reserve. One of these is the Deception Valley which started to form around 16 000 years ago.
The Botswana People are called Batswana and they are separated into two groups, the Tswana speaking people and the non-Tswana speaking people. The non-Setswana speaking groups of people include the Banoka people, the Bakalanga people, the Basubiya, the Basarwa people and the Baherero. Many people however speak English to make it easy for tourists to communicate.
Originally the Botswana were polygamous and they would have arranged marriages between families. Nowadays western culture has infiltrated but some of these cultural practices are still carried out. The Botswana also believe in totems which are unique identifications that differentiate tribes and communities to which the people belong to.
The staple food is the Seswaa and it is meat stew, usually beef or goat meat that is served with Pap and vegetables on the side. You can try it and restaurants in the country and you can also get the opportunity to learn how it's prepared from the locals.
Wildlife tourism is an important part of Botswana Tourism industry. It represents a total of 80% of the annual revenue into the country. Botswana trophy hunting has grown steadily since it started in 1996. The industry employed around 1,000 people, received 350 hunters yearly and sold above 5,500 hunting days per year. Hunting specialised in elephants, buffalo, leopards and big game. In 2011, trophy hunting was banned due to a massive decline in the number of wildlife.
In 2014, the ban was lifted by the government of Botswana. According to the government, the growing conflict between humans and wildlife was growing. Predators were causing a lot of damage by killing livestock. There had been a lot of human- elephant interaction that had a negative impact and all this led to the decision to lift the ban.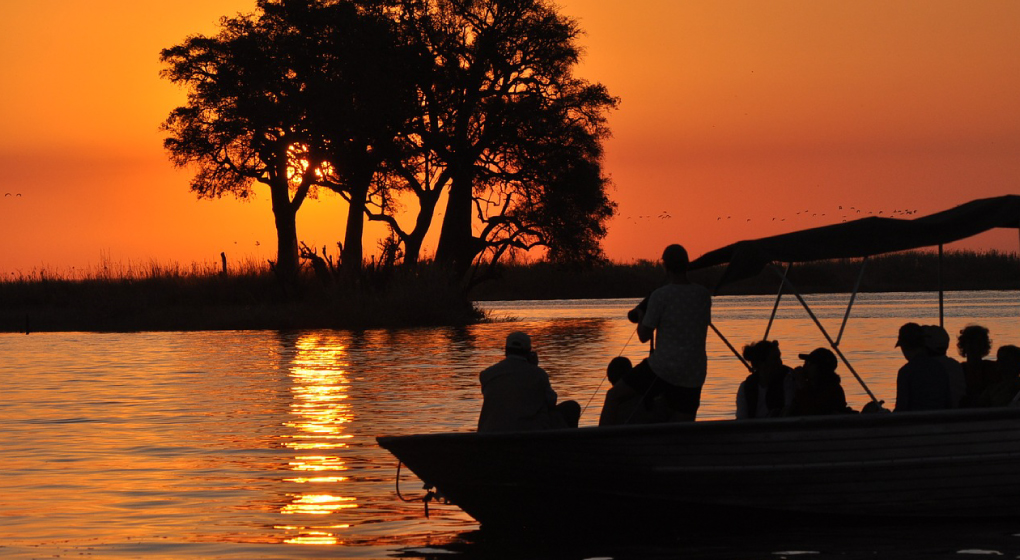 There is a risk of malaria in some parts of Botswana. Make sure you pack long sleeves and trousers and have enough mosquitos repellent. Always sleep under a mosquito net to avoid mosquito bites as much as possible.
Botswana tap water is considered safe to drink but however we recommend drinking bottled water. Always drink plenty of water especially in summer and during long drives
When looking for a place to eat out in Botswana, look for a restaurant or eatery that is packed or has a long queue of locals. Although you might have to wait a little to get served, it will probably be worth it as there is a reason why lots of people will be there.
If you are looking for something to buy as a souvenir, try buying some homemade crafts. These include woven baskets, handmade jewellery, Bushmen crafts, and sculptures and brightly coloured traditional African Clothes. If your budget permits you also need to buy diamonds. Botswana is one of the world's leading producers of diamond.
The official currency is the pula. You can exchange your foreign currency locally or in advance before you travel. You can exchange at banks or various bureau de changes. Try to get smaller notes as you might struggle to get change with bigger notes.
To charge your phones, make sure you have a 3 square pin or round pin similar to the ones used in South Africa and the United Kingdom. Pack a universal travel adaptor to be safe.
Wi-Fi connection in the national parks might be a bit difficult as people might be encouraged to immerse themselves in their natural surroundings. In the cities and towns, Wi-Fi can be found but in some areas it might be less secure and slower than you are used to.
In terms of time, Botswana is 2 hours ahead of GMT.
Because Botswana is landlocked, overland travel is relatively simple. Travelling by car from Namibia, expats can take the Trans-Kalahari Highway, which crosses the border at Mamuno-Buitepos, the Ngoma Bridge, or the crossings at Mohembo and Mahango. Travellers from South Africa typically use the Ramatlabama, Tlokweng, or Pioneer border crossings.
Foreigners entering from Zambia must take the Kazungula ferry across the Zambezi River, which happens to be the world's shortest international border. Expats from Zimbabwe typically enter through the border crossings at Ramokgwebana-Plumtree and Kazungula. The Intercape coach company is the largest in southern Africa, with routes into Gaborone. Anyone entering Botswana by land may be required to walk through.
Botswana's main airport, Sir Seretse Khama International Airport, is located just outside of Gaborone, and the majority of arrivals are from Johannesburg, Cape Town, Harare, and Nairobi. Air Botswana, the national flag carrier, operates domestic flights from here. Maun has a smaller international airport that caters to a more touristic clientele.
There are many tours that you can do in Botswana and the most common is the overland tour, where you can drive around to most parts of the country in an overland truck. Most common tours include a Botswana Wildlife Safari, Victoria Falls and Chobe National Park package, Desert tracking, Premium safaris and 5 to 10 day safaris.
There are so many reasons Why Botswana Is One of the Top Destinations for Many in Southern Africa. Below are some of the major reasons why you should consider visiting this beautiful country.
It is a peaceful country
It has diverse landscapes
It has exclusive experiences
It has pristine wilderness
It has scenic beauty
Plenty of wildlife opportunities
Plenty of wildlife
Photography opportunities
Botswana Tourism has been improving over the years and it deserves the recognition that it has been getting from tourists world-wide. The country is beautiful, described as a true wild life haven and also rich in culture and diversity. We highly recommend this country as a perfect getaway to fully explore nature and the wild at its finest.
Botswana is home to famous wildlife destinations like the Okavango Delta Chobe National Park and the central Kalahari Game reserve. Because of this, it is a great destination for families, friends and even honeymooners. Botswana takes this form of diversity into consideration and its safari lodges and campsites are built to suit the needs of different travellers. There are some lodges that are more suitable for families than for honeymooners and others that are better for groups than for solo travellers. It is important prior to travelling to find out in which Botswana Accommodations will be best for you.
Botswana is one of the continent's last great wildernesses. The preservation of ancient migration routes, free of fences and farmland, has created a significant wildlife haven and space for one of Africa's greatest wildlife spectacles: more than 130,000 elephants, more than anywhere else on the planet. The abundance of wildlife here increases the likelihood of seeing once-in-a-lifetime encounters, such as lions paddling across rivers or hunting thundering herds of Cape buffalo.
Botswana has some of Africa's last large tracts of true wilderness, making for excellent wildlife viewing as well as some extremely long drives. The Kalahari Desert covers roughly 70% of the country, so you'll see plenty of sand, savannah, and scrubland. Save time by flying into Maun instead of Gaborone.
Water is extremely scarce in much of Botswana; take short showers rather than baths, reuse towels, and turn off taps when brushing your teeth. Report any leaks to staff as soon as possible. Toilets use a huge amount of water too- you don't have to flush every time.
Be sure to use biodegradable toiletries and laundry detergents, especially when camping - limited water supplies will quickly become contaminated.
It's natural to want to get closer to wildlife – but this will distress them. Never ask your guide to leave the trails or drive after wildlife, and be sure to obey all rules in the reserves.
Fires start fast and burn hard in the desert; never drop cigarette butts or matches on the ground, be extremely careful when building fires, and keep water to hand to extinguish sparks and embers.
It is illegal to take elephant ivory, leather and tusk products, rhino horn products and cat furs into the UK and many other countries. They will be confiscated at your port of exit or entry and you could face legal proceedings.
Botswana Tourism has been improving over the years and it deserves the recognition that it has been getting from tourists world-wide. The country is beautiful, described as a true wild life haven and also rich in culture and diversity. We highly recommend this country as a perfect getaway to fully explore nature and the wild at its finest.