While on Botswana Safari, please keep an eye for these animals….
The Big 5 - You are guaranteed to spot any one of these on your safari in Botswana, elephants, lions, buffaloes, leopards and rhino.
Shy Desert Animals – If you are to visit the Kalahari game reserve then you might be in luck to spot these rare and precious desert animals, aardvark, aardwolf, meerkats and bat- eared fox.
Water Animals – While cruising on the rivers in Botswana you will spot hippos crocodiles, water bucks and even catch elephants as they swim across the river.
Common Animals – The most common animals you will see in Botswana are the different kinds of antelope, zebra, giraffes, warthogs, spotted hyena and wild dogs
One Of The Frequently Asked Questions About Botswana Is That: are there tigers in Botswana? The answer is, No there are no tigers in Botswana.
Another Frequently Asked Question Is; which is the largest animal in Botswana? The answer is, the largest animal in Botswana is the African elephants and there are so many of them hence the country is commonly referred to as the land of the giants.
Abundant
Common
Occasional
Rare
None
There are so many places where you can see and fully appreciate the Wildlife In Botswana. It's important to know where you are going and what animals you should expect to see there.
Chobe National Park is located in the north-east corner of Botswana. It is right at the confluence of the Chobe River and is home to Africa's largest elephant population. It is not necessarily the largest park in Botswana but it is the most diverse National Park. The park is also known as the land of the giants due to its large elephant population. It also has large herds of buffalo, lion prides and most of the big 5. There are over 400 different species of birds throughout the park including some of the world's largest flying birds, the kori bustard.
In the wet summer months you can also see migratory birds such as the colourful carmine bee-eater. The Park encompasses more than 10,000km2 of diverse landscapes, rich ecosystems. And an almost unparalleled abundance of wildlife and birdlife, all centred around the stunning Chobe River and easily accessible from a variety of other safari destinations in Africa. The Chobe River swarms with crocodiles and Hippo as well as antelope like the water buck.
The Central Kalahari Game Reserve, right in the heart of Botswana is one of the largest deserts in the world. It provides an unforgettable African safari experience as you can see Botswana's most elusive wildlife. This dry natural marvel is located in a remote location and can only be reached by air or road safaris. The roar of lions can be heard on a regular basis in the vast wilderness.
The reserve is one of Africa's largest protected conservancies, with giraffe, hyena, warthog, cheetah, wild dog, leopard, wildebeest, and kudu are among the roamers in Central Kalahari Game Reserve. The most spectacular sight here includes all the 5 shy animals, porcupine, meerkats, bat-eared fox, aardwolf and aardvark. Accommodation in Botswana's Central Kalahari Game Reserve is available at luxury safari lodges. Central Kalahari Game Reserve Activities include game drives, nature walking safaris, bird-watching, and cultural tours.
Because the Moremi Game Reserve is relatively small than other nature reserves, it does not have much to offer, but it does provide a fantastic safari experience with several insights. The Moremi game reserve's habitat is diverse for its size, highlighting floodplains, acacia forests, lagoons, and Mopane woodland. The pastures are home to large herds of antelopes, zebra, buffalo, and elephants, as well as lions, leopards, cheetahs, and other carnivores. Furthermore, you will see nearly 500 bird species as well as many other wildlife species such as Angolan giraffes, lions, elephants, zebras, cheetahs, hyenas, and many others. Moremi is now a big five reserve with the introduction of both the black and white rhino. The most common sighting is of Cape wild dogs and is some of the best sightings in Africa.
The number of animals found in Makgadikgadi National Park has increased in recent years. Genet, caracal, wildebeest, jackal, bushbuck, cheetah, leopard, brown and spotted hyena, kudu, and porcupine can all be found in the park. There is also a chance of seeing a rare white rhinoceros. Small reptiles roam the wilderness, providing visitors with an unforgettable African safari experience. Visitors may be able to get up close and personal with the Makgadikgadi meerkats due to their curiosity. You will see a variety of birds, including white-backed and lappet-faced vultures, martial eagles, snake eagles, lanner and red-footed falcons, and many others.
There are so many ways in which you can see Botswana Wildlife and appreciate it. Whether you would like to marvel from afar or get up close the option is yours.
There is nothing more relaxing than enjoying a boat cruise on the Chobe River. It is such a calm and chilled way to watch crocodiles, hippos and elephants as they swim by.
You can choose to see the animals in a way that is a bit more adventurous. Opt for a game drive in either one of the National Parks In Botswana and get up close to the wildlife.
If you are looking for a very unique way to see wildlife then why not try a balloon safari. This allows you to see a wide spectrum of the landscape and spot animals from afar.
You can get up close and personal with wildlife by going on a Botswana Walking Safari. It allows you to follow animal tracks and study patterns and behaviours of animals. It allows you to get so close to the animals compared to a game drive as the animals may move further away from the noise of the vehicle.
A canoe is also a very good way to see animals; it allows you to get to shallow parts of the water and places where big boats cannot go, giving you an up close and personal experience with the wildlife.
The general consensus is that the Best Time To Go On Safari In Botswana is during the prolonged Southern African winter, which lasts from June to October, but the truth is a little more subtle than that. Cool mornings and pleasurably warm days characterise the winter months. Rainfall is almost uncommon, and you won't see a single bug. What you will see, nevertheless, is amazing wildlife, with the mobility of the herds (and the predators that rely on them) largely governed by the ebb and flow of water across northern Botswana's vast spaces.
However, when considering the Central Kalahari, further south, the Best Time To Visit Botswana is during the summer months, from November to April, when the rain transforms the parched landscape. There's no doubt that the greening of the desert - and the abundant game it attracts - will take your breath away. Similarly, the Makgadikgadi Pans are at their best during the summer, when the rains recreate the vast prehistoric inland seas that they once were.
Flamingos flock to Sua Pan in a rush of pink as it becomes a shallow lake and begin the breeding ritual. The abundance of water also draws the annual migrations of the Makgadikgadi and Nxai zebras. The Makgadikgadi becomes overrun with zebras as they descend from the mountains.
All year round, birdlife is good in Botswana. It's at its best however during the wet season between November and April. Birds migrate from Europe and Northern Africa around this time and many of the resident birds will be nesting and breeding in plumage around this time.
Botswana is well known for its wildlife and pristine wilderness areas. Because of the need to protect the areas and the wildlife, there is a need for robust wildlife management and conservation. 40% of the country is protected under the wildlife conservation and national park act.
17% out of the 40 is pure of national parks and game reserves while the rest is wildlife management areas and forest reserves. Most animals wounded and rare or under protection have trackers so that their movement is monitored and a close eye is kept on them. This is to protect against poachers and also to safeguard the animals.
Most of the wildlife packages in Botswana are not fixed; they can be tailor made to suit your needs and requirements. A good advantage of this is that it lets you enjoy your holiday without you having to worry about anything. You can visit your favourite places within the amount of time you have and as well as within your budget range.
Some of the Botswana Safari Packages include a trip around a few of the must see places in Botswana like Chobe National Park, the Okavango Delta, Moremi Game reserve and Tsodilo Hills. Other packages combine a Trip In Botswana and its neighbouring countries Zimbabwe, Zambia, South Africa and Namibia. One of these for example is a package that includes Chobe National Park and a day trip into Victoria Falls.
Whatever your preferences are, a safari can be tailored to your specific requirements. A customised Botswana Safari is ideal for a variety of occasions, including family vacations, honeymoon destinations, corporate retreats, and more.
Botswana offers some of the most precious and unique wildlife in Southern Africa and you are definitely guaranteed to see most of these on your Botswana Safari. Some of them are rare animals that you won't find anywhere else in Southern Africa making the trip definitely worth it. So with that in mind don't forget to pack your cameras and prepare yourself to be amazed on an unforgettable wildlife safari in Botswana.
The Burchell's zebra is the national animal of Botswana. It has naturally artistic stripes and is arguably described as the most beautiful of all zebra subspecies. A fun fact is that it's the only zebra that humans can legally raise for consumption.
The country's national bird is the eastern cattle egret, a gorgeous avian with white and orange feathers and a rainbow coloured beak.
Wild animals in general are very dangerous and Botswana is home to some of the most dangerous animals. It is home to the big 5, elephant, lion, leopard, rhino and buffalo. Hippos are also very dangerous animals that are known to kill more people than any other animal in Africa.
The International Union for the Conservation of Nature lists about 20 of Botswana's 170 mammals on its Red List. More than 590 birds have been spotted in the country. Despite being a landlocked country, Botswana has lakes and rivers that are home to approximately 85 species of freshwater fish. Some of them include the African golden cat, the black footed cat, the royal sable antelope, Angolan giraffe, mountain zebra, rhino and the ground pangolin.
| Animal | Scientific Name | IUCN Classification |
| --- | --- | --- |
| Cape wild dog | Lycaon pictus pictus | Endangered |
| African golden cat | Caracal aurata | Vulnerable |
| African bush elephant | Loxodonta africana | Vulnerable |
| Black-footed cat | Felis nigripes | Vulnerable |
| African buffalo | Syncerus caffer | Near Threatened |
| Bongo | Tragelaphus eurycerus | Near Threatened |
| Brown hyena | Hyaena brunnea | Near Threatened |
| Royal sable antelope | Hippotragus niger variani | Critically Endangered |
| Angolan giraffe | Giraffa camelopardalis angolensis | Vulnerable |
| Ground pangolin | Smutsia temminckii | Vulnerable |
| Hippopotamus | Hippopotamus amphibius | Vulnerable |
| Lechwe | Kobus leche | Near Threatened |
| Mountain zebra | Equus zebra | Vulnerable |
| South-central black rhinoceros | Diceros bicornis minor | Critically Endangered |
| Topi | Damaliscus lunatus jimela | Vulnerable |
| Yellow-backed duiker | Cephalophus silvicultor | Near Threatened |
| Commerson's roundleaf bat | Macronycteris commersoni | Near Threatened |
| Cheetah | Acinonyx jubatus | Vulnerable |
| Lion | Panthera leo | Vulnerable |
| Leopard | Panthera pardus | Vulnerable |
| Spotted-necked otter | Hydrictis maculicollis | Near Threatened |
| Hook-lipped rhinoceros | Diceros bicornis | Critically Endangered |
| Southern white rhinoceros | Ceratotherium simum simum | Near Threatened |
Pel's fishing owl

Pel's fishing-owl – an Okavango 'special'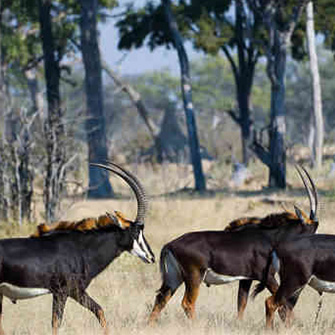 Sable

Magnificent sable antelope bull in Vumbura woodlands
Lion

A dominant male lion locks onto its prey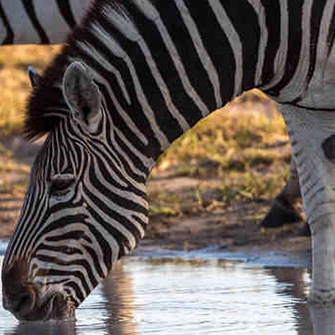 Zebra

Zebra mare with her calf
Sitatunga

Elusive sitatunga bull seen in the heart of the Delta at Xigera
Leopard

A young leopard relaxing in a tree
Elephant

Botswana provides the ideal habitat for hundreds of thousands of elephants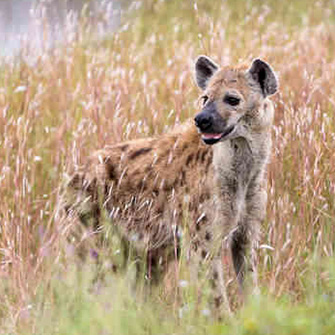 Spotted Hyaena

The spotted hyaena is a successful apex predator in Botswana
Honey Badger

Tenacious honey badger in the Kalahari
Cheetah

Cheetahs are best seen in the Central Kalahari
Hippo

Hippo in the crystal-clear waters of the Okavango
Giraffe

A giraffe nervously runs through a waterway to the next island
Buffalo

Buffalo herds several hundred strong roam the floodplains
Red lechwe

Red lechwe: perhaps the Delta's quintessential antelope
Wild dog

The energetic and endangered wild dog in its Linyanti stronghold
Botswana is swarming with wildlife at every corner and some of them are so rare and precious that you wouldn't want to miss them. Here is a list of some of Botswana's most iconic animals.
Big Five - Botswana has all the big 5 animals, elephant, lion, leopard, buffalo and rhino. This makes the country very iconic. Elephants are seen in herds rather than individuals, there are more black manned lions and the cape buffalo are also very common.
Aardvark – the aardvark is a shy desert animal that is so rare to see. Its name is derived from Afrikaans meaning 'earth pig' or 'ground pig' because it creates burrows to live in. Aardvarks are very good swimmers and they are digitigrades, they walk on their toes, and not on the soles of their feet.
African Wild Dog – The African wild dog is also known as the painted dog. There are about 5 000 left in the wild and are now considered endangered. They can't be tamed as they remain naturally distrusting of people and any animals outside the pack.
Black Mamba – The black mamba is the longest venomous snake in Africa and the second longest in the world.
Brown Hyena – The brown hyena is the rarest species of all hyenas and is known for making small grunts, growls, and squeaks that can only be heard a short distance. Brown hyenas don't laugh like the spotted hyenas.
Aardwolf – The aardwolf is a shy desert animal. It's referred to as an ant or civet hyena because it eats only insects. It looks like a skinny, striped hyena. It doesn't laugh but it makes clucking, barking, and roaring sounds.
Cheetah – Botswana has the fastest land mammal in the world, the cheetah. The black tear lines on either side of a cheetah's face keep the sun out of the big cat's eyes while they hunt.
Crocodile – The crocodile is a reptile and a member of the crocodilla that includes crocodile, alligators, caimans and gharials. One easy way to tell the difference between an alligator and crocodile is that when a crocodile closes its mouth, all its teeth are visible. The upper and lower jaw are the same width. When an alligator closes its mouth its teeth are not visible.
Red Lechwe – This is a very rare antelope that is found in Botswana, Zambia, the southeastern Democratic Republic of the Congo and northeastern Namibia. They are very graceful antelopes golden brown in colour with white bellies.
Giraffe – Giraffes are one of the most common animals you will see in Botswana. It is the tallest mammal on earth and they spend most of their lives standing up, they even sleep while standing up.
Botswana's Wildlife is rich, so diverse and very much iconic. You will have fun spotting the big 5, the different species of both resident and migratory birds as well as Africa's rarest desert animals. Falcon Safaris is here to show you some of the great animals & wildlife of Botswana, are you ready to grasp it?