You can count on Namibia as a leading safari destination in Arica. This is much more than just stunning scenery. The diverse ecosystem of Namibia accommodates a vast variety of wildlife. Out of the diverse range of wildlife, here are our top 10 animals of Namibia Wildlife, with a higher sighting percentage.
Oryx
Oryx has one of the highest sighting percentages (80%) in the national parks of Namibia. The unique thing about this species is they easily live for days without drinking water. You can easily spot these unique species in Etosha and Namib and Naukluft National Parks.
African Elephant
With over 79% sighting percentage, African elephants are commonly seen in most national parks in Namibia. This largest land mammal weighs up to 6 tons. And out of all national parks in Namibia, the Etosha National Park boast the highest number of African Elephant.
Rhinos
You can't miss Rhinos during Namibia Safari Tours. Rhinos are extensive across all major national parks in Namibia. And the Etosha National Park is home to the largest population of Rhinos in Namibia. The sighting percentage of Rhinos is more than 50%.
Do you know: It's not the colour that differentiates the black rhinos from white rhinos, it's the weight, size and body formation.
Cape Buffalos
Part of Africa's Big Five family, Cape Buffalos can be easily spotted on a Namibia Safari Tour. These large animals weigh up to nearly a ton and consider one the strongest animals of the Big Five.
These large animals can be fairly spotted in Etosha National Park. And it has a 61% sighting percentage.
Spotted Hyenas
Spotted Hyenas play an important role in the Namibia Ecosystem. They can be easily found around the water holes. With a 16% sighting rate, this animal can be commonly spotted in Etosha National Park, Kaokoland, the Caprivi Strip, Kavango and Buhsmanland Regions.
Zebra
The characteristically stunning coats of black and white stripes are what make Zebras the most elegant animals in Africa. With a 67% sighting percentage, Zebras are all over Namibia, but the majority of them can be spotted in Etosha National Park.
Quick Fact: Etosha National Parks is home to the rare Hartmans Mountain Zebra
Giraffe
With over 68% sightings, Giraffes are the most fascinating animals in Namibia Wildlife. This tallest animal can be easily spotted in Etosha National Park, Damaraland and Kaokoland.
Quick Fact: Giraffes are known for having a sharp sense of hearing and smell, and this sense acts defence system against predators.
Wildebeest
Wildebeest are Namibia's indigenous species. Most of the wildebeest roam around waterholes and savannah woodland. In Namibia, Etosha National Park is the prime spot to find wildebeest.
Hippos
Wildlife Safari In Namibia is home to more than 1300 animals, mostly found around the Kavango and Caprivi regions, which are located in the far northeast of this country.
Kunene river is also home to a large to a small population of Hippos. And the best part is you have an 81% chance of seeing them during your Namibia Safaris Tours.
Lions
Lions are highly dispersed across all regions in Namibia. Alone Etosha National Park, is home to more than 300 to 400 lions. And the western part of Namibia has some 100 desert-adapted lions.
Namibia is knowns for offering some of the best wildlife sightings in the entire African continent. The Country's 12 National Parks and 6 protected areas offer an unparallel game-viewing experience. Out of all, here are some of the best national parks that will let you explore the true wonders of Namibia Wildlife.
Etosha National Park
For a truly spectacular game-viewing experience, there can be no better safari destination than Etosha National Park. Although it is not the biggest national park in Namibia, still it supports a diverse habitat of wild animals.
If you're looking for endangered rhinos species, and rare antelope species, Etosha National Park is the right place.
Some other animals such as leopards, cheetahs, large herds of springbok, zebra, wildebeest, and giraffes are also part of this large diversity.
Best time to visit: The dry winter months of May to October, where you can find a large herd of animals congregating around the water holes.
Waterberg Plateau Park
With a distance of 68 km east of Otjiwarongo, the Waterberg Plateau National Park is located in central Namibia. As the name goes the main feature of this national park is its Waterberg Plateau. This park was declared a nature reserve in 1972.
This national park is home to several endangered species like black rhinos. And this ecologically diverse habitat has over 200 bird species.
Mamili National Park
May not be popular like other national parks, but the Mamili National Park is similar to the Okavango Delta. With a staggering number of 430 bird species, this will make you an avid bird-watcher.
Apart from bird-watching this national park has a large population of hippos, crocodiles, sitatunga and puku.
Namib- Naukluft National Park
Being the largest National Park, the Namib- Naukfluff National Park, is the most dynamic national park in Namibia. This National park is one of the least visited National Parks In Namibia. Which makes it the perfect destination for an exclusive safari experience.
The best highlight of this national park is Sossusvlei, the 325 m high monumental dunes. Formed by strong multi-directional wind, these dunes are sought-after topics for photographers and artists.
Apart from all its scenic beauty this national park boasts unique wildlife species like Hartmann's Mountain zebra, kudu, gemsbok, klipspringer, duiker, steenbok, leopard, baboon, blue-backed jackal, bat-eared fox, African wild cat and many others.
Skeleton Coast National Park
The Skeleton Coast National Park is known for its unreal coastal landscapes and unique wildlife. The geography of this park is what makes it more surreal.
On the southern part of this national park Gravel plains are found, whereas the higher dunes are located in the northern part. And the northern part of this national park is known for having a large population of seals.
Talking about the wildlife some of the popular species like lions, giraffes, elephants, hyenas, black rhinoceros, and springboks can be found in this area.
Do you know: Local people often describe this place as "The Land God Made in Anger."
Mangetti National Park
Compared to other national parks, this Magentti National Park is small, but still, it offers great wildlife viewing. Originally this park was dedicated to breeding rare and endangered species, but slowly it transformed into a national park.
This national park is home to a vast array of animals which includes, sable antelope, African wild dogs, hyenas and blue wildebeest.
Khaudum National Park
For visitors who are looking for a tranquil and peaceful trip, Khaudum National Park is the best safari destination in Zambia. This park is settled in the North-East of Namibia, and filled with untamed wildlife.
This national park is unfenced which allows animals to follow their migratory routes. On a game drive in this national park, you can spot some classic African animals like elephants, lions leopards and more.
Mudumu National Park
Mudumu National Park offers you the finest wildlife that you can explore on a Namibia Wildlife. The main attraction of this national park is large predators like lions and leopards.
Apart from pristine wildlife, this park has 430 bird species making this place a perfect hub for bird watchers. In recent years, giraffes and antelope species have been reintroduced into this national park.
Dorob National Park
Dorob National Park is a protected area in the Erongo Region of Namibia, located along the country's scenic Skeleton Coast. The park encompasses a diverse range of habitats, including sand dunes, gravel plains, and rocky coastline, that are home to a variety of wildlife, such as desert-adapted elephants, giraffes, and lions.
Visitors to Dorob can enjoy a range of activities, such as wildlife viewing, birdwatching, and hiking, and can also learn about the park's conservation efforts and the unique cultural heritage of the local communities.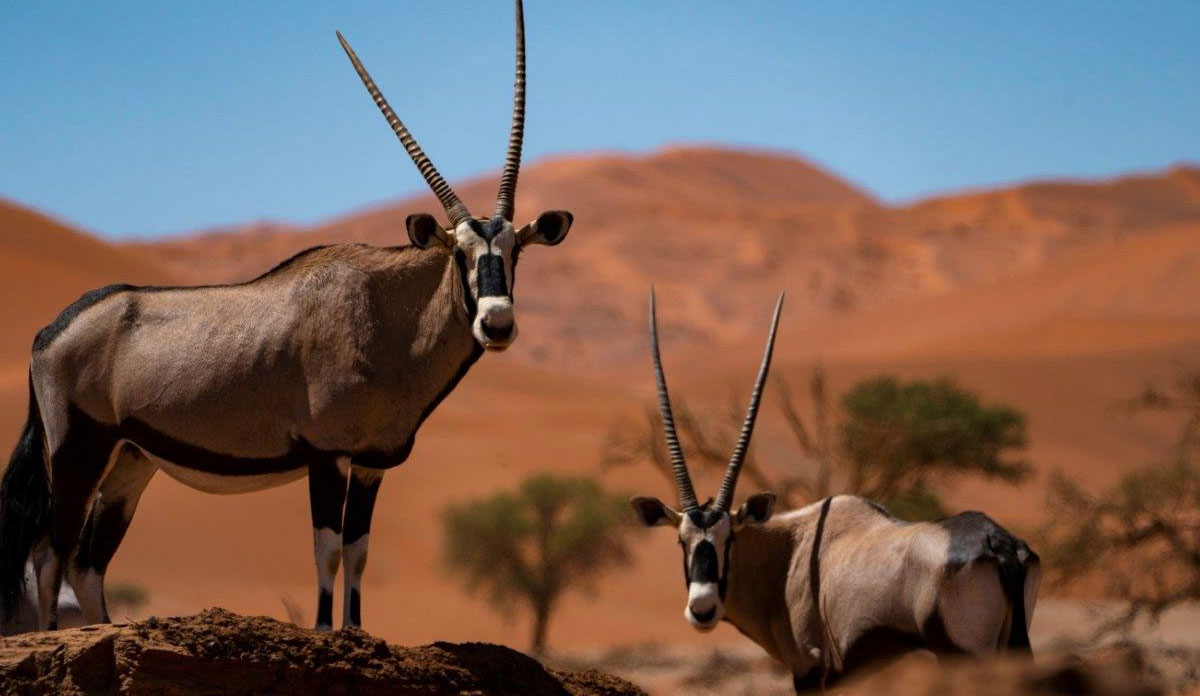 The Gemsbok is the iconic symbol of Namibia, and it appears in the country's coat of arms. Gemsbok is generally desert-adapted animals and they are extremely tolerant to the arid condition of this country. '
It is the courage, elegance and pride of Gemsbok, which made it the National animal.
It is believed that currently, over 373,000 Gemsbok live in Namibia. You can easily spot them during Namibia Safaris, roaming alongside the roads.
Along with the commonly seen animals like Zebras and Giraffes, Namibia Wildlife is composed of some endangered animals. Below is a list of endangered animals that can be spotted in Namibia Wildlife Safari Tours.
Black Rhinoceros
African Wild Dog (Also known as the painted dog)
Cheetah
African Elephant
Pangolin
Lion
Cape Mountain Zebra
Damara Dik-Dik
Spotted Hyaena
Wild Cat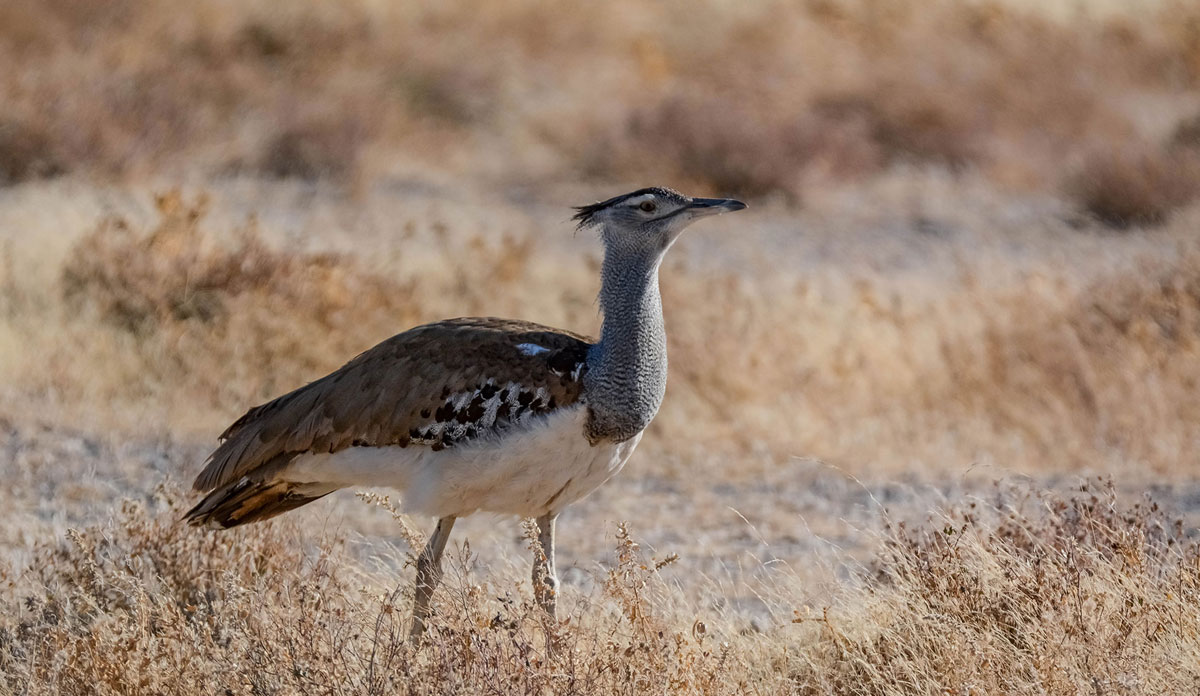 Namibia is home to a diverse range of bird species, with over 650 species recorded in the country. Here are some of the notable bird species found on Namibia Safaris-
| Bird Species | Where they live | What they eat |
| --- | --- | --- |
| Lappet-faced Vulture | Northwestern regions of Namibia | Carcasses of large mammals |
| Secretarybird | Open grasslands and savannas in Namibia | Small mammals and reptiles |
| African Fish Eagle | Near water sources in Namibia | Fish and other aquatic animals |
| Monteiro's Hornbill | Arid regions of Namibia | Insects and small animals |
| Pel's Fishing Owl | Near rivers and other water sources | Fish and other aquatic prey |
| Crimson-breasted Shrike | Savannas and scrublands in Namibia | Insects and small lizards |
| Sociable Weaver | Arid regions of Namibia | Seeds and insects |
| Rosy-faced Lovebird | Northeastern regions of Namibia | Seeds and fruits |
| Black-faced Babbler | Scrublands and savannas in Namibia | Insects and small animals |
| Greater Flamingo | Near water sources such as coastal lagoons | Small crustaceans and other aquatic animals |
The Best Time To See Namibia Wildlife depends on a variety of factors, including weather, animal behavior, and park accessibility. Generally, the dry season from May to October is the best time for wildlife viewing, as animals tend to congregate around water sources, making them easier to spot. This is also a good time to see predators like lions and cheetahs, as they are more active during the cooler temperatures of the day.
However, the rainy season from November to April can also be a good time for wildlife viewing, as it is the breeding season for many species, and many animals give birth during this time. Additionally, the landscape is transformed into lush greenery, providing a unique and beautiful backdrop for wildlife sightings.
It is important to note that the weather can be unpredictable, and conditions can vary from year to year, so it is important to do research and check weather forecasts before planning a trip. Overall, the Best Time To Visit Namibia is during the dry season, but the rainy season can also offer a unique and rewarding experience for wildlife enthusiasts.
Namibia is one of the most successful countries in Africa when it comes to wildlife conservation. The Namibian government has implemented several policies and programs to protect its wildlife and its habitats. Here are some of the ways Namibia is conserving its wildlife:
Communal Conservancies
Namibia has established communal conservancies, which are community-based organizations that manage wildlife and natural resources in their areas. These conservancies help local communities to benefit economically from wildlife conservation through tourism and hunting.
Wildlife Management Areas
Namibia has established Wildlife Management Areas (WMAs) which are large areas of land set aside for wildlife conservation and sustainable use. WMAs are managed by local communities and generate income from tourism and hunting.
Endangered Species Management
Namibia has established programs to protect endangered species such as black rhinoceros, cheetah, and African wild dogs. These programs include monitoring and tracking of the animals, as well as education and awareness campaigns to educate people about wildlife conservation.
Wildlife Research and Monitoring
Namibia conducts extensive research and monitoring of its wildlife populations to track their numbers and health. This information is used to inform conservation policies and management decisions.
Sustainable Tourism
Namibia has developed sustainable tourism practices that support wildlife conservation while also providing economic benefits to local communities. This includes responsible tourism practices such as eco-tourism and community-based tourism.
Overall, Namibia's wildlife conservation efforts have been successful in protecting and conserving its wildlife populations, while also providing economic benefits to local communities.
Namibia's unique landscapes and diverse wildlife make it a fascinating destination for nature lovers and wildlife enthusiasts. Here are some interesting facts on Namibia Wildlife Safari.
Namibia is home to the largest population of free-roaming cheetahs in the world, with an estimated 3,500 individuals.
The Namib Desert, which stretches along the entire coastline of Namibia, is home to desert-adapted elephants, lions, and giraffes.
The Black Rhino, which is considered critically endangered, is found in Namibia's Etosha National Park and Damaraland.
The Quiver Tree, also known as Aloe dichotoma, is a succulent tree that is native to Namibia. Its bark was used by indigenous people to make quivers for arrows, hence the name.
Namibia is home to the largest population of free-roaming black rhinos in the world.
The Welwitschia Mirabilis, which is found only in the Namib Desert, is a plant species that can live for over 1,500 years.
The Namib Desert is home to the world's largest underground lake, the Dragon's Breath Cave.
The Namibian government has established several communal conservancies, which are community-based organizations that manage wildlife and natural resources in their areas.
The Namibian desert beetle, also known as the fog-basking beetle, can collect moisture from the air by condensing water droplets on its bumpy back.
Namibia is one of the few countries in Africa where populations of free-roaming lions and elephants are growing, due to successful conservation efforts.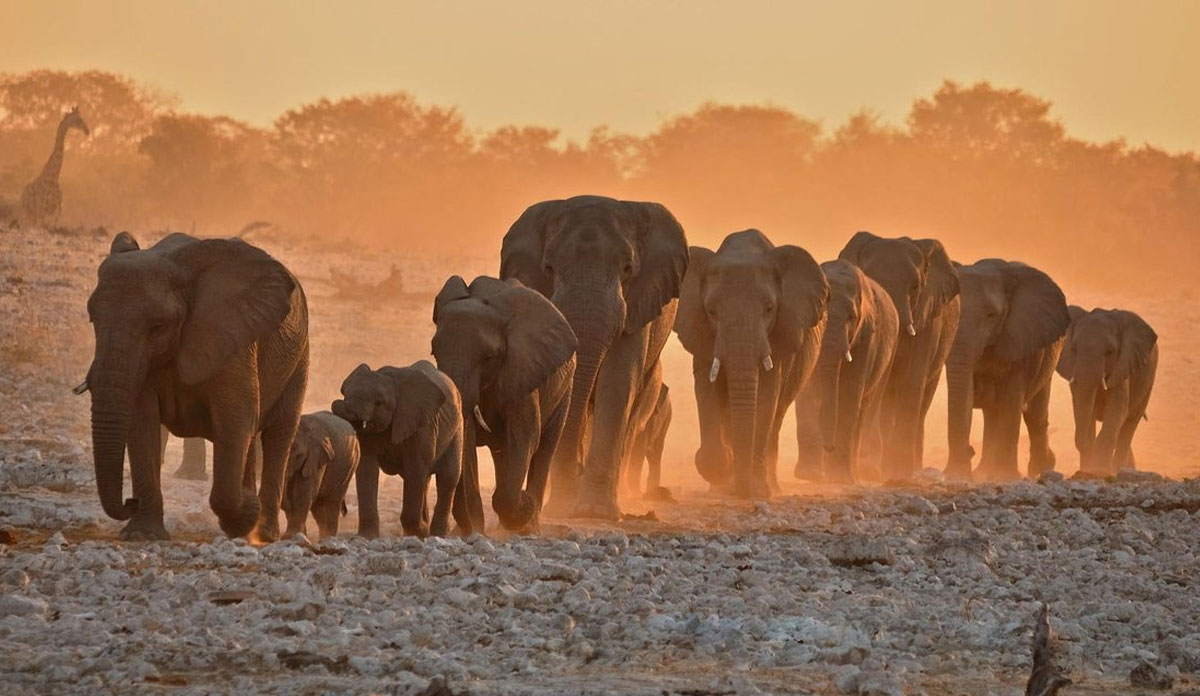 Namibia's wildlife is a significant contributor to its economy, particularly through tourism. The country's conservation efforts have helped to create a thriving wildlife population, which has attracted a large number of tourists to visit Namibia's parks and reserves.
According to the World Travel & Tourism Council, the travel and tourism industry directly contributed 7.7% to Namibia's GDP in 2019 and is projected to rise to 8.1% in 2029. In addition, the industry supported 94,000 jobs in Namibia in 2019, which is expected to increase to 117,000 jobs in 2029.
Wildlife-based tourism is a significant contributor to this industry, with visitors from all over the world coming to see Namibia's iconic wildlife, such as lions, elephants, giraffes, and rhinos, in their natural habitats.
In addition to traditional safari experiences, there are also opportunities for adventure tourism, such as hiking, biking, and kayaking in Namibia's Wilderness.
The Namibian government has also implemented community-based conservation programs that provide economic incentives for local communities to protect wildlife and their habitats.
This has helped to reduce poaching and create sustainable livelihoods for local people, further contributing to Namibia's economy.
Overall, Namibia Wildlife is an important economic asset that generates income and employment opportunities, and also plays a vital role in the country's conservation efforts.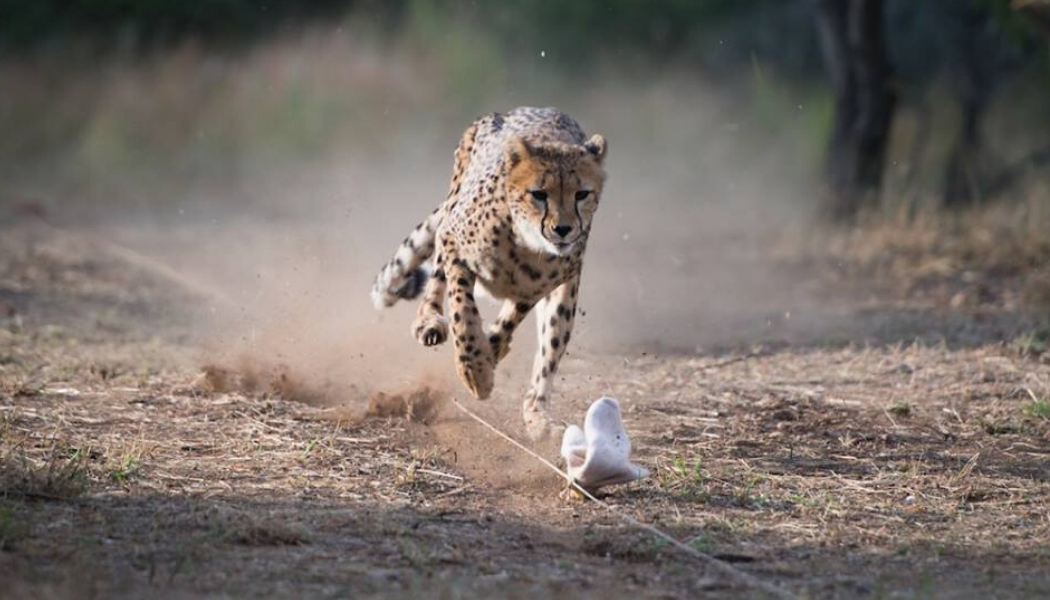 If you are a wildlife enthusiast or simply looking for a unique travel experience, consider booking a Namibia Safari to witness its rich and diverse wildlife. Namibia is home to a wide range of animals, including elephants, lions, cheetahs, and desert-adapted species, making it an ideal destination for wildlife lovers.
By choosing responsible tour operators and following ethical guidelines, you can help support conservation efforts and ensure the protection of Namibia Wildlife for future generations. Start planning your Namibia Wildlife Safari today and discover the incredible natural beauty and wildlife that this country has to offer.