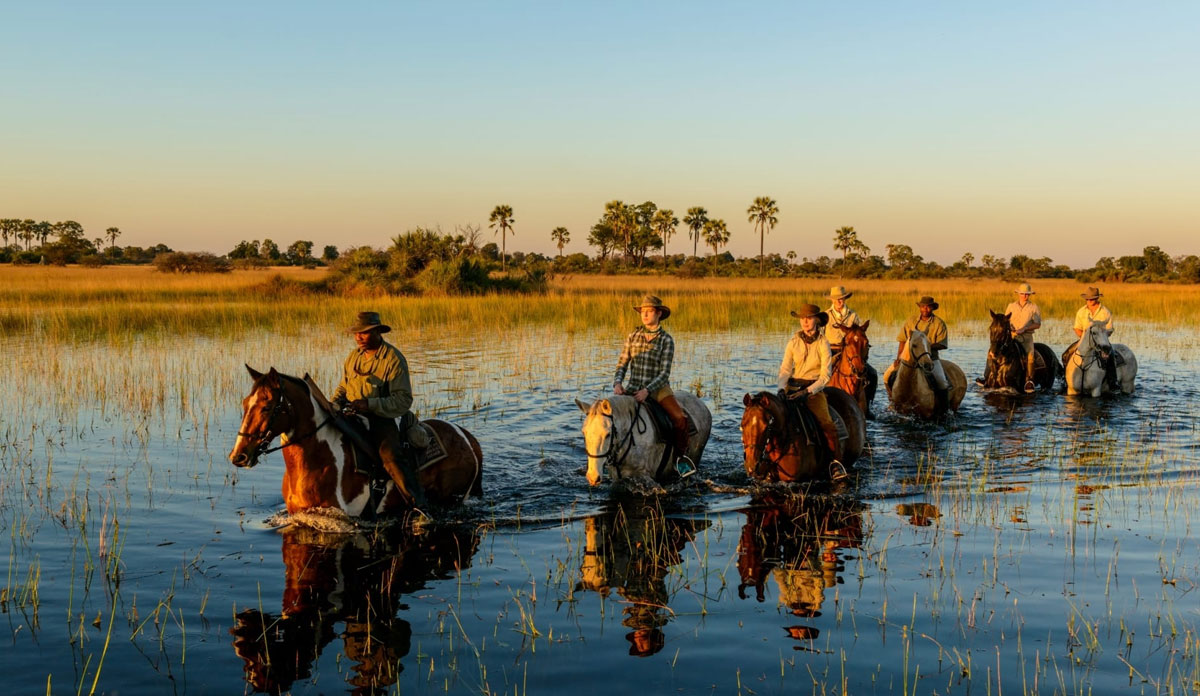 The enchanting oasis that you should not miss out on discovering on Botswana Safari Tours is the UNESCO World Heritage Site of the Okavango Delta. The Delta is one of the largest freshwater drainage systems in the whole of Africa – and with this much diversity of inland lagoon systems activities here are aplenty.
Below we'll go over the best Things to Do in Okavango in detail so that you can experience the grandeur of the vast expansive plains submerged in the water of the Delta.
Game Drives – An all-encompassing inclusion for the day!
An Okavango Delta Safari showcases some of the best game drive experiences – be it in 4WD land cruisers, on horseback, or on the top of elephants (a favourite among visitors). More than 200,000 mammals and a plethora of high-flying avians make Okavango Delta the perfect inclusion on Botswana Safari Packages.
Game Drives on an Okavango Safari are possible throughout the day. This includes early mornings, afternoons, evenings, and even night game drives.
You should set off on early morning game drives if lion sightings are something you prefer.
Whereas, night game drives offer sightings of nocturnal animals like cheetahs, aardvarks, aardwolves, honey badgers, etc.
Falcon's Suggestions – If you want to traverse through some of the most distinct ecosystems of the delta, then there's no better place to be than Moremi Game Reserve. For sightings of cape buffaloes and elephants going toe-to-toe, a game drive in the Duba Concession is highly recommended.
Walking Safaris – Become one with the nature of Okavango!
For travellers who want an intensely personal experience on an Okavango Delta Safari, guided nature walks across the varied ecosystems of the delta offer a wholly different perspective of the wildlife and surroundings.
A traditional San Bushmen native to the region will lead this wilderness adventure where you'll get the chance to follow trails close to the watering holes and inland streams.
The ranger/guide will also introduce you to several survivalist tactics that the San Bushmen have employed and practised for years.
Insider Tip – The Shinde Concession offers the best trails and wildlife sightings, (particularly of wild dogs) for guided nature walks.
Mokoro Rides – Tranquility that'll pierce your soul!
One cannot visit Okavango and not take part in Mokoro (a dug-out canoe) rides. This is where you'll glide through a maze of transparent channels on a canoe that was carved out of ancient trees of the delta.
The Mokoro experience consists of discovering Okavango mere inches above the waterways as you pass by the unaware wildlife.
Experience a place that brims with tranquillity and where life slows down all while seeing red lechwe and herds of elephants on the nearby palm islands.
Plus, encounter hippos nearby as they relax and slosh in the water as African Fish eagles soar overhead.
Note – Mokoro Rides are an additional safari activity and not part of your Okavango Delta Safari Packages. Though, some lodges and tented camps offer this as a specialized add-on activity. And, if you want to take part in this wonderful safari activity then you can customize your tour package with Falcon Safaris.
Sport Fishing – Set off on a catch-and-release adventure!
Nobody thinks of fishing when going on an Okavango Delta Safari, but this is one of the most renowned Things to do in Okavango Delta. When you take part in this activity, you'll get to try your hand at catching a variety of fish in the waters of the delta.
Catch-and-release fishing trips generally happen in the Panhandle region of Okavango where the river meets the maze of channels and lagoons.
The most sought-after fishes include the catfish and African Pike, though bass, bream, and tigerfish are present as well.
So clasp your inner angler, cast your rod and explore the possibilities that lie beneath the trembling waters of the delta.
Motorized Boat Cruises – Crisscross across Okavango's channels!
If you want excitement on a different spectrum than what Mokoro offer then, motorboat safaris on the Okavango River will be perfect. One major benefit of boat cruises is that you'll get to cover more ground and get to explore various regions.
From the boat, you'll get great sightings of water birds like kingfishers, owls, herons, bee-eaters, etc.
Sightings of hippos relaxing and wading in the waters and elephants playfully frolicking will be wonderful sights while on your Okavango Safari via boat cruises.
Psych yourself up and discover the watery heart of the delta from the unique perspective of a boat where you'll cruise between islands and explore the expanse of blue and green contrasts.
Birdwatching Safaris – Twitchers, tag your binoculars along!
The Okavango Delta is home to an incredible variety of bird species, from eagles and hawks to herons, storks, and kingfishers. Going on a guided bird-watching tour is one of the best ways to see these beautiful creatures up close and learn more about their behaviours and habitats.
Experienced guides will take you through the delta's maze of channels, lagoons, and islands, pointing out various species and sharing their knowledge about the local ecology.
Some of the species you may encounter include the African fish eagle, the saddle-billed stork, the Malachite kingfisher, and the African skimmer. If you're lucky, you might even spot a rare Pel's fishing owl or a wattled crane.
Good to Know – Bird-watching tours can be arranged for different times of the day, depending on your preference, and can last anywhere from a few hours to a full day. We recommend you bring a good pair of binoculars (preferably one with 8x42 specifications) to have the best experience.
Sunset Cruises – Superb relaxation contrasted with splendid beauty!
Another popular Thing to do in Okavango is taking a sunset boat cruise through the delta's tranquil waterways. As the sun sets over the horizon, the sky lights up with shades of orange, pink, and purple, casting a magical glow over the delta's landscapes.
During the cruise, you'll have the opportunity to spot a variety of wildlife, including elephants, hippos, crocodiles, and a variety of bird species.
The calm waters provide an ideal environment for photography, and you'll have plenty of opportunities to capture stunning images of the scenery and wildlife.
Many boat cruises also offer drinks and snacks on board, making for a relaxing and enjoyable experience.
Scenic Helicopter Flights – Enjoy aerial views of the magnificent delta!
Helicopter flights offer a bird's eye view of the delta's intricate web of waterways, islands, and floodplains. From above, you can spot herds of elephants, giraffes, and other wildlife moving through the lush vegetation.
You will also get to see the stunning sunsets and sunrises that light up the delta's sky with a colourful display of oranges, pinks, and reds.
Several helicopter tour companies in the delta offer different packages to suit your preferences and budget.
Some companies offer private tours that can be customized to your needs, while others have set itineraries that cover the delta's highlights.
Most tours last for around an hour and can accommodate up to three passengers per flight. Some tours even include a landing on one of the delta's remote islands, where you can enjoy a picnic lunch or a guided nature walk.
Horseback Safaris – A stealthy Okavango Safari adventure!
Riding on horseback allows for a quiet and unobtrusive approach to animals, so you may have the opportunity to observe them in their natural habitat.
The delta's vast plains, winding waterways, and abundance of wildlife provide an unparalleled adventure.
You will have the chance to ride through remote areas that are inaccessible by vehicle and get an authentic feel for the region's vast wilderness. The experience is suitable for riders of all levels, and it's an excellent way to connect with nature.
Cultural Tours – Enriching visits to nearby villages!
The Okavango Delta is rich in cultural diversity, and visiting a local village is an excellent way to learn about the region's traditional cultures. This visit will provide a window into the daily life of the locals, their customs, and traditions.
You will have the opportunity to interact with the villagers, learn about their way of life, and sample their food.
It's an excellent opportunity to gain a deeper understanding of the region's history, culture, and way of life.
The experience is an excellent addition to Okavango Delta Safari Packages and is a great way to connect with the locals and create some enriching experiences.
Visiting the craft markets – Travel that matters and uplifts!
Visiting a local craft market is an excellent way to connect with the local community and support the local economy.
The Okavango Delta is home to many talented artisans who create unique and beautiful handmade crafts.
At the market, you can find a wide range of items such as baskets, jewellery, pottery, and textiles.
The crafts are not only beautiful but also provide a window into the local culture and traditions. By purchasing these souvenirs, you are directly supporting the artisans and their families, and it's a great way to give back to the local community.
Treat yourself to the finest relaxation retreat in the spas and wellness centres!
After a day of exploring on your Okavango Safari, you can rejuvenate your body and mind at one of the delta's luxurious spas or wellness retreats. The serene environment and natural beauty of the delta make it an ideal place to unwind and relax.
You can indulge in a wide range of spa treatments, from massages to facials, and let the healing power of nature work its magic.
The luxury lodges and camps that offer spa treatments also provide exceptional accommodations and outstanding cuisine.
The experience is perfect for couples or solo travelers seeking a tranquil getaway or a break from the rigours of daily life. It's an excellent way to pamper yourself while enjoying the beauty of the Okavango Delta.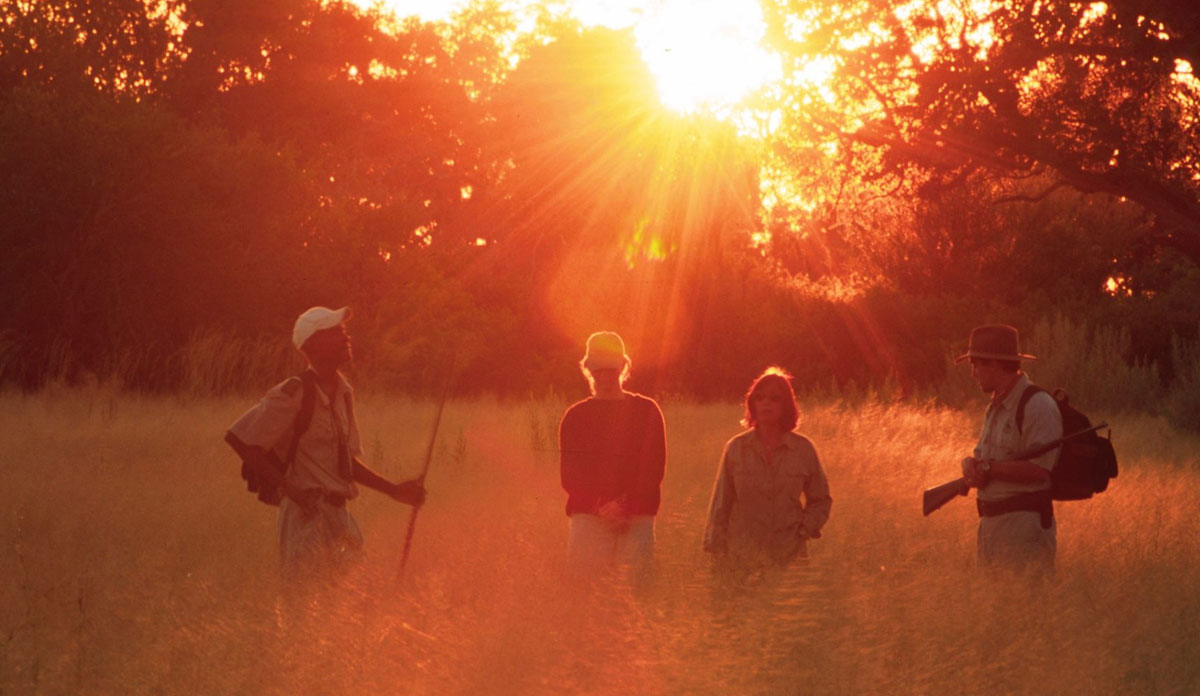 To close things off, we hope that the above list of Things to do in Okavango Delta has satisfied the adventure seeker in you. From tranquil experiences on Mokoros and thrilling up-close encounters with a variety of animals to more laid-back time off at the wellness centre, there's certainly not a shortage of lively and upbeat adventures to be had on Okavango Delta Safaris.