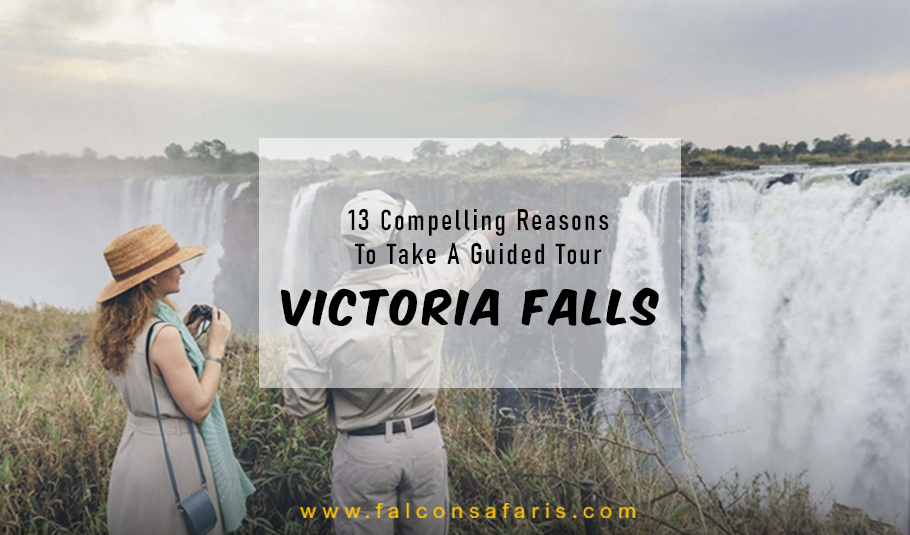 Want to be in the capable hands of a trained and highly experienced travel guide who will introduce you to the wonders of the falls? We have the solution for you! Guided Victoria Falls Tours.
Our tour guides at Falcon Safaris are knowledgeable about several topics concerning Victoria Falls Tours – you name it, they'll have the answer for it! They can even help you make travel decisions and help in crafting a great travel itinerary, but we'll go into that in a moment (in reason number 1 and 8). This post will focus on what are the major reasons for taking a guided Tour of Victoria Falls.
Improve Your Victoria Falls Tours Itinerary
Planning a Tour of Victoria Falls is a must because there's so much choice. Selecting the right kind of accommodations and activities that cater to your needs will improve your experience.
Although, if you don't have time to plan for stuff like these, don't fret. Because the best way to solve this issue is by going on Victoria Falls Tours.
The local guides can offer you a great range of information about what Activities To Do In Victoria Falls and what attractions you must visit.
They won't just guide you on your tours but also help you decide how you can spend the rest of your time by finding out your likes and dislikes.
Learn more valuable information about a guided Victoria Falls Tour by visiting our link here – https://falconsafaris.com/victoria-falls
Boost Your Knowledge About The Falls In No Time
There are heaps of attractions and things to do in and around Victoria Falls. So, unless you have the advantage of time and the budget, you are going to have to make some tough choices.
But a guided Victoria Falls Tour disregards these possibilities. This is the quickest way to get information about a particular place, topic, or activity.
Also, you'll have the chance to learn about the geological, cultural, and ecological significance of the area plus loads of interesting historical facts.
Our guided Victoria Falls Tours at Falcon Safaris are crafted to filter out all the unnecessary things and take you right towards the good stuff.
Pre – Arranged Transfers
It won't matter if you want to go on a Safari in Victoria Falls or take part in any of the wide selection of Victoria Falls Activities – guided tours are there to help you with transfers.
Our guided Victoria Falls Tours will take the hassle out of arranging a taxi or god forbid having to walk! In most cases, we'll fetch you right from your accommodation and bring you right back after you're done for the day.
Great For Solo Travellers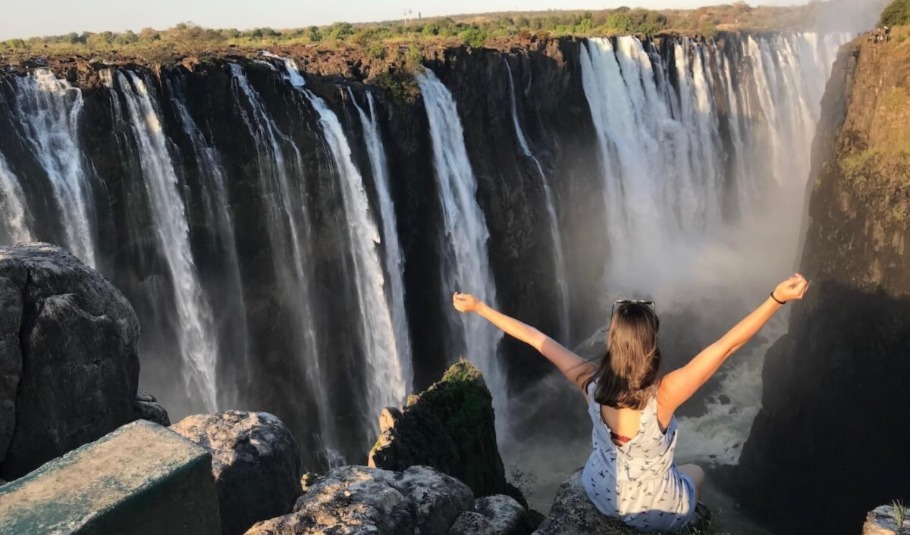 Travelling alone to Victoria Falls can be an intimidating process and even take the fun out of your trip. This is especially true for first-time travelers.
But set aside your doubts because doing a guided Victoria Falls Tour with a group is a lot more fun. Plus, it's also a great way to meet new people and fellow travel enthusiasts who have the same interests as you.
Value For Money
Taking a guided tour in Victoria Falls is unquestionably going to offer you the best bag for your buck. Plus, a guaranteed epic adventure with experienced guides and great company.
All your entrance fees, guide fees, and transport costs will be covered by our guided Victoria Falls Tour Packages. This will work out cheaper than doing everything separately.
Access To Exclusive Experiences
Guided Victoria Falls Tours may also include access to exclusive experiences such as a guided walking tour of the Victoria Falls rain forest, a sunset river cruise along the shores of the Zambezi River, or a visit to the local villages.
Plus, if you're lucky you may also get special access to some of the adrenaline-fuelled Victoria Falls Activities.
An Opportunity To Serve The Local Communities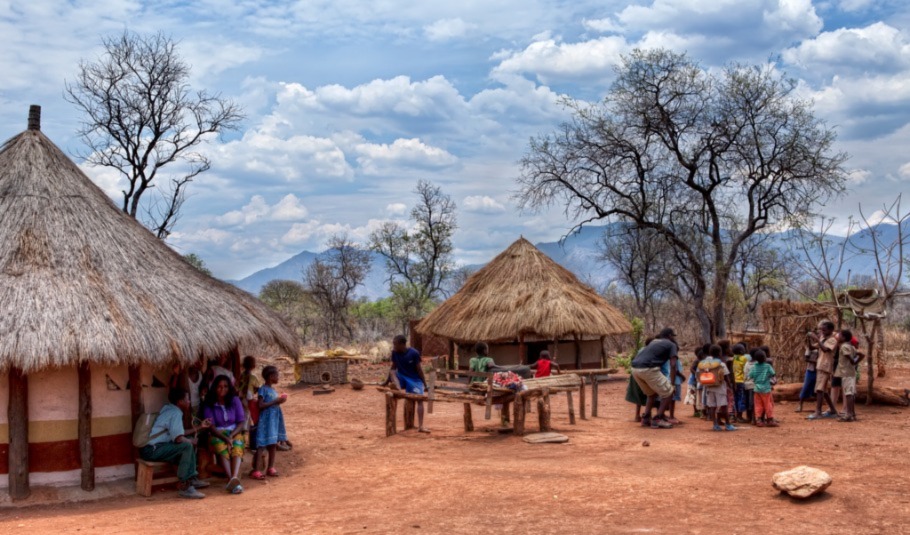 When you take on guided Victoria Falls Tours, you in turn make sure to support the local communities.
You may not know this but most of the revenue that's generated from Victoria Falls Tourism is channelled back into community outreach programmes, conservation, and other related initiatives.
This helps to keep the environment, natural wonders, and wildlife of the area in the best possible condition.
So that we and our future generations will have the same remnants of Victoria Falls wonders.
Learn From The Experience Of Guides
Many of our guides at Falcon Safaris have lived and worked around Victoria Falls for some years, many for decades even. And collectively there's nothing in the region that they can't explain to you.
It's best to use their experience and learn more information from them.
Whether you're a seasoned traveler or a first-time one, there's always something new you can learn on Victoria Falls Tours.
So hop on board and get in-depth knowledge as well as insider tips about Victoria Falls from our guides. You'll be delighted that you did!
Find Lesser-Discovered Victoria Falls Tours Destinations
Our well-versed guides in the past have found some amazing off-beaten tracks that we're sure you won't be able to find on your own. They may not be able to come up with a destination off the top of their head.
But, asking questions often has a way of jogging their memory and you might uncover something incredible to explore.
Experience Things From A Different Perspective
Most often than not, Victoria Falls, Guided Tours will allow you to see some attractions from a fully different perspective. This is undeniably true for many of the tours and Victoria Falls Activities.
Why not go where few do – in Zambezi National Park and experience what a Safari in Victoria Falls feels like?
Or, what better way is there to see the mighty Zambezi River than taking part in some white water rafting, sport fishing, or taking a sunset cruise?
Moreover, instead of only seeing the falls from a distance, why not experience them by swimming in the devil's pool right on the brink of the waterfalls? Or try your hand at getting under the spray at the bottom of the falls!
Guides Know The Lay Of The Land Better Than Anyone!
Guides have an intimate knowledge of the area and can take you to the best viewpoints and hidden gems that you may not get to discover on your own. Our guides at Falcon Safaris are our pride and joy, and why shouldn't they be? They offer you the best Victoria Falls Tour that you could ever want.
Safety – A Priority!
Victoria Falls Guided Tours prioritizes your safety, as guides are trained to navigate the area and ensure that you have a safe and enjoyable experience.
Get To Meet And Interact With Fellow Travellers
Victoria Falls Tours provides the opportunity to meet and interact with fellow travellers from around the world, which can enhance the overall experience and create lifelong memories.
Summing Things Up With Additional Info!
Well, now it's time to sum things up about why you should certainly have Victoria Falls Guided Tours on your trip checklist. We'll go over the points below. And, we've thrown in some additional information that will also be helpful, just for you – our fellow travel enthusiasts.
| | |
| --- | --- |
| REASON(S) | EXPLANATION(S) |
| Expert Knowledge | A guided tour allows you to gain access to a knowledgeable tour guide who can provide you with in-depth information about the history and culture of Victoria Falls. |
| Safety | A sense of security as the tour guide is experienced and familiar with the area, which reduces the risk of getting lost or injured. |
| Convenience | All the logistics will be taken care of including transportation, entry fees, and itinerary planning, so you can sit back and enjoy your trip. |
| Time-Saving | By taking you to the best spots in Victoria Falls without wasting time searching for them on your own. |
| Customization | A guided tour can be customized to meet your specific interests and preferences, allowing you to create a personalized itinerary. |
| Environmental Impact | Helps in minimizing your environmental impact by ensuring you follow responsible tourism practices. |
| Expert Photography | Provides you with lots of great photographic opportunities along with tips from our guides on how to take the best shots. |
Don't Let The Opportunity Of Guided Victoria Fall Tours Pass You By!
As has been demonstrated, guided Victoria Falls Tours are an ideal choice based on the above reasons. So now all that's left is for you to soak in all the comforts that guided tours offer and let us lead you into the wonders of Victoria Falls with our specialized Victoria Falls Tour Packages.