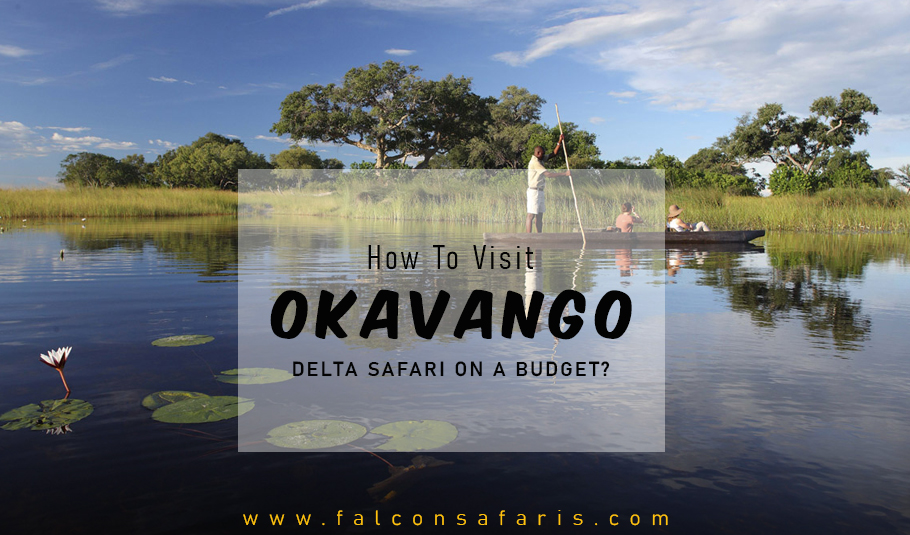 Being the largest delta in the world and a World Heritage Site, Okavango Delta is a popular tourist attraction of Botswana. It is a place where you can experience world's second largest animal's migration and a home to big five. No doubt that this the best destination for safari. Although the prices are little high but Okavango delta safari is worth visiting. But you don't need to worry, you can visit Okavango Delta within a budget. Here are some important points that can lower your expenditure.
CHOOSE A LOCAL TOUR OPERATOR WHILE YOU ARE IN OKAVANGO DELTA
By arriving in Botswana, always try local to book a local tour guide. As they have been living there for years they understand the habitat more than anyone. They also charge less money compare to international travel agencies.
WHAT'S THE BUDGET FLIGHT OPTION TO OKAVANGO DELTA?
There is no direct flight to Okavango Delta. It can be accessible by small charter flight from Maun, which generally takes 15-20 minutes.
Travelers can come to Maun by direct flight from Gaborone. The cheapest direct flight price between Maun and Gaborone ranges from 85 to 90 USD per person.
TRAVEL IN RAINY OR SHOULDER SEASON TO OKAVANGO DELTA
Generally the packages of any safari trip depends on the season you are visiting. In Okavango Delta the off season is from December to March which is also the rainy season at Okavango Delta. During this period safari packages are relatively low and the number of visitors are also less. If you want to enjoy Mokoro ride within budget the shoulder season is between April and May.
AFFORDABLE ACCOMMODATION OPTIONS AVAILABLE AT OKAVANGO DELTA
Staying in a luxury hotel is not the only way to explore the wildlife. Also You can choose a hotel or camp outside the reserve which can save a lot of cost. You can also opt for public camping facilities, these are extremely affordable. You can stay at an affordable hotel at Maun and come to Okavango Delta by excursion.
Okavango Safaris Tour provide extremely affordable camps and lodges staring from 275 USD in.
WHY YOU SHOULD JOIN A GROUP SAFARI AT OKAVANGO DELTA?
Instead of booking a solo safari ride, you can join with a safari group. This will reduce your expenses. Joining others safari group is also an opportunity to share your experience other tourists.
It's a great way to make friends with same travel enthusiastic people. The only problem is you have to adjust your time according to the safari group.
Also if your safari group is big, you can also share the cost of different activities. It will provide your package Cost to be affordable.
CHOOSE A RIGHT TRAVEL OPTION WHILE GOING TO OKAVANGO DELTA
To reduce your travel expenses, you can choose self-driving option. You can go with your 4×4 vehicle. You can also rent from a local company. Before self- driving you need to understand the roads and destination.
For self-driving one need to be over 25 years and have a valid driving license.
You can travel Okavango Delta by mini bushes known as combis. if you want to travel to remote area, you will have to pay some extra money.
Due to presence of extended waterways a large part of Okavango Delta is unreachable by land. The nearest place which is connected by road is Maun. A city lies in the southern part of Okavango Delta.
of travelling on small charter planes. try to travel by roads.
The more you will stay the more it will cost. That does not mean can explore Okavango Delta Safari in one day. You can stay for 3 to 4 days to lower the cost. Even in those 3-4 days you can explore the wildlife of this delta.
WHAT ARE THE BEST SAFARI PACKAGES AVAILABLE?
The Okavango Delta Safari Packages Instart from US$ 150 and it goes all the way to US$4000 per person. It suits to every budget offering from basic facilities to highest level of comfort.
The Best Safari Tour In Okavango Delta are start from 3 days and it goes up to 22 days. You cheapest safari tour is 3 days Kanana Mokro trail. You can check our website for more safari packages.
HOW MUCH DOES IT COST TO BOOK A CAMP IN OKAVANGO DELTA?
If you don't prefer to stay in hotels you can stay at camps which are way less pricey. At Moremi Game Reserve there are three camps available which cost $20 per person per night. It is the best option to cut down your expenditure.
The two hour boat safari cost around $35 per person. On this boat safari you can explore the serene waterways and unseen wildlife.
WHAT WILL BE THE TOTAL COST OF VISITING OKAVANGO DELTA SAFARI?
The Okavango Delta Safari Cost starts from $150 per person per day. It includes game viewing and food. if you travel in your car. you only have to pay the entrance fee. The entrance fee cost around 10 to 15 US dollar.
Okavango Delta is a budget friendly safari destination. The price that you will pay is definitely worth it. From every corner of Earth tourist come here to witness the majestic beauty of Okavango Delta.
With an organized planning you can make your Okavango Delta safari comfortable. For more information visit our website Falcon Safaris or give us a phone call. We have been providing a unique safari experience to our customer. Our Okavango Delta Safari Packages are extremely affordable. We are always here to make your safari comfortable and unforgettable within your budget.