The Okavango Delta Tours, often dubbed as Africa's last Eden, is a place of unparalleled natural beauty and wildlife diversity. Located in Botswana, this unique ecosystem offers a multitude of ways to experience its wonders.
In this guide, we'll discover the 6 top Most ways to Experience the Okavango Delta Tours, brought to you by Botswana Safaris And Tours. Get ready to immerse yourself in the beauty and wonder of this African paradise as we explore the diverse and captivating ways to connect with nature and wildlife.
1. Game Drives: Safari Adventures on Four Wheels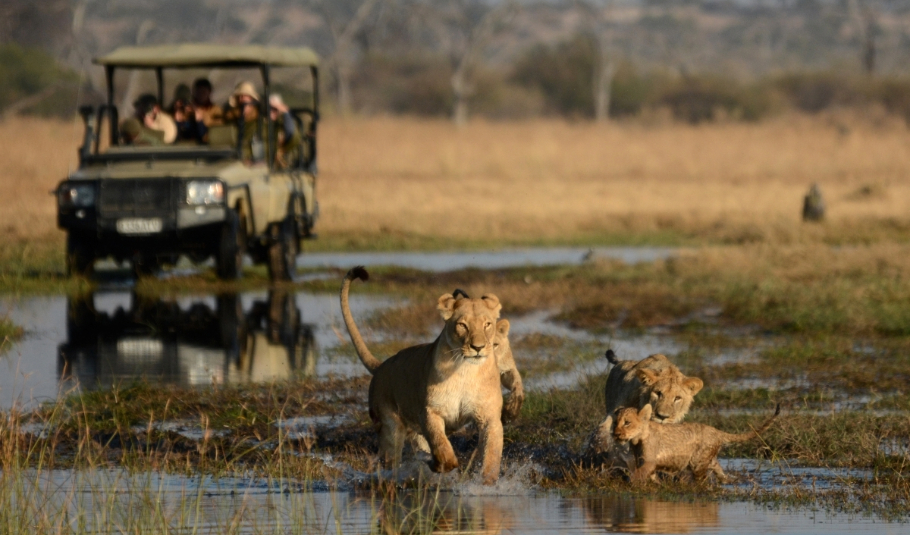 Game drives are the quintessential Okavango Delta Experiences. You'll venture out into the wilderness in a specially designed safari vehicle with an experienced guide, in search of the magnificent Okavango Delta Wildlife.
Highlights:
Big Five Encounters: The Okavango Delta is home to the Big Five – lions, leopards, elephants, buffaloes, and rhinoceros. Game drives offer the best chance to spot these iconic creatures.
Nocturnal Adventures: Some game drives happen at night, giving you the opportunity to witness the Delta's nocturnal animals, like leopards on the prowl.
Scenic Landscapes: The drives take you through varied landscapes, from open savannahs to dense forests. It ensures every moment is a visual treat.
2. Mokoro Safaris: Glide Through the Waterways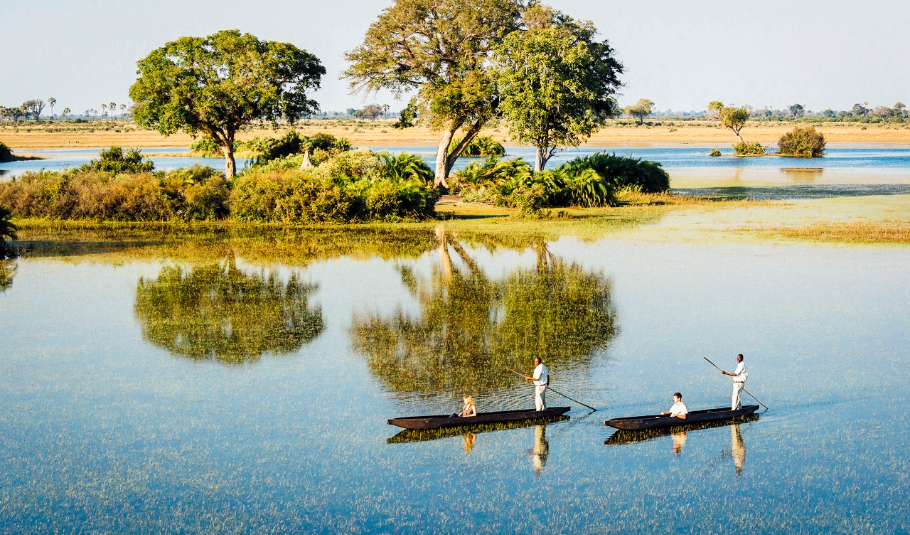 Mokoro safariis one of the unique Things To Do In Okavango Delta. You'll sit in a traditional dugout canoe, poled by a skilled guide, and navigate the winding waterways of the Delta.
Highlights:
Close to Nature: Mokoro Safaris In Okavango allows for a quiet and close-up experience with wildlife and aquatic plants.
Birdwatching Paradise: Glide past water lilies and papyrus reeds while spotting a myriad of bird species, from herons to kingfishers.
Tranquillity: The gentle swaying of the Mokoro and the soothing sounds of nature make for a serene and calming Okavango Safari Experience.
3. Walking Safaris: A Close Encounter with Nature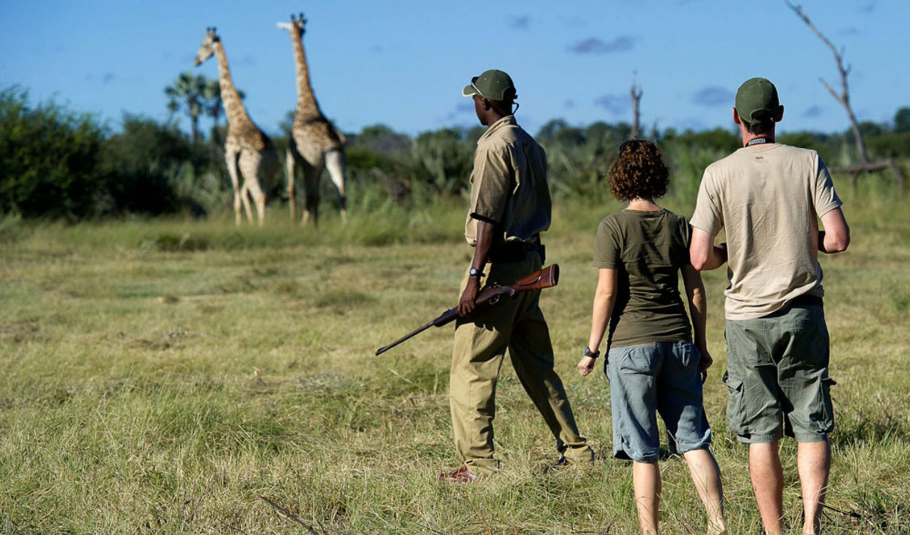 Walking safaris In Okavango Delta provide an intimate and immersive experience to its visitors. Accompanied by a knowledgeable guide, you'll explore the Delta's flora and fauna on foot.
Highlights:
In-depth Learning: Guides share their extensive knowledge about the Delta's plants, insects, and animal tracks, offering a deeper understanding of the ecosystem.
Quiet Observation: Walking allows you to approach animals quietly. It helps increasing your chances of observing behaviour and interactions up close.
Safety First: Rest assured, safety is a top priority, with guides well-trained to ensure a safe and informative experience.
4. Birdwatching: A Paradise for Avian Enthusiasts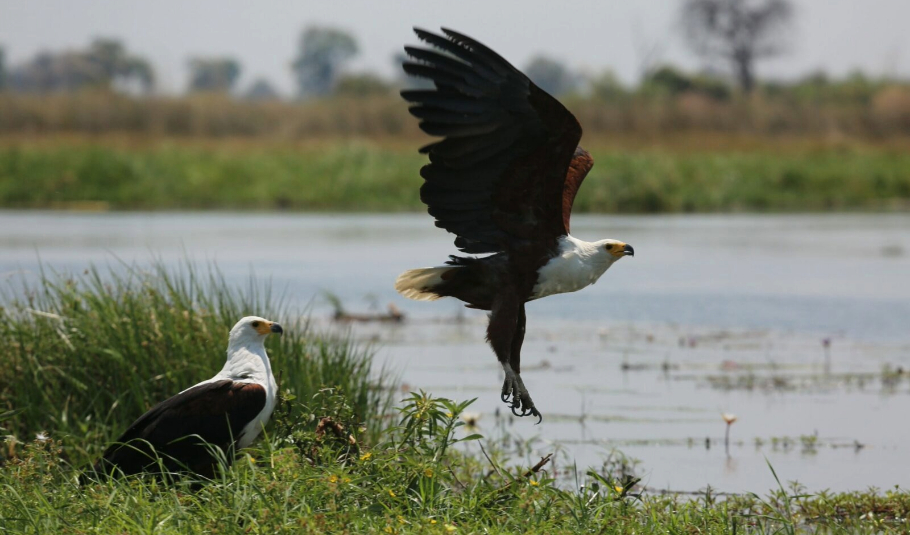 The Okavango Delta is a birdwatcher's paradise, with over 400 bird species, making it one of Africa's premier birding destinations.
Highlights:
Variety of Habitats: The Delta's diverse ecosystems, from wetlands to woodlands, support a wide range of birdlife. And, it includes rare and endemic species.
Seasonal Migrations: Witness the seasonal migrations of both resident and migratory birds. It'll add even more excitement to your Okavango Delta Birding Safari experience.
Photography Opportunities: Capture the vibrant colors and unique behaviours of the Delta's feathered inhabitants in their natural habitat.
5. Boat Safaris: Explore the Delta's Hidden Corners
Additionally,Boat safaris offer a different perspective of the Okavango Delta. You'll explore the water channels in a motorized boat, providing access to areas inaccessible by land.
Highlights:
Water-Based Wildlife: Encounter aquatic Okavango Delta Wildlife like hippos, crocodiles, and vibrant fish species while peacefully cruising along the Delta's waterways.
Sunset Cruises: Some Boat Safaris In Okavango are timed to coincide with the golden shade of sunset. It creates a magical and romantic atmosphere.
Relaxation: Enjoy a leisurely pace and relax as you absorb the tranquil beauty of the Delta from the water.
6. Hot Air Balloon Safaris: A Bird's-Eye View of Paradise
Like other Adventurous Activities In Okavango Delta, hot air balloon safaris also offer a breathtaking aerial perspective above the sky. Drift silently above the Delta's mosaic of water and land, soaking in panoramic views.
Highlights:
Unmatched Views: Appreciate the Delta's vastness, with uninterrupted views of its channels, islands, and wildlife.
Peaceful Adventure: Hot Air Balloon Safari In Okavango Delta creates a sense of serenity as you soar with the breeze, far from the sounds of civilization.
Photographic Magic: Capture incredible photos of the Delta's landscapes and wildlife from the sky.
Tips for a Memorable Okavango Delta Experience
As you plan your Okavango Delta Safari Tours, keep these tips in mind for a safe and more excellent safari experience:
Pick Your Best Time To Visit Okavango Delta aligns with your interests. Each season offers unique experiences, from dry season game drives to lush greenery in the wet season.
Bring lightweight, breathable clothing for hot days and warmer layers for cooler evenings. Don't forget sunscreen, a wide-brimmed hat, and insect repellent.
Select Okavango Delta Safari Activities that resonate with your interests and comfort level. Whether it's game drives, Mokoro safaris, or birdwatching, tailor your experience to your preferences.
Remember you are a guest in their home. Follow your guide's instructions, maintain a safe distance, and practice responsible wildlife viewing.
Botswana can get hot. So, carry a refillable water bottle and drink plenty of fluids during your Botswana Safari Tours.
Falcon Safaris: Your Key to Okavango Delta Discovery!
There you have it, 6 incredible ways to immerse yourself in the breathtaking beauty of the Okavango Delta. It's a world where nature takes centre stage, and the experiences are nothing short of life-changing. Now, it's your turn to choose your path and let the Delta work its magic on you. And there's no better partner for this journey than Falcon Safaris. With our dedication to preserving this pristine paradise and their commitment to crafting unforgettable moments, we'll turn your dream of Okavango Delta Tours into a reality.