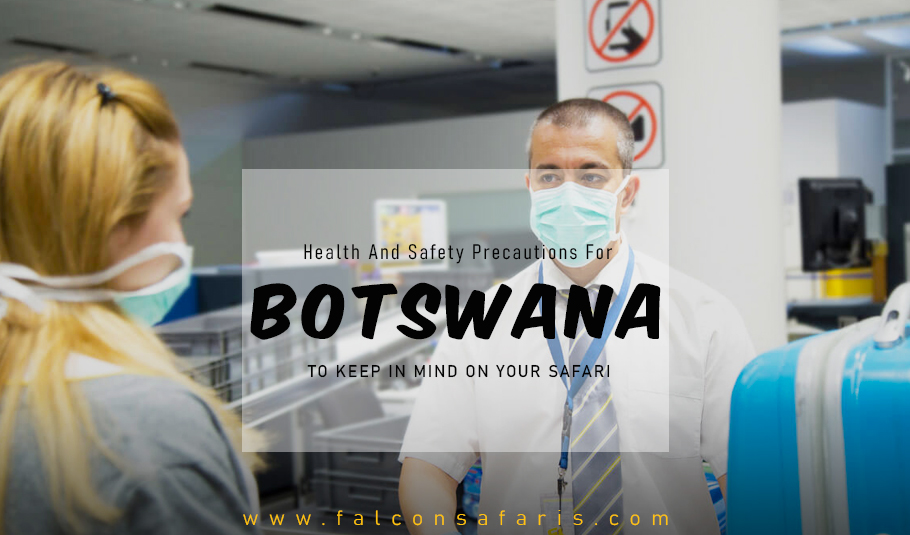 Botswana is considered one of the best places for a Safari and if you're planning for a Botswana Safari you should keep your Health And Safety in the back of your mind. But, worry not as we've created a List Of Precautions to keep in mind to have a safe and wonderful experience on your Botswana Safari.
Health and Safety Precautions to keep in mind before Your Botswana Safari
Botswana is a very safe place to visit and is ranked as the safest country in Africa. But, one should keep in mind some precautions into account before traveling.
There are some required vaccinations to consider before going on your trip like – Malaria, Typhoid, Yellow Fever, Cholera, and Hepatitis A and B.
You should also have your vaccination certificates with you.
You should also keep your comprehensive travel and health insurance with you.
A yellow fever card is required for people arriving from or having been through countries with a risk of Yellow Fever Transmission (e.g. Rwanda, Kenya, and Uganda).
One should also keep their prescription medications and their allergy medications with them along with a First-aid Kit.
Keep these things in your luggage when planning your Botswana Safari.
Precautions to keep in mind during your Botswana Safari
There are certain rules and regulations to keep you safe during your safari such as:
Follow the instructions of your Guide.
Don't climb out of your safari vehicle.
Don't feed the animals or carry/store food during your safari.
Always wear boots and socks when on a walking safari to protect yourself from insects and snakes.
Wear earth tone colors as tsetse flies are attracted towards dark colors.
Don't startle the animals when game viewing.
Don't swim in Lakes or Rivers.
Don't Smoke in the safari vehicle as it's a big fire hazard in the African Bush.
Drive slowly and safely if you're on a self-driving Botswana Safari.
Try be keep downwind from wildlife, if you're on a Botswana Walking Safari.
Keep these things in the back of your mind to experience a comfortable and wonderful Botswana Safari.
Personal Safety Precautions
There are some personal precautions that you should take before your Botswana Safari:
Make sure to carry sunscreen (SPF 20 or higher).
Also, have with you an Insect repellent with DEET.
If you're camping outside, make sure to cover yourself.
Don't walk around at night.
Never keep food inside your tent.
Respect the Locals.
Don't take pictures without permission.
Don't openly carry valuables.
Don't wear expensive jewelry.
Follow weather reports and make arrangements for changes.
Be prepared for the sun and carry a light scarf, fleece, and a wide-brim hat with you.
Don't walk barefoot in the camps.
Wear appropriate clothing during your stay.
Make sure to follow these general precautions and you'll certainly have a pleasurable safari experience in Botswana.
Some additional Tips for your safety during Botswana Safari
Keep some extra things in your mind such as:
Be Responsible and don't litter around the camps or game parks.
Carry a Setswana phrasebook to help with interactions with locals.
Keep a basic Travel Guide and itinerary.
Wildlife is certainly dangerous but make sure to follow the instructors and guides and you won't face any difficulties.
Don't wander off into uncharted territories.
Never throw litter from your safari vehicle as it can become a choking hazard for animals and birds.
Don't leave the tent without your guide, keep your tents closed and have a flashlight or headlamp with you.
Have these additional tips in your mind too when on a safari tour and staying in Botswana lodges/camps.
Follow this guide of rules and regulations for your Botswana Safari.
If you have any queries, feel free to contact us on the following details
+263 83 284 1840/1 or
Email: info@falconsafaris.com
Conclusion
At last, ensure to follow the above list of health and safety precautions and you will most definitely have an unforgettable experience and create long-lasting impressions during your Botswana Safaris.