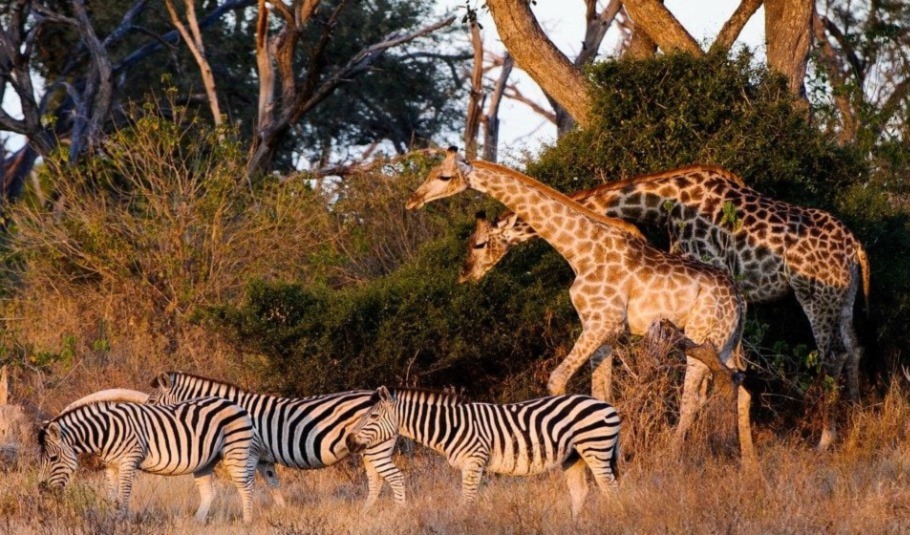 The Okavango Delta Safari takes you into the heart of Botswana's natural masterpiece, offering you an experience unlike any other. Unfolding over an impressive 15,000 square kilometers, this Okavango Delta is the planet's largest inland delta and a real-world Eden.
Among all Botswana Safari Tours, this one is special. This trip lets you explore Africa's largest freshwater wetland teeming with abundant wildlife and breathtaking natural beauty. What are the other reasons that make Okavango a truly spectacular Botswana Destination? Let's find out more!
A Natural Paradise in the Desert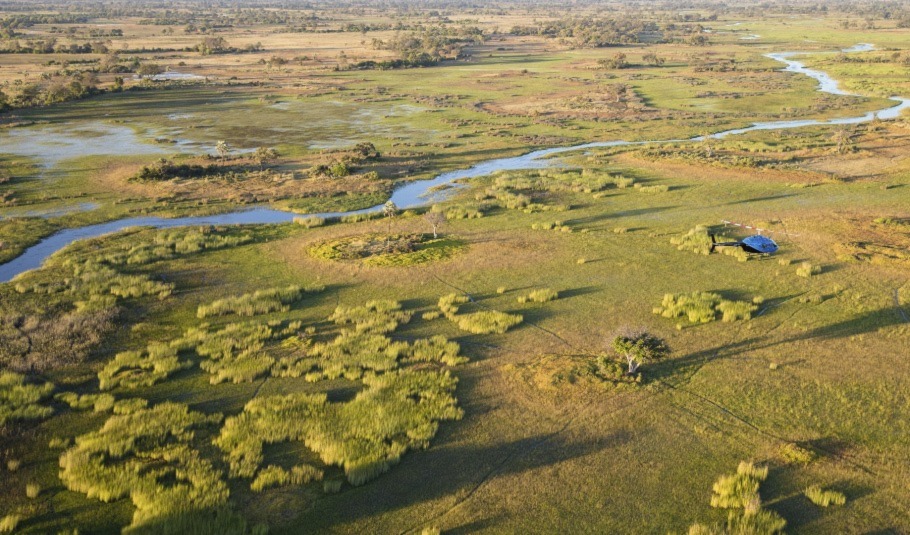 Have you ever seen an oasis in the desert? The Okavango Delta is just that. Nestled in the Kalahari Desert, it's a World Heritage Site.
In the truest sense, the Delta breathes life into the desert. There's nothing quite like choosing an Okavango Delta Package and marveling at the many animal species that call this place home.
You will see many animals in the delta, from plains game to unusual antelopes like the puku, sitatunga, and red lechwe.
Predators and rare bird species also find refuge here, making the delta a hotspot for nature lovers.
The water-based safaris stand out for their sublime serenity among the numerous Okavango Delta Tours.
Glide through the water in a traditional dugout canoe, witnessing birds, elephants, and shy antelope in their natural habitats.
Okavango Delta Packages often include visits to private concessions for an unhurried and immersive safari experience. Expect low visitor numbers, few vehicles, and unspoiled game viewing.
Special Note: The Okavango Delta is one of the few places in Africa where you can experience the magic of a mokoro ride, traditional dugout canoes that offer a unique and tranquil way to explore the Delta.
Exceptional Okavango Delta Lodges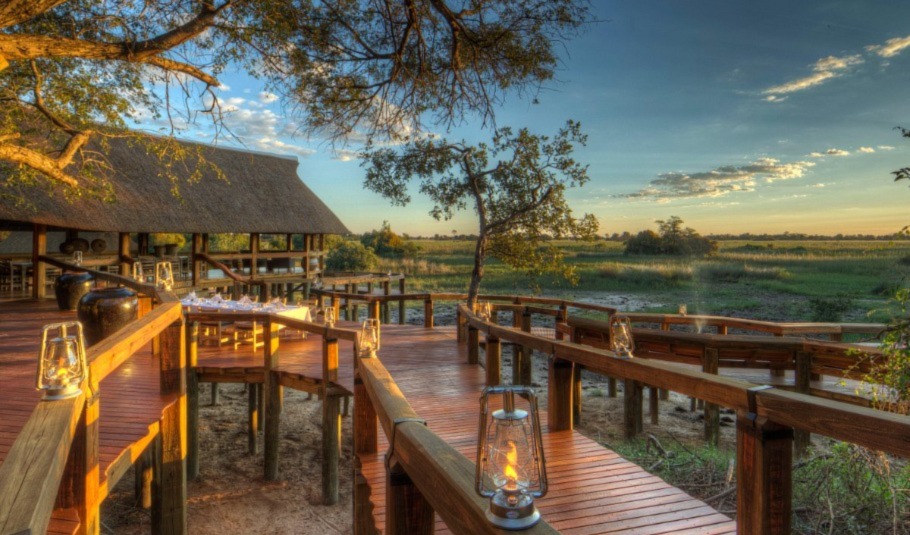 When you choose the best Okavango Delta Safaris, your trip includes fantastic accommodation. Okavango Delta Lodges comply with Botswana's strict conservation rules.
The lodges in the delta are built creatively with timber and raised on stilts. This design handles changing water levels and provides stunning views of the Delta.
Some lodges have only three or four suites. It makes for a very private, peaceful setting.
The lodges may be eco-friendly but don't skimp on luxury. Think 4-poster beds, outdoor bathtubs, private plunge pools, and even sky beds open to the stars.
Most Okavango Delta Lodges are designed to be environmentally friendly and can be dismantled within 24 hours. Thus, leaving no trace behind.
Endless Activities and Experiences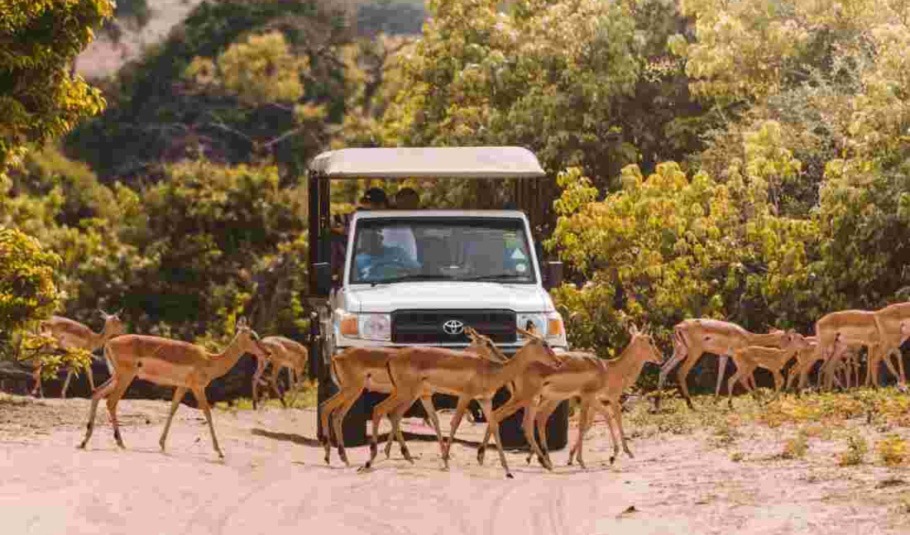 Okavango Delta Safaris has activities for everyone, whether you're a safari newbie or a seasoned explorer.
Game drives, birding, boating, mokoro rides, and nature walks are all part of our Okavango Safari Packages. You can even try catch-and-release fishing, visit local villages, and take pictures to your heart's content.
Interesting Fact: The Okavango Delta is one of the top spots to see leopards in the wild. So, keep your camera handy!
Easily Combined with Other Destinations
One of the perks of Okavango Delta Holidays is accessibility. The Delta may seem remote, but it's surprisingly easy to get to.
And you can combine it with other African destinations. With our expert professionals at your service, you can talk to them and add the destination of your choice to your safari itinerary.
Add Victoria Falls, Chobe National Park, Cape Town, or the Kruger National Park to your Botswana Travel Packages.
Visit the Unspoiled Paradise- the Okavango Delta!
The Okavango Delta Safari is an unmatched experience that blends pristine wilderness, thrilling adventure, and luxurious comfort.
It shows the diversity and beauty of Botswana and its commitment to conservation. Whether it's the wildlife, the activities, the lodges, or the location, the Okavango Delta is a gem among Botswana Safari Tours.
Why not let Falcon Safaris help you plan this trip? We offer a variety of Botswana Safari Packages. They're designed to help you capture the magical moments that make a trip to the Okavango Delta memorable.
Let's make your African dream safari a reality. Get in touch now for the best Botswana Safari deals!