A Botswana Self-Drive Safari unveils the pristine beauty of one of Africa's finest safari destinations. Imagine driving through expansive landscapes filled with roaming elephants, majestic lions, and intricate wetlands. With our Botswana Safari Tours, you can uncover this world of unparalleled splendour and much more.
So, if this idea of self-driving through the exquisite scenery of Botswana has stirred your adventurous spirit, you are at the right place. Offering the best possible self-drive tours, our Botswana Safari Packages promise to provide an adventure you'll cherish forever.
Preparing for Your Self-Drive Adventure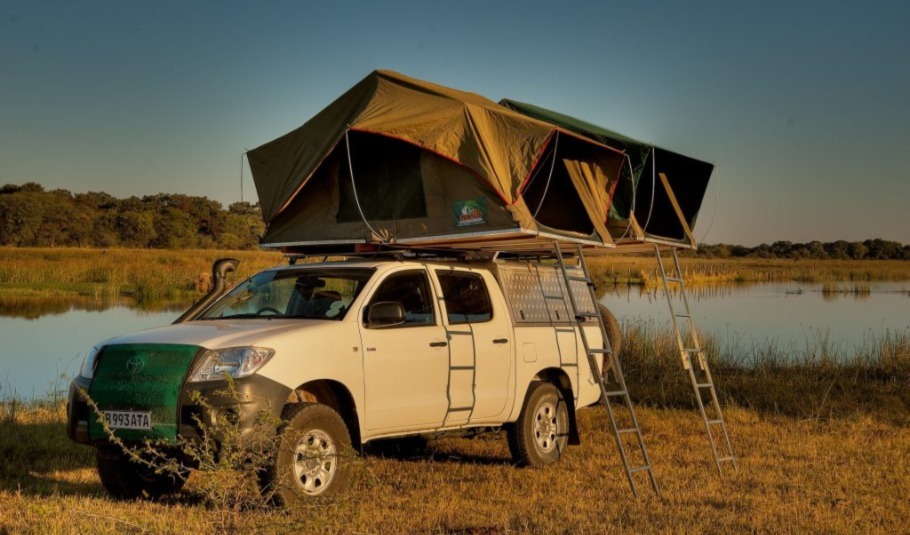 The success of your Self-Drive Safari Botswana Trips largely depends on your preparation. You can start by making a checklist of essentials for your self-drive Botswana Safari. Here are some crucial Self-Drive Safari Botswana Tips to consider:
Fuel and Supplies
Carry extra fuel, water, and essential food items. This is because most parks do not have adequate refuelling stations.
You can also stock up on food items, car repair tools, and sufficient clean drinking water for emergencies.
Vehicle Selection
When planning self-drive Botswana Safari Tours, it's crucial to understand the road conditions and requirements. You need to know that vehicles here are right-hand driven.
Also, the roads in the north can be challenging, especially in rainy seasons. To navigate sandy, muddy terrains with deep water pools, using a 4×4-wheel-drive vehicle for Botswana Self-Drive Tours is wise.
Navigation
Stick to designated roads and don't veer off. Because if you do so, you might end up on dirty roads that are almost impassable.
An important thing to know when Self Driving in Botswana is that its national parks do not allow off-road driving. So, be careful!
Health Precautions
Protect yourself from malaria in Northern Botswana with repellents and medications. The risk is much higher in the wet season, extending from November to April.
Park Regulations
Follow the rules, such as not feeding wild animals or carrying prohibited items. After all, it's their territory, and you don't want to make them feel threatened.
Falcon's Insight: We recommend carrying a GPS gadget for navigation. This will ensure you won't get lost even if you miss any critical signpost. Additionally, you can bring a satellite phone if you want to communicate better.
Choosing the Ideal Time for Your Self-Drive Safari in Botswana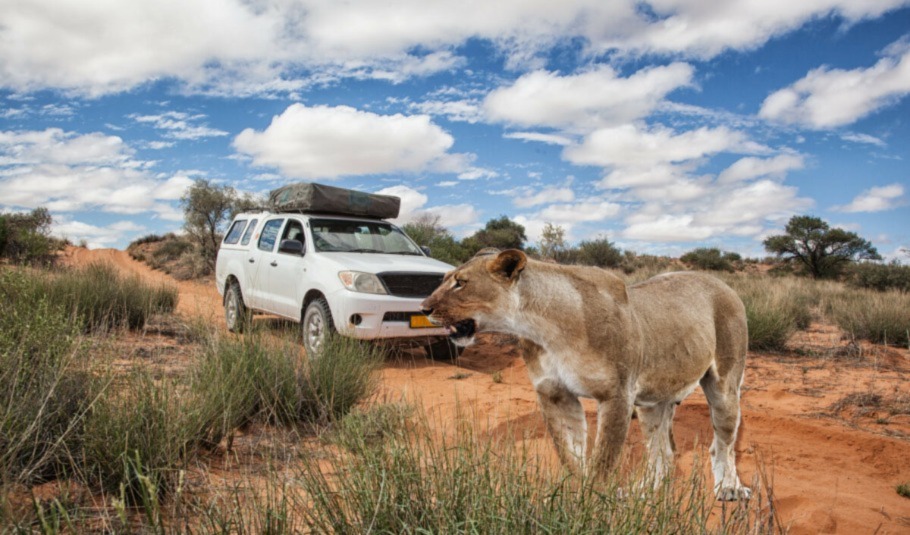 Timing is crucial when planning your Botswana Self Drive Tours. The dry season from June to October is considered the Best Time to Visit Botswana. This is also the optimal time for self-drive tours as wildlife is easier to spot near waterholes, and the risk of malaria is lower.
The wet season can offer unique experiences but may restrict access to some regions. Still, travellers who are hard-pressed for cash choose this damp season to visit the country. And, with fewer tourists and lower lodge rates, it is the best time for Cheap Botswana Safari.
Planning Your Self-Drive Route
Botswana Self-Drive Tours require meticulous route planning. It's essential to consider distances between parks, road conditions, and the wildlife you aim to observe. Detailed planning will make your self-drive safari a smooth and remarkable experience.
Notable Mention: Our typical Botswana Safari Itinerary might include Chobe National Park, Victoria Falls, Makgadikgadi Pans, and Okavango Delta.Tailoring the trip to your interests, including any specific wildlife you hope to see, will create a fabulous experience. Utilise the knowledge of our skilled professionals and find the best Botswana Travel Package curated just for you.
Our Best Self-Drive Botswana Safari Packages and their Highlights
This section will highlight two of our best self-drive Botswana Safari Packages. We will discuss the itinerary, must see-spots and a glimpse of Wildlife in Botswana.
Package 1: 10-Day Chobe to Okavango Delta | Self-Drive Botswana Safari Tour
This 10-Day Chobe to Okavango Delta Safari Package lets you explore Botswana's beautiful nature. You'll stay in friendly lodges and go on exciting drives to see animals like predators and antelope.
There are also walking tours and boat rides on the Chobe River. You'll see many different wildlife and enjoy the pretty lilies-filled waterways. It's a fun and varied trip.
Highlights
Visit Chobe National Park and venture on thrilling bush drives and magical boat cruises of the Chobe River. Alongside, spot the vast herds of African elephants, the pride of Chobe.
Discover Victoria Falls and experience white water rafting, bungee jumping, canoeing safaris, and more at the iconic Victoria Falls. Watch the numerous wildlife adventures when boating cruises on River Zambezi.
Explore Makgadikgadi Salt Pans, capture this salty desert's unique beauty, and enjoy bird watching. Spot many other desert-adapted wildlife on a Self-Drive Safari Botswana.
Fly Over the Okavango Delta and witness the marvellous scenery from your private window. Encounter hippos and birds on a mokoro cruise and see the majestic African sunset on a motorboat safari.
Itinerary Details for 10-Day Chobe to Okavango Delta | Self-Drive Botswana Safari Tour
Day Activity
Trip Details
Day 1
Pick up a car rental in Kasane and enjoy a game drive in Chobe National Park.
Days 2 & 3
Explore Chobe National Park and go on a river cruise on the Chobe River.
Days 4 & 5
Discover Victoria Falls with many optional adventures.
Days 6 & 7
Visit the Makgadikgadi Salt Pans and enjoy guided excursions.
Days 8 & 9
Fly into the Okavango Delta and explore the Moremi Game Reserve.
Day 10
Farewell to Botswana
Package 2: 12-Day Botswana Self-Drive SUV Safari | Makgadikgadi, Caprivi, Chobe & Vic Falls
This 12-Day Self-Drive SUV Botswana Safari Holiday Package takes you on a unique journey through magnificent landscapes like Makgadikgadi Pans, Caprivi Strip, Chobe National Park, and Victoria Falls.
You'll travel in a 2×4 SUV, enjoying good roads and beautiful sights not seen on regular safaris. The trip includes guided drives, a boat cruise, and a day trip to Victoria Falls. It offers an affordable way to visit Botswana and is customisable to suit your needs.
Highlights:
Visit Makgadikgadi Salt Pans
Explore the world's largest salt pans on a guided 4×4 Salt Pan Drive. Discover the vastness of the Makgadikgadi Pans. Encounter desert-adapted wildlife like meerkats and a variety of birds, including flamingos.
On Botswana Safari Holidays in the Chobe National Park, take the opportunity to venture into the wild. Witness over 40,000 elephants and other wild inhabitants such as lions, hippos, and crocodiles.
Experience the awe-inspiring magnificence of Victoria Falls. Witness the surrounding wildlife, including the opportunity for adventure activities.
Itinerary Details for 12-Day Botswana Self-Drive SUV Safari | Makgadikgadi, Caprivi, Chobe & Vic Falls
Day Activity
Trip Details
Day 1
Long drive from Johannesburg to Francistown
Days 2
Francistown to Makgadikgadi
Day 3
Explore the unique salt pan landscape and enjoy bird watching at Nata Sanctuary.
Days 4 & 5
Relax or explore the Okavango Delta and the Thamalakane River.
Days 6 & 7
Drive north to discover the beautiful Caprivi Strip in Namibia.
Days 8 & 9
Explore the breathtaking Chobe National Park and enjoy river cruises.
Day 10
Embark on a thrilling Victoria Falls Day trip.
Day 11 & 12
Journey back to Johannesburg, reflecting on a once-in-a-lifetime adventure
These self-drive Botswana Safari Tours, offered by us at Falcon Safaris, are packed with opportunities for thrilling encounters with its rich and diverse wildlife. It's the chance to witness Botswana's natural beauty and incredible wildlife personally and intimately.
Self-Driving Safety and Navigation-Guidelines for a Smooth Journey
During Self Driving in Botswana, safety is paramount. Good road conditions are prevalent in popular regions, but a GPS and satellite phone are recommended.
Adhering to local regulations, maintaining a reasonable speed, and staying informed about regional conditions will contribute to a smooth and enjoyable Botswana Safari Vacation.
Your Ultimate Botswana Self-Drive Safari Awaits!
Your best Botswana Safari awaits, filled with scenic beauty, thrilling wildlife encounters, and the freedom of the open road. Want to join the list of travellers who have experienced this epic adventure? Then, explore our variety of Botswana Holiday Packages for thrilling self-drive trips in the country.
In the end, with Falcon Safaris, you're not just booking a trip but embracing an extraordinary experience. Contact us today and let us curate your perfect Botswana Package Deals for an ultimate safari holiday. Your journey to the wild awaits!