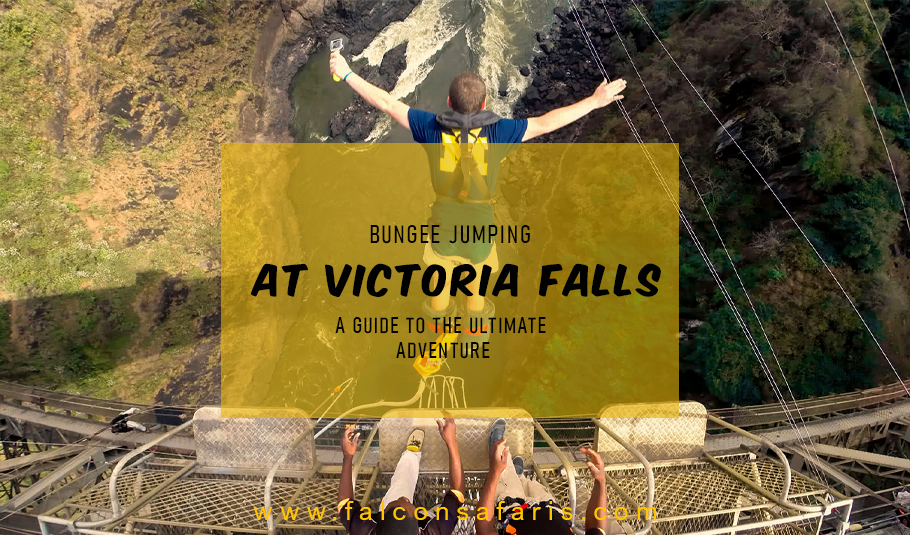 Bungee jumping at Victoria Falls is one of the most thrilling adventures you can experience in Africa. This adrenaline-pumping activity involves jumping off a platform, attached to a bungee cord, from a height of over 100 meters above the Zambezi River.
Located on the border between Zambia and Zimbabwe, Victoria Falls is one of the world's largest waterfalls and the perfect backdrop for this extreme adventure. Before you jump, you'll be briefed on safety procedures and fitted with a harness and ankle straps. You'll then take an elevator down to the bridge, stepping out onto the platform, ready to take the plunge.
The Bungee jumping at Victoria Falls is a great opportunity to take in the breathtaking scenery of the Zambezi River and Victoria Falls. In this post, we will virtually take you to Victoria Falls's height and make you dream as you fly above the Zambezi River! So, read on to get detailed insights about this jaw-dropping adventure!
What to Expect During the Bungee Jumping
Pro Tip: "After the jump, you may experience a range of emotions, in Bungee jumping Victoria Falls is a stirring experience that offers a unique perspective of one of the world's most spectacular waterfalls. You can expect stunning scenery with amazing experiences. You can experience:
The view from the bungee jump platform is breathtaking. You'll be able to see the Zambezi River, the Victoria Falls Bridge, and the gorge below.
Bungee jumping is an extreme sport that provides an adrenaline rush like no other.
Before jumping, a trained instructor will give you a safety briefing. They will explain how the equipment works, what to expect during the jump, and what to do once you've landed.
You will be fitted with a harness and attached to a bungee cord before climbing onto the platform.
Once you are ready, you will be instructed to jump. You will freefall toward the ground for a few seconds before the bungee cord starts to stretch and rebound.
You will be lowered gently onto a raft in the Zambezi River or onto the ground, depending on the operator you choose.
So, bungee jumping in Victoria Falls is an unforgettable experience that will leave you with memories that will last a lifetime. Just remember to follow all safety instructions to ensure a safe and exciting jump.
cluding excitement, relief, and a sense of accomplishment."
Photography and Video Options in Victoria Falls
Victoria Falls is an enriching tourist destination known for its natural beauty and adventure activities. If you are planning a trip toVictoria Falls, you may want to capture your experiences through photography or video. So, here we have provided some options for photography and video in Victoria Falls:
You can bring your own camera to capture your experiences at Victoria Falls. Whether it's a professional camera or just your smartphone, you can take photos and videos of the scenery, the wildlife, and your adventure activities.
Otherwise, there are several photographers in Victoria Falls who specialize in adventure photography. So, you can hire them to capture your bungee jumping.
Many adventure activity operators offer photo and video packages that you can purchase.
Or, you can take a scenic helicopter flight over Victoria Falls, which provides an excellent opportunity for aerial photography and video.
There are also photography tours available in Victoria Falls, where you can learn from professional photographers and capture stunning images of the scenery and wildlife also.
Safety Precautions and Requirements
Heading for a Bungee Jumping at Victoria Falls? Well, you need to take some extra precautions while doing this activity at Victoria Falls. First, you need to about what is bungee jumping. So, this is an enthralling sport that involves jumping from a tall structure while attached to an elastic cord. And while thinking of doing it, you need the below requirements:
Age Limit: Most of the operators in Victoria Falls, require jumpers to be at least 14 years old for doing this activity.
Weight Limit: For bungee jumping, your weight matters the most. The weight limit varies between operators. Some require a maximum weight limit of 120 kg while others may require a lower limit. So before booking must check with your operator.
Health Condition: Bungee jumping need good physical condition such as high blood pressure, heart problems, back or neck injuries etc. So, you should consult your doctor before participating in this activity.
Safety equipment: Bungee jumping requires specialized safety equipment such as a harness, a bungee cord and a helmet. So ensure that your operator uses high-quality, well-maintained equipment for their guests.
Experienced operator: While thinking about bungee jumping, choose an operator with a good safety record and experienced staff. Ask about their safety procedures, and make sure that they follow international safety standards.
Follow Instructions: It is important to follow the instructions of the bungee jumping operator carefully. Listen to their briefing and make sure that you understand the safety procedures.
With these precautions and safety requirements, you can ensure an exhilarating bungee jumping at Victoria Falls.
Planning Your Bungee Jumping Adventure
Bungee jumping in Victoria Falls is a fantastical experience. If you're planning a bungee jumping adventure in Victoria Falls, you definitely need to be alert of some essential things before. In this section, we will ensure that you will have a great experience by planning and preparing appropriately.
#1- Research reputable bungee jumping operators: Look for reputable bungee jumping operators in Victoria Falls. Check their safety record and read reviews from other travellers.
#2- Check the requirements: Make sure you meet the age and weight requirements for bungee jumping. If you have any medical conditions, consult with your doctor beforehand.
#3- Book in advance: Bungee jumping is a popular activity, so it's a good idea to book in advance to secure your spot. You can book directly with the operator or through a tour operator.
#4- Pack appropriately: Wear comfortable clothing and closed-toe shoes. Leave any valuables such as jewellery and phones in a safe place.
#5- Bring your camera: Capture your experience through photography or video as it will be a breathtaking experience we must say. So, you can bring your own camera or purchase a photo package from the operator.
#6- Follow instructions: Listen carefully to the safety briefing of your operator or guide and follow all instructions provided by them.
Freefall, filled with adrenaline at Vic Falls!
Bungee jumping in Victoria Falls is a truly unique and unforgettable adventure that offers an unparalleled thrill like no other. The stunning scenery of the Zambezi River and the Victoria Falls Bridge provides a breathtaking backdrop for the ultimate adrenaline rush. With professional operators and safety measures in place, bungee jumping in Victoria Falls is a safe and exciting activity that should definitely be added to your bucket list of must-do experiences.
Don't miss out on the opportunity to push your limits and create lifelong memories with Falcon Safaris on this African special adventure!