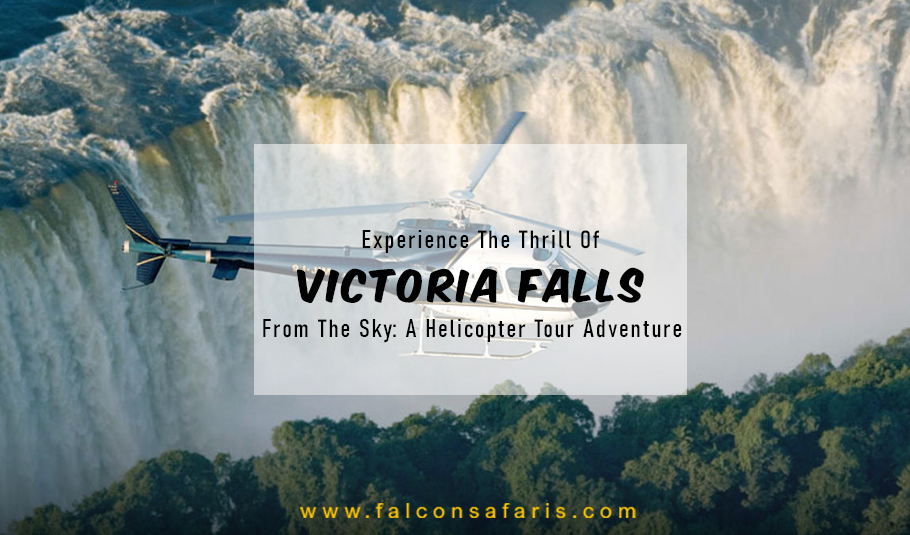 Want to experience the majesty of Victoria Falls in style? One of the best ways to do that is to go for Victoria Falls Helicopter Tours. You will not only get to view the thunderous falls from the sky above but also witness the splendor and beauty of the entire region from a bird's eye view.
Viewing Victoria Falls from the air is perhaps the best method to fully comprehend its true magnificence. They provide an ideal set-up for panoramic viewing and simultaneously are the best means for fantastic photo possibilities.
So, let's get you through the blog which highlights all the necessary information for taking up these "Flight of Angels" ride over the falls. Here we are going to talk about tour options and suggest you some popular tour operators' names too. 
Why Take A Helicopter Tour Of Victoria Falls?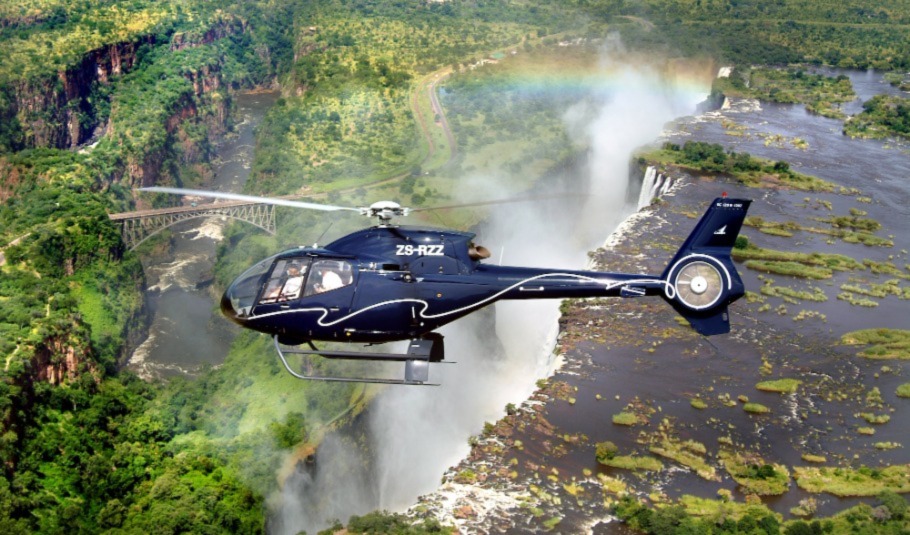 Taking Victoria Falls Helicopter Tours is one of the most exciting and unique ways to experience the grandeur of the natural wonder. With a helicopter tour, you will soar above the falls and soak in the magnificence from above.
Victoria Falls and the surrounding region will be viewed in its entirety. Thus, giving you an unobstructed and panoramic view of the falls and the other landscapes around. You get the full-on opportunity to appreciate the scale and beauty during Victoria Falls Helicopter Ride.
Additionally, a helicopter tour also confers comfortable seating, longer flight times and a quieter ride. Thus, it is an excellent choice for those who are not avid adrenaline junkies, like the ones who would take bungee-jump or devil's pool activity to experience the mighty Victoria Falls.
For more reasons why to take Victoria Falls Helicopter Tours, you can visit our dedicated page here. https://falconsafaris.com/victoria-falls-helicopter-tour
What To Expect On Your Victoria Falls Helicopter Tours?
For the Victoria Falls Helicopter Tour, your driver will pick you up from your hotel or any other pickup location of your choice. They will transport you to the helipad about 30 minutes before take-off. You will need to travel 5 to 10 kilometres outside of town, depending on which company you have chosen for the helicopter ride. From here onwards, you can expect your Victoria Falls Helicopter Tours experience to be filled with the following elements.
| | |
| --- | --- |
| EXPECT | DESCRIPTION |
| Safety Briefing | Expect your pilot or tour guide to provide you with the safety features of the helicopter. |
| Scenic Flights | Get treated with an incredible view of Victoria Falls and the surrounding area after take-off. The helicopter will give you a bird's eye view of the natural wonders, along with views from the Zambezi River and the lush green rainforest around. |
| Expert Commentary | Your tour guide will give you expert commentary throughout the flight. This will include information on the history, and geography of the area, as well as interesting facts about Victoria Falls. |
| Photo Opportunities | Blessing for photo enthusiasts. You are going to get amazing chances to take stunning shots of falls and the surrounding landscape. |
| Duration | Duration of Victoria Falls Helicopter Flights to last between 12 and 25 minutes, depending on the package you choose. You get ample time to take in spectacular views and experience the thrill. |
Best Time To Take A Helicopter Tour Of Victoria Falls
The best time to take a Victoria Falls Helicopter Tour is during the dry season, which runs from May to October. The water levels are low, which means the falls are less obstructed by mist, and the views are clearer.
The weather in the dry season is favorable for flying. There are fewer chances of rain and thunderstorms which can cause turbulence and limit visibility. Thus, helicopter tours are the most sought-after Activities to Do in Victoria Falls during the dry season.
That being said, even you can take a helicopter ride over Victoria Falls in the wet season (November-April) too. High water levels provide powerful and impressive views across the fall area.
Below is a breakdown of different times of the year and what views Victoria Falls has to offer for anyone going on a Victoria Falls Helicopter Tour. We have also included the expected weather for our reader's convenience too.
| | | |
| --- | --- | --- |
| TIME OF THE YEAR | WEATHER | BEST FOR |
| March-May | Rainy | Seeing the falls to their fullest. |
| June – August | Dry | Clearer views and less spray |
| September – November | Dry and hot | Seeing the falls with less water and more exposed rocks |
| December – February | Hot and humid | Seeing the falls with more water and lush vegetation |
What To Wear On Your Victoria Falls Helicopter Tours?
When preparing for your Victoria Falls Helicopter Tours, it's important to wear appropriate clothing for both comfort and safety. We have outlined a few points which you can keep in mind when dressing for your next best ride over Victoria Falls.
Dress in lightweight, comfortable clothing, such as shorts or pants and a t-shirt. Better bring a light jacket or sweater, as temperatures can be cooler at higher altitudes.
Comfortable closed-toe shoes are a must. Necessary because you will be walking on uneven terrain when boarding the helicopter.
Recommended to wear sunglasses to protect your eyes from the sun and wind.
Lastly, you should avoid wearing loose jewellery or accessories that could get caught in the helicopter's machinery.
By dressing appropriately, you'll ensure a comfortable and safe experience on your helicopter ride during Victoria Falls Tour.
Safety Considerations For Victoria Falls Helicopter Tours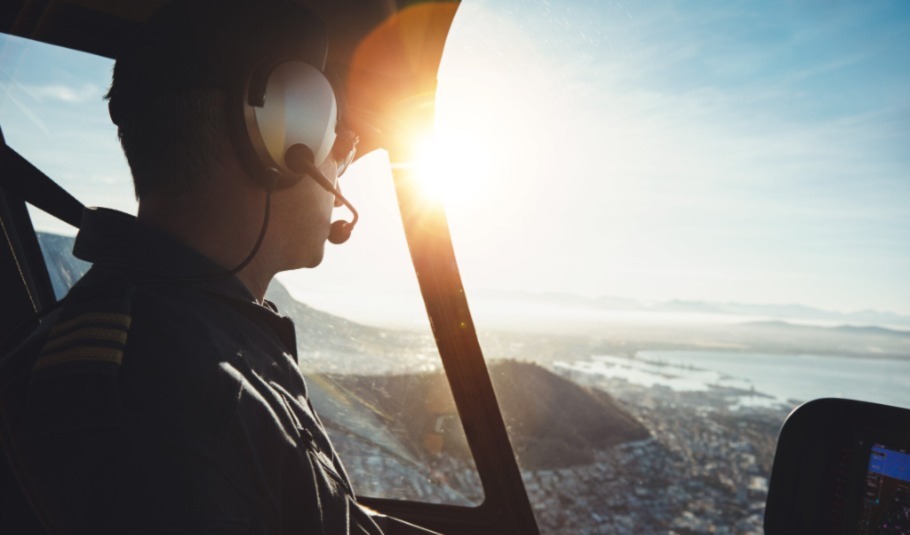 Victoria Falls Helicopter Tours are unique and offer a thrilling experience of natural wonder. But, like any other Victoria Falls Activities, there are a few safety considerations that must be kept in mind. Some of them are listed below:
Follow the safety briefing and make sure you learn to use any necessary safety equipment, such as a life jacket or headset.
Wear comfortable clothes and shoes. Avoid loose jewellery or any item that may fly off during the flight.
Pay attention to the rules provided by the tour guide. This may include restrictions on what to carry on board and instructions on how to behave during the flight.
Helicopter rides are prone to motion sickness for some people. If you are one of those, consider taking medication before the flight.
Weather conditions must be favourable for taking up helicopter rides. If they aren't, there are chances your tour operator might cancel/ postpone your ride.
Victoria Falls Helicopter Tour Options
There are two helicopter tour options available for visitors to tour Victoria Falls. They are namely short flights and long flights.
While the short flights are for a lesser duration and for those who want to view the magnificence of Victoria Falls, the long flights are a game flight for a more comprehensive view of Victoria Falls.
| | | |
| --- | --- | --- |
| Options for Flying | Duration | Views from above the sky |
| Short Flights | Lasts 15 minutes | Victoria Falls and the Zambezi Upstream |
| Long Flights | Lasts 25 minutes | Zambezi and Mosi-oa-Tunya National Park |
Below are some of the popular tour operators that offer Victoria Falls Helicopter Tours. Though they can be contacted directly during the Tour of Victoria Falls, you can also consult our experts who will help you get through the booking process.
| | | | |
| --- | --- | --- | --- |
| TOUR OPERATOR | TOUR DURATION | NUMBER OF PASSENGERS | PRICE RANGE (US $) |
| Batoka Sky | 15-25 minutes | 4-6 | $150-$350 |
| Zambezi Helicopter Company | 12-15 minutes | 3-5 | $150-$250 |
| SafariPar Excellence | 12-15 minutes | 3-6 | $170-$270 |
Experience The Adventure Of A Lifetime With Victoria Falls Helicopter Tours
Get ready for a thrilling experience that will leave you with a feeling of exhilaration while the helicopter lifts off and flies over the massive Victoria Falls. You are going to get a unique perspective of this natural wonder with Victoria Falls Helicopter Tours.
If you are also someone who is looking for a helicopter ride during Victoria Falls Tours, Falcon Safaris can help you make the most of your experience. As a reliable and experienced tour operator, we can make all necessary arrangements for a seamless and enjoyable experience.
So what are you waiting for? Book your helicopter tour with us and experience the thrill of Victoria Falls from the sky!