The short helicopter flight over the beautiful Victoria Falls is lovingly called as the "Flight of the Angels" owing to the beautiful view that it offers from the top. The view is completely angelic, serene and once in a lifetime opportunity. A perfect combination of thrill and chill, the Victoria Falls Helicopter Ride provide excellent views from every seat through its windows. Its takes you across the Zambezi River gushing over deep gorges seemingly carved into the mother earth.
An extended helicopter trip however, promises superb view of the fall as well as an incredible flight over the Zambezi National Park ensuring game viewing and wildlife spotting.
The Victoria Falls Helicopter Tour operates from morning till evening, almost every day of the year. There are different flights that fly along with the transfer services in regular intervals.
You will be picked from your Victoria Falls Accommodations or you can reach the starting point on your own depending on the type of services you opt for during Victoria Tours, Travel & Activities.
You are then, taken to the landing zone where you will begin the shortest but the most eventful flight of your life.
The pilots fly you over the left and right circuits over the Victoria Falls allowing you better views and photographic and recording opportunities. Helicopters have good size windows to offer panoramic views to all it travellers.
After the flight you are flown back to the Zambezi National Park to end off your flight. From there you can proceed back to respective accommodation.
Advocating this sheer beauty from the sky during your Victoria Falls Tours not only ensure an exceptional experience but also a memory to last a lifetime. You can hold on to that excitement and value the magnitude of the majestic Victoria Falls- Flight of Angels only through a Helicopter ride.
There are two options to choose from...
Short Flight- Lasts for 15 minutes. The Flight of Angels helicopter route criss-crosses Victoria Falls providing epic views. Covers both the left and right circuits across the fall. A trip upriver and back over the Zambezi National Park completes your flight.
Time Duration: 13 to 15 minutes
Trip Cost: USD 150 per person USD 15 per person as National Park Fees.
Extended Flight - That lasts for 25 - 30 minutes. It follows the same sequence as the short flight with addition you fly over the Batoka gorge, experience the spectacular dramatic feature, following the mighty Zambezi River, as it cuts its way through the precarious bluffs. While falling back, you cover upper Zambezi River & the National Park, home to a wide variety of wildlife species. A trip up the Zambezi River and back over the Zambezi National Park completes your 'Victoria Falls Flight of Angels'.
Time Duration: 25 to 30 minutes
Trip Cost: USD 285 per person plus USD 15 per person as National Park Fees.
Major Highlights Of The Victoria Falls Helicopter Tour
Breathtaking views of the Victoria Falls and its nearby islands.
Incredible landscape of the Zambezi River.
Panoramic Views from the top, which is not possible in any other way.
A memory to cherish forever.
Hassle free pick up and drop facilities.
Brilliant photography opportunities.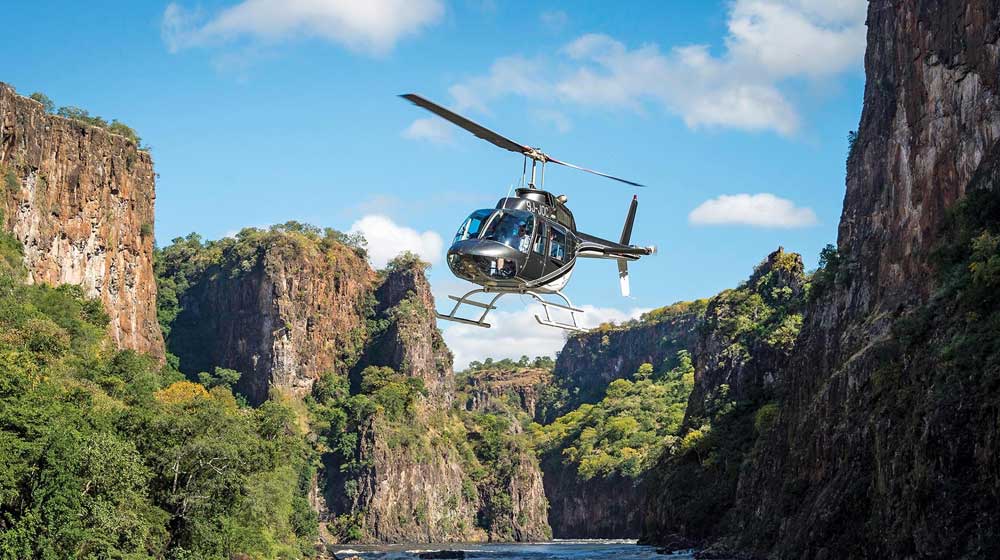 Availability: every day (excluding exceptional dates)
Time: 10am, 11am, 12-noon, 1pm, 2pm, 3pm, 4pm, 5pm (pick up from your hotel will be around 30 minutes before the time selected)
Duration: 1 hour approx. (be it a 15 or 30 -minute flight according to the option chosen)
Departure point: your hotel in Victoria Falls (Zimbabwe direction)
Language: English
DVD of the flight available on extra charge
No food and drink items will be provided
Wheelchair not accessible
Kids up to 4 years of age are charged half and are to be seated on the lap.
No charges will be levied for cancellations made 7 days prior to the tour date.
No return in case of no show on the day of the trip.
All the flights are weather dependant for travellers' safety.
Wear comfortable clothes, sunglasses, hat, appropriate shoes, sunblock creams and some cash to pay wherever necessary.
It operates every day of the year except for certain special days when it remains closed for visitor's access.
Victoria Falls is at its strongest between February and May after the rainfall, also regarded as the Best Time To Visit Victoria Falls. Heavy flow of the water down to the gorges cannot be seen due to heavy mist. Moreover, all other Victoria Falls Activities are mostly unavailable during this time.
Time between August and February are preferred for water activities as well as helicopter tour on Victoria Falls.
There are tour operators on both the side of the Falls who undertake Helicopter trips. They can be contacted and booked directly else ask your hotel authorities to tie along with any of them.
Advised to book way in advance in order to avoid inconvenience.
Try going for Victoria Falls Helicopter Ride early on your Victoria Falls Tour so that any change in flight schedule can be accommodated on later flights. So, you have plenty of time to accomplish the activity.
Victoria Falls Helicopter Tour are carried on from the Victoria Falls town on the Zimbabwean time. So, if you are on the Zambian side make sure you have made necessary arrangements for Visa and all the other travel related documents. Ensure talking to your hotel people or tour guide so that necessary arrangements can be made before time.
The experiences will be the best for helicopter tours while choosing the Victoria Falls Tour Packages. So ready for Victoria Falls Helicopter Ride today!