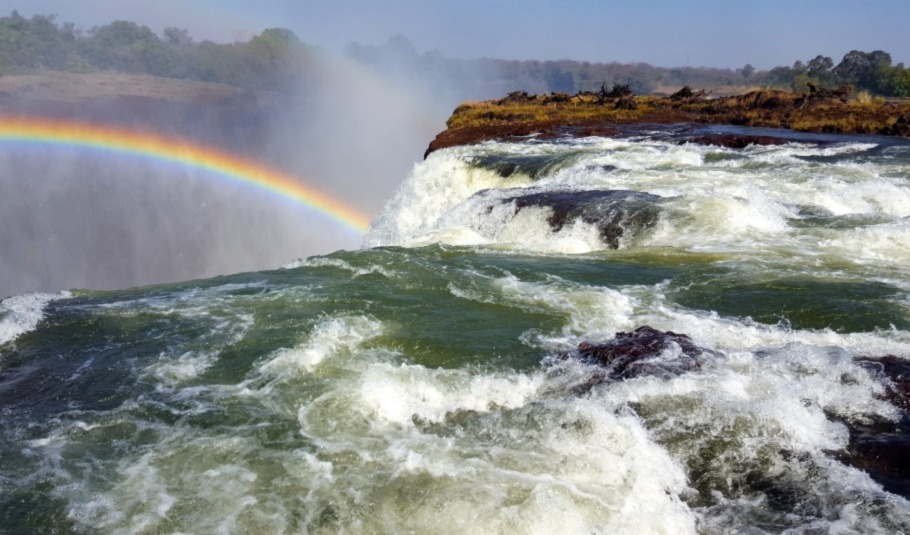 If you're a fan of thrilling adventures, the Devil's Pool Victoria Falls should be your next stop. Imagine swimming right at the edge of a gigantic waterfall – that's what awaits you here!
In this blog, we'll guide you on all the details of taking a dip in this stunning natural pool. From choosing the best time to visit, to booking your Victoria Falls Tours, we've got you covered. So, let's start planning your one-in-lifetime adventure!
Location of Devil's Pool
Devil's Pool is a unique natural formation found on the Zambian side of Victoria Falls. This pool is situated right at the midpoint of the extensive, mile-wide waterfall.
Over time the forceful waters of the Zambezi River have steadily eroded the rock face, creating intricate rock pools near the edge.
Visiting these pools is an exclusive experience that can only be accessed via guided Victoria Falls Tours, provided by Tongabezi Lodge.
Best Time to Visit Devil's Pool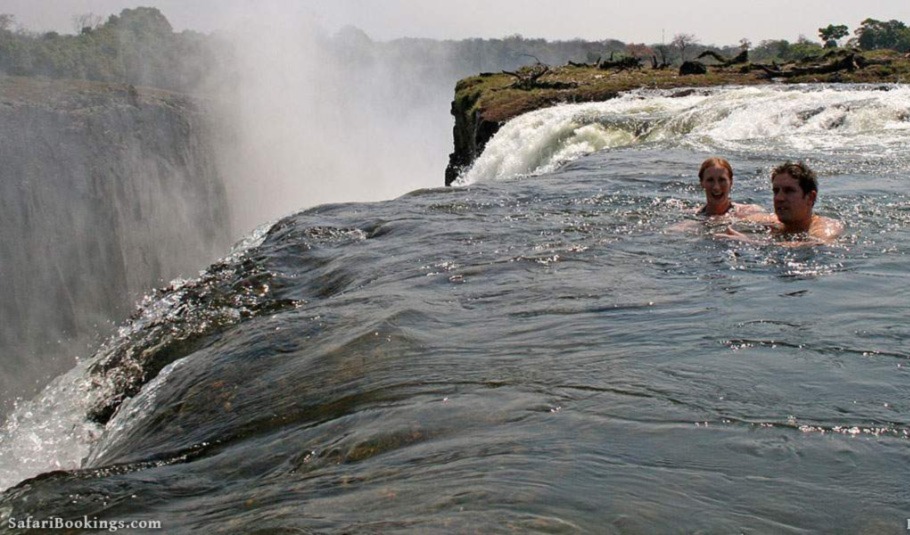 To ensure a safe visit to Devil's Pool Victoria Falls, it's advisable to schedule your trip during the dry season, specifically from August to December. This is when the Zambezi River has lower water levels, making access to the pool safe.
While these timings can vary year by year, it's common for the water levels to stay low from mid-August until late December or occasionally into January.
Visits during the wet season or periods of high-water levels in the Zambezi River are discouraged due to the powerful currents that can compromise safety. The optimal time to visit Devil's Pool is between October and November. Water levels are consistently low during these months, making it the Best Time to Visit Devil's Pool.
How Do You Reach Devil's Pool?
Venturing out on your adventure to Devil's Pool Victoria Falls is thrilling, but you must follow certain procedures and rules. Here's your streamlined guide which explains all the detailed steps for reaching Devil's Pool Victoria Falls Zambia:
Plan your visit. Being one of the top-most adventurous Victoria Falls Activities, Devil's Pool is only open for organized Livingstone Island Tours conducted by Tongabezi Lodge for safety reasons.
Schedule your trip. These tours depart several times a day from the Zambezi River banks, close to the Royal Livingstone Hotel in Zambia.
Book your tour. Regardless of where you're staying, you can book the tour through any accommodation or tour operator in Livingstone, Zambia or Victoria Falls, Zimbabwe.
Choose your departure point. Despite Devil's Pool being located on the Zambian side, you can plan your Victoria Falls Devil's Pool tour from either Zambia or Zimbabwe.
Consider transportation detail when travelling from Zimbabwe. Victoria Falls Tour Packages often include a shuttle transfer to the tour departure point near the Royal Livingstone Hotel across the border.
Shuttles for these Victoria Falls Tours leave from The Kingdom Hotel in Zimbabwe, coinciding with the tour departures in Livingstone. Note that there is an additional $15 fee for the round-trip shuttle.
Important Visa Information: 
For your Day Trips from Victoria Falls to Devil's Pool, you'll require a multiple entry Visa for Zimbabwe first and then a single-entry visa for Zambia (considering you are a traveller on the Zimbabwean side of the falls). Alternatively, you can opt for a KAZA Uni-Visa, which allows travel between both countries for 30 days at $50 - a more straightforward and cost-effective solution.
Devil's Pool Victoria Falls Tours
The journey to Devil's Pool Victoria Falls is an organized affair, especially during the dry season. The tours operate five times a day, with the fare inclusive of a meal on Livingstone Island, transfers to and from the island, and a visit to the falls on the Zambian side.
Morning tours are typically less expensive and quite popular, owing to the higher likelihood of rainbows that provide an ideal backdrop for Devil's Pool Victoria Falls photos. The official timings of the Devil's Pool Victoria Falls Tour on Livingstone Island, their costs, and inclusions are outlined below:
| | | | |
| --- | --- | --- | --- |
| Official Timings of Tour | Duration | Costs | Inclusions |
| Morning Tour Livingstone Breezer | 7:30 – 9:00 hrs 9:00 -10:30 hrs 10: 30 – 12:00 hrs | 110 USD per person | -Welcome drink – 2 breakfast options with coffee/tea |
| Lunch on Livingstone Island | 12:30 hrs – 15:15 hrs | 175 USD Per person | -Three-course menu |
| High Tea Afternoon Tour | 15:30 hrs -17:30 hrs | 150 USD Per person | -Savoury and sweet snacks – Alcoholic Drinks |
What To Expect from Devil's Pool Tour?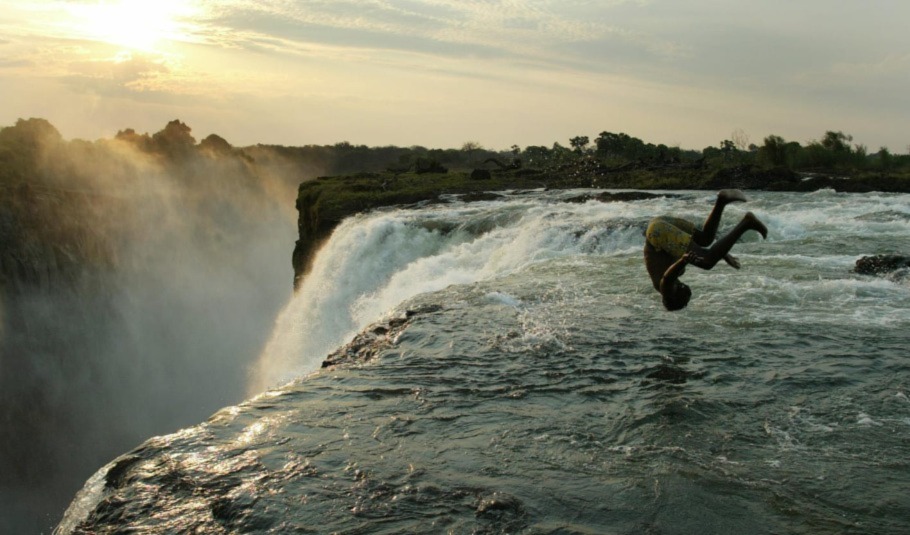 A swim to the edge of Victoria Falls Devil's Pool is an exhilarating experience that you're sure to remember for years to come. Here's what to expect on your Devil's Pool tour:
Beginning of Adventure
As mentioned above, your journey to Victoria Falls starts near the Royal Livingstone Hotel. From here, you and your group will set off on a short boat ride, heading straight to Livingstone Island – the starting point of your Victoria Falls Zambia Devil's Pool adventure.
Unravelling the Magic of the Falls
Upon reaching Livingstone Island, your tour guide will take you on a walk around the island's most stunning viewpoints.
Locker facilities are available for safely storing your belongings.
Don't forget to carry your camera for some memorable shots of Victoria Falls.
After all, a visit to the Devil's Pool, Zambia, is incomplete without a few spectacular Devil's Pools Victoria Falls photos!
The Energizing Swim
Reaching Devil's Pool Victoria Falls requires a simple 100m swim across calm waters. There might be a current sometimes, but a rope is available for you to hold onto if needed.
And, don't worry! As you'll be accompanied by certified guides throughout your swim, they will ensure your safety at all times.
The Ultimate Leap into the Devil's Pool
Now, it's time for the most thrilling part of your Victoria Falls Tours. Hold your breath and get ready to slide or leap into the Victoria Falls!
Inside the pool, a guide will be at your side, offering a steadying hand as you navigate towards the edge.
Meanwhile, another guide will remain on land, ready to capture a series of stunning photos – a perfect keepsake of your daring escapade at Victoria Falls Zambia Devil's Pool.
Provided the day isn't crowded, you'll have about 10-15 minutes to bask in the excitement. In the pool, submerged rocks serve as convenient spots for you to sit or cling onto, so you can control your proximity to the edge of the Victoria Falls pool.
Special Note: Although it might seem scary at first, you can be assured that with our certified guides, it's safe. Also, thanks to lower water levels, a strong grip on the rock lip and a gentle current makes the adventure manageable. Eager to amplify your thrill factor on a Tour of Victoria Falls? Explore our Victoria Falls Travel Packages for a jaw-dropping escapade!
Relaxing After the Adventure
After your time in the Devil's Pool, you'll swim back to the riverbank and head towards the tent on Livingstone Island. Here, depending on the tour you booked as part of your Victoria Falls Day Trip, you can enjoy breakfast, lunch, or high tea. Changing facilities are provided so you can slip into dry clothes and enjoy your meal comfortably.
Preparing for Your Devil's Pool Victoria Falls Adventure
It's important to come well-prepared for your Victoria Falls Devil's Pool excursion. Here's a simplified list of what to bring and what not to worry about:
What to Bring:
Clothes for Outfit Change. Sure, there will be a swim, but not for the entire trip. Pack a change of clothes, especially underwear, for a comfortable journey post-swim.
Sunscreen. Protect your skin from sunburn. Remember to reapply after your swim.
Sunglasses. Bright days at the falls call for reliable eye protection. Don't forget your sunnies.
Sturdy Shoes. Expect rough rocks. A good pair of shoes with a decent soles will help.
Swimwear. You'll be taking a dip, so pack something suitable. Opt for sturdy swimwear. Losing any part of it to the waterfall wouldn't be a fun experience!
What Not to Bring:
Food and Drinks. You won't have to worry about packing snacks or drinks, as these are provided on the island.
Towel. No need to carry your towel. These are provided, allowing you to dry off after the swim.
Your Safety is Our Priority
During the Victoria Falls Tours, your safety is our top concern. We have an excellent track record, with no severe incidents reported at Livingstone Island or in Devil's Pool.
Our guides are well-trained and put your safety first. Listening to their advice and instructions is key to a fun and safe adventure.
Cosy Accommodations for Your Victoria Falls Excursion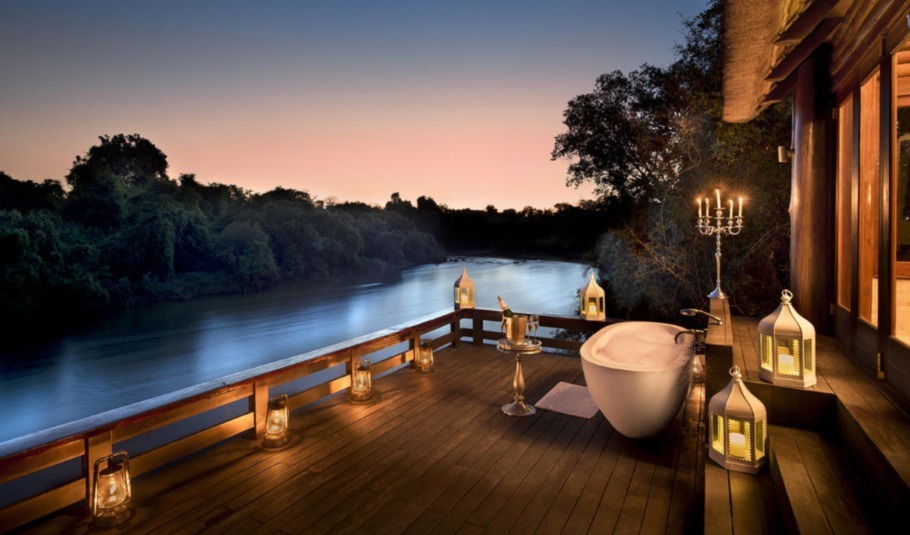 There is no shortage of beautiful hotels in the area surrounding Victoria Falls. Falcon Safaris can help you find the perfect Victoria Falls Accommodation to suit your needs and budget, ensuring a comfortable and enjoyable stay during your vacation.
Explore our curated selection of cosy accommodations now and book your dream stay for an ultimate Victoria Falls Excursion!
Experience the Thrill at Devil's Pool Victoria Falls
Swimming in the Victoria Falls Devil's Pool is a fun and safe adventure. It's perfect for people of all ages and fitness levels from around the world.
Though some people might think it's a bit crazy, others might think it's a great adventure, and some might wonder why anyone would want to swim on the edge of a huge waterfall. But those who've done it have amazing memories of their time in the Devil's Pool Victoria Falls.
So, are you ready to dive into an adventure of a lifetime? Your journey starts with Falcon Safaris! With our range of Victoria Falls Tours, your dream trip is just a click away. Start planning today and get ready to make a splash at Victoria Falls!