Selecting the Best Botswana Safari is no small task, especially when the options include the renowned Chobe National Park and the mesmerizing Okavango Delta. Both destinations are highlights of Botswana Safari Tours, offering distinct yet equally captivating wildlife experiences.
While Chobe is famous for its impressive elephant population and scenic river cruises, the Okavango Delta provides a tranquil retreat into a maze of waterways inhabited by diverse wildlife.
We have compared these two safari giants to assist you in this decision. Prepare for a comprehensive guide to planning your ultimate African Safari to Botswana!
Okavango Delta Vs. Chobe National Park- The Landscape and terrain
Okavango Delta- An Inland Marvel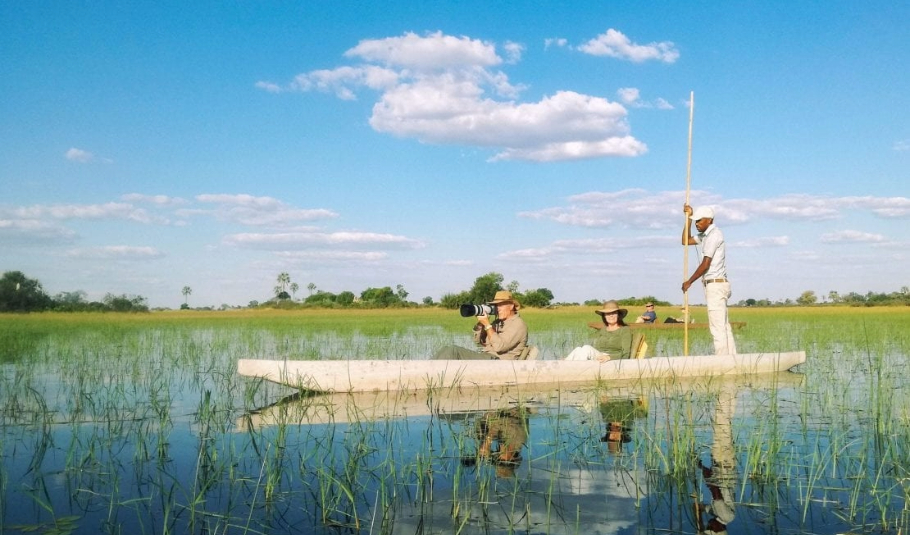 The Okavango Delta is unlike any other place on Earth. It's where water meets the desert, creating a lush inland delta in the heart of Botswana.
This UNESCO World Heritage site offers an ever-changing landscape that transforms from a maze of channels and lagoons during the flood season to vast plains in the drier months.
Witness the delta swell three times its size from June to August. This is the flood season of the delta and the best time for Okavango Delta Safari due to the congregation of animals around the delta.
Salt gathering around plant roots creates barren, white zones in the middle of various delta islands. These nutrient-rich salt areas are highly attractive to diverse animal species.
Chief's Island holds the distinction of being the delta's most expansive landmass. Initially, it was designated as a secluded hunting ground for the island's tribal leader.
Today, it serves as a sanctuary for some of Africa's most remarkable fauna, mainly when the waters rise during the flood season.
Chobe National Park – A Diverse Landscape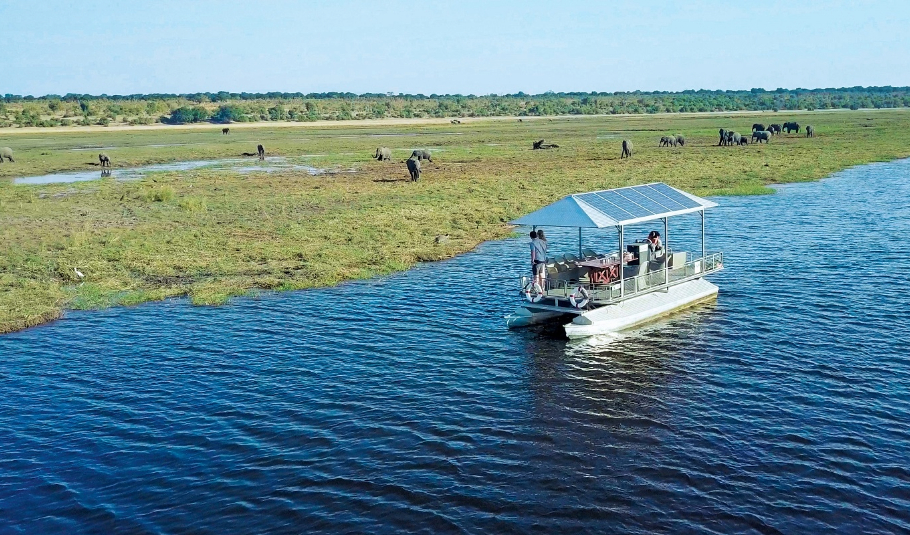 Chobe National Park is Botswana's first national park and offers various environments. From the lush floodplains of the Chobe Riverfront to the rolling grasslands of the Savuti Marsh, Chobe promises an action-packed Botswana Safari.
The park is divided into four distinct regions, each offering unique safari experiences.
| | | |
| --- | --- | --- |
| Region | Location | Highlights |
| Chobe Riverfront | The far northeast corner of the park | -Prominent watering spot in the dry season – Features lush floodplains and dense woodlands. – Rare puku antelope is seen |
| Savuti Marsh | The western stretch of the park | -Features savannahs and rolling grasslands – Famed for the annual migration of zebras and predators. |
| Linyanti Marsh | The Northwest corner of Chobe and North of Savuti | – Features woodland savannahs, riverine woodlands and lagoons. -Large herds of elephants and buffaloes are found here |
| Hinterland region | Between the Linyanti and Savuti Marshes | -Features grass woodland – Great place for spotting elands |
Our Winner in Landscape and Terrain Category: Okavango Delta Although a tight competition, the Okavango Delta ultimately took the crown with its pristine and untouched natural beauty.
Okavango Delta Vs. Chobe National Park- The Wildlife Contrast
Okavango Delta – A Migratory Haven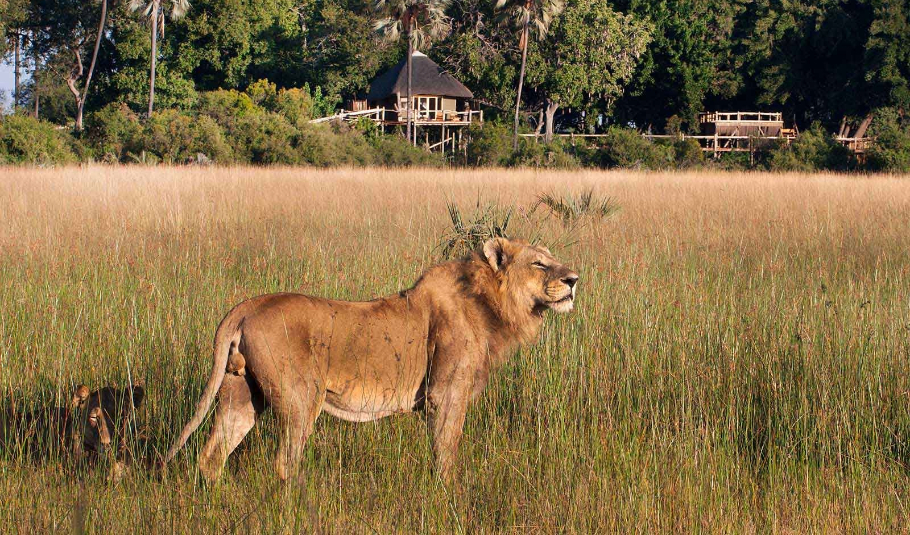 The Okavango Delta offers an equally compelling but different wildlife experience. From the elusive leopard to the active impala, the delta is a sanctuary for various animals.
What sets the Okavango apart is its seasonal transformations, which offer unique wildlife viewing opportunities. This makes Okavango a top choice for Botswana Safari Vacations.
Seasonal Inhabitants– An estimated 200,000 large mammals make the delta their home during the dry seasons.
Aquatic Life– The water channels teem with hippos and Nile crocodiles.
Birdwatching– Over 400 species make this a bird lover's paradise, especially during rainy times.
Chobe National Park – A Wildlife Extravaganza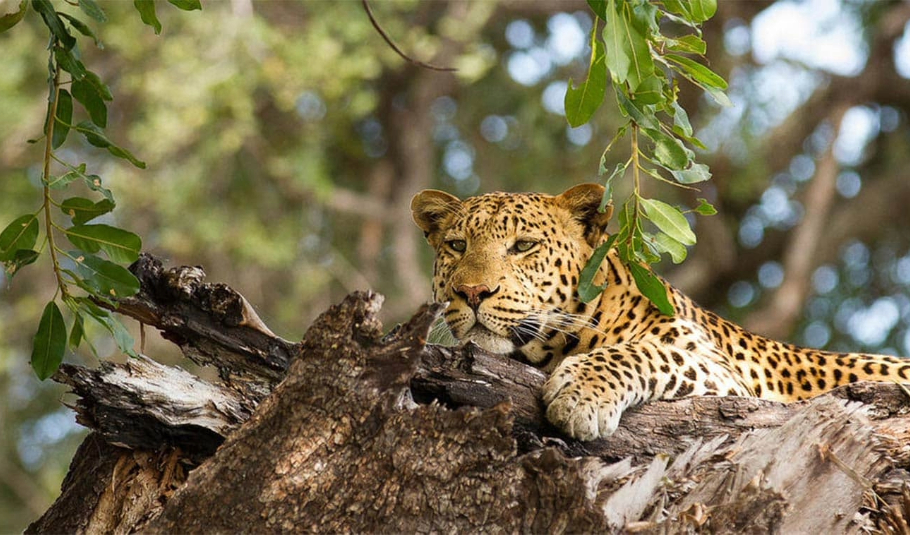 With the world's largest elephant population, Chobe is the ultimate destination for Botswana Safari Holidays. But it's not just about elephants; the park is a sanctuary for wildlife, including lions, leopards, and many bird species.
Big Four– Home to four of the Big Five – lion, leopard, buffalo, and the world's largest elephant population.
Birdwatcher's Paradise– With over 450 species, birdwatching is a treat here.
Rare Sightings– Spot rare antelopes like eland, sable, roan, and even endangered wild dogs.
Our Winner in Wildlife Category: Chobe National Park   The Okavango Delta is known for its Big Five wildlife and waterways full of hippos. However, Chobe stands out with its massive elephant population, unique antelope species, and tree-climbing leopards. Thus, Chobe offers the Best Botswana Safaris.
Okavango Delta Vs. Chobe National Park – Best Time to Visit
Okavango Delta – A Seasonal Marvel
The Okavango Delta offers year-round attractions but is particularly stunning during the flood season from June to August. This is when the delta becomes a labyrinth of water channels, attracting animals from across the Kalahari.
The rainy months are a treat for bird enthusiasts, making it a versatile choice for opting for Botswana Safari Holiday Packages.
Winter Months– May to October is excellent for game-viewing as floodwaters reach the Delta.
Summer Months– December to March is excellent for bird watching and witnessing the calving season.
Chobe National Park – A Year-Round Destination
Chobe National Park can be visited throughout the year. Still, the dry season from April to October is perfect for game viewing as animals congregate around the Chobe River. This is the Best Time to Visit Botswana as it is easier to spot animals.
However, if you're an avid bird-watcher, the wet months from December to March are your best bet.
Dry Season: April to October is ideal for game viewing, especially near the Chobe River.
Hot Months: August through October offers sensational game viewing for the heat-tolerant.
Birdwatching: The wet months from December to March are perfect for bird enthusiasts.
Our Winner in the Best Time to Visit Category: Both

As both these Botswana Destinations can be visited throughout the year, we have a tie in this category.
Okavango Delta Vs. Chobe National Park- Things to Do
Okavango Delta – Unique Safari Adventures
The Okavango Delta offers unique safari options, making it a top choice for Botswana Safari Tours. From traditional Mokoro trips to helicopter flights over the delta, the Okavango provides a range of activities that are as diverse as its ecosystem.
Experience the Delta in a traditional dugout canoe Mokoro Trips.
Get a different perspective of the game on Boating Safaris.
Explore the floodplains with our horseback safaris.
Witness the Delta's vastness from the air by getting on helicopter flights.
Chobe National Park – A Multitude of Experiences
Chobe National Park is a diverse destination included in most Botswana Travel Packages, offering a range of activities to suit all interests. From game drives and boat cruises to fishing, there's something for everyone at Chobe.
Game Drives are the best way to see predators and various ecosystems.
Boat Cruises on the Chobe River are Ideal for bird lovers and photographers.
Try your hand at catching the legendary Tigerfish during fishing activities.
Explore the African bush on foot with our guided bush walks.
Gain insight into local culture on the Namibian side of the Chobe River by opting for village Tours
Our Winner in the Things to Do Category: Okavango Delta

The Okavango Delta stands out because it offers many different and unique activities, making it one of the top choices for Best Botswana Safaris.
Okavango Delta Vs. Chobe National Park- Accessibility of the Park
Okavango Delta – A Remote Paradise
Accessibility is often a crucial factor when choosing Botswana Tour Packages. The Okavango Delta is less accessible, usually requiring a light aircraft flight from Maun. However, its remote location adds to its beauty, making it a premium choice for Best Botswana Safaris.
Most visitors arrive by charter flights from Maun Airport.
The eastern part of the delta can be accessed by 4×4 from Maun.
Chobe National Park – Easy to Reach
Chobe National Park is accessible by road and air, making it a convenient option for most travellers on Botswana Safari Tours.
Multiple Routes to Chobe are accessible by scheduled flights to Kasane Airport and road.
Suitable vehicles can navigate the park's sandy terrain. So, there is always an option of self-drive option open for travellers,
Our Winner in the Accessibility Category: Chobe National Park   Chobe is more straightforward to access than other destinations.
The Grand Winner: Why Choose When You Can Experience Both?
Both Chobe National Park and the Okavango Delta offer exceptional experiences that are unique in their own right. If you're looking for an adventure-packed Botswana Safari with phenomenal big-game viewing, Chobe is your go-to destination.
On the other hand, if you're after a more private and remote safari experience, the Okavango Delta is your slice of paradise. So, if you're planning your Botswana Safaris and Tours, why limit yourself to just one? With various Botswana Safari Packages available, you can easily experience both and make the most of your Botswana Safari Trips.