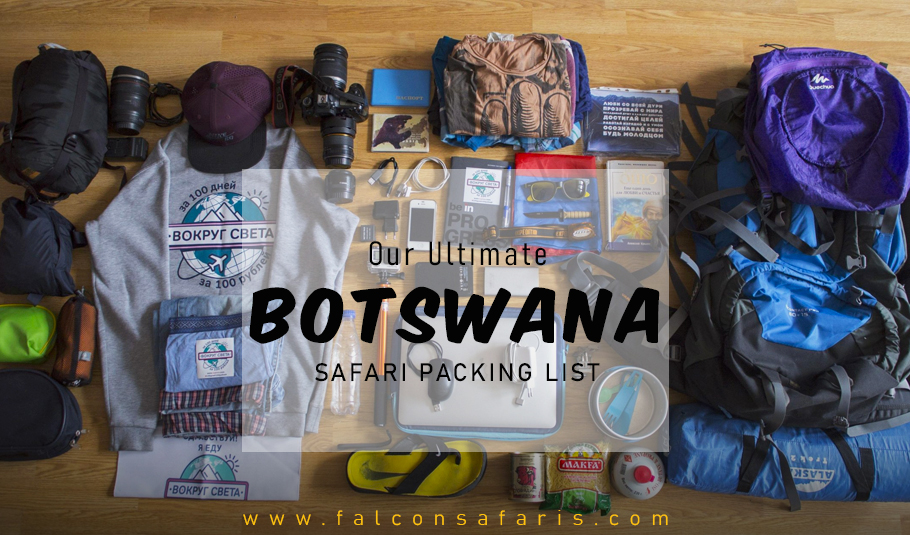 Going on a Botswana Safari? But not quite sure about what to pack and what to leave behind? No Worries, we've got you covered! Here is our ultimate Botswana Safari Packing List.
What to Pack
1.1 Your Luggage
When packing for your Botswana Safari the first thing you need to worry about is your luggage and what type of bag you're going to want to carry.
A wheeled or roller luggage is your best choice as they're quite sturdy, reliable, and can fit items large or small.
You should be wary of weight limitations on flights which is not more than 20kgs. So, pack your stuff accordingly.
Use luggage tags to help determine your bags and prevent luggage loss or theft.
1.2 Documents
When planning a Botswana Safari you'll be needing some documents along with you such as:
Your passport, visa, travel insurance, printed travel itinerary, and e-tickets.
Additionally, you should also have some identification proof, a children's birth certificate (if you're travelling with a child), your vaccination certificates, PCR test results, no older than 72 hours, and a Yellow Health Card.
Citizens of the United States, Canada, and Europe don't need a Visa when travelling to Botswana. But have your passport with you.
If you're from other countries, you can easily apply for a Visa online.
1.3 Essentials
Botswana Safari requires you to pack your must-have daily essentials for a smooth trip like:
A clear Toiletry case
Toothbrush and Toothpaste
Travel-size Shampoo and Conditioner
Hand Sanitizers
Bar of soap/Shower Gel
Moisturizer
Deodorants
Hygiene Products
Shaving Essentials
Towels
Sunscreen (SPF 20 or higher)
First-Aid Kit and Medications
Waterproof/Dustproof Bags
Having these essentials along with you is necessary as you may find difficulty finding them in remote areas.
1.4 Safari Clothing
You're not going to forget about clothes but make sure to pack light, casual clothing and keep the weight restrictions in the back of your mind.
Light T-shirts
Long-sleeved Shirt or T-shirt
Comfortable and Durable Pants
A Utility Jacket
Comfortable, Flat Shoes
Trousers or Pyjamas
Shorts
Sunglasses
A wide brim hat
Underwear
Socks
Bathing Suit
Don't pack lots of pairs of items as most lodges or hotels have a laundry system in place and remember to not put your underwear in the washer as it's considered taboo in Africa, just wash them by hand and dry them in your room or camp.
And don't wear black clothes or have dark-coloured shoes or backpacks on as they attract tsetse flies.
1.5 Accessories and Gear
Also make sure to pack your necessary tech items, electronics, and camera gear to fully experience your Botswana Safari.
Camera
Binoculars (preferably 8*40 or 8*42)
SD Cards
Extra Batteries
Lens Cleaner
Tripod
Power Adapters (3 prong round or square)
Flashlight or Head Lamp
Safari and Birdwatching Field Guides
Waterproof and Dustproof bags for your electronics
A Travel diary or journal
Don't bring a portable hair dryer or hair straightener as most camps won't have enough power to take the drain. If it's necessary make sure to bring a travel-sized version with a capability of 220-240v.
1.6 Other Miscellaneous Items and some Tips
Some extra items that you can also bring to Botswana Safari include:
Debit and Credit Cards
Keep some cash in your wallet as most streetside shops will not accept debit or credit cards
Combination locks for your Bags
Personal or Business Contact cards
A small backup duffel bag to bring home some souvenirs.
Insect and Bug Repellent with DEET
A bandana or light scarf Prophylactic Medications
Backup Charging devices
Earplugs
Pocket Knife
Antiseptic Cream
Make sure to be responsible during your Botswana Safari, clean up after yourself, and don't litter during game drives.
What to leave behind
We've gone through what items you should bring on a Botswana Safari trip, but there are certain items that you should not pack and bring with you to a Botswana Safari.
Plastic Bags (as many African countries have banned them), and Ziplock bags can be a good alternative.
Camouflage clothing/Military-inspired Clothing
Drones
Don't bring any expensive personal jewelry
Disposable Water Bottles
Jeans
Make it a point to leave these items behind.
If you have any questions, you may address them and we'll make sure to resolve any queries. You may reach out to us at the following details
+263 83 284 1840/1 or
Email: info@falconsafaris.com
Conclusion
Finally, if you're planning a Botswana Safari and find the packing process too complicated, just ensure to follow the above-mentioned list of what to pack and what to leave behind and you'll be able to make the most of your Botswana Safari.