Okavango Delta is a perfect safari destination for canoe enthusiasts, all over the world. It's a unique way to discover the beautiful waterways and rich wildlife during the Okavango Delta safari.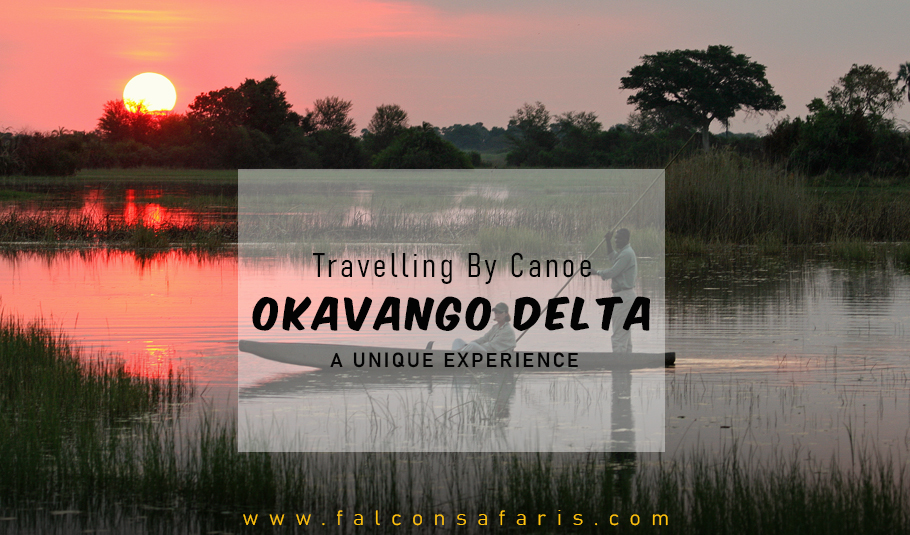 If you planning to experience a canoe ride, here we offer some key things which you need to know.
WHAT IS THE MOKORO RIDE?
What makes this trip special is the Mokoro ride, known as the canoe cruise. A mokoro is a traditional boat, which is made by using a large tree trunk. Mokoro rides are considered as most peaceful rides.
WHAT MAKES THE MOKORO RIDE IS SO PEACEFUL?
Mokoro rides feel like the time has slowed down. The ride becomes so peaceful even you can hear animals sounding far away. The reason behind this is they don't use motors. The polers still use these canoes in such a traditional way as it has been used by local people for years. Standing at one end, they use a pole to push the canoe.
IS MOKORO RIDE SAFE?
Yes, Mokoro Ride is absolutely safe. Although a large number of hippos are living in Okavango Delta, you don't need to panic. An experienced poler with be always with you. Standing on the edge of the canoe the poler will make sure that no animals are getting close.
WHY GO ON A CANOE SAFARI AT OKAVANGO DELTA?
What makes a Canoe Ride unique is that, where a safari jeep can't enter a canoe can. Tourists around the world can experience this delta's majestic wildlife and beautiful waterways. For photographers, a canoe ride is perfect. When the canoe moves slowly on the tranquil water, you can snap the birds coming out of bushes from a different angle.
Okavango Delta is home to over 400 bird species. While on a mokoro birds like African fish eagles, African green pigeons, Bateleur, Hamerkop including Saddle-billed stork. For birding, there can be no perfect place than this. Besides birds, you can watch lecher antelope, painted reed frogs, golden orb spiders, Crocodiles, and other aquatic animals. Herds of elephants and hippos can also be seen here. A skilled canoe guide will explain to you the ecosystem around this delta.
THE BEST TIME FOR CANOE SAFARI IN OKAVANGO DELTA
The Best Time To Visit the Mokoro Ride expedition is between June to October. During this period when the water level is generally high and the sky is cloud-free.Although this is the dry season in Botswana, flood water coming from higher land in Angola keeps the water level high.
This is a perfect time to Canoe In Okavango Delta's vast area of grassland.
WHAT TO BRING IN A CANOE SAFARI IN OKAVANGO DELTA?
To make your Canoe Trip comfortable at Okavango Delta Tour we have made a list of certain items you can take with your Trip.
For clothing, you can carry a casual t-shirt, shorts, and swimsuits. To protect yourself from sun heat you can take long sleeve t-shirt?
As the temperature drops down in the evenings, you can consider warm clothes or at least a jacket.
A wide-brim head and sunglasses are recommended.
To protect your skin from sunburn you can carry sunscreen or lotion.
Anti-malaria tablets and mosquito repellants are not to be forgotten.
Carrying a first aid box is always a plus point.
Take personal toiletries like towels, hair drier, toothpaste, etc.
As you will be canoeing under the hot sun, it's important to carry your own water bottle. Keep yourself hydrated.
For photographic needs, you can carry a camera and a binocular for birding.
To protect your gadgets from the water you can carry a water proof bag.
If you love fishing, you can carry a tackle and equipment.
Do not forget to add rafting shoes to your checklist.
A lightweight poncho bag works better for unexpected rains.
WHO CAN GO ON A CANOE DELTA SAFARI?
Mokoro safari is designed for both solo travelers and the whole family. You can join others canoe safari groups or can go on a solo ride. One thing to note here is children under 16 years old are not allowed on a canoe ride.
WHERE CAN YOU START YOUR CANOE SAFARI FROM?
We offer you three day Kanana Mokoro trail, where you can experience the Mokoro Ride. Your journey will start from Maun Airport. Assisted by our tour guide, on a 20 minutes charter flight, you will be in the Okavango Delta. After your arrival at Kananaairstrip at Okavango Delta, our tour guide will lead you to Okavango Delta. There you can experience Canoe Ride in one of the most remote areas.
WHAT CAN YOU EXPECT ON A CANOE RIDE AT OKAVANGO DELTA SAFARI?
Mokoro has been a mode of transport by local people. While on a mokoro ride you can feel the silence. The only sound you may hear is birds in the bush.An experienced poler standing at one end will show you the wildlife nearby. You can book an evening Mokoro Ride where you can watch the stunning sunset.
HOW LONG DOES A CANOE SAFARI LAST?
Canoe safari tours at Okavango Delta lasts for hours to days. You can book your canoe trip according to your convenience. In this safari you can also enjoy nature walk in Okavango Delta. Mokoro ride at Okavango Delta is a life time experience. It is the most desired safari experience by tourists all over the world.
A different perspective to experience Okavango Delta's rich wildlife. Mokoro Ride is designed for those who want exclusivity. A ride to enjoy the calmness of Okavango Delta and its captivating nature. Pure relaxation, vibrant wildlife, and beautiful waterways make the Mokoro ride the first choice.
No matter whether you're a first-time visit or coming a second time, this canoe ride will definitely make you feel enchanted. If you are thinking to experience Okavango Delta Canoe Ride, then you can visit our website Falcon Safaris. Our dedicated team will plan your safari holiday, according to your own convenience. We will make your safari experience unique and unforgettable. What are you waiting for, let's start planning for your Mokoro ride today!