There are a number of different accommodation facilities in Botswana. The advantage is that there is something for everyone, whether you are on a budget or you have special requirements. You will find something that suits you. Options range from private lodges, safari camps, public camping sites, budget guesthouses, top class hotels, luxury lodges and grand lodges. Another option is B&B, Guest farms and nature oriented campsites.
It is very important prior to travelling to look closely into Botswana Accommodation to find what is more suitable for you. These lodges have extremely high service standards, excellent food, and access to some excellent wildlife safaris. Many of the accommodations are in private concessions and are the only places to stay for kilometres.
This makes it a very private and, dare we say, luxurious experience. In some areas, mobile camping is also an option. If you want to have a comfortable but more rustic and bush experience, try Stanley's Camp, which has Meru style tents and Delta views. Botswana's luxury lodges and camps dominate the market, with a deliberate decision to keep prices low.
One of the best places to stay in Botswana is the highly recommended Chobe River Cottages. It offers beautiful self-catering accommodation overlooking the Chobe River. It is right in the heart of Kasane and is within a walk-able distance from shops, restaurants, bureau de change and banks. Every unit has a beautiful furnished bedroom, luxurious bathroom and a fully equipped kitchen. The lounge is comfortable with air conditioning and offers DSTV. There are pull-out couches that can fit two adults or 2 children comfortably. There is wifi, a braai area, a swimming pool and a beautiful view of the river.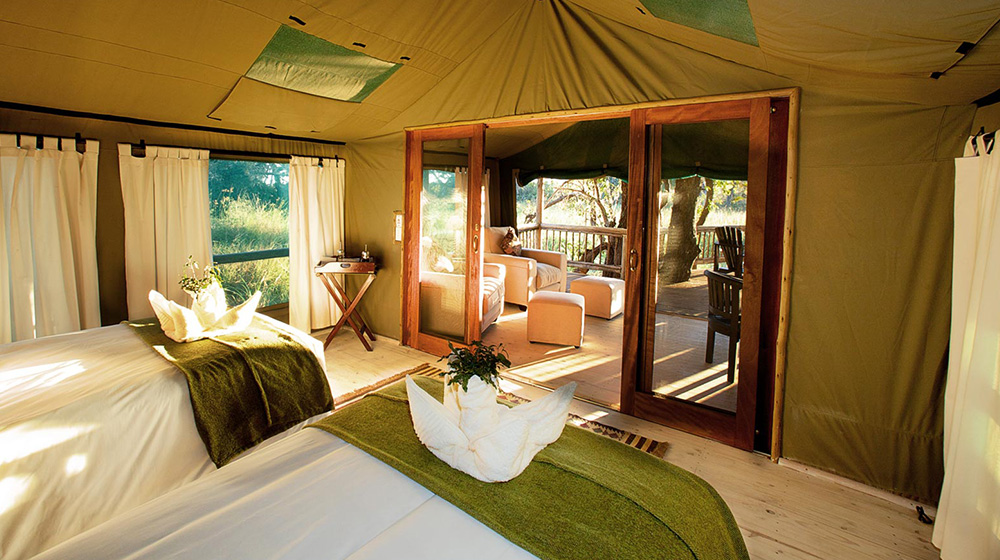 Another top Botswana Accommodation spot is the famous Gunn's Camp found in the Okavango Delta. It is one of the few remaining luxurious vintage camps in the country. It overlooks the beautiful Chief's island and shares its borders with Moremi Game reserve. The camp is eco-friendly and blends naturally with its surroundings. The camp has 6 fully furnished deluxe tents overlooking the delta plains. The tents have a beautiful lounge area and a veranda and are connected to the main camp via a wooden walkway that is raised and crosses wetlands. They have en-suite bathrooms, outside private showers and stand-alone baths. Guests will enjoy hanging out at the elevated bar, the lounge and dining room areas. In the chilli evenings, there is a fire boma and for the hot afternoons, a sparkling pool.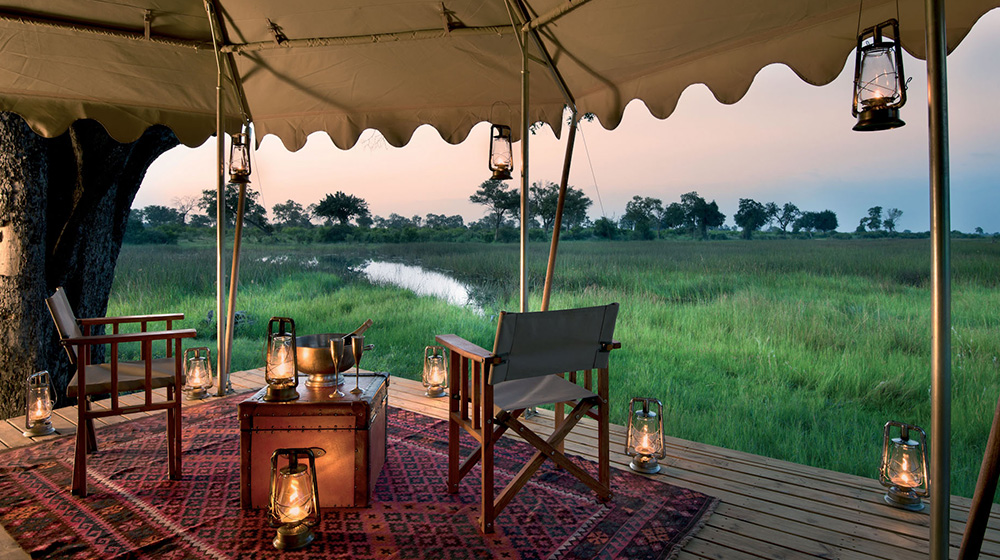 Duba Plains Camp, the pinnacle of Botswana's safari experience, is located in the heart of the Okavango Delta. The 33,000-hectare private Duba Plains reserve is a jumble of palm-dotted islands, flood plains, and woodland. Dereck and Beverly Joubert, co-founders of Great Plains Conservation and National Geographic filmmakers, conservationists, and explorers, chose this area as their filming base.
The Duba Plains camp has five bespoke suites. The camp's design blends in with the surroundings while evoking the classic African safari style of the 1920s. The rooms are all built on raised recycled railway sleeper decking. Each suite offers guests breath-taking views of the surrounding floodplain and a constant stream of wildlife passing by. Each suite has a lounge area as well as a beautifully appointed en-suite bathroom.
This beautiful lodge is situated along the banks of the Tati River just 15km out of Francistown. It is fully equipped to sustain those looking for a self-catering apartment. It's your perfect home away from home with the teak furniture and local art pieces. It has a full length veranda overlooking the river and a private braai area. There are a total of 7 view rooms with a user-friendly kitchen.
This rustic safari camp with five tents is in an enviable location. Sango Safari Camp's location within a private concession that borders the legendary Moremi Game Reserve allows it to offer game drives in both as well as exciting night drives and walks within the concession. The camp is also close to a traditional village, so you can learn about the culture and lifestyle of the locals while living side by side with big game and big cats. The scenery is also stunning, with seasonal floodplains and rivers, open woodland, and golden grasslands. The birding is excellent, and the area is well known for its predators, particularly leopards and wild dogs. The location of the camp between Moremi and the Savute area of the Chobe National makes it an ideal place for overlanders to stop.
Botswana Accommodations are different and not all lodges will be able to suit different groups and people, below are a few examples of accommodation and who they are best suited for.
Chobe Chilwero
Bring your family to the epicentre of the elephant population at this lodge, which offers fantastic wildlife viewing by boat and 4X4—especially from June to October when the weather is dry—over the Chobe River, the home of the majority of Botswana's elephants. Children of all ages are welcome at Chobe Chilwero, which also offers a childminding service, age-appropriate activities, a games room, iPads, free Wi-Fi, and a swimming pool. For the parents, there is also a fantastic spa and well-known delicious food. It's a fantastic choice if you want to see Victoria Falls for the day because it's near to the Zimbabwean border.
Linyati Ebony
There are only four tents available, so you can reserve the full camp or just the two-bedroom family suite with a separate living room and bathroom. Being in the Linyanti, a region known for its big cats and elephants, gives you access to morning and afternoon wildlife drives as well as, during certain seasons, boating safaris. The camp works entirely on solar energy and is off the grid, so your family may enjoy a digital detox. Younger children can participate in an activity club where they can explore nearby villages, practice traditional crafts, and learn about conservation. Everyone won't get bored!
Kwai Bush Camp
Come to see the wildlife, please. This camp can provide morning and afternoon game drives in addition to water activities, spot-lit night drives, and guided bush walks due to its private riverside location close to the Moremi Game Reserve. The location of Khwai Bush Camp is renowned for being rich in wildlife. Aside from excellent bird watching and general game viewing, it's a terrific spot to see large creatures like elephants, giraffes, and buffalo as well as big cats, hyenas, and African wild dogs. The lodging consists of thatched cottages, each with a private toilet and stunning views of the surrounding nature.
Meno a Kwena
A tiny (but not too small) camp with nine suites and a very laid-back and casual atmosphere, this camp is ideal for single travelers because it is situated at the incredibly biodiverse intersection of the Okavango Delta and the Kalahari. From your suite, you'll have beautiful views of the Boteti River and can comfortably watch wildlife come down to the river to drink and hunt. The Makgadikgadi Pans National Park offers full-day game drives that put you right in the middle of the big game experience. Any time of year is an excellent time to visit; the hidden zebra migration of the Kalahari can be seen in the summer.
Kings Pool Camp
This is an excellent option for unadulterated wildlife viewing because it is situated close to a body of permanent water in the Linyanti area of the Chobe National Park and has access to "super-Savuti," the fabled battleground between lions and hyenas. Day and night wildlife drives, walking and watercraft safaris, fantastic bird watching, and all of these activities are accompanied by knowledgeable guides. One of the most opulent camps in Botswana, the suites have their own plunge pool, viewing terrace, and bathroom. They are also quite private. Additionally, a two-bedroom family unit is offered, and the camp offers activities for kids of different ages and childminders.
Camp Okavango
Camp Okavango is a well-known camp that specializes in water activities and is located on a private island in the permanent wetlands of the Delta. Motor boats will take you to hidden lagoons to search for hippos and elephants, while an adventure in a mokoro (traditional canoe) will reveal a more detailed world of waterlilies, bejeweled birds, and dragonflies. At Camp Okavango, you may explore on foot and go island-hopping with your guide to observe more animals. You'll also get fantastic, friendly service and knowledgeable guidance.
Camp Kalahari
This all-action camp is located in a private concession abutting the Makgadigadi Pans and provides a fantastic opportunity to explore Botswana's enchanted Central Kalahari Game Reserve. The undulating grasslands can be explored not just in a 4X4, but also on horseback and quad bikes, if you so want. The best time to watch wildlife is in the summer, from roughly November to March, when a zebra and wildebeest migration begins. Highlights include seeing lions and cheetahs. It is a typical tented camp with a laid-back ambiance, meerkats foraging outside your tent, and community dinners eaten beneath the stars. It is ideal for groups of friends and families with several generations.
Chobe Game Lodge
What size group do you have? Chobe Game Lodge offers a variety of lodging options, including more than 40 air-conditioned rooms. Despite its name, which makes it sound more like a hotel, the Chobe Game Lodge is the courteous, Grand Old Lady of the Chobe River. One of the most thrilling wildlife places in Africa, Chobe National Park offers you a tranquil setting along with a private riverfront setting.
Your Africa Safari Expert can set up a private guide and vehicle so you can enjoy complete exclusivity on wildlife drives and river adventures. You'll be the first out and the last one back. Your company can spend time together back at the lodge in the cocktail bar, billiards room, on-site spa, or just by the pool. The highest amounts of elephants can be found between June and October.
The Botswana Accommodation Cost will depend on where you are staying. Luxury lodges are a bit expensive and if you are on a budget it's best to opt for camping or camping facilities. You should budget P661 ($53) per day for your vacation in Botswana, which is the average daily price based on other visitors' expenses. Previous visitors spent an average of P177 ($14) on meals and P48 ($3.85) on local transportation in a single day.
In addition, the average hotel room in Botswana costs P645 ($52). So, a one-week trip to Botswana for two people costs on average P9,257 ($742). All of these average prices were gathered from other travellers. A two-week trip for two people costs P18,513. When travelling as a family, the cost per person often decreases because children's tickets are less expensive and hotel rooms can be shared.
If you are looking for affordable accommodation then it's wise to opt for camping and camping facilities. You can also try a trip in an overland truck and buy food on the go and avoid eating in restaurants. Some affordable lodges include, Wilderness Safaris Savuti Camp, River view lodge in Kasane, Maun lodge in Maun and Travelodge in Gaborone.
The answer to this is a big yes. A Safari In Botswana is something you would definitely love to experience especially with the whole family. It is all about the outdoors, nature, and wildlife and having fun. There is a good selection of guided safaris, children's programmes and fun filled activities. It is environmentally friendly and suitable for the elderly as well.
Botswana Safaris offer an all-inclusive nature safari travel, with crowd-free reserves and private conservancies giving you an overall stress-free safari experience. Because of this, it can be a great place for the whole family, especially those willing to spend quality time together. Kids and adults alike can both learn about conservation and see flora and fauna close up. Some of the few Things To Do In Botswana as a family are seeing wildlife, going on a boat cruise, a ride in a hot air balloon, and a fun desert experience.
Botswana Accommodation can be a bit expensive but that doesn't mean it should stop you from enjoying what could possibly be the safari of a lifetime. There are a few ways in which you can enjoy your holiday at an affordable price.
Travel During The Green Season -The green season in Botswana runs from late October to April. It is so called because this is the time when the region receives high levels of rainfall. Many people do not travel around this time and because of that many lodges and camps offer discounts and lower the prices to encourage more people to come. This is an ideal travel time especially when you are on a strict budget and you can even stay at private concession you wouldn't otherwise afford if it was peak season.
Look Out For New Lodges And Camps - Another tip for saving money for accommodation is to look for newly opened lodges and camps. Because they do not have a large market share and are still in the early stages of advertisement, they usually offer discounts and are cheaper. You can take advantage of these and enjoy your Botswana Safari.
Stay For Longer Days - This may seem like it's more expensive but trust me it can be cheaper in some instances. When all expenses, like flights and transport have been included, it's better to stay more days so as to take advantage of discounts.
Overall Botswana has beautiful accommodation and it is very safe, comfortable and suitable for the whole family. There are options for everyone and whatever you are looking for you will find it or possibly better.