Immerse yourself in the unspoiled and captivating beauty of Africa on a Botswana Luxury Safari. Here, the wildest animals roam free against the backdrop of breathtaking landscapes.
From the roar of a lion echoing through the plains to the quiet, tranquil waters of the Okavango Delta. Botswana offers a matchless safari experience for those seeking luxury and adventure. In this blog post, we will explore what things you got to see and do in a Botswana Safari.
Luxurious Accommodations- Safari Lodges and Camps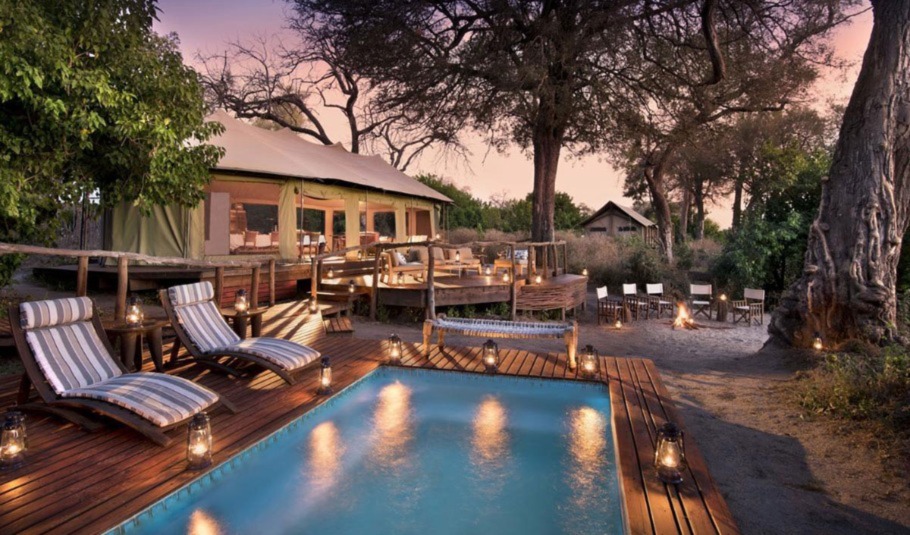 Luxury Botswana Safari Tours boasts an array of sophisticated safari lodges and camps. They are popular among safari-goers for offering comfort and luxury amidst the wilderness. From four-poster beds draped in mosquito nets to private viewing decks overlooking watering holes, the accommodations that you can avail when opting for our Botswana Safari Packages are unmatched.
The magic of a Botswana Safari lies not only in its wildlife but in the unique accommodations.
Enjoy panoramic views of Botswana's wildlife from your private deck and experience five-star luxury treatment during your stay.
Falcon's Insight: Browse through our varied selection of Botswana Accommodations. Find the perfect one that aligns with your travel preferences.
Awaken to the ethereal vision of elephants strolling past your private deck or slumber under a star-studded sky; experience the epitome of exclusivity with our Botswana Luxury Safari.
Game Drives in Exclusive Reserves- Discovering Wildlife Treasures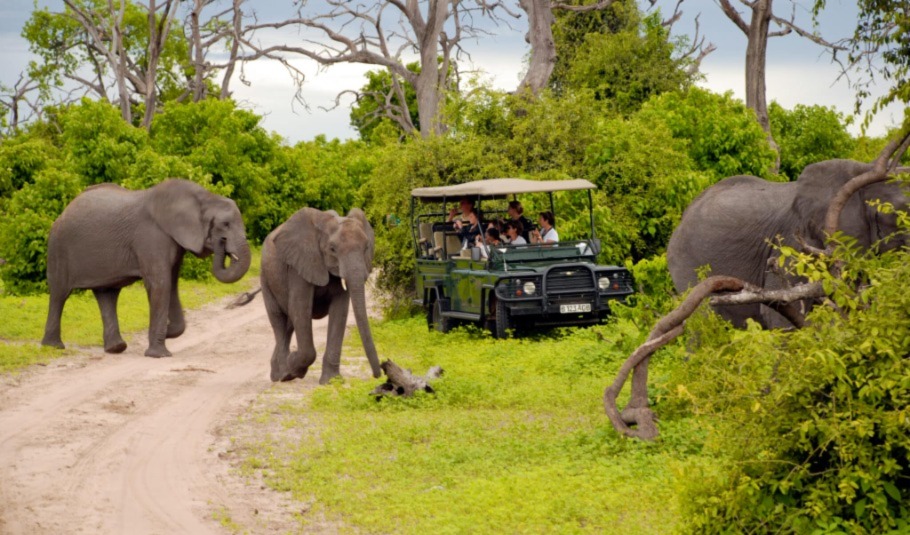 Game drives form the epicentre of any Botswana Safari Holiday. The country's private reserves, such as the Linyanti and the Moremi Game Reserve, offer a wildlife viewing experience that is both exclusive and intimate. You could witness a lion's hunt, marvel at a herd of elephants, or watch a cheetah sprint – all without having to compete with other tourists.
You will enjoy exclusive wildlife viewing experiences in Botswana's private reserves.
Also, discover the unparalleled thrill of a close encounter with Africa's Big Five in the game reserves of Botswana.
Experience the thrill of spotting an elusive leopard or a herd of majestic elephants in their natural habitat.
Mokoro Excursions- Gliding Through the Okavango Delta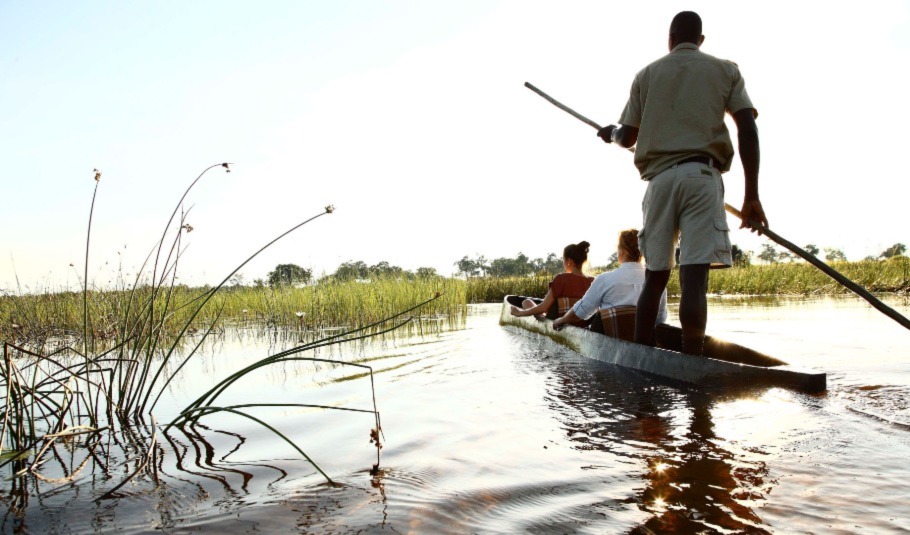 Another hallmark of Luxury Botswana Tours is the chance to navigate the Okavango Delta in a traditional dugout canoe, or mokoro. As you glide silently through the delta's crystal-clear channels, you'll get an unmatched view of the abundant aquatic wildlife and birdlife.
These serene and intimate modes of transport allow you to navigate the lily-scattered floodplains and palm-fringed islands.
Feel a sense of peace and tranquillity as you glide through crystal-clear waters in the mid of a myriad of aquatic wildlife and bird species.
Float through Botswana's watery wilderness and let nature's tranquillity envelop you.
Walking Safaris- Connecting with Nature on Foot
Walking safaris are a quintessential part of a Botswana Luxury Safari Holiday. There's something magical about stepping out of a vehicle and walking in the untamed bush, under the watchful eyes of experienced guides. From tracking animal footprints to learning about the local flora, a walking safari offers a refreshing and immersive experience.
Walk among the towering acacia trees, feel the African soil beneath you and observe the smaller creatures, otherwise overlooked on game drives.
These Botswana Wildlife Safari allow you the opportunity to experience the African bush from a new perspective, making up for an immersive experience that brings you closer to the wild.
Take a walk on the wild side and feel the pulse of Africa beneath your feet!
Sunset Cruises on the Chobe River-Water bound Adventures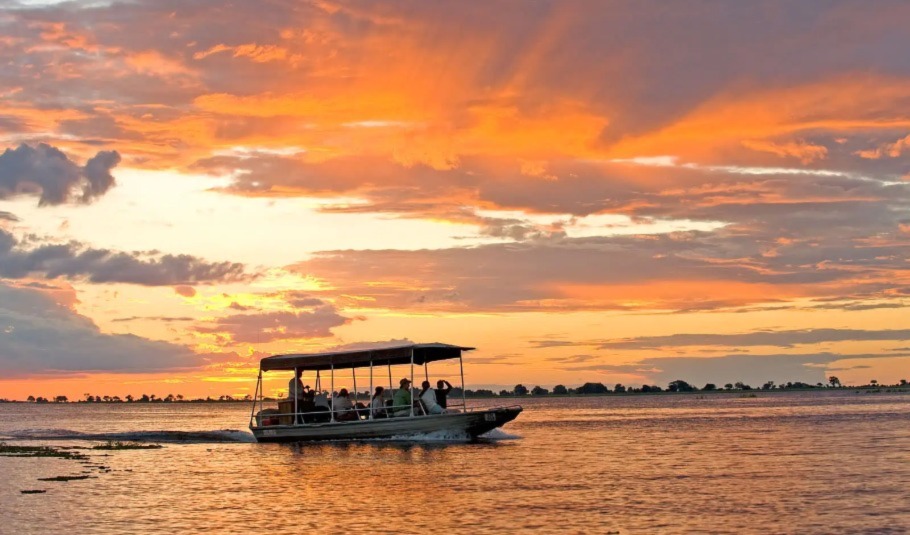 No Luxury Travel Botswana is complete without a sunset cruise on the Chobe River. As the day fades and the sky erupts into a riot of colours, watching elephants bathe on the riverbanks or hippos play in the water becomes an unforgettable spectacle.
Set sail on the Chobe River at sunset, where the sky transforms into a beautiful canvas of orange and pink hues. This adds to the magic of your Botswana Luxury Safari.
Relax and unwind as you witness a diverse array of wildlife in their natural habitat.
Watch as the African sun sets, casting a golden glow over the magnificent landscape and its inhabitants.
Scenic Flights- Aerial Views of Botswana's Splendor
Scenic flights are a highlight of the Best Luxury Safaris in Botswana. They take you over the delta and give you a bird's eye view of the land. This unique view lets you see how vast and diverse Botswana's landscapes are. It's an experience you can't get from a safari on the ground.
Enjoy a thrilling sky-high journey over the Okavango Delta and admire its wide rivers and green scenery.
Get a unique perspective of the endless Kalahari sands and the shining Makgadikgadi Pans from the sky, showcasing the grandeur of Botswana.
Soar above Botswana's diverse landscapes and gain a new appreciation for the country's vast beauty!
Relaxation and Luxury Amenities- Unwinding After Adventures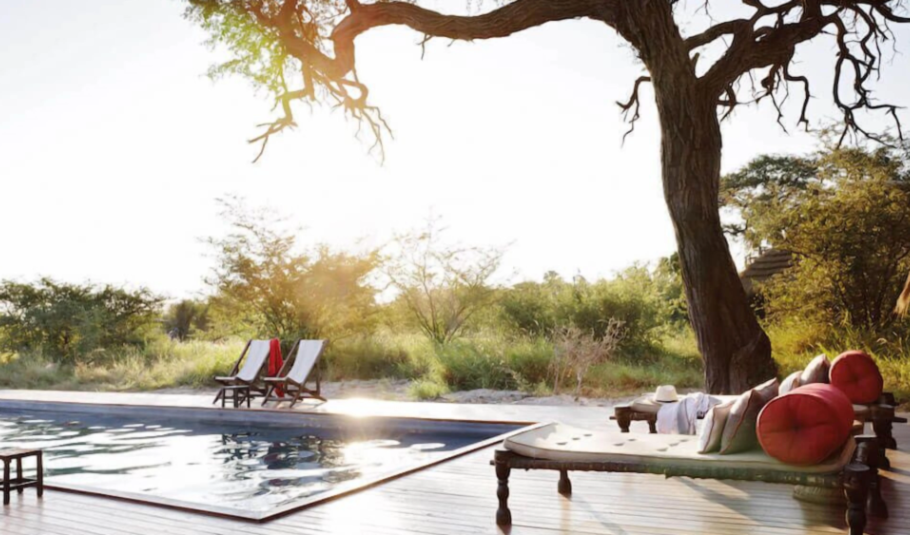 After an exciting day, it's time to sit back and enjoy the luxury perks at your lodge. Relax with a massage while you enjoy views of the wild. Have a peaceful dinner beneath the stars. Chill by the pool with a cool drink in your hand. These peaceful moments add a sprinkle of luxury to your Botswana Luxury Holidays.
Treat yourself to a soothing massage while enjoying the wilderness view. Savour a quiet, candle-lit dinner beneath the starlit African sky.
Relax by the pool with your favourite drink in hand, unwinding from the day's adventures.
Immerse yourself in the lap of luxury and let the enchanting rhythms of Botswana wild soothe your spirit.
INTERESTING FACT: Botswana is one of the few African countries where its' government has adopted a model which advocates a high-cost and low-impact tourism policy, especially in ecologically sensitive areas. This explains why Botswana Safaris are truly exclusive with a limited number of guests, making them more expensive than their counterparts.
A Dreamlike Safari Retreat – Luxury and Adventure Intertwined
A Botswana Luxury Safari is a dreamlike retreat where luxury and adventure are beautifully intertwined. Every element, from the breathtaking wildlife encounters to the luxury accommodations, contribute to an experience that is thrilling as well as comforting.
Discover the magic of Botswana with Falcon Safaris with our Botswana Safari Packages and create ever-lasting memories!