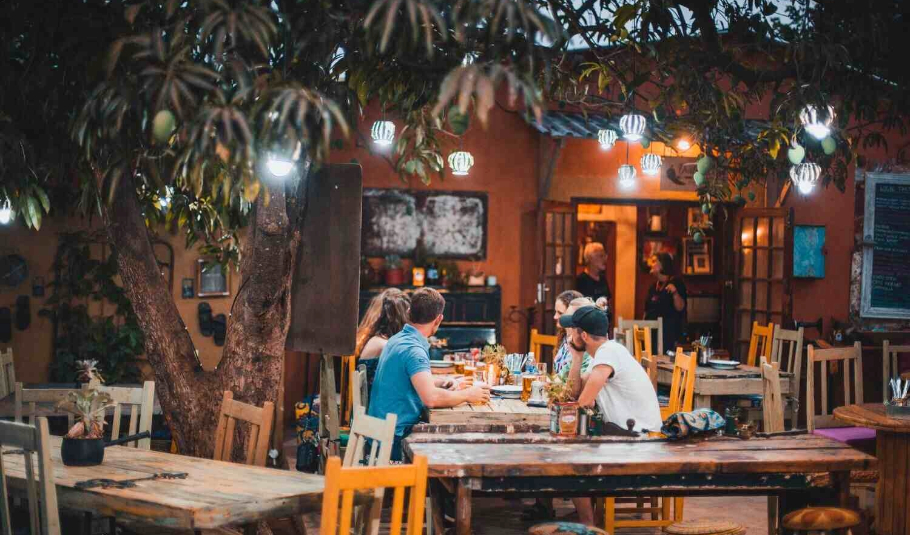 Welcome to Dusty Road, There's nothing that gives a taste of tradition than the Dusty Road Experience Victoria Falls.  This close-knit restaurant transports you to a different world, immersing you in the exploration of Zimbabwe's traditional flavors and dishes. The setting and environment will warm you, revealing the true beauty of Africa and opening your eyes from within.
The premise gives off a vintage vibe on your Trip To Victoria Falls as everything from the building to the materials used to decorate inside and outside the yard is vintage. These include a broken-down Peugeot truck with a goat and chicken statue on top, recycled items, traditional three-legged pots, and many other items that showcase the African way of life.
Location Of Dusty Road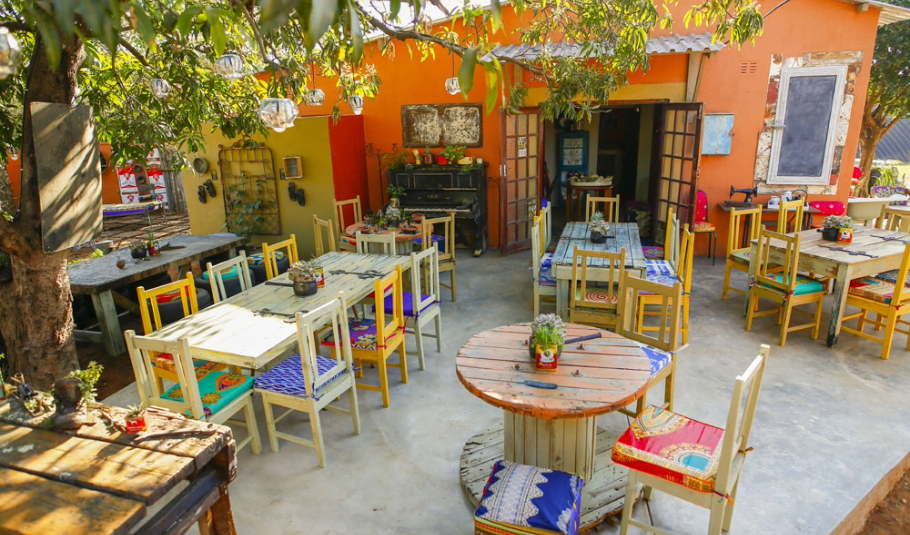 The restaurant's prime location in the heart of Victoria Falls in the historic Chinotimba suburb is the icing on the cake. Victoria Falls Dusty Roads Experience is embraced by locals' warm smiles and radiates the raw, authentic vibe of the township. The sight of kids playing, moms cooking and people going about their day gives the visitor a glimpse outlook of the life of the locals away from the noise and bustle of town.
The location also evokes a lot of memories of the old and simple life where riding donkey carts and sitting by the fire telling folktales was therapeutic. Many decorations in a typical Zimbabwean home draw inspiration from recycled materials in the township. This creates an authentic ambiance for a memorable dining experience that you will never forget.
What's On The Menu?
The menu is completely traditional and is definitely one worth trying. It consists of a rich and diverse Zimbabwean cuisine prepared from fresh and organic ingredients sourced directly from the market or the farm.
Expert chefs skillfully cook on traditional stoves or open fires, creating a delightful smoky flavor that captivates your taste buds. They also offer hot and cold beverages crafted from wild fruits, which are definitely worth sampling. Desserts, enriched with exotic ingredients not typical in Zimbabwean homes but easily accessible, are featured on the menu.
Here Are Some Must Try Items On The Menu
Roasted Mealies, Mopane Worms, Kapenta, homemade flatbread with peanut butter and local honey, legumes, and Baobab pulp are offered.
Lemon and Wild Nyi Berry non-alcoholic a locally produced beer called Utshwala
Indlubu and Indumba Bean Hummus, Sun Dried Tomato, Wild Basil, and Peanut Dip, along with Wood Oven Baked Maize Bread (Chimodho).
Char-grilled chicken, Sadza/Rice, and a Community-Grown Salad are traditional beef stew dishes. Chomolia and Sadza are also available.
Highlights: Sadza, White Mupunga, Idobi Rice, Beef Stew, Inyama yenyamazana, Spicy Tamarind Zambezi Bream, Lemon-Mint Crocodile Kebabs, Zomukati, Chomolia.
Menu highlights: Samp Salad, Roasted Butternut, Sweet Potato, Carrots, Chick Peas, Roasted Peanut and Minted Peas, and Inkobe Salad (Mixed Bean and Mealie).
The Dining Experience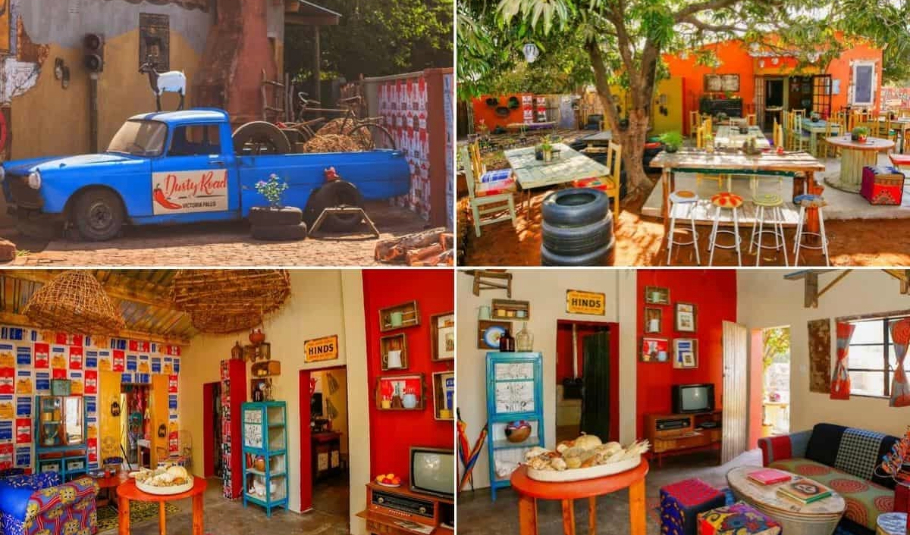 Dusty Road is open for both lunch and dinner.
It is essential to make a reservation as they do not take walk-ins.
The restaurant's operating hours are from 12 pm to 10 pm, with lunch served between 12 pm and 3 pm, and dinner from 6 pm to 10 pm.
Under the stars, you can enjoy an unforgettable feast for dinner. Dining outdoors, relishing your meal, and enjoying local music and captivating storytelling create a truly unique and special experience.
Occasionally, around 10 children perform for guests, with proceeds supporting school fees for less fortunate kids, adding a charitable touch. The aim is to expose the children to foreign visitors and to learn from them and provide opportunities. The staff is friendly and welcoming and will leave you smiling throughout the entire meal.
Is Dusty Roads worth it?
Overall, Dusty Road Experience Victoria Falls is definitely worth the hype and your time. It's a visually striking restaurant with a captivating story that will instantly engage you right from the beginning. We recommend this place if you want to experience that nice traditional feel and taste of Zimbabwe.