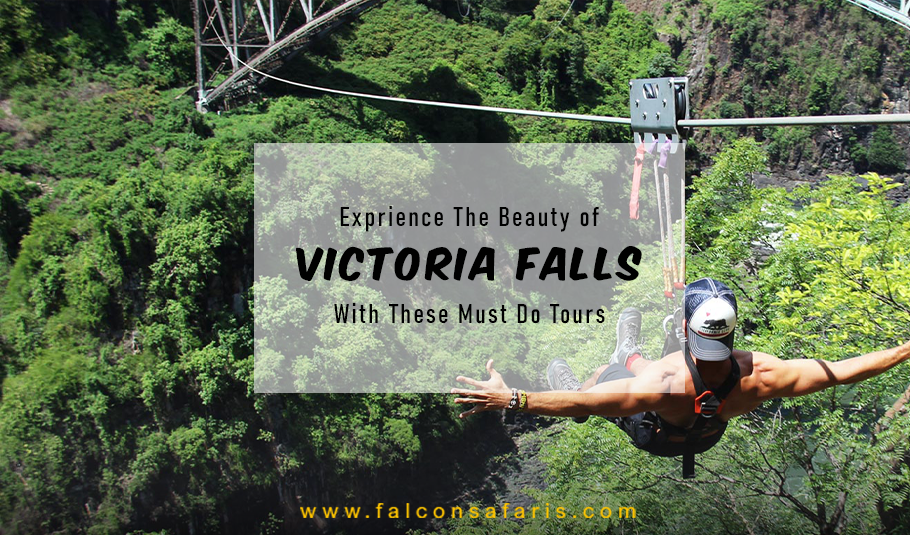 Victoria Falls is without a question one of the world's most spectacular natural wonders, attracting millions of tourists each year. Its thunderous sound of the water falling over the cliff edge and the stunning rainbow that arches over the misty spray are some of the aspects that enthrall visitors. If you want to fully appreciate the beauty, grandeur, and magnificence, Victoria Falls Tours are the only way out.
These tours to the falls offer a one-of-a-kind chance to explore the area and witness its wonders. From helicopter rides to white-water rafting, there are a variety of tours that offer a range of thrilling and unforgettable experiences. And, with the help of experienced guides, travelers can gain insight into the history and geology of the area along with learning about the unique flora and fauna thriving in the area.
In the blog post below, we aim to take you through various must-do Victoria Falls Tours which will help you experience the beauty of awe-inspiring Victoria Falls like never before. In the end, we have also tried to draw a comparison between various tours based on parameters such as price range, duration, etc.
Victoria Falls Walking Tour
A Victoria Falls Walking Tour is a must-do activity for any travelers who come to visit the place. It takes you on a leisurely stroll along the river banks of River Zambezi while you get to experience the stunning views of the fall itself and the nearby landscape.
Experience the sheer size and power of Victoria Falls. Hear its deafening noise and witness the largest sheet of falling water.
The walking tour helps you imbibe the scenery at your own pace while allowing you to completely appreciate the area's beauty.
You will see the famous Victoria Falls Bridge, Devil's Cataract, the Eastern Cataract, and the Main Falls.
Zambezi River Sunset Cruise
Sunsets Cruise over River Zambezi is one of the most popular Activities to do in Victoria Falls. As you glide along the river, you will be treated to the surrounding wilderness from the comforts of a fully-equipped boat.
The boats that are used for sunset cruises have comfortable seating areas and amenities such as bars and snacks. Hence, it allows you to relax while soaking in the scenery and sipping a glass of wine, and enjoying some light snacks.
As you cruise along, eye out for the wildlife thriving along the riverbanks. Elephants, hippos, and crocodiles are some of the popular species spotted during the cruise.
The timing of the cruise is crucial if you want to experience an optimal sunset viewing experience. A point to note here is that most cruises depart in the late afternoon which gives you plenty of time to enjoy the picturesque scenery before the sun sets over the horizon.
Interesting insight: If you want an adventurous sunset cruise experience, then go for a guided excursion on a canoe. You will spot elephants and hippos right next to you.
Victoria Falls Helicopter Tour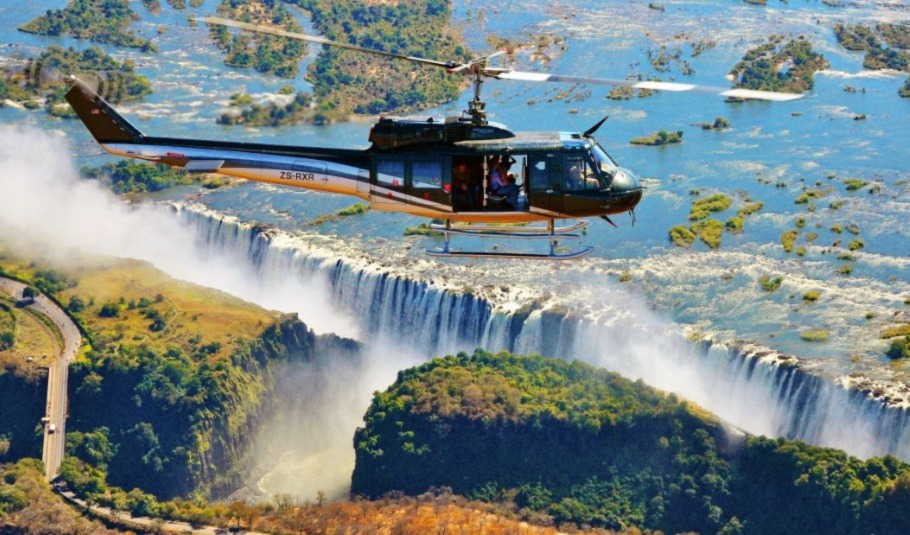 Victoria Falls Helicopter Tours is another unique way to experience Victoria Falls. The tour takes you high above the falls. You even get to view the Zambezi River leading into Victoria Falls, and the spectacular gorges carved out below.
As you soar above on the helicopter ride, you will appreciate the sheer size and grandeur of Victoria Falls.
You will enjoy the towering wall of misty views and thunderous noise and understand why the Falls have been locally named "the smoke that thunders"
The longer 25-minute flight will give you more opportunity to explore the Batoka gorger along with the wildlife sightings over Zambezi National Park.
Chobe National Park Day Trip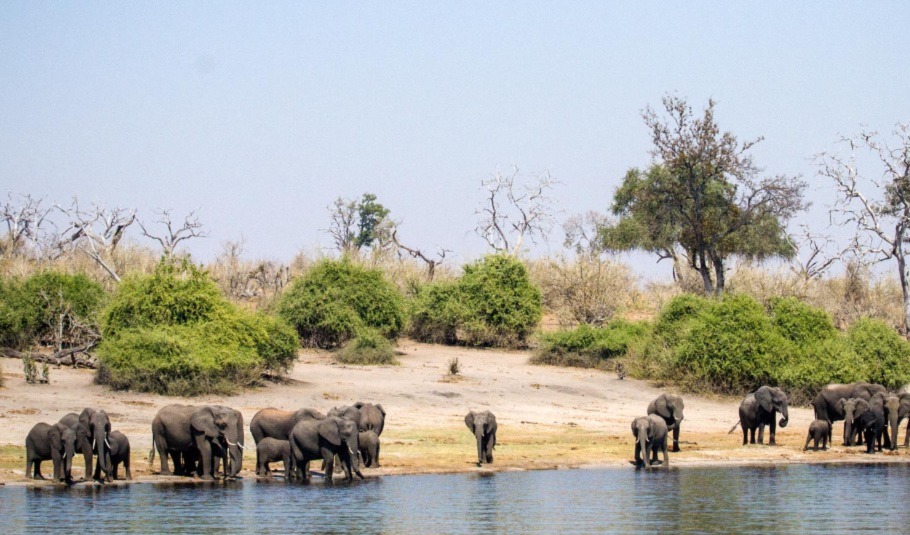 Safari in Victoria Falls includes a day trip to Chobe National Park. It is one of the fantastic ways to experience the wildlife of this stunning area. You can hire a shuttle bus or a private transfer to get to Chobe National Park from Victoria Falls. Once you arrive at Chobe, get on a boat ride on the Chobe River and experience the incredible diversity of wildlife in their natural habitat. Some of the highlights of the Chobe Day trip include:
View huge herds of elephants on the banks of the Chobe River. These herds can be viewed up close but from within the safe boundaries of the boat.
Other wild animals found in abundance are hippos and crocodiles. An abundance of birdlife is also present in the park which attracts a lot of bird watchers from around the world.
Afternoon game drives allow locating large herds of elephants, buffaloes, and plains game, along with their following predators. Truly an unforgettable game-viewing experience.
Victoria Falls Bungee Jumping
If you are someone who would gather all the courage to jump off 111 meters, this Victoria Falls Activity is a must-do for you. The epic backdrop of Victoria Falls and the fact that the 4 seconds jump allows you to plummet toward the mighty Zambezi; all this has made it the best bungee jumps in the world. Key highlights include:
For ensuring the safety of participants, certain age and weight restrictions are to be followed.
Travelers with any pre-determined medical conditions such as heart disease, and back or neck problems cannot participate in the jump.
First-timers are asked to do a head-first dive, but experienced jumpers can try out any kind of flips they like.
The best part about this bungee-jumping activity is that even if you have pre-booked and done a full payment, still you can get a full refund if you don't fill up the indemnity form at the falls.
Victoria Falls Canopy Tour
The best way to experience the rainforest canopy above the River Zambezi is by taking a Victoria Falls Canopy Tour. The tour includes zip-lining and bridge-walking various sections of the canopy. This allows participants to take in amazing views of the rainforests.
This activity was introduced in 2013, especially for those who are looking for a bit of adventure during Victoria Falls Tours.
This is one of those Victoria Falls Activities that can be done with families and groups all along.
The canopy tour consists of 9 different slides and 1 cable bridge walkway which offers spectacular views of the rapids, sprays, and the Victoria Falls Bridge.
You get to observe the riverine forest and a variety of other vantage points too. You will also get a unique perspective of birdlife during canopy tours.
Cultural Village Tour
Cultural village tours are unique in their respect and give travelers the rare opportunity to meet and interact with the local Zimbabwean people. It will give you insights into their life, history, customs, and culture. Some key highlights of cultural village tours include:
The tours include visits to the homesteads of the villagers. You will get to see what kind of animals they keep and also learn about the equipment and utensils they use. You may have the opportunity to cook food with them or help them with their chores.
This tour may take 2 to 2.5 hours. Although not necessary, you may carry gifts for the school-going children, if you wish.
These tours can be made by anyone but families on Victoria Falls Tours mostly enjoy these types of activities.
White Water Rafting On The Zambezi River
White Water Rafting on the Zambezi River takes visitors through the rapids, thus, providing an up-close and personal view of the beauty and power of the mighty river. The river rafting experience is so thrilling that it is often labeled as the best one-day whitewater rafting experience in the world. Rafters guarantee that this one-day trip will be remembered by everyone for the rest of their lives. Some key highlights include:
Safety is a major concern when going for white water rafting. So, the first thing that you are given when reaching hear the spot is a safety talk by your guide.
Life jackets, paddles (if going for paddle-boats), and helmets are supplied to the participants.
Victoria Falls Game Drive
Game drives in the Zambezi National Park are an incredible way for visitors to experience the diverse array of wildlife. Visitors on Safaris in Victoria Falls will get the chance to see wild animals, including elephants, lions, buffalos, giraffes, and many other species. You will also get to learn about their behaviors and habitats.
Timing the game drive is also an important aspect to maximize wildlife viewing opportunities. Because certain times of the day do provide better wildlife viewing opportunities.
Victoria Falls High Wire Activities
Victoria Falls is not only a place of stunning natural beauty but also an adventure seeker's paradise. Among the various thrilling activities available in Victoria Falls are the high wire activities, which include gorge swinging and zip-lining above the Zambezi River. These high-wire activities offer an adrenaline rush that cannot be found elsewhere.
Comparison Of Some Of The Must-Do Activities At Victoria Falls Tours
Now, that we have illuminated your about different must-do activities during Victoria Falls Tours, let's take you through a comparison of some of the must-do Tours at Victoria Falls. We have tried to compare the based on some parameters such as duration, inclusions, and exclusions in the Tour of Victoria Falls. We have also included customer ratings for the concerned Tours.
| | | | | | | |
| --- | --- | --- | --- | --- | --- | --- |
| Tour | Operator | Duration | Price Range | Inclusions | Exclusions | Customer Ratings |
| Helicopter Tour | Various | 13-45 minutes | $150- 700 | Scenic flight over Victoria Falls and surrounding area, knowledgeable pilot providing commentary | Transfers to/from hotel not included | 4.6-4.9/5 |
| Sunset Cruise | Various | 2-3 hours | $50-80 | River cruise, snacks, drinks, wildlife viewing | Transfers to/from hotel not included | 4.5-4.8/5 |
| White Water Rafting | Various | Half-day or full- day | $120- 180 | Rafting trip down Zambezi River, safety equipment provided, lunch on full-day trip | Transfers to/from hotel, meals not included | 4.8-5/5 |
| Bungee Jumping | Victoria Falls Bungee | 4 seconds of freefall | $160 | Bungee jump off Victoria Falls Bridge, safety equipment provided, certificate of achievement | Transfers to/from hotel not included | 4.8/5 |
| Zambezi River Canoeing | Various | Half-day or full- day | $100-150 | Canoe trip down Zambezi River, safety equipment provided, snacks on a half-day trip, lunch on full-day trip | Transfers to/from hotel, meals not included | 4.7-4.9/5 |
| Elephant Back Safari | Wild Horizons | 3-4 hours | $150- 200 | Safari ride on the back of an elephant, refreshments | Transfers to/from hotel not included | 4.7-4.9/5 |
| Victoria Falls Walking Tour | Various | 2-3 hours | $20-30 | Guided walking tour of Victoria Falls, entrance fee included | Transfers to/from hotel not included | 4.7-4.9/5 |
| Microlight Flight | Microlight Adventures | 15-30 minutes | $150- 300 | Scenic flight over Victoria Falls and surrounding area, knowledgeable pilot providing commentary | Transfers to/from hotel not included | 4.7-4.9/5 |
| Zambezi River Sunset Dinner Cruise | Victoria Falls River Safaris | 4 hours | $80-100 | River cruise, dinner, drinks, wildlife viewing | Transfers to/from hotel not included | 4.6-4.9/5 |
Unleash Your Sense Of Adventure And Immerse Yourself In The Beauty With Victoria Falls Tours
Experiencing the beauty of Victoria Falls is a truly unforgettable experience. Also, the variety of Victoria Falls Tours that are available makes it easy to tailor any trip to your interests. It doesn't matter if you are seeking adventure, relaxation, wildlife, or culture, the good thing is that there is a tour for you. By choosing one or more of these must-do tours, you'll be able to fully immerse yourself in the wonder of Victoria Falls and create memories that will last a lifetime.
We at Falcon Safaris generally recommend taking several tours to get a well-rounded experience and make the most of your visit. We have a proven track record in organizing one of the best Victoria Falls Tours. So, get ready to discover the magic of one of the world's most magnificent natural wonders with us.