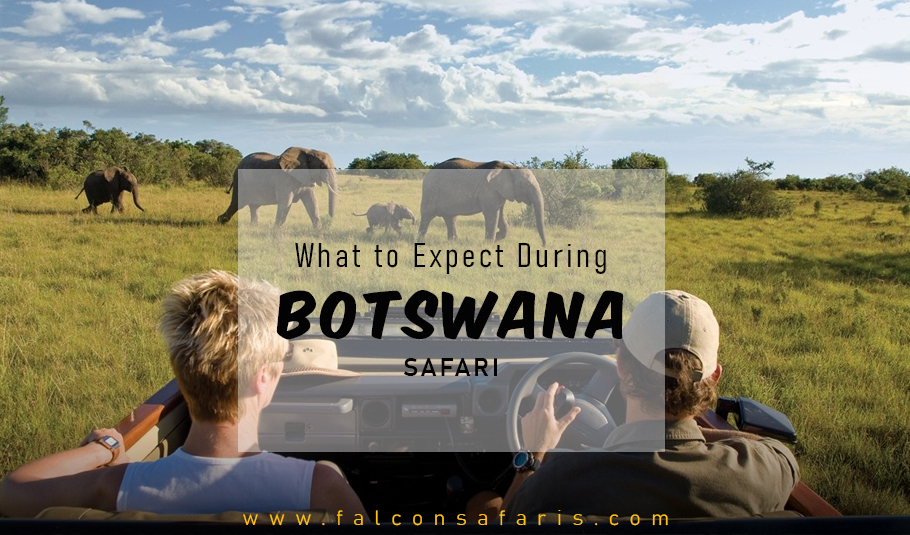 Enriched with serene landscapes, incredible wildlife, and beautiful waterways, Botswana is undoubtedly the best safari destination in Southern Africa. In recent years it has made itself the most desired safari destination among travelers.
This is a country that has redefined the safari experience. It's a county that welcomes those who want to experience the authentic wildlife of the African continent. If you want to be part of this incredible journey you should know what to expect during the Botswana Safari Tours.
Meet the Hunter Gathers of Kalahari Central
Kalahari Central, a red sand desert, is located in the Central part of Botswana. The word Kalahari means great thirst. As the name goes most of the year Kalahari remains dry.  Kalahari is a barren land. The only people that live here are The San people. A tribe that has been living here for more than 10,000 years. Sans people are known as the most humbling people in Botswana. Famous for their unique hunting skill they are known as hunter-gathers.
During your safari in Kalahari Central, you can interact with San people and can learn about their culture and lifestyle. Kalahari is also home to a large variety of wildlife. Here you will get to see Meerkat, rhino, giraffe, leopard, and cheetah including African wild dogs.
Things that you can expect here are game drives, Bushmen interaction, night game drives, bird–watching, and nature walks.
Visit the Elephants Kingdom at Chobe National Park
Chobe National Park is the first National Park in Botswana. It is also the home to the World's largest population of elephants, nearly 120,000. Apart from the elephants Chobe National Park also hosts more than 500 bird species. A perfect place for bird-watchers.
River safari at Chobe National Park is also an excellent way to see wildlife that comes to drink water to the edge. On an evening boat cruise, you can witness the spectacular sunset. If you love photography, you can snap this moment for a lifetime. Activities that you can experience here are Guided bushwalks, village tours, photographic safaris, game drives, and fishing.
Witness the Zebra migration at Makgadikgadi National Park
Makgadikgadi, a size no less than Switzerland used to be a vast lake. Now it is the world's largest salt pan. In summer when it rains this salt pas turns into a green land. Thus herds of zebras and wildebeest migrate here in search of vegetation. Here you can witness Africa's second largest zebra migration.
You can also get close to the habituated Meerkats. You will be amazed to see Meerkats are how familiar with humans. Apart from visiting the wildlife, you can also enjoy game drives, guided bush walks, and bird watching. During the day you can also ride a quad bike on the vast salt pans. During the night the countless stars make the sky look breathtaking. It's an experience of its own kind.
Experience Africa's best Safari at Okavango Delta
Okavango Delta is the world's largest inland delta. Filled with rich diverse wildlife and beautiful waterways it became a World Heritage Site in 2014. What makes this delta unique is that you can explore vast wildlife on a mokoro, a traditional canoe ride. The game viewing experience on a mokoro ride is truly exceptional.
Besides the Mokoro ride, you can experience its vast wildlife. It is home to some of the world's most endangered animals. Like endangered cheetahs, lions, and leopards including African wild dogs. For the birdwatchers, there can be no place better than Okavango Delta. Being home to over 500 bird species it's a dream place for bird watchers.
Okavango Activities that you can enjoy are bird watching, game driving, and walking safaris.The accommodation facilities are also excellent in Okavango Delta. The local lodges offer you luxury hotel service at an affordable price.
See the wildlife in action at Kglagadi Transfrontier National park.
If you want to experience Botswana's best safari then come to Kgalagadi Transfrontier Park. It was established in 1999 and it is the first cross-border national park between South Africa and Botswana. Kglagadi is an endless desert of red and gold sand dunes. This semi-arid land is covered is less vegetation compare to other safari destinations.
So it helps photographers to click stunning images of wildlife. The evening also looks spectacular when the sun hides behind the sand dunes. The animals that can be commonly seen are gemsbok, eland, blue wildebeest, and springbok. You can spot black-manned lions and brown hyenas.
Kglagadi Transfrontier National Park is a perfect place for a 4×4 Self-drive. The vast deserted land with almost zero crowd makes game drives a different experience. You can also go on a wilderness safari.
During your Botswana safari Tours, you can also visit Savuti and Kwai River Valley. This valley is also filled with an abundant number of wildlife. Wildlife that can be seen here are African bush elephants, black rhinoceros, southern giraffes, leopards, and other antelope species.
Each and every place in Botswana has its own charm. Whether you are walking in the bush of Kalahari Central or you are riding in a Mokoro ride at Okavango Delta. Every minute you spend on the Botswana safari Tours will give you a lifelong experience. A safari in Botswana means a timeless journey on this planet.
If you want to witness Africa's best wilderness there can be no better place than Botswana. Come and see the best-unspoiled wildlife of Botswana. For more information about Botswana safari Tours check our website Falcons Safaris. For over 30 we have been providing an unparalleled safari experience to our thousands of beloved customers.
They love how our experienced tour guide made their safari experience hassle-free. We also provide a wide range of Botswana tour packages that suit every budget. Now you can be also part of it. We will make your Botswana safari Tours unforgettable and convenient. Let's start planning for your dream safari destination, Botswana!