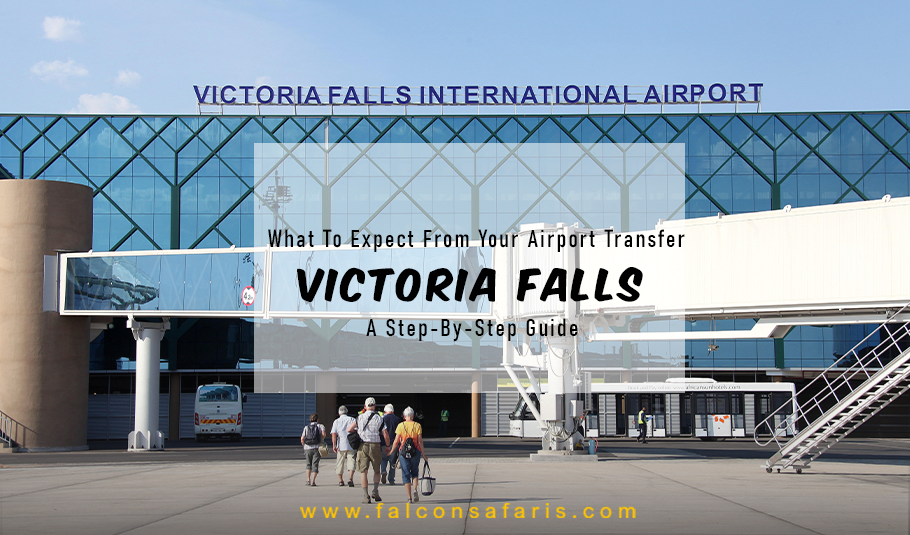 Ever thought about why Victoria Falls Airport Transfer services are so important? You wouldn't be the first one. Many travellers seem to miss out on this factor when planning their Victoria Falls Tours. But, think again, travellers! This is a major aspect that will either make or break your trip.
In this post, we'll offer you a step-by-step guide as to what Victoria Falls Airport Transfer services are all about and offer the services we provide our guests at Falcon Safaris (don't miss out on this! Refer to section 9).
Constituents Of Victoria Falls Airport Transfers
Victoria Falls Airport Transfer is a service that transports visitors from the airport to their Accommodations In Victoria Falls. These service providers generally offer a shuttle service that accommodates groups of varied sizes.
Vehicles used for airport transfers may differ in size and type. From small cars and minibuses to larger buses, depending on the size of the group. We at Falcon Safaris also offer private Victoria Falls Airport Transfers for those visitors who want a more customizable service.
Requirements For Victoria Falls Airport Transfers
Some requirements that you should know about Victoria Falls Transfers are listed below:
You may need to provide your flight details and accommodation information when booking an airport transfer.
Additionally, you should also plan and book the airport transfers in advance. This is truer especially during the peak tourist season, to ensure availability.
Advantages Of Victoria Falls Airport Transfers
Nobody likes uncertainty and anxiety while at the airport. This is exactly why we want to make sure that you don't face any inconveniences on Victoria Falls Tours. Our airport transfers ensure that these circumstances don't happen.
Want to know why? Well, here are some major advantages you'll get by opting for Victoria Falls Airport Transfers with Falcon Safaris:
SAFE AND CONVENIENT
Who in the world wants to hang around for public transport or connecting trains? No one, that's who!
This is where Victoria Falls Airport Transfer will help you greatly. Expect convenient and smooth pickups and drop-offs safely and responsibly.
This is especially helpful for those individuals who are not used to driving on the left side of the road in Zimbabwe.
FLEXIBILITY
Just the way you want! This is our ideology in terms of Victoria Falls Airport Transfers. No matter what kind of vehicle you want and what your group size is – we have you covered! Short on time and need last-minute bookings? We have got your back there too!
NO ADDITIONAL EXPENSES OR PAPERWORK
Why bother going through loads of paperwork and paying additional expenses? Our Victoria Falls Airport Transfer makes sure that the price you're quoted is the ultimate price you'll pay.
NO WAITING TIMES OR CANCELLATIONS
There's no place for hassle and stress on our range of Victoria Falls Airport Transfers. Forget cancellations, we stick to rigid schedules and make sure that the airport transfer comes to you, and not the other way round.
Tips For Using Airport Transfers In Victoria Falls
Here are some general suggestions that you should make when booking and confirming Victoria Falls Airport Transfers:
You should book the airport transfer service well in advance, so you won't face any last-minute complications.
Confirm your pickup time and location with the provider before your arrival. This will help to avoid any sort of delays or confusion.
Have your flight and accommodation details handy when booking Victoria Falls Airport Transfers. This will help the service provider with accurate information.
Victoria Falls Airport Transfers Booking Options
You can book airport transfer services through different methods, like over the phone, online, or through your accommodation. But why go through all these unnecessary hoops when we at Falcon Safaris are readily available for you in terms of airport transfers
Types Of Airport Transfer Services
One of the primary types of Victoria Falls Airport Transfer service is a shared shuttle. This is where you'll share a vehicle with some other passengers who are headed in the same direction. This is a great cost-effective option for small groups.
On the other hand, if you want utter privacy and exclusivity, then private transfers are a good option. This can also be a more customized and comfortable choice for larger groups and those individuals with specific needs.
Availability Of Victoria Falls Airport Transfer Services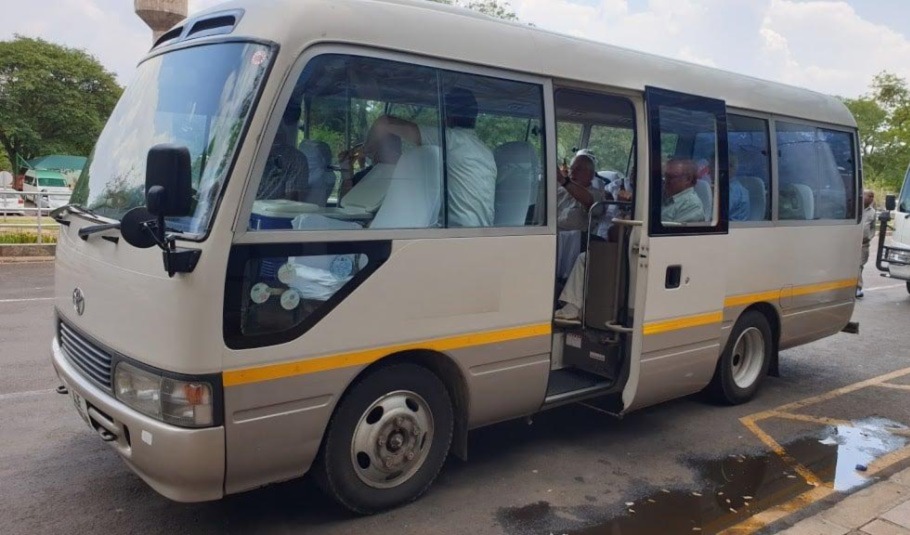 Airport Transfer services are usually available 24/7, but this depends on the time of day and some services may get delayed based on the season of the year.
You should confirm with the service provider for their available options and hours of operation.
This is where we can help you, by surveying all the providers and narrowing down your perfect pick.
Costs Of Victoria Falls Airport Transfers
The costs of airport transfer services in Victoria Falls vary according to the type of service, the number of passengers, and the distance. Shared shuttle services are generally less expensive compared to private transfers.
Falcon's Opinion – You should compare the services and costs of different Victoria Falls Airport Transfer service providers to find the best option for your budget and needs.
Our Provided Airport Transfer Services In Victoria Falls
Now that you know the different aspects of airport transfer services, it's time to get into detail about what we at Falcon Safaris offer our valued guests in terms of airport transfer services. The following are some things we provide:
Airport Meet and Greet
Airport and Local Transportation
Group Tours
Conferences
Teambuilding Events
Activities and Spousal Tours
Dine-Arounds
African Entertainment
Recreation
Site Inspections
VIP hospitality
Off-property Events
On-site Hospitality Staff
Note – These services are applicable only in Victoria Falls, Livingstone, and the Chobe regions. Our fleet of vehicles includes large buses, minibuses, and luxury sedans.
Readily Available Victoria Falls Airport Transfers Just For You!
To close things out, the above step-by-step guide has covered all the aspects of Victoria Falls Airport Transfer services and hopefully, you've gathered what they are all about. We at Falcon Safaris know the lay of the land of both Zambia and Zimbabwe and have been happily serving customers in terms of ground handling and transfers for a significant while.
So, if you too want convenient, reliable and above all safe Airport Transfers then be sure to check in with our travel experts or visit this link to get more in-depth information – https://falconsafaris.com/transfers-and-dmc