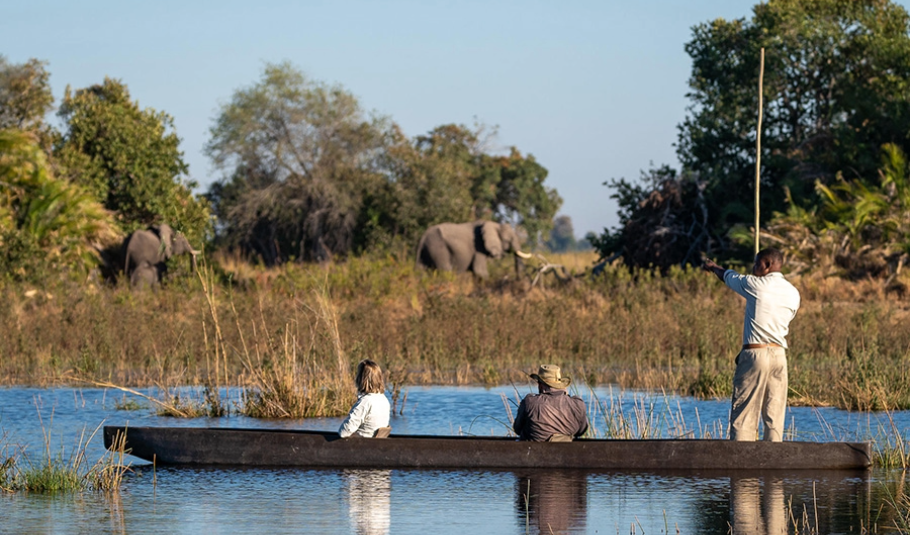 You can experience the best eco-friendly safaris in Botswana with Falcon Safaris' specially crafted Botswana Safari Tours. Designed with a deep respect for nature, these tours emphasize sustainability and appreciate delicate ecosystems.
With our Botswana Safari, you'll not only witness incredible wildlife but also take part in protecting the environment. Enjoy a journey in harmony with nature, and let's explore how to plan a responsible and ethical adventure through Botswana's breathtaking wild landscapes!
Botswana's Sustainable Safari Lodges
Sustainable lodges are a hallmark of our Botswana Safari Tours. With innovative designs that minimize their environmental impact, these lodges are more than just a place to stay. Some of the measures adopted by these lodges to promote sustainability are as follows:
Many lodges in Botswana practice sustainability by growing their food or buying from local farmers. This helps the local community and reduces the need for transportation, reducing fuel use. They also use locally made products like soaps and blankets, adding to their eco-friendly approach.
Many lodges in Botswana take advantage of the plentiful sunlight by using solar panels. This provides power supply to the lodges and energy for safari vehicles, allowing for a quiet and pollution-free game drive experience.
Interesting Fact: Solar-powered boats are being introduced in some lodges, enhancing the peaceful experience of a safari on the water.
Efforts to conserve water through recycling and efficient usage are common in most Botswana Safari lodges.
Falcon's Recommendations: Our Botswana Holiday Packages offer stay-in lodges committed to sustainability. Chobe Game Lodge is known for its recycling efforts and electric vehicles. Ghoha Hills Savuti Lodge entirely operates on solar power, maintaining an eco-friendly atmosphere. To learn more about such accommodation options, visit the Botswana Accommodations page now!
Conservation-Focused Private Reserves
In Botswana, private reserves play a crucial role in wildlife and habitat conservation, effectively creating a sanctuary for endangered species. They achieve this through several critical practices:
Protecting Endangered Animals. The reserves are dedicated to actively protecting and monitoring endangered animals. This ensures their survival and growth in a safe environment.
Responsible Land Management. This helps in preserving diverse ecosystems found within their boundaries. This approach ensures that the land continues to thrive and supports a wide array of wildlife.
Collaboration with Research Institutions. This partnership helps to guarantee that the reserves follow the best conservation practices, continually adapting and improving their methods to protect and nurture the wildlife and environment.
Special Note: In reserves and national parks in Botswana, the conservation fees collected from visitors are specifically used to support community welfare and environmental protection initiatives. This practice amplifies the positive impact of Botswana Safari Tours, ensuring that the funds provide a breathtaking experience for tourists and contribute directly to the local community and the safeguarding of the natural environment.
Exploring Community-Based Tourism Initiatives
Community-based tourism in Botswana means local people are involved in the tourism business. This way, when visitors go on Botswana Safari Trips, the money they spend helps the local community. It's a way to ensure that the people who live there get to share in the benefits of tourism.
Special Note: Community-based initiatives in Botswana, like the Khwai Development Trust, present a model for sustainable tourism. The revenue generated from tourism activities is used in various community development activities, such as building houses for villagers and educating and training local people. Engaging with these projects on your Botswana Safari Vacations offers a deeper understanding of Botswana's cultural richness.
Additionally, guests on Botswana Safari Trips can actively participate in conservation projects. You can either:
Join researchers in tracking and monitoring wildlife.
Contribute to reforestation efforts during your Botswana Safari.
Want to make a difference? Join our Best Botswana Safari Tours and be part of these incredible conservation projects!
Helping Animals and People on Safaris in Botswana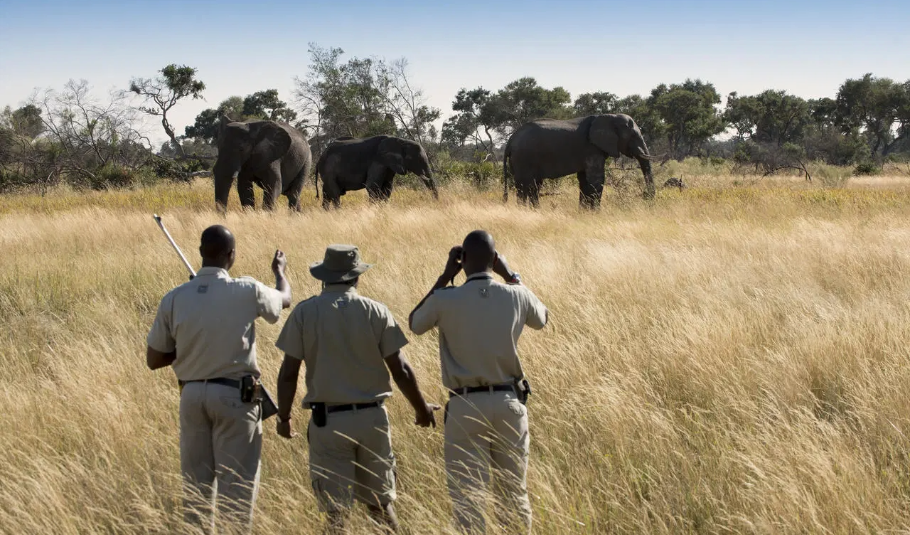 If you are going on a Botswana Safari with us, you'll see that our tours do two great things: they take care of animals and help local people.
Taking Care of Animals
On Botswana Safari Tours, the guides accompanying you ensure the animals are safe and happy. They follow strict rules, so nothing harms the animals. You'll also learn why protecting these creatures is essential when communicating with them.
Helping Local People
Your Botswana Tours isn't just about seeing animals; it also helps local people. Let's learn how to uplift the locals when traveling through the stunning country.
Firstly, you can buy things made by people who live nearby. This helps them earn money.
Some Botswana projects focus on giving local women jobs and support. This helps in empowering them to a great extent.
You can also dine at community-run establishments and hire local guides. This will benefit the economy and enhance your Botswana Wildlife Safari with authentic experiences.
So, when you choose a Botswana Safari, you're not just going on a trip but also doing something good for the animals and people there. It's a win-win for everyone!
Minimising Single-Use Plastics and Reducing Your Ecological Footprint
Our Eco-friendly Safaris in Botswana actively promote minimizing the use of single-use plastics. This is essential in maintaining pristine environments. Some steps taken to achieve the feat include:
Most Lodges that you will choose to stay on your Botswana Safari Tour provide reusable bottles and containers.
Regular recycling of plastics and other materials is carried out to reduce the piling up of waste materials.
Promoting the usage of refillable water bottles, biodegradable toiletries and avoiding the products with excess packaging.
Falcon's Tips for Travellers to reduce their ecological footprint
 Consider offsetting your flight's carbon emissions.
 Limit water usage 
 Opt for recycling wherever possible 
 Stick to marked trails to minimise the impact

An Eco-Conscious Safari Experience in Botswana
An eco-friendly safari is not just a trend but a responsibility. Our safari experts take this commitment seriously. Hence, they have designed a range of Botswana Safari Tours specifically tailored to appeal to your eco-conscious needs.
Ready to plan your sustainable journey? Contact Falcon Safaris and let your adventure begin with our exclusive Botswana Safari Packages. Book your eco-friendly trip today and travel to Botswana while making a difference!