Botswana is the best family safari destination in entire Africa. Its rich wildlife and beautiful landscape makes it favorite for families around the world. From game drive in Kalahari Central to canoe ride in Okavango Delta, Botswana has everything that you expect from a Botswana Family Safari.
It is known for providing highest level of comfort, the experienced tour guides and fun filled the Botswana Family Safari Adventures activities. All this makes Botswana a perfect family safari holiday destination.
If you are wondering how to plan your Botswana Family Holiday, here are some important points that you should know.
WHAT MAKES BOTSWANA A BEST FAMILY SAFARI HOLIDAY DESTINATION?
Botswana is country full of wildlife, beautiful water ways and adventures. It offers a wide ranges of Family activities for both children and family.
Botswana Tour Guides helps children to understand the surrounded eco system. The lodges and camps are also designed keeping in mind of children's comfort.
Unlike other countries Botswana accept less number of travelers. So children and families have more exclusiveness.
AGE RESTRICTION FOR CHILD IN BOTSWANA SAFARI
The age restriction for a Safari In Botswana varies according to the activities. For a Canoe trip minimum age limit is 12 years. Children can join game drives from the age of six.
Lodges and camps are designed for whole family. Children can join different clubs and participate in different activities.
HOW TO PACK FOR A FAMILY SAFARI HOLIDAY IN BOTSWANA?
Packing for a Family Safari in Botswana can be overwhelming, especially if you are a beginner. Don't worry, we have made a list of items that you can consider carrying with you.
For your children –
Safari pants ( zip- off works best)
Jeans ( For colder nights )
Long and some short sleeve shirts
Walking shoes
Sun hat
Swim suits and goggle
Luggages
Before boarding on a flight, choosing right luggage is always crucial. The size of luggage is always matters. Keep in mind that the luggage capacity is restricted between 15 to 20 kg.
To avoid any problem at airport checking, keep your luggage lighter.
WHAT PLACES YOU CAN VISIT DURING YOUR FAMILY SAFARI IN BOTSWANA?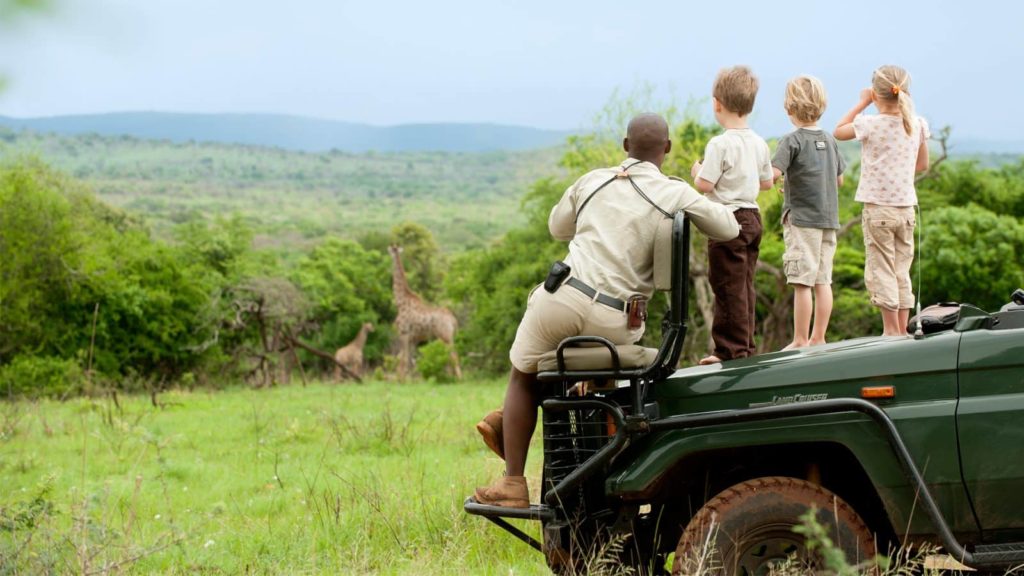 Botswana is a country full of adventure. A place that give you a chance to see the Botswana Wildlife and mainly the Big Five. This place is also home to more than 120,000 Elephants. Here we made a list of some famous Botswana Tourist Attractions, that you will love visiting with your kids.
Kalahari Central Park
Located on the central part of Botswana, it's the largest and most remotely situated Game Reserve Of Africa.It's a must see Botswana Family Safari Destination. At Kalahari Central children can be part of every adventure. Like they can go fishing or they can go for nature walks or game drives.At nights the whole family can enjoy star gazing. The bushman dance at night is also a different experience.
Chobe National Park
Chobe National Park is the finest wildlife creation area of Africa. Its beautiful waterways and abundant wildlife makes its perfect family Safari Destination In Botswana. At Chobe National Park, children will amazed when they will see big African elephants are crossing the road. At Chobe River the whole family can enjoy boat cruise and can witness a beautiful evening. Here the whole family can go for village tour, fishing, photographic safari guided bush walks.
Okavango Delta
Being the world largest in land delta, Okavango Delta is the best safari holiday destination for families. At this Botswana Safari, children can enjoy canoe ride. The minimum age limit for canoe ride is 12 years. An experienced tour guide will lead you to game drives, bush walks and bird watching. The children will not just see the wildlife they will also learn about it.
Makgadigadi Salt Pans
Being the largest salt pans in the world, Makgadigadi Salt pans is becoming a popular as a family holiday destination. The camps are also designed for kids. Starting your day from game drives to enjoying the San people dance in the evening this has everything for everyone. Children will also love bird-watching and guided safari walks.
WHAT IS THE PERFECT TIME FOR A FAMILY SAFARI HOLIDAY IN BOTSWANA?
The Best Time to Visit Botswana is June to August. During these the rain fall is relatively low and the sky is clear. This is the best time for game viewing. The risk of malaria is also low due to less rain. The clouds free sky makes the night look spectacular. You can witness millions of stars sparkling all over the sky.
THINGS THAT CHILDREN CAN ENJOY DURING FAMILY HOLIDAY IN BOTSWANA?
To keep engaged children thorough out the day many lodges and camps provide different activities.
Archery – To teach children archery skills many lodges have archery and bows. Children can also learn how to make archery and bow.
Micro Safari– In micro safari children can learn about small animals and insects like lizard, snakes and scorpions.
Fishing – In this activity kids can learn how to catch fish in nearby dams and river. Many lodges have kept fishing gears.
Tracking Wild Animals -With the help of local guide, kids can learn about animals by just looking their footprint .This activity is not only fun but also educational.
Kids can also learn about the wildlife conservation through fun activities. They can also play scorer and they can learn some craft. They can learn swimming at lodge's pool.
Spending a Safari Holiday in Botswana with your family is an unforgettable experience. Botswana is undoubtedly the Best Safari Destination In Southern Africa.
In Botswana whole family can experience the best safari that this county has to offer. The beautiful landscapes are filled with so much adventure. It's a memory that you can look back even after years.
If you are planning for a family trip in Botswana Safari, then visit our website Falcon Safaris. We will plan your holiday according to your own convenience. We provide the best safari experience that you can have. Our team members are always ready to assist you.