Are you up for an adventure? Then, taking part in Victoria Falls Activities is something you shouldn't let pass you by. From canopy tours and ziplining, there's no shortage of exhilarating ways to experience the grandeur of the Falls.
This guide blog post will explore the best Victoria Falls Activities and offer you helpful hints on how to pick the perfect adventure for you. Whether you're seeking a rush of adrenaline or want to see the stunning sceneries around the Falls, there's something here to suit every taste.
Victoria Falls Canopy Tours – Walking On Top Of The World!
When looking for Things to do in Victoria Falls, canopy tours should certainly be on your agenda. This is a high-wire activity that consists of a network of slides, rope, and Trail Bridge walkways within the canopy of the hardwood forest.
This Victoria Falls Tour takes you right to the center of the Zambezi gorges and offers you some of the greatest panoramic views of the bridge and wild rapids below. This activity was inaugurated in 2013 and isn't just for those adrenaline junkies out there but for anyone seeking adventure.
| | |
| --- | --- |
| COMPONENT(S) | EXPLANATION(S) |
| Duration | 2 hours and 30 minutes |
| When can you do this activity | Throughout the year |
| Weather | Pleasant weather all year-round * Do remember to bring rain gear if you visit in the wet season (from November to March) |
| Things to Bring | – Mosquito repellent (preferably one with DEET) – Sunscreen (SPF 30 or higher) – Hair Ties (for individuals with long hair which needs tying up) |
| What to Wear | – Comfortable light clothing that covers the body and protects you from the sun. – Warm clothing during the winter season (from April to August) – A pair of durable Hiking or Running shoes. |
There are certain things you need to know before booking a Victoria Falls Canopy Tour. We've listed them below:
The minimum age to take part in this Victoria Falls Activity is 6 years.
Iced water and soft drinks are available during canopy tours.
Transfers to and from the hotel are included in the overall cost.
This activity is available every day, all year round.
An additional fee of $3 (for the national park) needs to be paid for the tour.
Note – A minimum of two individuals need to book this activity to confirm a departure. And, the tours operate with a minimum of 8 individuals per trip.
Victoria Falls Ziplining Tours – Filled With Action And Adventure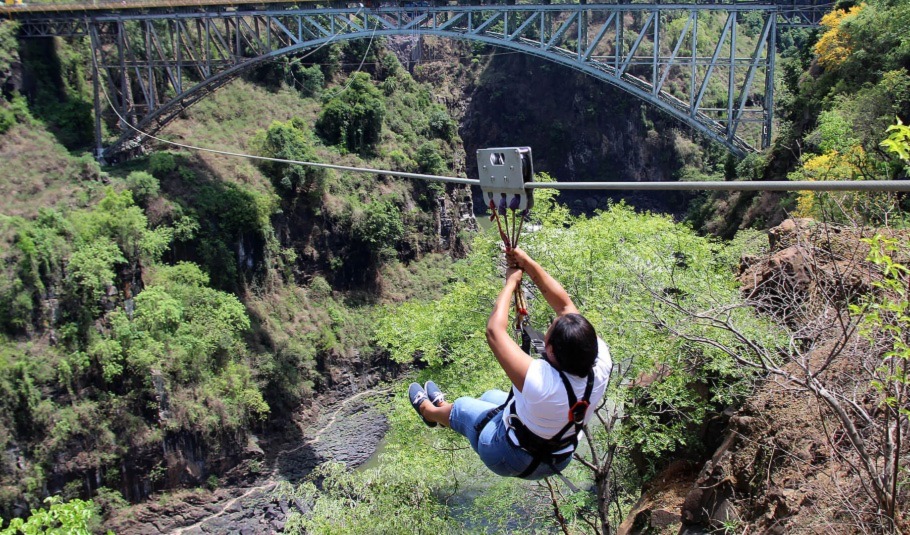 This is another high-wire Victoria Falls Activity that lets you slide down a cable in mid-air at around 110 km. per hour. The Victoria Falls Zipline is one of the longest on Earth, so a thrilling adventure is guaranteed.
What makes this experience more special is the opportunity to glide across the natural surroundings of the Batoka Gorge with the rapid of the Zambezi River below. You can also refresh yourself a bit and explore the charming Lookout Café.
| | |
| --- | --- |
| COMPONENT(S) | EXPLANATION(S) |
| Duration | Around 4-5 minutes, though this will be plenty to stare in awe at the amazing scenery. |
| When can you do this activity | Throughout the year |
| What to Wear | – Lightweight breathable fabrics – A sturdy pair of running shoes |
| Things that you should bring | – Sunscreen – Hair Ties |
Falcon's Insight – You might think that ziplining in the forests will affect the conditions of the trees, but this isn't the case. Putting necessary bolts in trees does not harm them in any way. It can even be used to heal trees that have been split from damage.
Victoria Falls Bungee Jumping – Take The Plunge!
This is one of the most thrilling Victoria Falls Activities and is also the most scenic. The jump takes place from a height of 110 metres from the Victoria Falls Bridge, which connects Zimbabwe and Zambia. As you leap off the platform, you will be treated to an incredible view of the Zambezi River and the Victoria Falls Gorge.
Preparation Work And Safety
Before you take the leap, you will receive a comprehensive safety briefing from experienced and trained instructors.
The team will ensure that you are equipped with the necessary gear. This includes a full-body harness and bungee cords that will support your weight during the jump.
The instructors will also take you through a series of checks to ensure that all the equipment is in excellent condition.
Advantages And Exhilaration
Apart from the obvious adrenaline rush, bungee jumping has several benefits. Here are some examples:
It's an excellent way to conquer your fears and challenge yourself mentally and physically.
The experience also helps to release endorphins, which are natural mood boosters that can leave you feeling euphoric for days after the jump.
Moreover, bungee jumping can help improve your self-confidence and sense of achievement. For a cherished bungee jumping experience, Falcon Safaris offers a variety of packages and tours to help you make the most of your adventure. This link offers more info on this – https://falconsafaris.com/victoria-falls-activities
Victoria Falls White Water Rafting – Battling The Rapids!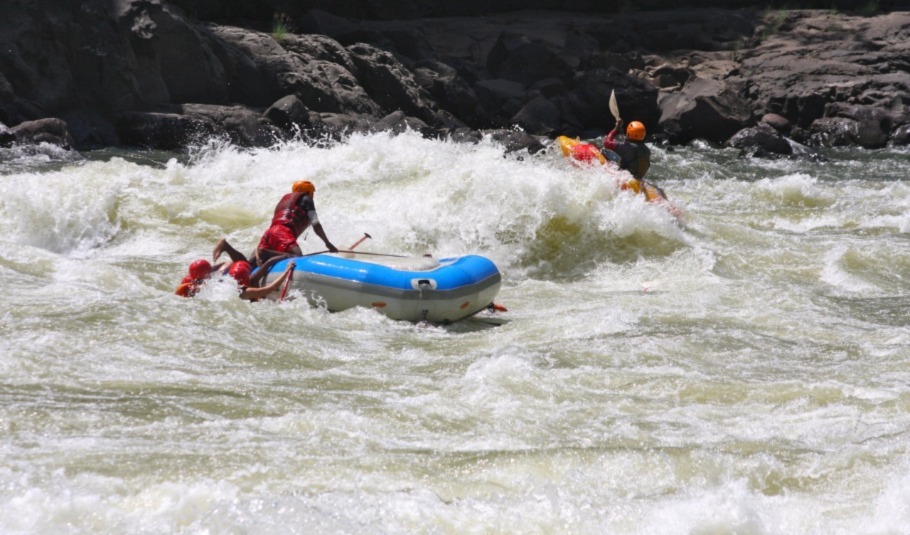 When you opt for Victoria Falls Tours, you'll get to take part in an adrenaline-fueled activity, i.e. White Water Rafting. This is an enthralling adventure that takes you through rapids ranging from grade three to five.
The river is divided into different sections, each with its unique set of rapids and challenges.
The most popular section for rafting is below Victoria Falls.
This is where the river flows through a series of gorges, providing an adrenaline-filled ride through some of the world's most powerful rapids.
Safety Measures
You will receive a safety briefing from experienced and certified guides. They will provide you with all the necessary safety equipment, including a life jacket and helmet. They will also teach you how to paddle and manoeuvre through the rapids safely.
Highlights
The Zambezi River offers a notable rafting experience with a range of rapids, including the infamous "The Boiling Pot" and "The Washing Machine."
Along the way, you will encounter some of Africa's wildlife, such as baboons, crocodiles, and hippos that live along the riverbanks.
Towering cliffs and lush vegetation lining the river are some highlights of the natural surroundings.
Victoria Falls Activities – Major Considerations
Before you choose what Victoria Falls Activities are suitable for you, some clues as to what they entail are needed. The following are the major considerations of each Victoria Falls Activity:
| | | | | |
| --- | --- | --- | --- | --- |
| ACTIVITY | DURATION | DIFFICULTY LEVEL | AGE RESTRICTIONS (minimum age) | COSTS (per person) in USD, approx. |
| Bungee Jumping | 1-2 hours | Difficult | 14 yrs. | $160 – $180 |
| Canopy Tours | 2 hours | Easy | 6 yrs. | $65 – $85 |
| Gorge Swing | 1-2 hours | Difficult | 6 yrs. | $130 – $150 |
| White Water Rafting | Half-day or Full day trips | Difficult | 15 yrs. | $120 – $180 |
| Zip Lining | 2 hours | Easy | 6 yrs. | $70 – $90 |
Dive Headfirst Into A Range Of Fun-Filled And Adrenaline-Pumping Adventures!
All in all, Victoria Falls Activities are the perfect getaway if you want an adventure dripping with adrenaline and heart-pumping experiences. The best way to take part in these activities is by considering going on Victoria Falls Tours.
And, eventually, that comes down to us, we at Falcon Safaris have everything that you're looking for in a Victoria Falls operator. From planning to booking, we'll assist you in every step along your journey.