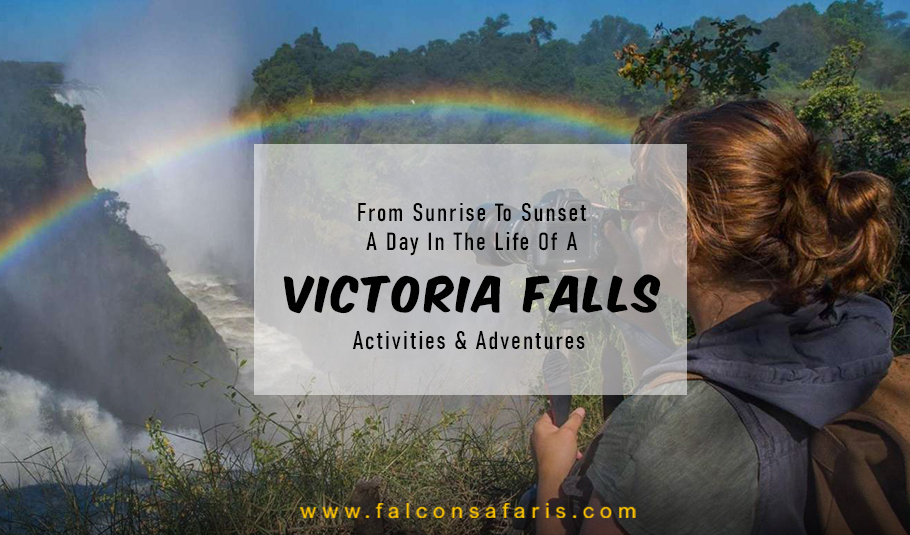 Victoria Falls, one of the most spectacular natural wonders of the world, is a must-visit destination for adventure seekers and nature lovers alike. From sunrise to sunset, there is never a dull moment as visitors immerse themselves in the many Victoria Falls Activities available.
Whether you prefer heart-pumping adrenaline-fueled adventures or more leisurely pursuits, one thing is for sure the place will leave you with unforgettable memories. In this blog, we'll take a closer look at the top Things to Do in Victoria Falls and how to make the most of your day during Victoria Falls Tours.
Early Morning- Starting Your Day With A Sunrise Tour Of Victoria Falls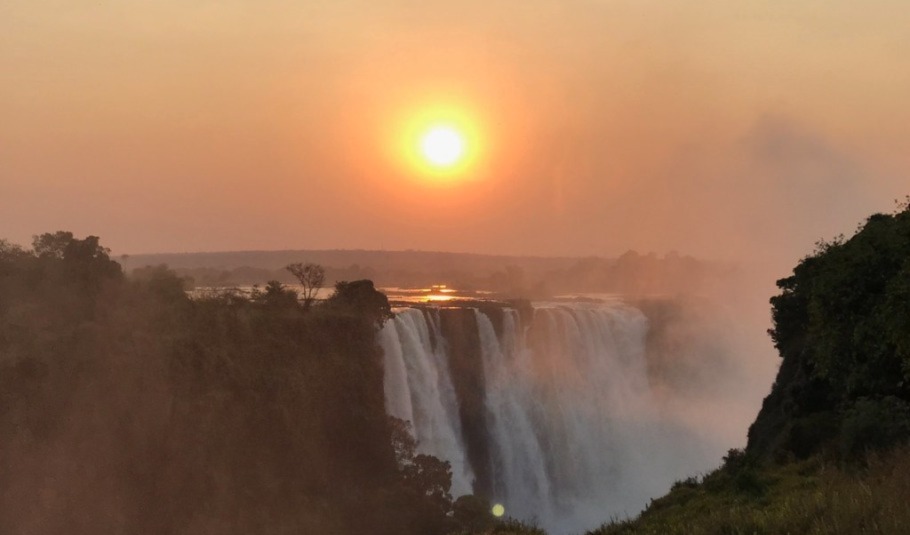 There's nothing more amazing than starting your day with the spectacular view of Victoria Falls at sunrise. You can take a guided tour and witness the falls in all their glory. As the sunlight dances off the mist, creating a rainbow of colors, it makes way for incredible photographic opportunities.
Breakfast And Briefing
After your sunrise Victoria Falls Tours, it's time to fuel up with a delicious breakfast. Next up, you will be asked to attend a briefing session about daily Vic Falls Activities. You can discuss the different adventure options available and decide which ones you want to participate in.
Wildlife Safari Victoria Falls Activities
During Victoria Falls Tour, you can start your first intense activity for the day by going for a morning game drive at the national parks around the region.
The Zambezi National Park is home to a diverse range of wildlife, including elephants, lions, buffalo, and more. You can take a Safari in Victoria Falls to explore the park and witness these magnificent creatures in their natural habitat.
Other popular safari and wildlife viewing activities carried out during Victoria Falls Tours are given below:
| | |
| --- | --- |
| Victoria Falls Safari Activities | Description |
| Game Drive Safaris | Half-day early morning or late afternoon game drives to explore the Zambezi National Park led by experienced guides. |
| Victoria Falls Walking Safaris | Guided walking tours through the wilderness with experienced rangers to learn about flora, fauna, and animal tracking like buffaloes or elephants. |
| Night Drive Safaris | Safari drives after dark to spot nocturnal wildlife such as hyenas, leopards, and owls. |
| Bird watching Safaris | With over 415 species of birds in the region, there is a wealth of birdlife to discover. |
| Canoeing on the upper Zambezi River | Paddle through the Zambezi River with an experienced guide to spot hippos, elephants, and other animals from a safe distance. |
Important Note: For more in-depth information related to the Victoria Falls Activities that include safari and wildlife viewing opportunities, you can visit our game drive page now. https://falconsafaris.com/game-drive
Adrenaline-Fueled Victoria Falls Activities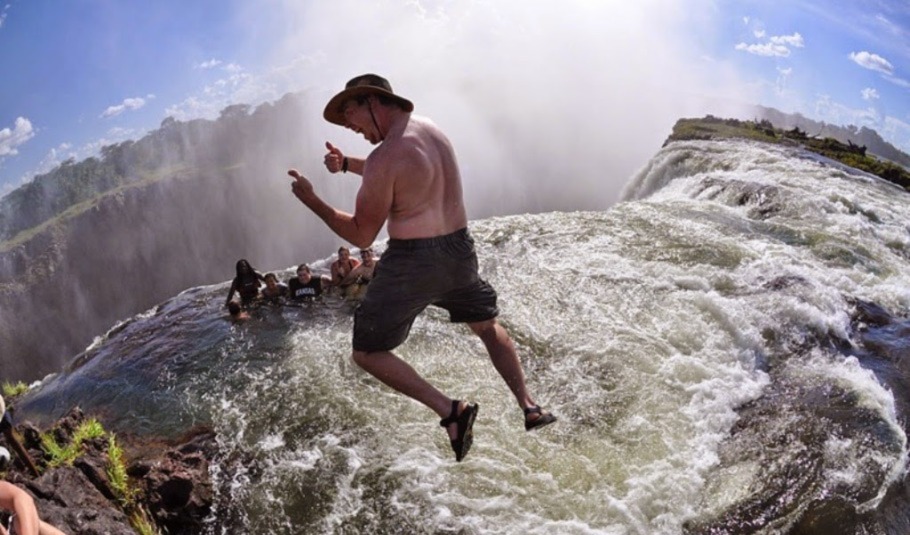 For thrill-seekers, Victoria Falls offers a range of adrenaline-fueled activities such as bungee jumping, zip lining, and bridge swinging. These activities are not for the faint-hearted but are sure to provide an experience of a lifetime. Here is a table representing some of the best Victoria Falls Activities that daredevils would love to try out.
| | |
| --- | --- |
| VICTORIA FALLS ACTIVITIES | DESCRIPTION |
| Bungee Jumping Victoria Falls | Jumping off the Victoria Falls Bridge and free-falling towards the Zambezi River. |
| Victoria Falls Zipline | Flying across the Zambezi River on a high-speed zipline, taking in stunning views of Victoria Falls. |
| Victoria Falls Canopy Tour | A mild adventurous activity where you slide through a network of nine elevated slides and a bridge walkway in the forest canopy. |
| Gorge swinging | Swinging over the gorge of the Zambezi River, propelled by a harness and attached to a cable. |
| Helicopter tour | A bird's eye view of Victoria Falls, flying over the waterfall and the surrounding area. |
| Micro-light flight | A motorized glider flight over the Zambezi River, with scenic views of Victoria Falls and wildlife below. |
Also, for more information on these adrenaline-fueled Victoria Falls Activities, you can refer to our page linked here. https://falconsafaris.com/victoria-falls-activities
River Adventures
The Zambezi River provides the perfect backdrop for a range of river adventures such as canoeing, rafting, and sunset cruises. You can witness the beauty of the river and its surroundings while experiencing the rush of adrenaline.
Exploring The Falls And Gorges
Victoria Falls offers a range of hiking and trekking options. They allow you to explore the falls and gorges. You can witness the beauty of the falls up close. Also, you can even take a dip in the Devil's Pool, a natural infinity pool overlooking the falls.
Cultural Encounters
Before the day ends, you can visit the local villages and markets around the Victoria Falls region. You will get to experience the Zimbabwean culture and meet its people. You can witness the traditional dances, taste their local cuisine, and purchase handmade crafts and souvenirs. Some of our popular cultural Victoria Falls Activities include:
| | |
| --- | --- |
| CULTURAL ACTIVITIES | DESCRIPTION |
| The Boma Dinner and Drum Show | Visit the renowned entertainment and dining extravaganza for a distinctive cultural experience. Read more about the culturally immersive experience here. https://falconsafaris.com/the-boma-dinner |
| Dusty Road Experience | This a traditional restaurant present in Zimbabwe and often describes as Victoria Falls's "Best Kept Secret". It offers exquisite African delicacies. |
| Traditional Village Tour | Experience the traditional life of the locals, learn about their customs, and interact with them. |
View The Spectacular Sunset
Watching the sunset over Victoria Falls and the Zambezi River is a breathtaking experience. You can witness the changing colors of the sky and the falls as the sun dips below the horizon.
Nightlife And Entertainment
To end your day, you can enjoy dinner, drinks, and fun after dark in the Victoria Falls region. You can experience the local nightlife and entertainment while reminiscing about the day's adventures.
A Day In The Life Of A Victoria Falls Tourist: What Can You Expect?
Reading through the blog, we have got an overview that what kind of Victoria Falls Activities a tourist can indulge in during a tour of the falls area. Still, with so many options, it can be sometimes overwhelming to decide which activity should be undertaken in which part of the day.
Hence, to solve the issue, our experts have designed a schedule and segregated various activities into three sections of the day; morning, afternoon, and evening. Let's look at the table below to get an overall idea.
| | | |
| --- | --- | --- |
| MORNING ACTIVITIES | AFTERNOON ACTIVITIES | EVENING ACTIVITIES |
| Sunrise Safari through the national park | White Water Rafting down the Zambezi River for a thrilling adventure | A relaxing boat ride along the river Zambezi to watch the golden sunset. |
| Hot Air Balloon ride over Vic Falls and Zambezi | Canoeing down the river for soaking in the amazing scenery | Cultural show, an evening of traditional music and dance |
| Bungee Jumping Victoria Falls for an adrenaline rush | Elephant Rides allow one to ride atop giving a unique perspective | Night Safari gives the chance to spot nocturnal animals. |
| Helicopter Tour for a birdseye view of the Falls and surrounding landscape. | Soaring over the gorge on a Zipline for an unforgettable experience. | Fine dining to enjoy a gourmet meal |
Closing Words On Victoria Falls Day Tour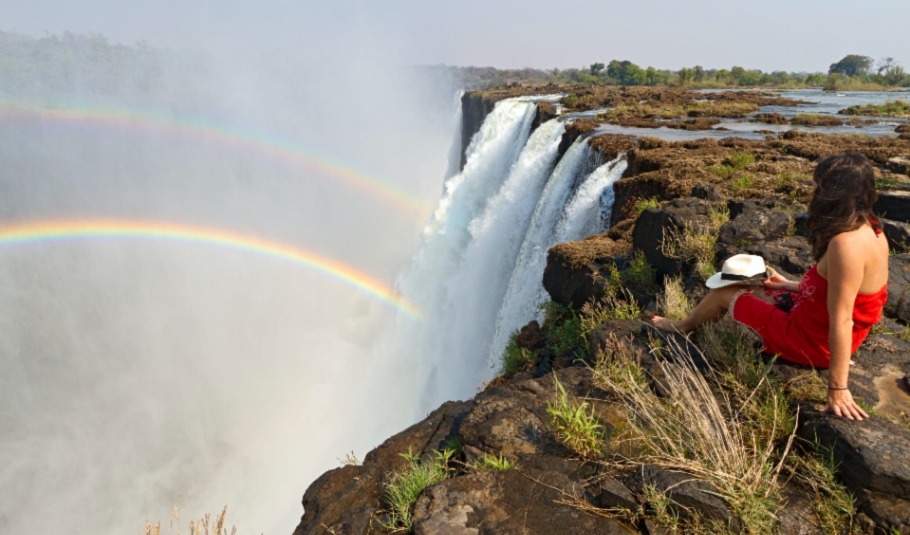 As we got to see in the blog above, a day in the life of a Victoria Falls tourist is truly packed with exciting activities and adventures. From watching the sunrise over the Falls to embarking on a scenic helicopter ride, bungee jumping, white water rafting, and exploring the local wildlife, there are a plethora of Victoria Falls Activities waiting to leave you in absolute awe.
No matter what are your preferences or interests, Victoria Falls has got something to offer for every type of traveler. We at Falcon Safaris offer some of the day trips in the region. So, experience the best that this iconic destination has to offer with us by booking a Victoria Falls Tour now!