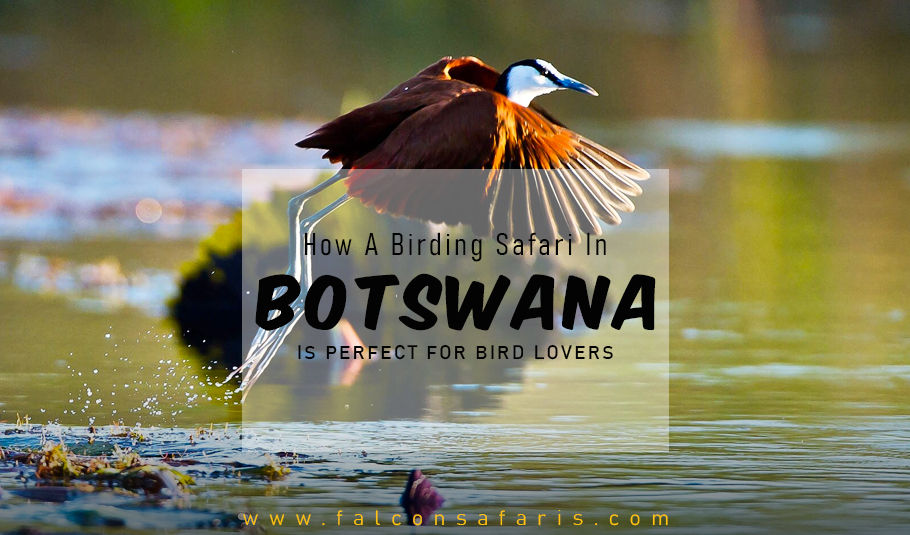 Are you looking to go on a Birding Safari in Botswana? Don't worry we've got you covered! Here's our comprehensive list of how to get the most out of your time on your Botswana Safari. Botswana is Home to 600 species of birds. Including over 500 regular species, Botswana is a paradise for Birdwatching. The diverse habitat for birds allows for a varied hotspot for birding.
From the fertile swamps of the Okavango Delta and the banks of the Chobe River to the pans of the Kalahari. Botswana is a Birding Haven.
Basic Equipment Needed for Bird Watching
Before you set out for your Birding Safari, there is some equipment that you should consider packing in your luggage like:
Binoculars – The most important for birding. A good pair of Binoculars will help you see various birds. Recommended specifications are 8×42 or 10×42.
Spotting Scopes – This will help you spot and observe far-away birds. They also help get a detailed look at the birds to provide better identification.
Camera – This is a no-brainer. Having a good camera with you will help take pictures. So you can have a lasting impression and the natural beauty of birds demands a Camera.
A Field Guide – This will help you identify birds during your Botswana Birding Safari. You'll also be able to classify birds with the help of pictures and descriptions.
A Journal – This will help to document your findings. You can write down important details so you can refer to them later.
Some other items include – Flashlight, a raincoat, a good pair of shoes, and extra socks.
Having these items along with you will enhance your Birding Safari experience.
Best Months for a Birding Safari in Botswana
Botswana Birding Safari is a wonderful experience. And an activity that you can do all year, depending on what you want to see.
October to March – The summer season in Botswana provides a home for many migratory birds. They come from the northern hemisphere in the Okavango Delta to breed and nest.
September to December – The most active time. There are 20% more birds during that time. The sights, colors, and sounds are awe-inducing.
November to March – The best months for Birding in Botswana. The air is clear, trees swish with life, and the vegetation is lush and vivid. And the skies are spectacular and baby animals are being born.
Make sure to keep these seasons and months in mind to get the most out of your time in Botswana Birding Safari.
Best Places in Botswana for a Birding Safari
Most of the camps that you'll stay in will give a basic outline of the birding potential. But for people interested in Birding. A comprehensive Birding Safari Package will make for the best experience. Here are some of the best places that you can visit on your Birding Safari
Okavango Delta
October, following heavy rainfall, is an outstanding time to visit the Okavango Delta.
Many famous species such as Lesser Jacana, Wattled Crane, and Slaty Egret are on the top of the list for Birdwatching enthusiasts.
At the heart of the Okavango Delta, the Moremi Game Reserve is home to waterbirds. You can spot Pied Kingfishers and African Jacanas when on a Mokoro ride.
Linyanti and Savute
The Linyanti areas consist of a variety of habitats.
And are a haven to watch birds like – Allen's Gallinule, and Hartlaub's Babbler.
The woodland areas have birds like – White-Breasted Cuckoo-Shrike, Bennett's Woodpecker, the patterned Coqui Francolin, and many more.
The open areas in Linyanti are the best place to witness larger birds like – Ostriches, Secretary Birds, and Africa's heaviest flying bird – the Kori Bustard.
In the summer Southern Carmine-Bee Eaters are a wonderful sight to see.
The seasonal Savute channel is famous for its concentration of Eagles and Raptors.
Nocturnal birds like Coursers, Nightjars, and various owl species such as the African Scops-owl can be seen during Botswana Night Safari.
Selinda Reserve
The Selinda Reserve provides a great birding experience too.
Species like – Chirping Cisticola and Luapula Cisticola, African Pygmy-Goose, Long-toed Lapwing, and Skimmers are here.
Chobe
The Chobe River also offers spectacular Birding Safaris. With over 450 species of birds, Chobe is a hotspot for birding enthusiasts.
They can enjoy their birding from the riverbank or one of the many Boat rides that one can take on the river.
Makgadikgadi
A highlight during your Botswana Birding Safari is to visit the Makgadikgadi Pans. You can witness the rare sight of many flamingos during the wet season.
Both the lesser pink flamingos and greater pink flamingos come to these Pans to nest and breed.
One of the main breeding sites on the planet for flamingos is in the North-Eastern part of the Sowa Pan.
You can find over 100,000 specimens.
Nata Bird Sanctuary is in the area, and its mission is to conserve this wonderful habitat.
Other species of Birds that are also here include – Red-footed Kestrels, Burchell`s and Yellow-throated Sandgrouse, Wattled and Crowned Cranes, Capped Wheatear, etc.
Botswana's landscape offers a wonderful variety of habitats for Birds. Ensure to check out the above-mentioned places to get the most out of your Botswana Birding Safari.
Some Accommodations for Bird-Watching Enthusiasts
There are many Birding camps and Birding Lodges in Botswana geared toward Birding Enthusiasts like
The Kanana Camp – It's a hidden gem set on the Xudum River southwest of Okavango. It's home to hundreds of birds mainly famous for being the breeding ground for herons.
The Nxamaseri Island Lodge – With its amazing scenery and permanent waters, the island lodge is a haven for birdwatchers. Many water-loving birds can be found here like the Pel's Fishing Owl, African Skimmer, Wattled Crane, Africa's iconic Fish Eagle, White-backed Night Heron, and many more.
Jacana and Pelo Camps – Both these camps are surrounded by water and located on tiny islands. These areas have birds like – Reed Cormorant, Slaty Egret, Goliath, and Rufous-bellied Herons along with frequent sightings of Hadeda Ibis, Painted Snipe, Black Egret, Sacred Ibis, Wattled Crane, and Pel's Fishing Owl.
DumaTau Camp and Kings Pool Camp – The birdwatching is excellent at these camps too. From Okavango specials to mopane woodland species, some birds that can be seen here are Owlet, Southern ground Hornbill, Black-winged Kite, and African Fish eagle.
Make sure to visit and stay at some of the mentioned Botswana Accommodations to enhance your experience of your Botswana Birding Safari.
Some Tips for your Botswana Birding Safari
Here are some tips and suggestions to keep in mind during your Botswana Birding Safari.
Don't wear bright-colored clothing during your Birding Safari. Wear earth tones or dark colors like grey.
Get binoculars that have a lens with a wide Field of View (FOV).
Avoid sudden movements as that will startle the birds and they'll away. You should be very quiet during your Birding Safari.
Be Patient. Birding is all about being patient as beautiful birds will come at the right time and condition. And, if you're lucky you may spot a flock of birds in some cases.
Go for your Birding Safari early in the Morning as most of the birds arrive during sunrise.
If you follow these simple and plain suggestions. You'll make the most out of your time for your Botswana Birding Safari. For more details and/or queries, feel free to contact us at the following details.

+263 83 284 1840/1 or
Email: info@falconsafaris.com

Conclusion
Finally, if you're interested in Birding and planning to visit Botswana. Ensure to refer to the above-mentioned Botswana places and hotspots for birdwatching. The tips and suggestions, Botswana Accommodations. And the Best Time For a Botswana Birding Safari. And you'll make the most out of your time on your Botswana Trip and leave an everlasting impression in your mind.