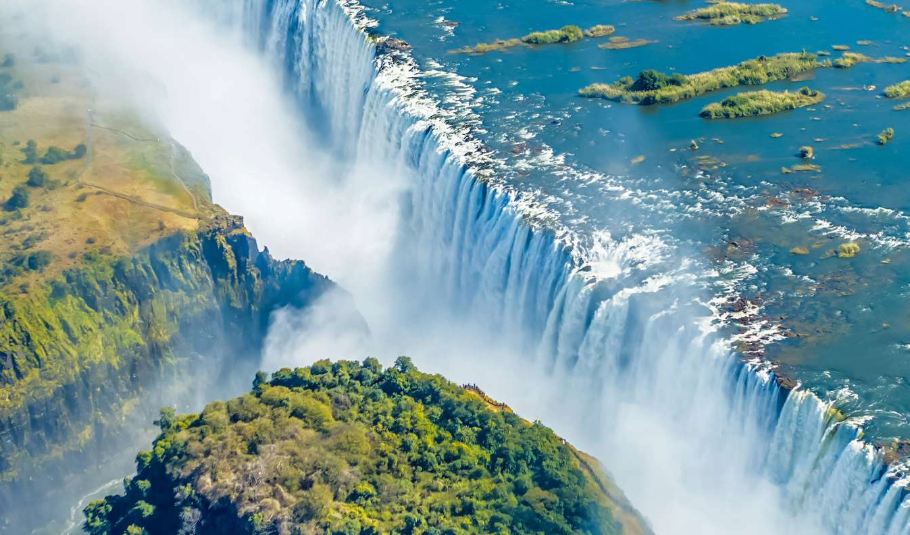 Just as Victoria Falls has been reeling in travellers from across the globe, you too can reel in a lot of followers to your Instagram profile! This is thanks to the wondrous Victoria Falls Attractions that have the most picture-perfect opportunities you could ever want.
This read is all about offering our readers the seven best Instagram-able spots for Victoria Falls Tours. Get ready to snap share and soar!
Devil's Pool – The Edge Of Thrills And Stunning Views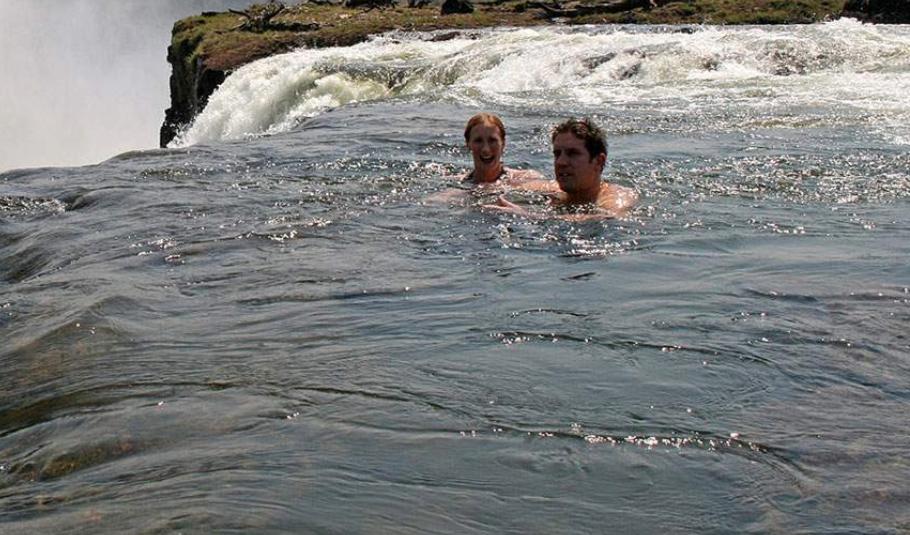 The Devil's Pool serves as our first recommendation and is a must-add to your Victoria Falls Itinerary. Located on the edge of Victoria Falls, offers fantastic views of the Falls from the top.
You'd be hard-pressed to find a more fabulous backdrop than the Devil's Pool. Lie on top of the largest sheet of falling water and look down into the 100 metres chasm below. It's an unbeatable setting for a snap that is guaranteed to bring in the hearts.
Best Time to Visit – Mid-January to August
Operating Hours – From 7.30 am to 3.30 pm (approx., during the dry season)
Knife's Edge Bridge – A Panoramic Perspective
Step onto the iconic Knife-Edge Bridge, a narrow walkway that offers an unparalleled panoramic view of the entire Victoria Falls. The spray of mist creates otherworldly rainbows around you. This spot is an absolute dream for every photographer and a must-include for Victoria Falls Day Trips.
You'll get to capture the grandeur of the falls from a unique vantage point. And the beauty of nature will speak for itself on your feed.
Expect a unique Perspective of – Eastern Cataract, Danger Point, and Rainbow Falls.
Location – On the Zambian Side of the Falls
Livingstone Island – A Picture-Perfect Retreat
Escape to the exclusive Livingstone Island on Victoria Falls Tours, a hidden gem that sits on the edge of the falls.
This idyllic retreat provides a secluded and picturesque setting, perfect for snapping photos that project tranquillity and wonder.
The island offers uninterrupted views of the falls. Which makes it a favourite spot for capturing the essence of adventure and raw natural beauty.
Moreover, you'll also have the opportunity to visit the island via a boat that goes there five times a day for a Guided Tour of Victoria Falls.
Duration of the Livingstone Island Tour – Between 2 to three hours
Best Time for the Tour – From May to September
Lookout Café – Dining With A Stunning Backdrop
Indulge your taste buds while treating your followers to a visual feast at Lookout Café. Suspended high on the cliffs, this dining spot offers an unrivalled view of Victoria Falls and the Batoka Gorge below.
As you savour delicious cuisine, the amazing panorama becomes an enchanting backdrop for your foodie shots. This in turn elevates your Victoria Falls Trip dining experience to a whole new level.
Location – On the Zimbabwean Side
Cuisines Options – Local, Contemporary, and International
Seating Options – Both indoor and outdoor terraces
Victoria Falls Bridge – The Mighty Gorge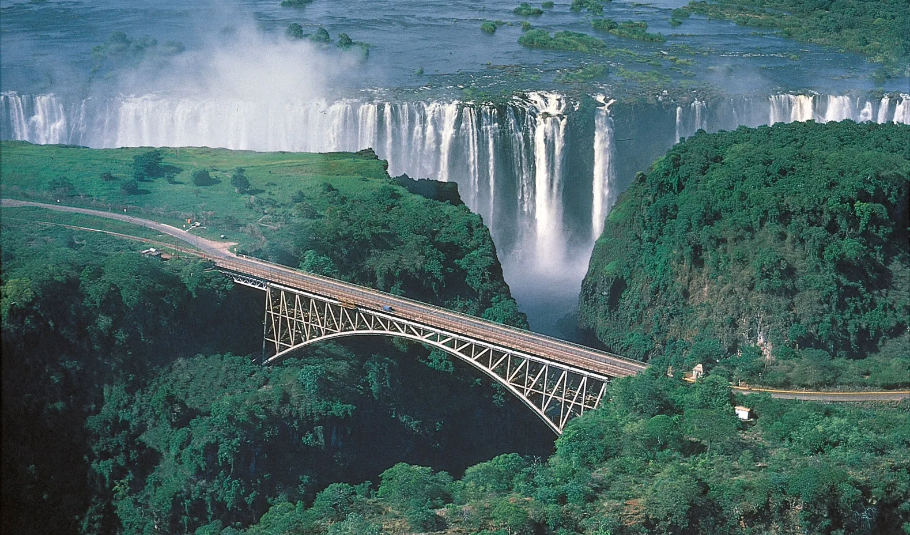 Stand tall on the historic Victoria Falls Bridge, a marvel of engineering that spans the Batoka Gorge. This iconic Victoria Falls Attraction connects the countries Zimbabwe and Zambia. Also provides an incredible opportunity to capture both architectural beauty and the raw power of the falls.
Our Suggestion – Frame your shots to highlight the captivating contrast between man-made marvels and the untamed forces of nature. Further Insight – This is also a spot for the Victoria Falls Adventure Activity called bungee jumping. If you have the opportunity, you can capture a magnificent action shot that will fill your followers with excitement.
Zambezi River Cruises – Wildlife And Sunsets
Set sail on a relaxing Zambezi River cruise, where wildlife encounters and mesmerizing sunsets await you. As you drift along the tranquil waters, be ready to capture the grace of elephants and the elegance of hippos against the backdrop of the setting sun.
These golden-hued moments will add a touch of magic to Tours to Victoria Falls and your Insta feed.
Types of River Cruises on Offer – Standard, Upmarket, Sunset and Dinner, and Specialized River Cruises
Helicopter Flights – Aerial Views Of Wonder
Soar to new heights on thrilling Victoria Falls Helicopter Tours that unveil the splendour of the Falls from the sky. As you hover over the falls and the winding Zambezi River, you'll be treated to aerial views that are simply jaw-dropping. Share the wonders of this aerial perspective with your followers and let them be a part of this soaring adventure.
Different Kinds of Helicopter Tours – Flight of Angels and the 25-minute Zambezi Spectacular
Victoria Falls Through The Instagram Lens!
Victoria Falls is a true Instagrammer's paradise, offering a diverse array of photogenic spots that cater to every adventurer's taste. Release your inner photographer and capture the essence of this majestic wonder through your lens. So, pack your cameras, and book your Victoria Falls Tour Package. Immerse yourself in the breathtaking beauty of Victoria Falls Tours – one snap at a time!
#InstaExploreVictoriaFalls