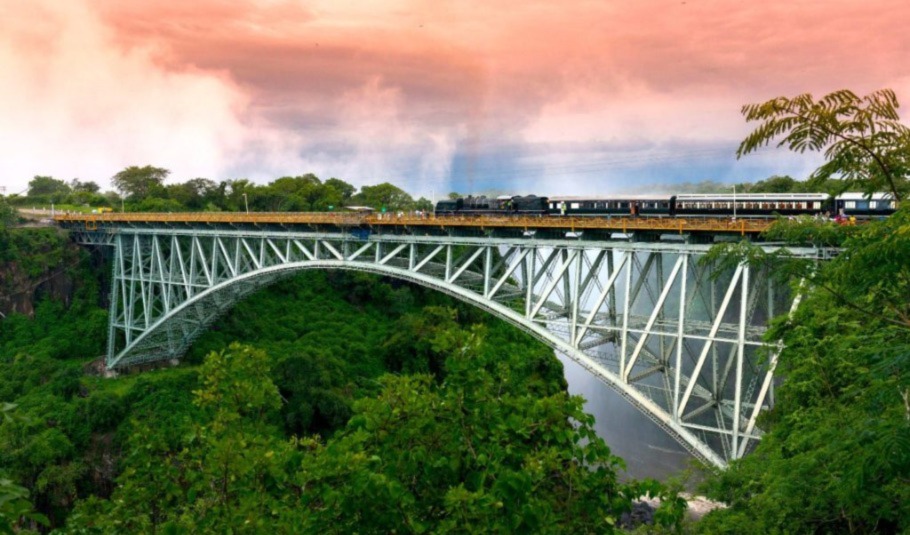 Get ready for our most exciting Victoria Falls Bridge Tour! Not far from the beautiful Victoria Falls, there's a cool bridge that's just as interesting. This is the Victoria Falls Bridge; an architectural marvel and it connects Zimbabwe and Zambia.
With our Victoria Falls Tours, you'll learn all about its past and the exciting activities you can do there today. In this blog, we're going to talk about why it's such a special place at Victoria Falls and why you won't want to miss it.
Victoria Falls Bridge History- A Little Background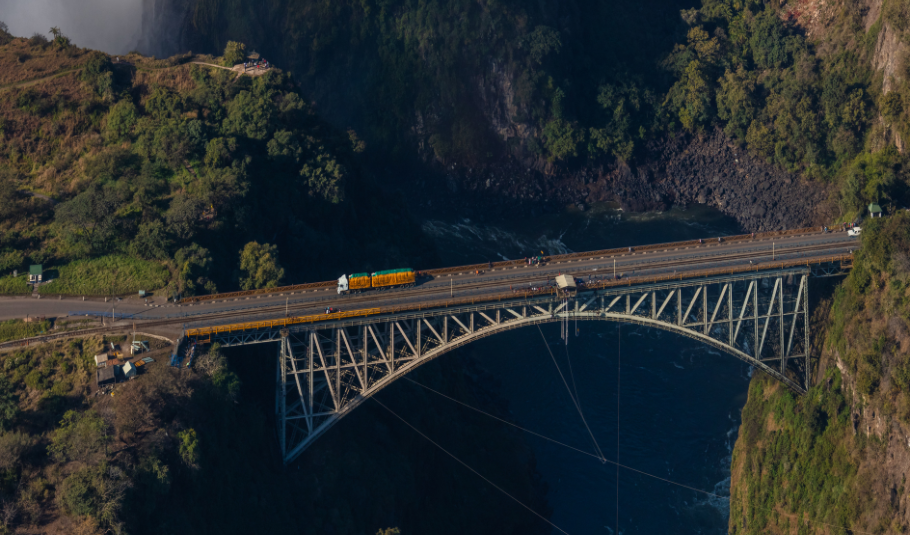 Cecil John Rhodes, a visionary entrepreneur and a mining magnate had a grand dream. He wanted to connect Cape (South Africa) to Cairo (Egypt) with a single railway line, thereby uniting Africa under one main train route. However, a significant natural obstacle lay in their path: the Zambezi Gorge, a deep canyon. The train had to overcome this hurdle to continue its journey towards Cairo.
"Rhodes was truly legendary. He gave the engineers a unique task: to build a bridge over the Zambezi River. But he had an extraordinary request. He wanted the bridge to be positioned in such a way that the spray from Victoria Falls would gently mist the trains as they crossed, adding an extra magical touch to any Trip to Victoria Falls."
After a detailed survey of the land, the chief engineering consultant for the railway, Sir Charles Metcalfe, suggested that the railway should cross the Zambezi near the famed Victoria Falls.
Rhodes approved the location for the construction of the iconic Victoria Falls Bridge. Despite not witnessing the completion of the bridge, later on, they completely realized Rhodes' dreams.
Today, the Victoria Falls Bridge stands as a testament to architectural ingenuity and the skill of a dedicated team of professionals. It is an integral part of our Victoria Falls Bridge Tour, one of the many captivating Victoria Falls Activities you can partake in during your visit.
Eager to know more about this cool bridge? Come with us as we share its story, from how it started to what it's like now.
Creating the Bridge- A Big Achievement
George Hobson from the renowned firm, Sir Douglas Fox and Partners, was assigned the challenging task of constructing the Victoria Falls Bridge. He was assisted by Ralph Freeman, the person who is behind the design of the Sydney Harbour Bridge.
In May 1903, the contract for building the bridge went to The Cleveland Bridge Company of Darlington, England, for 72,000 pounds sterling.
In England, they fabricated the bridge, then took it apart and shipped it to Beira, Mozambique. From there, they brought it by train to its final home, Victoria Falls, where they assembled it.
"Isn't it remarkable? Pieces of a bridge, crafted in England, were transported and assembled seamlessly 8000 km away in Africa. It's truly a display of exceptional engineering and coordination, executed across such vast distances."
Finally, the Victoria Falls Bridge was completed in just 14 months, opening to the public in 1905. While the bridge realized Rhodes' vision, it's worth noting that he never visited Victoria Falls.
Unfortunately, he passed away before construction began in 1902. Yet his dream was fully manifested, with the bridge serving as the only rail link between Zambia and Zimbabwe. During the high-water season, the spray from the falls envelops the structure, just as Rhodes had imagined.
Now, the bridge is not only a historical landmark but also a hub for adrenaline-packed Victoria Falls Bridge Activities. Make your Victoria Falls Tours a memorable one by experiencing these thrilling activities first-hand.
Check out the amazing views of Victoria Falls and learn about its story. Ask us to learn more about the Victoria Falls Bridge Tour!
The Victoria Falls Bridge Tour Begins- A Trip Back in Time
The Victoria Falls Bridge Tour isn't just a walk across a bridge. It's like stepping back in time, watching a fun show, and getting to see history come to life right in Africa.
You'll be picked up directly from your hotel and comfortably transported to the Victoria Falls Bridge Visitors Centre. Here, you'll navigate through customs and immigration with ease. After completing the quick registration process, your Bridge Tour Victoria Falls begins.
It starts with an actor playing Mr Georges Imbault, the head engineer when the bridge was being built.
Listening to his stories, you'll feel like you're there, seeing the amazing bridge being built with the Zambezi Gorge as the backdrop.
"For about 45 minutes, you'll hear stories about how the idea of the bridge was born, the big problems they ran into, and the clever ways they solved them. It's an exciting peek into an important piece of engineering history."
After the show, your guide will take you around the Visitors Centre, where pictures and displays talk more about the Bridge's past.
The Victoria Falls Tour ends with an optional guided walk under the bridge, so you can see the amazing design from a new perspective.
Does this sound exciting? Experience history in a new way - Book Your Victoria Falls Tour Package now!
Practical Info- Start Your Adventure The Victoria Falls Bridge Tour happens twice every day, usually at 10:00 and 14:00. The tour includes a free ride from all major hotels in Victoria Falls. The Bridge is in "No Man's Land," so going there won't count as leaving or entering a country and won't change your visa status.
Feel the Rush- Adventure Activities at Victoria Falls Bridge
This bridge isn't just a monumental part of Victoria Falls History, but it also hosts thrilling Victoria Falls Adventure Activities like bungee jumping, bridge sliding, and bridge swinging.
These Victoria Falls Bridge Activities attract adrenaline junkies from around the world. No Trip to Victoria Falls would be complete without indulging in these adventures.
Given that these Victoria Falls Tour Packages don't incorporate transport services, it's advised to arrange your own transportation or book a separate transfer. Thereafter, check in at the Bridge Cafe, and get weighed.
"After you've signed the waiver and been geared up,
you're ready to dive into your exciting Victoria Falls Bridge adventure!"
Experience the Bridge Slide. Enjoy a fun-filled ride across the Batoka Gorge with the Victoria Falls Bridge Slide. As you zip from one end to the other, soak in the breathtaking vistas of the Zambezi River.
Swing into Action. Take adrenaline pumping to another level with the Victoria Falls Bridge Swing. Free fall for 70 meters and then swing in a wide arc over the roaring Zambezi River.
Jump into the Abyss. For the ultimate thrill-seeker, we present the Victoria Falls Bungee Jumping. Experience a heart-stopping free fall and dive headfirst into an unforgettable adventure.
Ready to elevate your adrenaline levels? Begin Your Victoria Falls Adventure now!
Unwind at the Bridge Cafe
After a day filled with historic exploration and thrilling adventures, relax at the Bridge Cafe. With a refreshing drink and delicious burger, enjoy the mesmerizing view of the Zambezi Gorge.
Don't forget to stop by the shop to buy special clothes and souvenirs. That way, you can always remember your great Trip to Victoria Falls.
Craving for more? Visit the Bridge Cafe for a unique dining experience.
Victoria Falls Bridge- Your Portal to Adventure and History
Participating in a Victoria Falls Bridge Tour provides an extraordinary encounter, allowing you to walk the paths of history while immersing in the thrill of adventure activities. The stunning panorama of the Zambezi River and the awe-inspiring Victoria Falls enhance the experience by many folds.
Top of Form
Eager to create memories of a lifetime? Confirm your place on a Victoria Falls Tour today and step into a world of history and exhilaration. Start your thrilling journey now!