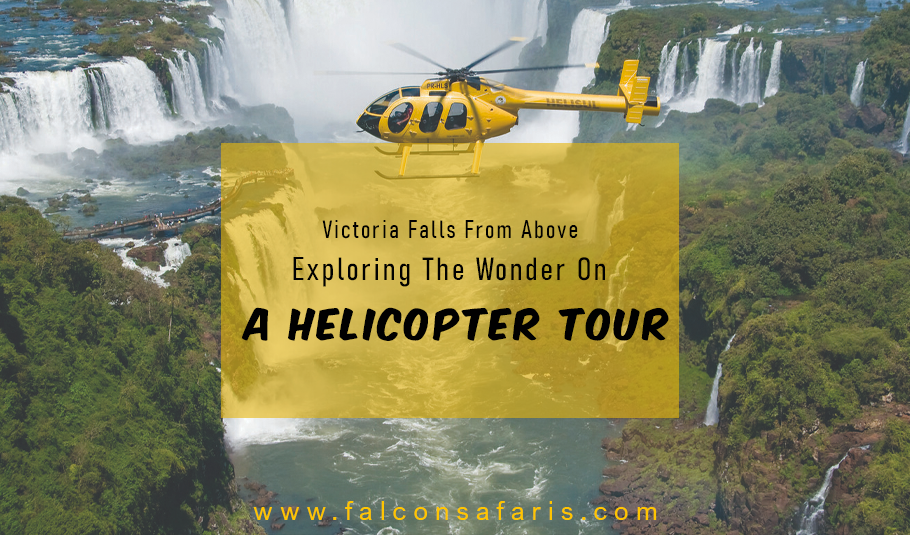 Welcome thrill-seekers! Are you folks ready to explore one of the world's most magnificent natural wonders from a bird's eye view?. Look no further than Victoria Falls Helicopter Tours! This incredible experience offers a unique perspective of the falls and surrounding landscapes that can't be matched by any other mode of transportation.
This post will cover how you can make the most out of your aerial adventure, booking options, and offer a few photography and preparation tips because you're going to need them. We won't take up more of your time and get into it straight away!
The Victoria Falls Helicopter Tours Experience
Board cutting-edge, scenic Victoria Falls Helicopters Tours and take off to the clear blue skies! This is the essence of a helicopter tour experience, and you'll experience this all plus opportunities to marvel at the full expanse of the falls. See them in all their glory as the rousing mists tumble into the depths of the falls below.
You'll have a few options to pick from – the short flight, the gorge flight, and the long scenic flight. All of them will take you across 1,700 metres of massive space with extensive views of nature along the mighty Zambezi River. The grandeur of the vast Batoga Gorge won't be an experience you'll want to miss out on as well.
The Bird's Eye View
Unmatched views are exactly what Victoria Falls Helicopter Tours promises. The Flight of the Angels as they're generally called, offer a photographic bird's eye view of the falls, the Zambezi River and the national park, and the Batoga Gorge.
As you get off the helicopter, you'll be quietly lost in the reflection of the exceptional sight that you would've just witnessed.
Photography Opportunities On Victoria Falls Helicopter Tours
Capturing snapshots on the Victoria Falls Helicopter Ride is a great way to catalogue the stunning vistas you'll experience. The unique perspective that this Victoria Falls Tour offers is allowing visitors to appreciate the beauty of the surroundings.
Below are some tips for capturing the best shots during Victoria Falls Helicopter Tours:
The best time to take photos of Victoria Falls is in the early morning or late afternoon when the light is softer and more flattering.
Avoid taking photos in the middle of the day when the sun is high and the lighting isn't ideal.
Check the weather forecast before your helicopter tour and plan accordingly. If it's overcast or raining, you may not get the best photos, so you might want to reschedule if possible.
Make sure you bring a camera with a good zoom lens or a telephoto lens. You'll be flying high above the falls, so you'll need to zoom in to get good shots.
If possible, choose a seat in the helicopter that will give you the best view of the falls. Usually, the front seats offer the best view but check with your tour operator to see if there are any restrictions.
Try to find unique angles and compositions to make your photos stand out.
Look for patterns, shapes, and textures in the landscape, and experiment with different angles and framing techniques.
While the overall view of Victoria Falls is stunning, don't forget to look for the smaller details that make it unique.
Finally, remember that practice makes perfect. Take as many photos as you can before the helicopter tour, and don't be afraid to experiment with different settings and alignments. The more you practice, the better your eventual snaps will be.
Victoria Falls Helicopter Tours Options
Some providers offer Victoria Falls Helicopter Flights on both sides of the Falls. They can be contacted directly for bookings or you can consult one of our travel experts who'll take you through the booking process. Below are some service providers that you can go with:
| | | | |
| --- | --- | --- | --- |
| PROVIDERS | TOUR ROUTES | TOUR DURATION (in minutes) | PRICE RANGE (approx.), in USD |
| Batoka Sky | The Falls, Batoga Gorge, and the Flight of Angels | 12-25 min. | $150-$320 |
| Zambezi Helicopter Company | Zambezi Spectacular, Ultimate High, Flight of Angels | 12-25 min. | $150-$320 |
| Safari Air | Standard, Deluxe, Ultimate | 15-30 min. | $180-$340 |
| Wild Horizons | Flight of Angels, The Falls, and Batoga Gorge | 12-25 min. | $150-$320 |
Preparation For The Victoria Falls Helicopter Tours
There are some things you should know to adequately prepare for Victoria Falls Tours. But this is no bothersome factor because we have you covered!
You could call us experts when it comes to the wonders of Victoria Falls and we've been showing them to our valued guests going on decades. So rest assured the following preparation tips come from years of real-world experiences:
VICTORIA FALLS HELICOPTER TOUR ARRANGEMENT SUGGESTIONS
COMPONENTS
EXPLANATION
Weather
– Pleasant Weather Conditions – Remember that flights won't operate during heavy showers of rain and thunderstorms.
What to Wear
– Lightweight Comfortable Clothing
Things to Bring
– Sunglasses, a good camera, and zoom lenses.
When to Book
– Throughout the course of the year, though the flights are subject to availability
Other Nearby Attractions
– As you wait for your flights to return, you can browse the nearby curio shops and buy some great souvenirs to remember your Victoria Falls Tour
There are some pre-requisite requirements as well in the Victoria Falls Helicopter Tours. This has been put into effect to ensure the utmost safety of guests. We've listed the requirements below:
| | |
| --- | --- |
| COMPONENTS | REQUIREMENTS |
| Minimum Age | 2 Years |
| Fitness Level | No pre-requisite fitness requirements |
| Qualifications | Not Applicable |
| Weight Limit | 100 kg. |
| Certifications | Not Requirements |
| Experience Level | No level of experience is required |
Good to Know – The video of the Victoria Falls Helicopter Tours experience isn't included in your trip. But, the trip covers certain other aspects like road transfers from accommodations and other venues in the town area.
Alternative Ways To Experience Victoria Falls
Victoria Falls Helicopter Tours offers an unparalleled experience! That has been made clear in the above sections. But, there are a whole lot of other Activities to do in Victoria Falls too. Here are some of our recommendations and their highlights:
| | |
| --- | --- |
| EXPERIENCES | CENTRAL HIGHLIGHTS |
| Boating Tours | – They offer a different perspective of the Falls – Opportunities to see animals on the riverbanks |
| Swimming in the Devil's Pool | – Stunning views of the Falls from the edge |
| Bungee Jumping | – Get yourself an adrenaline boost with this high-wire Victoria Falls Activity |
| Walking Tours | – Immersive experience – More affordable |
Interesting Factoid – Did you know that Victoria Falls is twice the size of Niagara Falls in the US? Isn't that something? Click here (https://falconsafaris.com/victoria-falls-facts) for more fascinating information.
Up, Up And Above – Victoria Falls Helicopter Tours!
Want to get filled with awe and amazement? Who doesn't? Exploring Victoria Falls from above on a helicopter tour is an incomparable experience. With the wind in your hair and the roar of the falls surrounding your ears, you'll witness one of the world's most incredible natural wonders from a truly unique perspective.
Seize the moment as there's no time like the present, book Victoria Falls Helicopter Tours with Falcon Safaris and get ready for an exhilarating journey exploring the wonders of Victoria Falls from above!