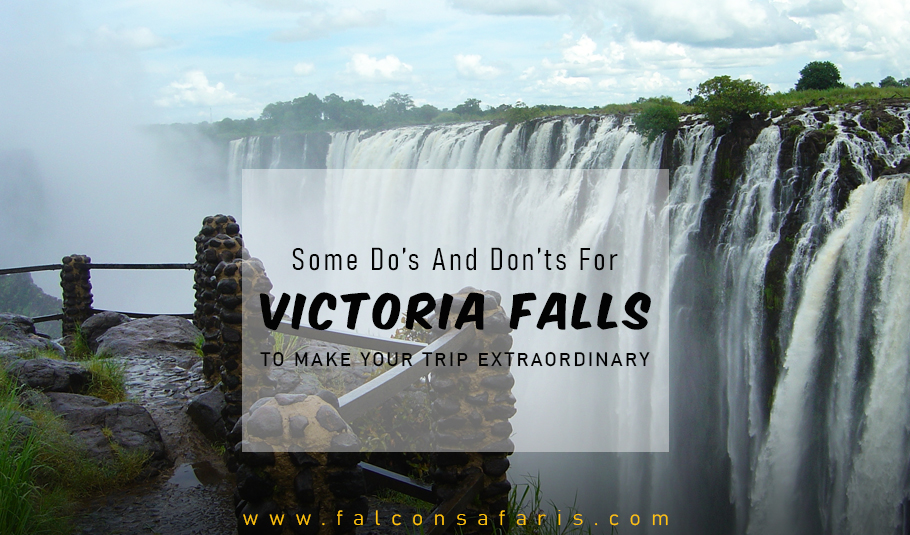 Located at the midpoint of the Zambezi River and sharing its borders with Zimbabwe and Zambia, Victoria Falls is one of the seven natural wonders of the world. And is a huge tourist hotspot. It's called 'the smoke that thunders. If you're a traveler there are some necessary tips that you should know setting out for your Trip To Victoria Falls.
We've curated a list of Do's and Don'ts that'll help you to make your trip extraordinary.
List of Do's
Here are a few do's that will inform you on how to have the best time at Victoria Falls
Do Your Research – About which side to visit (Zambia or Zimbabwe), What Victoria Fall Activities you plan to do, what the Best Time To Visit Victoria Falls is, what Victoria Falls Accommodations you wish to choose, and Getting To And Around Victoria Falls i.e. the routes and travel plans.
Do Exchange your currency – Ensure to exchange your currency at Bureau de Change.
Do keep your debit and credit cards with you.
Do take your prescription medications.
Do take your passport, visa, and other necessary documents.
Do take common precautions and don't wander around at night.
Do remember to check the luggage weight restrictions.
Do take precautions against malaria – By having your vaccination and carrying insect and bug repellent with DEET.
Do take the time to visit the Victoria Falls National Park – which is famous for its rainforests and rich flora and fauna.
Do bring your best camera equipment – as the sights of the falls are simply unbelievable and you won't want to miss out on the perfect picture opportunity.
Do check out the famous Victoria Falls Bridge.
Do make sure to check out the varied Victoria Falls Activities – some of which include, Devil's Pool, Lunar Rainbow, the popular Victoria Falls Helicopter Tour, Bungee Jumping, etc.
Do Shop and eat at Victoria Falls – shopping choices ranging from souvenir shops to art galleries. Victoria Falls has some delicious food options, make sure to visit the Boma Restaurant the Lookout Café.
Remember to keep this list of do's in mind for your Victoria Falls Trip.
List of Don'ts
There are some things that you should avoid and remember and we've put them on the list of don'ts
Don't forget to rent or buy a poncho or raincoat to cover yourself as the spray of the water in Victoria Falls will leave you completely drenched from head to toe.
Don't wear expensive jewelry while on a trip to the Falls.
Don't forget to listen to the guides, operators, and instructors. Pay close attention to them as there are many daredevil activities in Victoria Falls and your first priority is safety.
Don't forget to bring some earplugs of the sound of the water spray if you're going to be exploring for a while. The sound can hurt your ears.
Don't take pictures of people without permission. And never take pictures of Military police, or the Armed forces.
Don't forget to leave a tip for your guides, drivers, and instructors. The standard tip is from 10 to 20 dollars.
Don't forget to bring precautions against the heat like sunscreen, a hat, or a light scarf.
Don't schedule your time too strictly – as there are a lot of Victoria Falls Activities and you may need some flexibility regarding your time.
Make sure to keep these things in mind to enjoy a hassle-free Victoria Falls Tours.
Conclusion
Finally, by following the above do's and don'ts, your Trip To Victoria Falls will be relaxed and the experiences extraordinary.