Where is the famous Victoria Falls located?
Victoria Falls locally called as Mosi-oa-Tunya, which means "The Smoke That Thunders" is located midway on the course of the Zambezi river, between two countries Zambia to the north and Zimbabwe to the south in southern Africa.
Zambezi River holds a prime position in influencing the economy of the countries that are dependent on its water source and various livelihood opportunities that it offers.
The river and the surrounding national parks serve as home to a wide variety of wildlife and sustain huge fish population. The Falls itself attract a large tourist population every year, further contributing towards the growth of economy.
Victoria Falls forms the largest sheet of falling water with a width of 1.7 km and height of 170 meters.
How To Get To Victoria Falls?
Victoria Falls is accessible through Air, Rail and Road. Let us explore the various options for a hassle-free planning.
Victoria Falls Travel by Air
You can choose to visit Victoria Falls either from Zambia side or Zimbabwe side. This decision itself will clear most of your doubts regarding further journey.
The nearest towns to Victoria Falls are Victoria Falls Town (Zimbabwe) and Livingstone Town (Zambia) both have international airports. These are well connected by several flights a day from various destinations.
We have tried outlining the major routes for your convenience below.
However, in case you are unsure as to which country to stay? We advise you to research through the Victoria Falls Accommodations and various necessary facilities available in both the countries that should help you to take a fair call. Flights into Zambia are sometimes cheaper than the flights into Zimbabwe. In such a case your tour operator might help you in getting better deals.
Flights to Victoria Falls, Zimbabwe
If you opt to stay in Zimbabwe, then of course if you fly into Zimbabwe direct, you might need a visa which is given to you at the airport and then catch your transfer into the Victoria Falls town which is 22kms from the airport.
There are direct flights from Johannesburg to Victoria Falls airport in Zimbabwe. FastJet, SA Airlink are the major flight operators.
FastJet airlines operate between Nelspruit and Victoria Falls.
Kenya Airways flies from Cape Town to Victoria Falls only on Fridays and then onwards to Nairobi.
There are daily flights of SA Airlink that connects Cape town and Victoria Falls.
Air Zimbabwe operates one flight a week between Harare and Victoria Falls, and links Bulawayo to Victoria Falls four times a week.
Fastjet flies between Harare and Victoria Falls five days a week.
Kuva Air now fly four days a week between Harare and Victoria Falls.
Flights from Windhoek and Maun to Victoria Falls
Ethiopian Airways fly direct from Addis Ababa to Victoria Falls Airport.
Flights to Livingstone, Zambia
SA Airink fly from Johannesburg to Livingstone.
Kenya Airways flies from Cape Town to Livingstone (Zambia) on Sundays and Tuesdays, and onwards to Nairobi
Victoria Falls Travel by Rail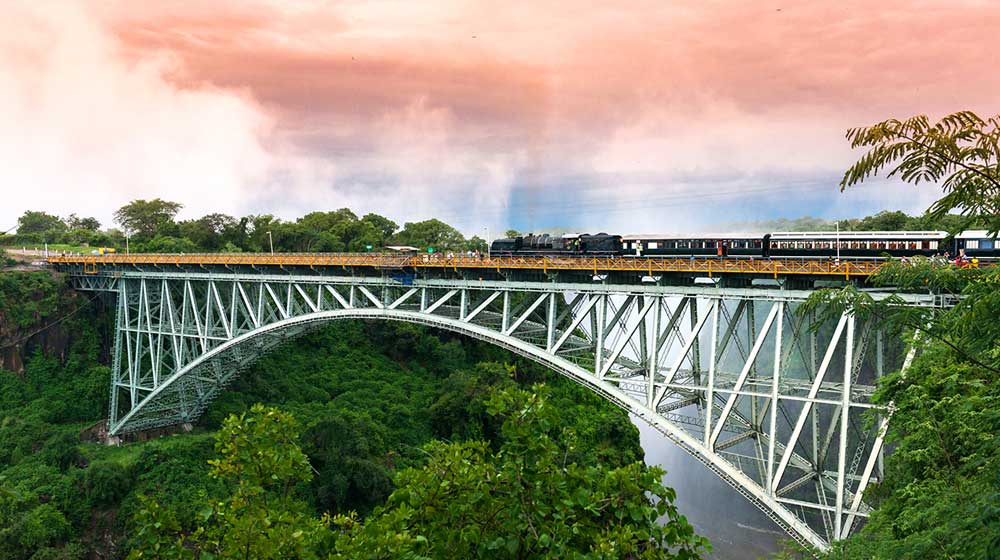 However, regular train services between South Africa and Victoria Falls are currently suspended.
Luxury Rovos Rail, runs a luxury train service that travels directly to Victoria Falls from South Africa which takes about 6 days and is a holiday in itself. This is quite a pricey affair.
The Shongololo express managed by Rovos rail is an affordable alternative. It offers a long journey Mozambique and Swaziland from Pretoria to Victoria Falls, in 3-star luxury.
The train station is right next to Victoria Falls Hotel and the Kingdom Hotel in Zimbabwe.
Victoria Falls travel by Road
It is easily accessible by road from South Africa and Botswana. While driving down ensure to carry sufficient fuel and cash in case of emergencies. Zimbabwe has some strict restrictions for vehicles entering the country. So, it is advisable to check the latest vehicle restrictions.
Affordable Bus services available between Victoria Falls and Harare. So, you can explore those options if really wanting to try something different.
Getting to & from Victoria Falls Airport, Zimbabwe
Victoria Falls town is a short 22 km drive from the Victoria Falls Airport. You can choose to travel into the town in so many various ways available.
Airport Transfer
Provided by most accommodations in the town, is mostly preferred and is a hassle free means to travel into the town.
Make sure your accommodation partner or travel organizer is well informed about your flight details.
Taxi
Taxis are readily available at the airport and preferably accept USD cash as payments.
Car Rentals
Better to book in advance so that you get a ready vehicle to pick you up from the airport on your arrival.
You will come across a good number of car rental service providers. So, do your research in order to get the best deals.
Getting to Victoria Falls from Livingstone Airport
There are various ways to travel to Victoria Falls, Zimbabwe from the Livingstone Airport, Zambia
Airport Transfers
There are quite a good number of service providers that offer transfer services from Livingstone Airport into the Victoria Falls town. These are quick, easy and hassle free.
Taxi
In order to enter Victoria Falls town from Livingstone airport you require to change three taxis. One from Livingstone airport to the Zambian border post. Clear Zambian customs then catch another taxi across the bridge between the two border posts this is about 1.6kms. Then, clear Zimbabwe customs and then catch another taxi to your hotel in Victoria Falls.
Getting Around Victoria Falls
Getting in and Around Victoria Falls is quite easier. Victoria Falls town is a small town with lot of things to do and enjoy. There are facilities readily available to make your movement across the city and to the Falls easier, safe and hassle free.
Walking
Once in the town, you yourself will love to take a tour of this culturally and historically rich town by walking around. However, we advise to avoid late night roaming around and preferably tag along with someone wherever and whenever possible as one cannot guarantee any absence of crime. Be careful of the wildlife that you might encounter as it is seen elephants do pay regular visits to the town center.
Hotel or Tour Operator Shuttle Service
There are free shuttle services that operates hourly from most hotels and lodges to the town center, nearby hotels and even to the fall. So, Getting Around Victoria Falls is really convenient.
Victoria Falls Tours
Victoria Falls guided tours are organized by most of the tour operators for Getting Around Victoria Falls and they even facilitate half day or full day trips across to Zambia or the Curio Market etc.
Taxis
Taxis can be arranged by the hotels or lodges if asked for. You may also find them in the town center to take you around the town.
Bicycles
Bicycles are readily available on rent in the town center between the Information center and Wild Horizons booking office on Park Way. These cost $5 for one hour, $10 for half day and $20 for a full day.
If you're looking for something more exciting, then choose to go off-road on one of the many dirt trails in your ride and discover the hidden gems through villages in the area.
Bamba Bus
The Bamba Bus is a Hop-on Hop-off tour bus that makes getting around Victoria Falls easy, affordable and fun. You get to explore all the major spots from Victoria Falls to local shopping areas, major churches, restaurants and bars etc.
Scooter Hire
Exploring Victoria Falls, Zimbabwe on your own pace is a different charm altogether. Go for a scooter hire for full day or half day and hop around the city visiting places that interests you!
Victoria Falls bike tours
These are guided tours organized in groups where you cover a 13km circuit around Vic Falls town, starting and ending at The Lookout cafe. The tour takes you into the local township to see and experience the local culture, to the big tree, along the Zambezi River and down to the Victoria Falls Bridge.
Tours & Activities
There is a wide array of tours and activities around Victoria Falls. From safari and scenic tours to cultural tours, shopping to adrenaline – type activities and a lot more.
Transportation facilities for most of the tours and activities is provided by the tour company. Pick up and Drop facilities are generally tagged along with the various activities that you opt for. There is also a central hub in towns for most Victoria Falls Activities.
Well, Falcon Safaris hope this piece of information help you in planning ahead with your Victoria Falls Tour. Should there be any other query, we are more than happy to help!