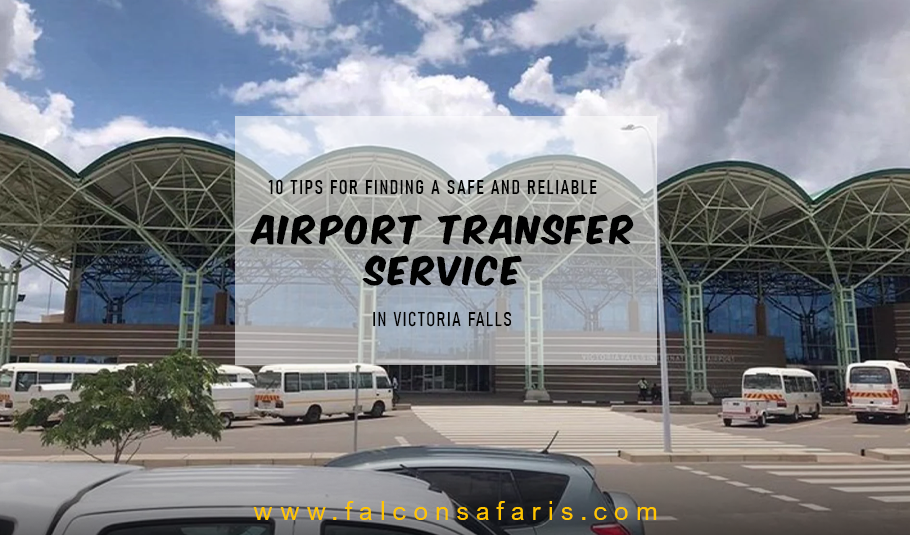 Booking a Victoria Falls Airport Transfer can be a confusing task and we don't want to subject you to this. Our ever-reliable travel experts at Falcon Safaris are here to help. They will help you eliminate delays, panic, and most importantly missing your flight due to inferior airport transfer protocols.
This post will offer 10 Tips that will help you a great deal with finding a safe, convenient, and reliable Victoria Falls Airport Transfer provider.
Researching Transfer Service Providers
When surveying the Victoria Falls Airport Transfer service providers, it's important to find reputable organizations and read reviews on their official websites. This will help you determine the quality and reliability of the service. The following are some considerations you should make when researching:
Start by crafting a list of all the Victoria Falls Transfers in the nearby areas.
Check online review websites such as TripAdvisor, Yelp, or Google Reviews to read reviews from previous customers.
Service providers that have a high rating and positive reviews from previous customers.
Pay attention to any negative reviews or complaints, and consider how the provider has responded to them.
The provider's availability, flexibility, and pricing, and compare these factors across multiple providers.
By researching reputable transfer service providers and reading reviews from previous customers, you can ensure that you choose a safe and reliable service. While also meeting your transportation needs in Victoria Falls.
Checking For Licenses And Insurance
When you contact the transfer service provider, ask them if they have the necessary licenses and insurance to operate in Victoria Falls. Many reputable transfer service providers will list their licenses and insurance information on their websites.
Research Local Regulations: Look up the local regulations before your Victoria Falls Tour. This will help to understand what licenses and insurance the transfer service provider needs to operate in the area.
A Falcon Insight – You can also contact local authorities such as the Victoria Falls City Council or the Zimbabwe Tourism Authority to verify whether the transfer service provider has the necessary licenses and insurance.
Comparing Prices
When considering a safe and reliable Victoria Falls Airport Transfer service, it's essential to compare prices from different providers. This will help ensure that you're getting a fair price for the service you require. Here are some tips to help you compare prices:
Begin by researching multiple transfer service providers in Victoria Falls. Then, contact each provider and ask for a quote for the service you require.
Make sure you compare what services are included in each quote. For example, some providers may include meet-and-greet services or assistance with luggage, while others may not.
The type of vehicle used for the transfer can also affect the price.
Be on the lookout for hidden fees that may not be included in the initial quote, such as tolls, parking fees, or tips.
By following these tips, you can compare prices from different transfer service providers in Victoria Falls and find a safe and reliable option that meets your needs and budget.
Looking For Experienced Drivers
When contacting each provider, ask about the experience of their drivers. You want to look for drivers with a lot of experience driving in Victoria Falls, as well as those who have a good understanding of the local area.
Some transfer service providers may provide driver training to ensure that their drivers are knowledgeable about the local area and can provide helpful tips and advice to their passengers.
Our Suggestion – If you don't speak the local language, it's essential to find a driver who can communicate with you effectively in a language you understand.
Checking The Vehicle Condition
Knowing about the vehicle maintenance schedule of Victoria Falls Airport Transfers providers is a must. Look for providers who have regular maintenance schedules in place to ensure that their vehicles are in good condition.
Also, check some reviews specifically about the vehicles from previous customers. This can help you get an idea of the vehicle's condition and comfort level.
Availability Of Customer Service
Make sure that the transfer service provider provides clear contact information for their customer service team, such as a phone number or email address.
Test the contact information provided by the transfer service provider to make sure that you can reach their customer service team.
Utilizing Meet And Greet Services
Another efficient tip to elevate Victoria Falls Tours experiences is by making use of meet-and-greet services. This will be especially helpful if you haven't been to the airport before and are not familiar with the surroundings.
Letting The Driver Assist
This tip is great for visitors on their first-ever Victoria Falls Tour. The drivers will gladly help you with carrying your luggage and other similar tasks. So, don't be hesitant to ask for help. You can also offer a tip in return for these services.
Additional Services
By booking additional services through the same provider, you can save time and avoid the hassle of searching for multiple services from different providers.
Bundling services together can often result in a lower overall cost compared to booking each service separately.
Additional services such as tour packages, luggage storage, or airport lounge access can enhance your travel experience.
Pro Advice – When booking an airport transfer service, be sure to ask about any available additional services. And, how they can enhance your travel experience.
Planning Ahead
Booking your airport transfer service well in advance of your trip is a smart move that can help you avoid last-minute stress and ensure availability. Here are some reasons why it's important to plan:
Availability: By booking your transfer service well in advance, you can ensure that the service provider has availability for your desired date and time.
Pricing: Some transfer service providers offer lower rates for bookings made in advance, which can help you save money.
Peace of Mind: Knowing that your airport transfer is booked and confirmed can provide peace of mind and reduce stress leading up to your trip.
Time Management: Booking in advance can help you plan your travel itinerary more effectively and avoid rushing to make last-minute arrangements.
Falcon Recommendations – When booking your airport transfer service, be sure to check the cancellation policy and any associated fees in case your plans change.
It's also a good idea to confirm your booking a few days before your trip to ensure everything is in order.
Victoria Falls Airport Transfer – Reliably, Safely, And Conveniently!
Hopefully, the above Victoria Falls Airport Transfers tips have helped you decide what pitfalls to avoid and where to focus your priority. We know what boat you're in! Thanks to the last-minute flight changes, tight schedules, and delays, it's difficult to book a Victoria Falls Airport Transfer.
That's why we at Falcon Safaris have a workaround, our airport transfers prioritize you – our valued guest and your time. Want to know how we do this? Click here – https://falconsafaris.com/victoria-falls