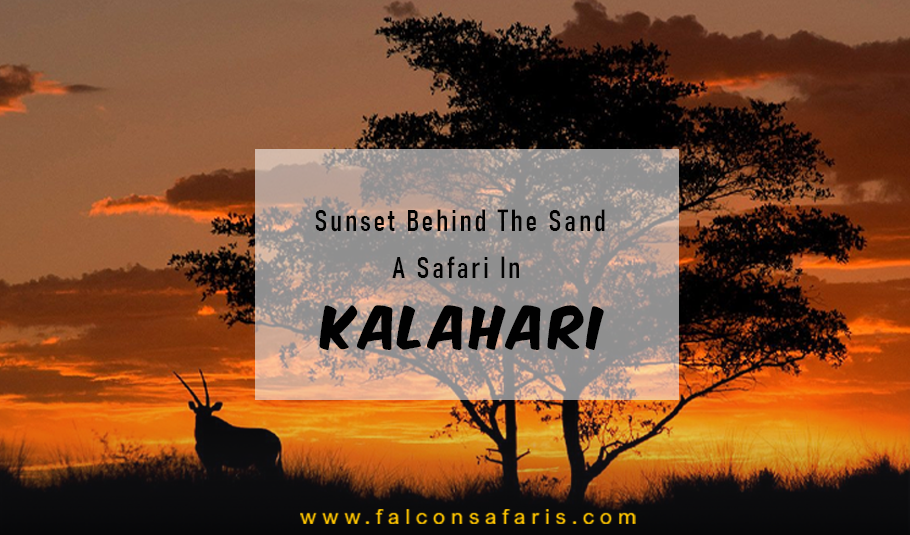 The Safari In Kalahari, a vast semi-arid sandy savannah occupies much of Botswana and areas of Namibia and South Africa. The Kalahari Desert spans 900,000 square kilometers in Southern Africa.
The dry environment is home to a variety of wildlife that has adapted to the desert and is of unmatched natural beauty—ranging from the sweeping red dunes of the Kgalagadi Transfrontier Conservation Area to the barren plains of Botswana's Central Kalahari.
We've formulated a guide on the Kgalagadi Transfrontier Park. And, you'll be able to experience a Kalahari Safari at its best.
Kgalagadi – The Arid Kalahari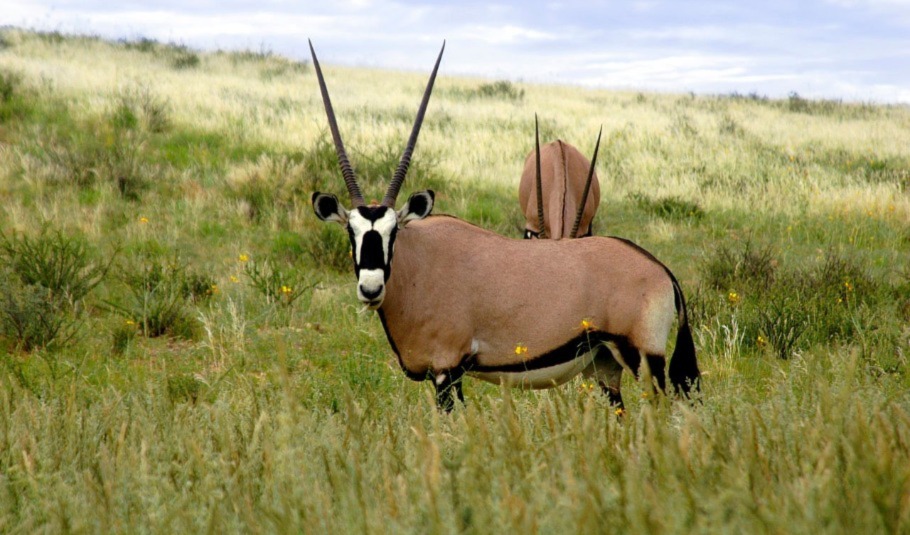 In the southwest part of the Kalahari, there's a park called the Kgalagadi Transfrontier Park. It is sometimes called the Kalahari Desert. The semi-desert can be described as more appropriate. The definition of a desert is a region with less than 255 mm of average rainfall, but the average for the entire Kalahari is a little bit higher.
Kgalagadi Transfrontier Park is located in the far southwest of the Kalahari. Where rainfall is lowest, averaging 200 mm annually and placing it inside the definition of a desert.
The Kgalagadi Transfrontier Park receives more rainfall as compared to a desert. The Kalahari or the Arid Kalahari is a more fitting name for this region.
A park that spans a boundary without any barriers is referred to as a transfrontier park (sometimes called a peace park).
The Kgalagadi was Africa's first recognized transfrontier park! In 1999, the Kalahari Gemsbok Park in South Africa and the Gemsbok National Park in Botswana united to form one national park. In 2000, it became publicly accessible.
The climate of the Kalahari
The Kalahari Desert in South Africa experiences occasional rainfall that occurs during thunderstorms (November to April).
The summers are unbearably hot, with average shady temperature readings of 107 degrees F (42 degrees C). Although it can get quite cold at night, the winters (June to October) are warm and dry.
Best Season for a Kalahari Safari in Kgalagadi
People often consider winter as the perfect season for a Kgalagadi Safari.
The visibility is better for taking pictures on a Kalahari Safari.
Roads are in better shape, visibility is better for taking pictures on Kgalagadi game drives. And animals congregate at water spots where they are easier to see.
Additionally, living in the desert is more comfortable due to lower temperatures and humidity.
Yet, summer can also be a delightful season to visit. Lush green grass and golden desert flowers suddenly transform the parks' dry landscapes. In the summer, migratory birds also come to Kgalagadi.
How to Get to Kgalagadi Transfrontier Park
If your identification (passport, visa) is valid, you may enter the park from any nation. And even use it as a transit point between Botswana and South Africa.
Border crossing points are the Twee Rivieren (on the South African side) and Two Rivers (on the Botswana side) gates. Contacting the rental car company in advance allows for picking up vehicles at Twee Rivieren.
The Captivating Wildlife of the Kgalagadi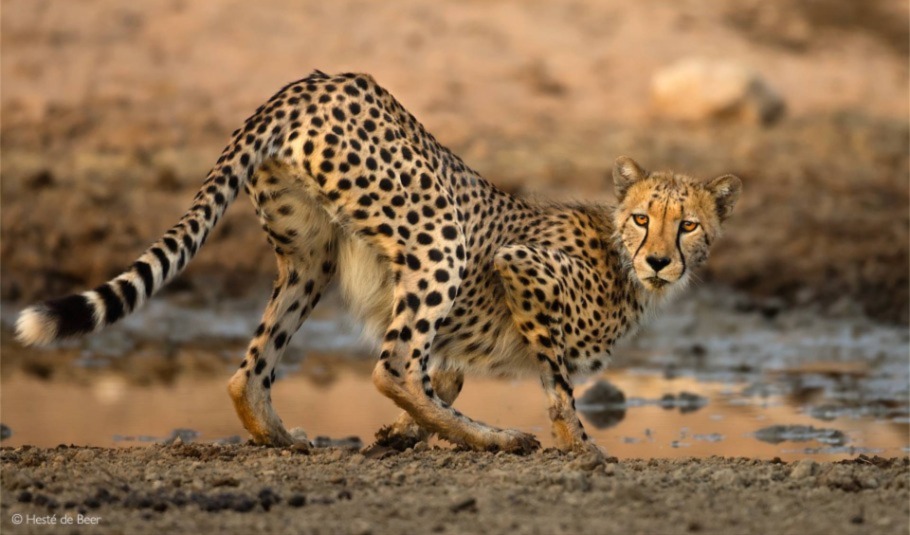 Kgalagadi's limited vegetation and the fact that animals frequently gather in the dry riverbeds. Mainly Auob and Nossob Rivers make for easy wildlife viewing every day.
The park's majestic black-maned lions are its most well-known inhabitants. But it is also frequented by normally elusive leopards and cheetahs.
There are many smaller cats in Africa. Such as the caracal, African wild cat, and black-footed cat.
White-spotted and brown hyenas are more likely to be seen. A few may be fortunate enough to view the park's critically endangered African wild dogs.
Gemsbok, eland, blue wildebeest, and springbok are frequent desert-adapted herbivores.
While herds of giraffes somehow manage to survive on the park's limited vegetation.
Other Kgalagadi delights include smaller predators. Like the black-backed jackal and the bat-eared fox. As well as spiders, families of ground squirrels, and meerkats, whose antics keep travelers fascinated for hours.
In the park, 280 different bird species have been identified, 92 of which are year-round residents.
Tawny, bateleur, and black-chested snake eagles are the most frequent raptors in Kgalagadi. But owls, vultures, and other raptors are also present.
Watch out for tiny falcons and the seemingly constant presence of pale chanting goshawks. The kori bustard is Africa's largest flying bird, and friendly weaver. Two non-raptor highlights are the enormous nests that topple fully-grown acacia trees with their immense weight.
Activities To Do In Kgalagadi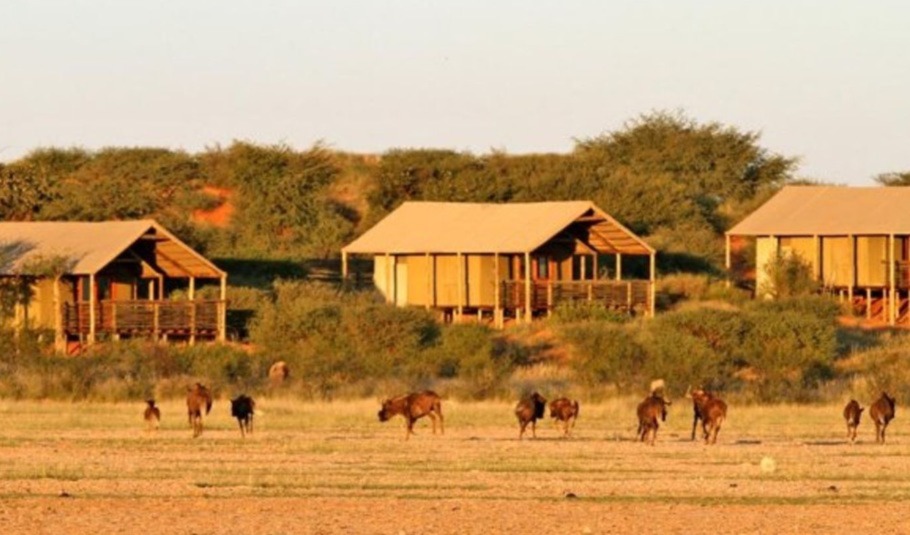 For lovers of self-drive safaris, Kgalagadi Transfrontier Park is a wonderland. A system of gravel and sand roads crisscrosses its immense area, restricting some of them only to four-wheel-drive vehicles.
The four-day Nossob 4WD Safari, which travels across the dunes between Twee Rivieren and Nossob rest camps, is the most famous of them.
This route calls for a minimum of two vehicles, complete independence from the guests, and advanced planning.
There are guided morning and evening game drives available at the three main rest camps and Kalahari Tented Camp. It depends on interest and personnel availability.
Some Accommodations In Kgalagadi – Where Can You Stay?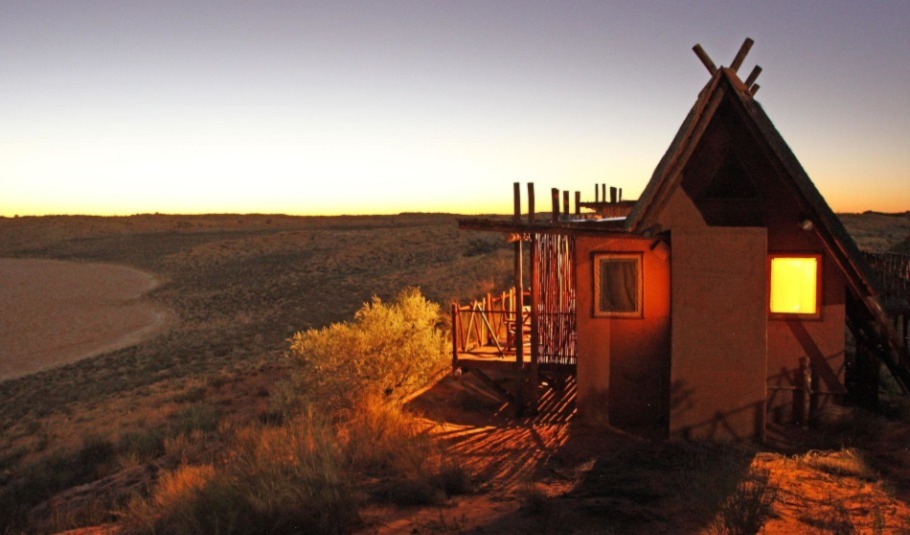 Campgrounds
For those looking for the most genuine experience away from the main path, Kgalagadi offers five wilderness camps. They go by the names Bitterpan, Grootkolk, Kieliekrankie, Urikaruus, and Gharagab, respectively.
Water, firewood, food, and cooking utensils must all be brought with you. There are waterholes in each of the five camps, and a total of eight persons are permitted to stay there at once.
For safety concerns, children under the age of 12 are not permitted to remain in the wilderness camps.
!Xaus Lodge
The lodge pronounced "Kaus" offers accommodation in the Kgalagadi Transfrontier Park. It's targeted toward ecotourists and visitors to this remote region in the Kalahari. A distinctive location to stay, the lodge's amenities include a cozy lounge with a fireplace, an art and crafts gallery, a sizable observation deck ideal for stargazing, a cool pool, and a hearty fire in the boma. It's ideal for appreciating the beauty of the night's solitude while staying warm.
Main Rests Camps
There are three main rest camps in Kgalagadi, and each one provides a selection of self-catering cabins and gated campsites. Each of the three locations has a swimming pool, laundry facilities, and gasoline stations. And even campsites with electrical outlets.
Each of the three also runs a store offering camping necessities.
The biggest camp and the park's administrative center is Twee Rivierien. It is the only camp with a restaurant, constant electricity, and cell reception and is situated near the main gate in the extreme south.
The camps of Mata Mata and Nossob are situated at their respective borders with Namibia and Botswana.
Both have a waterhole with a hide and 16.5 hours per day of generator-powered electricity.
The most isolated of the three main camps, Nossob has its own predator information center.
Kalahari Tented Camp
With 15 permanent desert tents, this is a luxurious camp. Each one includes a solar-powered kitchen, bathroom with gas-powered hot water, and ceiling fan. Kalahari Tented Camp features a waterhole and a swimming pool of its own. The Mata Mata rest camp, which is less than 2 miles away, is where you can get supplies the closest.
Some Suggestions For Your Visit
There are some tips that you should be aware of before your Kgalagadi Trip:
The sole store in the camp that accepts credit or debit cards and has an ATM is the Twee Rivieren shop. Bring money if you're planning on staying at one of the other camps (although fuel stations throughout the park accept cards).
Reservations for lodging should be made well in advance because they frequently sell out.
Kgalagadi is a region with a low risk of malaria; ask your doctor if you should take medical precautions.
A daily conservation fee of 384 rands for adults and 192 rands for children (approx.) is required of all international visitors. South African nationals and nationals of the SADC are eligible for discounted pricing.
High-ground clearance and low-range 4×4 vehicles are advised, especially in the summer, even though they are not required on the main park roads. Keep a supply of water in your car in case of a breakdown and remain there until assistance arrives.
So, if you're planning for a Kalahari Safari, you can't go wrong in exploring Kgalagadi Transfrontier Park. It has an array of options regarding African Wildlife and Accommodations. If you have any queries/and, or suggestions, feel free to contact us on the following details-
+263 83 284 1840/1 or
Email: info@falconsafaris.com
Must See Botswana Destinations To Visit Before It's Too Late
Botswana Travel Guide – Everything You Need To Know About Botswana Safari
Untamed Botswana – An Unparalleled Botswana Safari Experience
Conclusion
Finally, make certain to leaf through our guide to exploring Kalahari. And, in particular, going on a Kgalagadi Transfrontier Park Safari. You'll be able to discover the elegance of Africa's terrain and its clear, blue skies while taking in the tranquillity of a Kalahari sunset behind the sand.