Are you coming to Victoria Falls for the first time? Are you thinking of where to stay? What to do and what to expect? Well trouble yourself no more and consider this your next to best Victoria Falls Travel Guide. Offering you Victoria Falls travel information, tips and advice to make your trip the most memorable one yet.
Victoria Falls is described by many as one of the most beautiful sights you can ever set your eyes upon, echoing the words of the famous British explorer. David Livingstone who said "Victoria Falls is the most wonderful sight I have witnessed in Africa. None can imagine the beauty of the view from anything witnessed in England."
Victoria Falls Tour is an appealing as well as powerful place that should be on everyone's bucket list. If you're planning a journey to see the magic for yourself. the following Victoria Falls Travel Guide will help you along the way.
When to Travel Victoria Falls?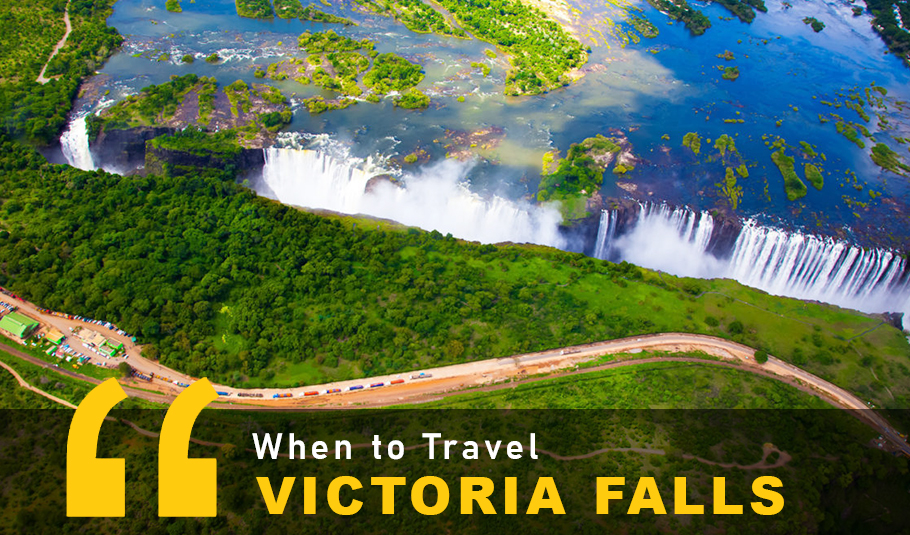 Victoria Falls is a fantastic vacation spot to visit at any time of the year whether you want to visit during the sweltering summer between August and April or the cool winter between May and August, whichever you decide, you will always get something out of your trip.
The falls are at their most spectacular during the High Water Season, which runs from February to July. This is when you can view them at their best, in full flood and enjoy an unforgettable experience as you will undoubtedly be showered by the falls' spray and get completely soaked. During the low water season which runs from August to January, the falls are calmer and can even get completely dry on the Zambian side leaving just a rock surface and it is during this time that the famous Devil's Pool is opened and is an amazing activity for those that dare to do it. This is also the perfect time for white water rafting and canoeing on the Zambezi River.
What You Need To Know About Visas?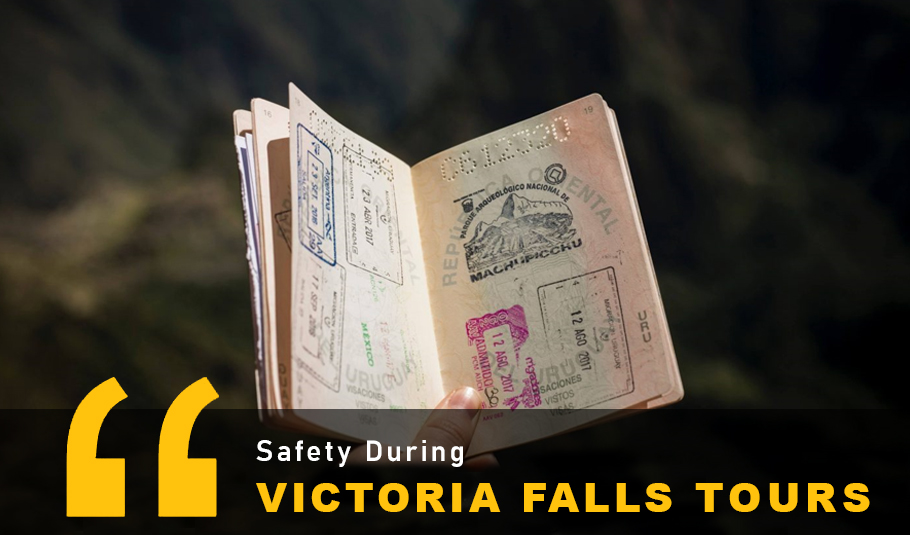 Victoria Falls marks the borderline between Zimbabwe and Zambia and it can be viewed from both sides. You can choose to stay in Livingstone Zambia or in Victoria Falls Zimbabwe. Both these countries have 3 Visa categories. The first category is for countries that do not require a visa and this includes most African counties as well as some island nations. The second category is for countries who can obtain visas as they enter into the country and the third for those countries which have to obtain a visa before travelling such as Iraq, Afghanistan among others. Always do your research well in Victoria Falls Travel Guide to know which category your country is in.
How to Get To Victoria Falls?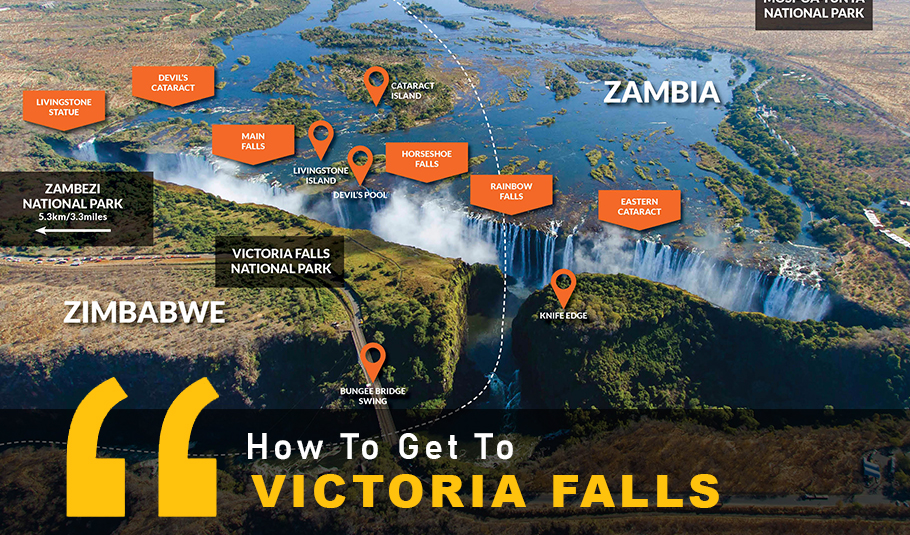 Depending on where you are coming from, you can get to Victoria Falls by driving. By bus, by train or by simply hoping on a plane. Most tourists however opt to fly and every week there are flights that come to Victoria Falls from Addis Ababa, Johannesburg, Harare, Cape Town and Windhoek. Another option to get to Victoria Falls is to fly to Livingstone in Zambia which is better if you will be staying on the Zambian side but however you will have to cross the border to get to Zimbabwe and you need to make sure you have the right visa in hand for you to do so.
From the airport, you can book in advance with local tour operators for a transfer service that will take you to your hotel or lodge. You can also opt for a taxi which is readily available at a price of $30USD. From the Zimbabwean side, most of the hotels and lodges are within a walk-able distance from the falls so it is easier however if you are staying on the Zambian side, you will have to take a taxi from where you are staying, cross the border and then enter the park on the Zimbabwean side.
Getting Inside the Victoria Falls Rain Forest
As you get to the entrance of the falls you will notice that on the opposite side. There is a car park where there are stalls that sell, curios, drinks and snacks. It is also here where you can get raincoats and ponchos in case you forgot yours or maybe want to keep your belongings like cameras and phones dry because you will definitely get wet.
The park opens from 6.30 am to 6 pm in winter and from 6 am to 6 pm in summer. The entrance fee is a single entry fee so wants you enter and then decide to leave. You will have to pay again if you want to go back. The fee also depends on your nationality and age, and is ($30 USD) for all internationals. Inside, there are toilets and a restaurant where you can refresh and enjoy the Victoria Falls Rainforest. As you can be in there for about 2 to 4 hours.
A Walk Through History: The Significance of the Victoria Falls Rainforest
When you enter, you will be advised to take a path on the left which leads you to the David Livingstone statue and it marks one of the first viewing points out of the total of 16 before looping back to view the remaining points. The major points to look out for are:
 The Devil's Cataract – This point of the falls got its name from the missionaries who visited the area long back and discovered that the local tribes used the island close to it to perform ceremonies which the missionaries considered 'devilish" hence the popular name, devils cataract.
The Main Falls – This point is the largest point of the falls and stands at a whopping 93 meters. It has such great volume at any given point of the year and the water is blown by strong winds high up the air as mist which can be seen from afar as smoke.
Horseshoe Falls – This is a point of the falls that has experienced erosion over time and the shape of a horseshoe hence the name.
Rainbow Falls – This is the highest point of the falls standing at a jaw dropping108 meters and it makes it one of the most dangerous parts to view the falls. It got its name because this is the point where you can see some of the falls' beautiful rainbows on days that are very clear and sunny.
The Eastern Cataract – Standing at 101 metres high, this point is the only part of the falls that is in Zambia and makes 25% of the total falls. Tourists viewing on this side are way closer to the falls and can feel the rush and the roar of the smoke that thunders as if it were under their skin.
Where To Stay In Victoria Falls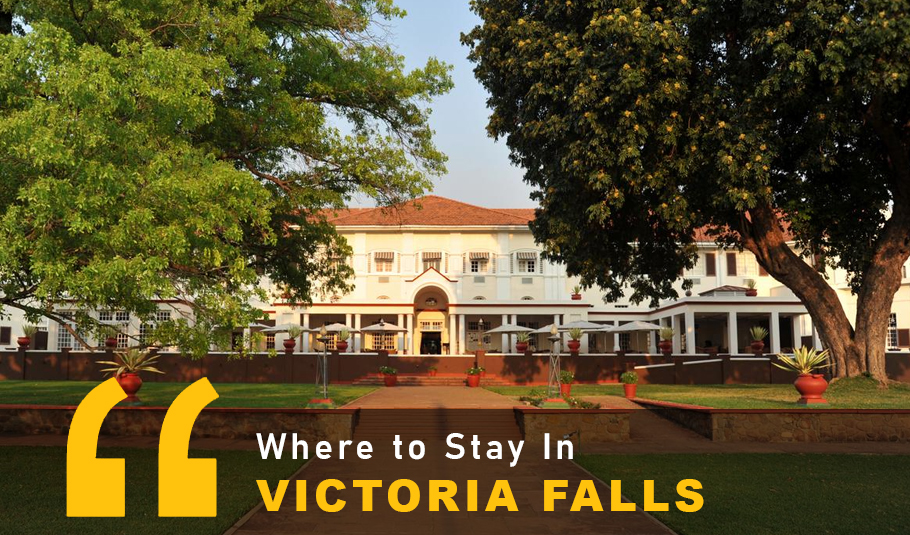 Victoria Falls has a variety of accommodation facilities that cater for your needs as well as your budget. Generally most hotels and lodges are located within a short walk from the falls. and are excellent in terms of service and hospitality. They offer different magnificent views of nature, the surroundings, the beautiful city. The gorges or the famous Victoria Falls Bridge depending on where you are staying. The Victoria Falls Accommodations are intimate and private and give you the feel of home away from home. Most of the lodges and hotels are situated perfectly close to shops, restaurants and markets. Your decision will depend on your budget and your needs but generally you will enjoy your stay.
Activities to Do In Victoria Falls
In addition to seeing the mighty falls, there are a wide range of activities that you can do. And below is a list of some of the must do Victoria Falls Activities that you shouldn't miss.
Helicopter Flight
This is a fun filled activity that allows you to see the falls and the area from a whole different perspective and allows you to go on a unique view of the game.
Sunset Cruise
Nothing is more relaxing than a cruise on the mighty Zambezi River where you can gaze upon the beauty of nature and our lovely African sunset. You can also spot animals whilst you are there the most common being hippos, elephants, crocodiles, water bucks and giraffes.
Devils Pool
If you would fancy swimming up to the edge of the waterfall then this is an activity for you.
Lunar Rainbow
Also known as a moon bow, this has to be one of the most beautiful sights you can ever see at night and what is unique about this is that it only occurs 2 places in the whole world and Victoria Falls happens to be one of them.
Bungee Jumping
Bungee Jumping Victoria Falls is an adrenalin filled activity for all those who love adventure. It is done from the Victoria Falls Bridge 110 metres above the ground. This is considered one of the highest bungee jumps in the world giving it more reason to be exciting and worth a try.
Gorge Swing
If you are not up for the bungee jump then you will definitely opt for the Gorge Swing instead. It's much higher than the bungee jump but also very exciting.
White Water Rafting
This is a heart racing activity fun for those who love adventure. It is done on the Lower Zambezi where you take a tour down the long rapids that have steep gradients.
Game Drive
A Visit To Victoria Falls would not be the same if you do not go on a morning or night game drive. This will allow you to step in the wildlife territory and view the game in its natural habitat.
The Boma Dinner and Drum show
If you want a perfect African feel and taste all at once, then this is the place you have to be offering the best food and a drum show that welcomes you to Africa.
Feast of the Beasts
This is an exciting activity that guarantees you to see Africa's big cat (lion) in its natural habitat and see it during feeding time which is such a delight to see.
Bamba Tram
Described as the most beautiful tram ride in the world, this is such a beautiful ride through the Zambezi National Park. Onto the Vic Falls bridge and across to the hydroelectric power station. It's very informative and offers beautiful views throughout.
Shopping
There are so many shopping options for tourists in Victoria Falls that range from curio shops, art galleries, markets, boutiques and so many more.
Spa
After a long day of exploring or adventure-filled Victoria Falls Activities, sit back and relax at the Royal Spa. Enjoy a massage or choose from a variety of beauty treatments available to help you indulge.
What to Pack for Victoria Falls?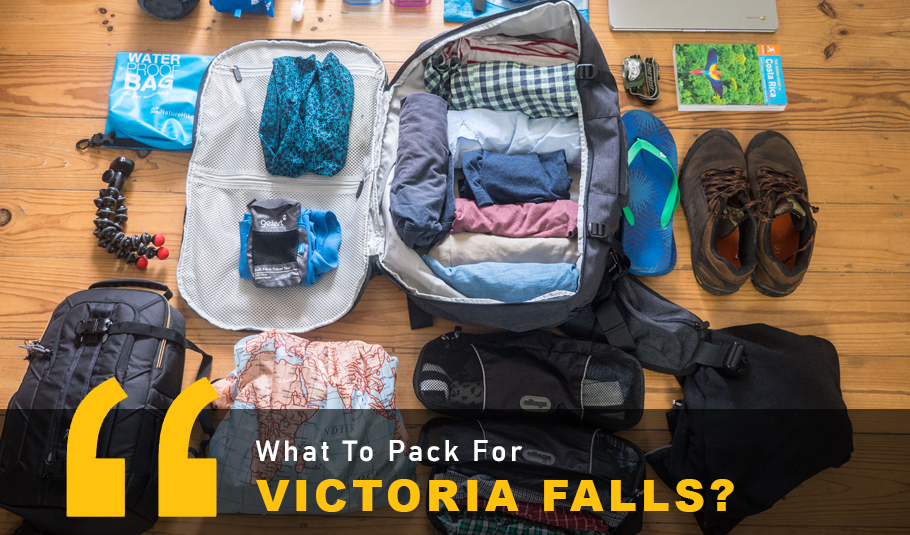 Generally Victoria Falls is a warm area and can even get extremely hot in the height of the summer season. When travelling, think light, pack light clothing in particular clothes that can dry up easily for when you go to the falls.
Make sure you have sunscreen with you to protect you from the harsh heat and scorching sun. Invest in a pair or 2 of sunglasses, a large sunhat or light umbrella.
Victoria Falls is a high mosquito area, make sure you pack enough mosquito or insect repellent with you. Also pack waterproof jackets and ponchos.
What to Expect During Victoria Falls Tour?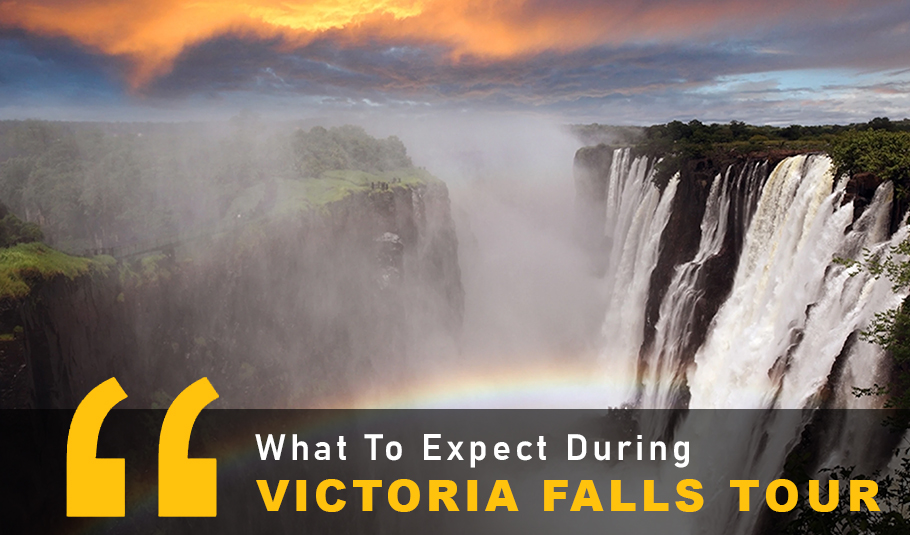 When going for Victoria Falls Tour, first and foremost expect to have fun, there are so many things you can do and see and you shouldn't expect anything less than a good vacation.
When you go to the falls, you should expect to get wet or even completely drenched from head to toe depending on the time that you go there.
Expect warm weather, it is very hot this side most of the time, our winter is usually warm as well and it runs from May to July.
Expect to see lots of game. Victoria Falls is surrounded by 2 national parks, the Victoria Falls National Park in Zimbabwe and the Mosi-oa-Tunya National Park in Zambia and in addition. 10km out of the city of Victoria Falls is the Zambezi National Park.
Best Time to Visit Victoria Falls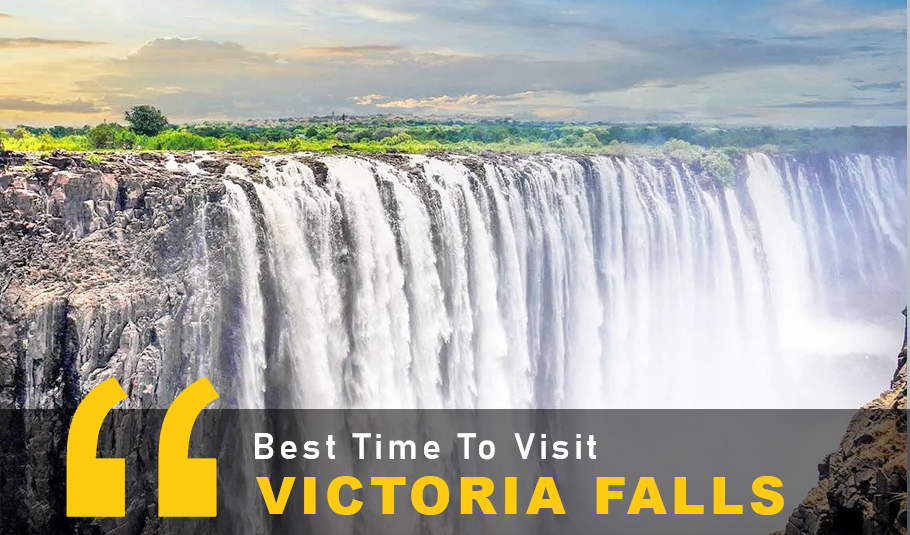 Any time can be a good time to visit Victoria Falls but generally it will all come down to what you want to expect from your trip. If you visit from February to May right after the summer rains. The falls will be at their fullest and will have great volume. You will get soaking wet and get a mighty feel of the falls but however it might not be the best time for your camera. If you visit during the dry season. You will also get to see beautiful views and also have an opportunity to do activities like white water rafting and a swim to devils pool as they are only done during the Low Water Season.
Local Culture & Customs of Victoria Falls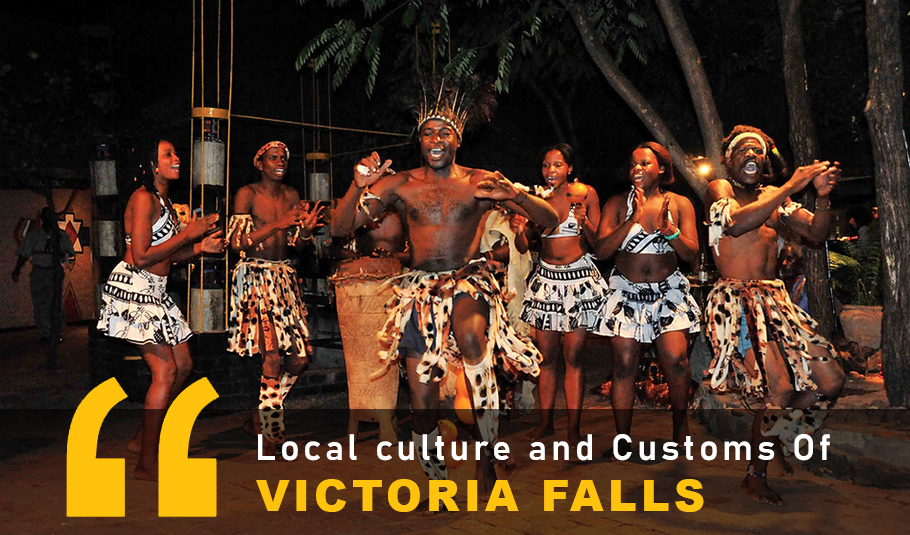 Zimbabweans are generally warm and friendly people and as you greet them they extend their hand for a handshake. Not looking them in the eye as you converse is considered a sign of disrespect.
Currency of Victoria Falls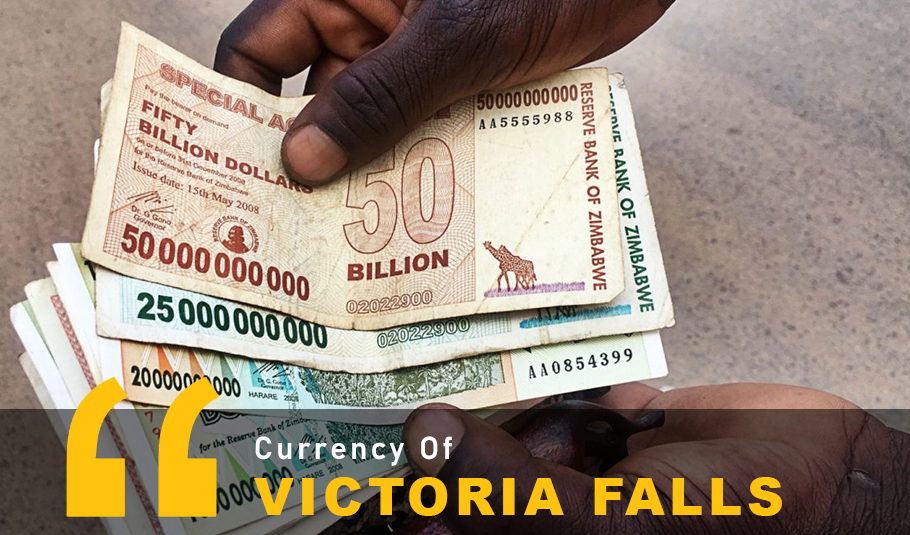 The currency in Zimbabwe is not generally stable hence they use the United States Dollar. You can also use South African Rand, Pula, Euro and Pound. You can also use credit cards but most preferably have cash with you as it is easier.
Safety during Victoria Falls Tours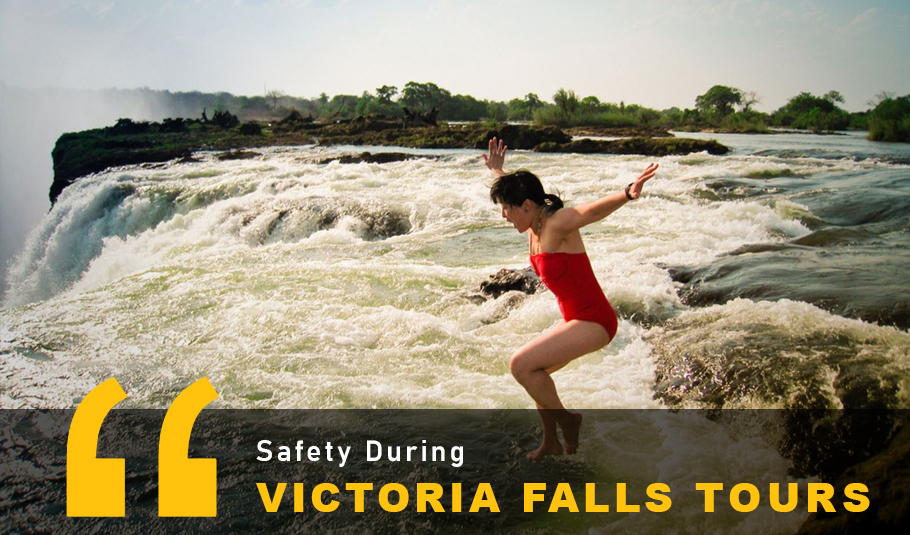 Victoria Falls is generally a safe place to visit; crime is not as rampant as some other countries. Although street vendors can be a bit persuasive and might follow you around don't worry they never get violent. Just be extra careful and make sure you have your belongings with you all the time.
Where To Eat & Drink During Victoria Falls Visit?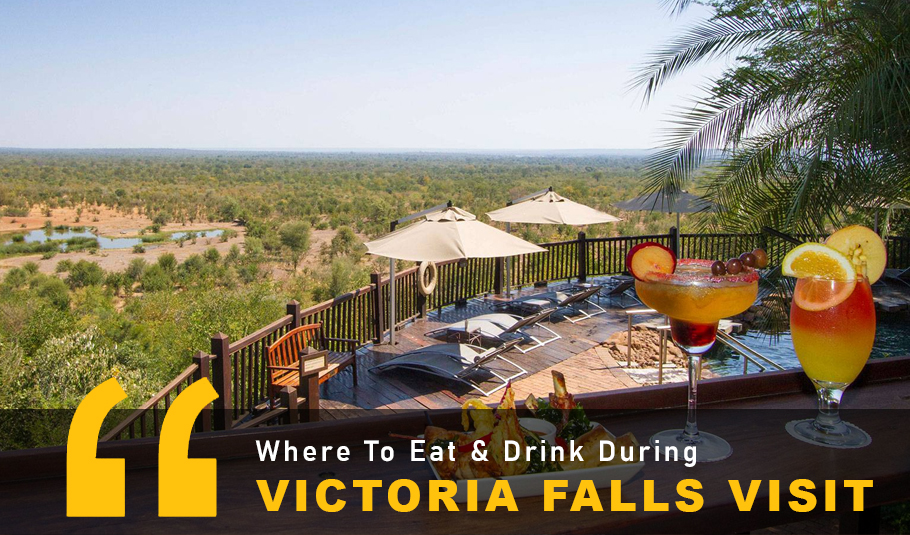 There are so many places for you to grab something to eat in Victoria Falls, the options are endless. You definitely have to check out the famous Lookout Café that is not only beautiful but is at the edge of the Batoka Gorge and offers spectacular views of the gorges and Zambezi River below plus so much. Right in the heart of town you will find the fine 3 monkeys restaurant which is also. A favourite of many that visit the place. The Boma Restaurant at Victoria Falls Safari Lodge is also a must do, you will get a feel of Africa as you dance away in their epic drum show. Dusty Roads is also a very good place and is in the township giving you that classy township experience.
If you want to have a drink and relax then you need to take a look at the Brewery. It is a beautiful place as well as Shoestrings. You can have a drink, just chill and talk.
Practical Tips for Victoria Falls Tours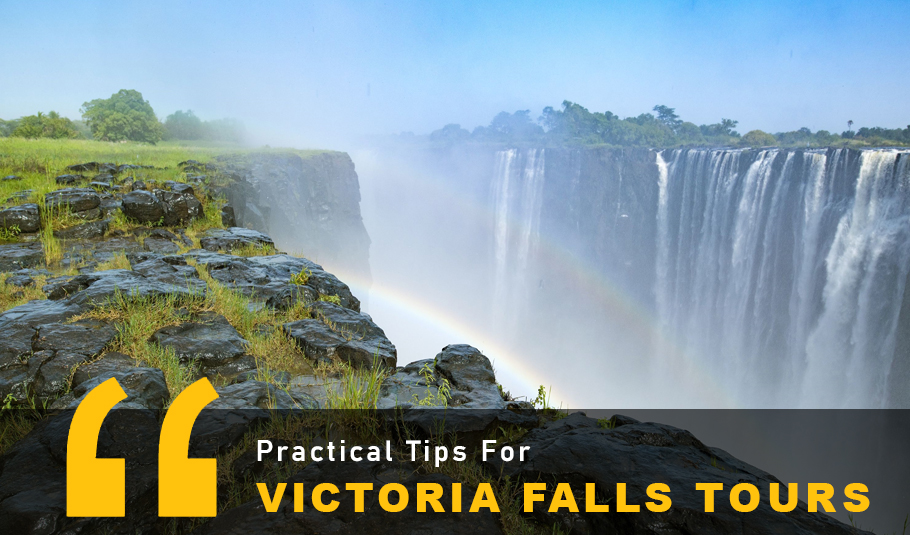 Here are some practical Victoria Falls Travel Guide before your visit to Victoria Falls.
Make sure you do the most on your Victoria Falls Trip. You never know when you might be back again and hence doing more activities and making more memories is so good for you.
Keep an eye out for monkeys and baboons especially at the Zimbabwean and Zambian Border post and in town they can be very cheeky and even attempt to take away your food items if you are holding any.
Carry extra cash with you. Although most shops and places accept cards it is easier to use cash
Are You Considering Visiting Victoria Falls?
If you are still considering a visit to Victoria Falls then we want to assure you that, you will not regret any part of your stay. From the time you arrive to the time you leave, you will enjoy every bit of it. As Falcon Safaris, we are committed to handling your needs for you and all you have to do is enjoy your holiday without any stress with our great Victoria Falls Travel Guide. Let us be your guide to an African Adventure and show you what an exciting place Victoria Falls can be.