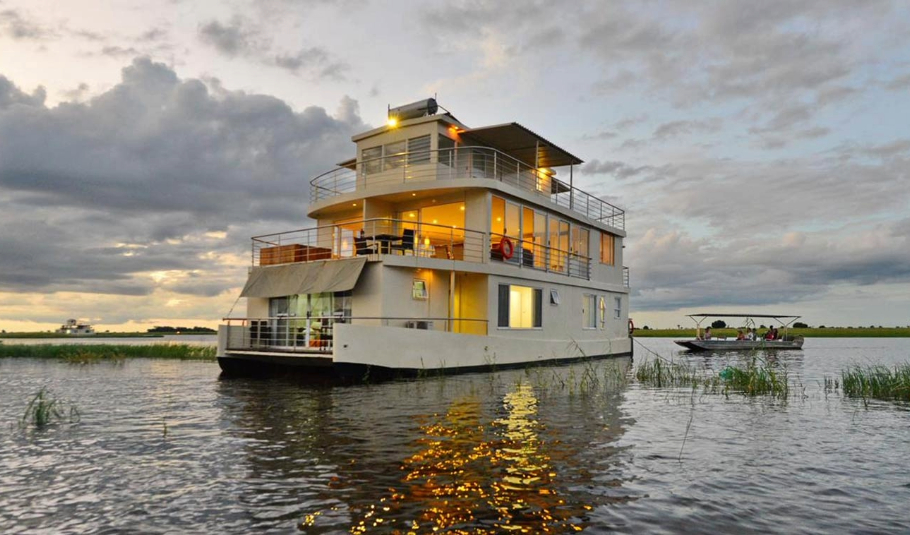 One of the most spectacular ways to witness Botswana at its finest is to take a relaxing Chobe River Cruise. Chobe is undoubtedly one of the greatest wildlife destinations in Africa and in addition, it offers breathtaking scenery of the sandy terrain, the dense forest of mopane trees, and the dazzling deep blue Chobe River that sets the stage for captivating river journeys.
Chobe River Cruise Experiences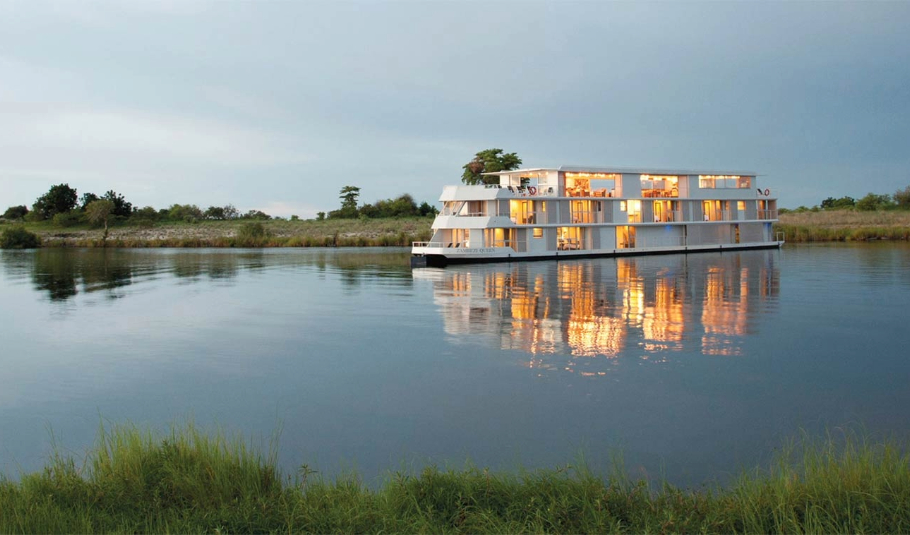 The Chobe region houses the largest elephant population in Africa and boasts of the second largest lion population as well hence the "The land of the giants." These large elephant herds are a frequent sight and have become a renowned feature of Chobe National Park. During the dry season, Chobe National Park is believed to host up to 85,000 elephants, with the majority of them concentrated along the river.
Chobe River Cruise has a lot more to offer than just the elephant herds. In addition, Chobe National Park is home to a large herd of cape buffalo that love to be close to the river. You can also spot a wide variety of antelopes, including sable, puku, kudu, eland, impala, and roan. Waterbuck, hippos, and crocodiles are the river's obvious sights and on any given day you are guaranteed to spot any one of them or all.
The Best Time To Cruise The Chobe River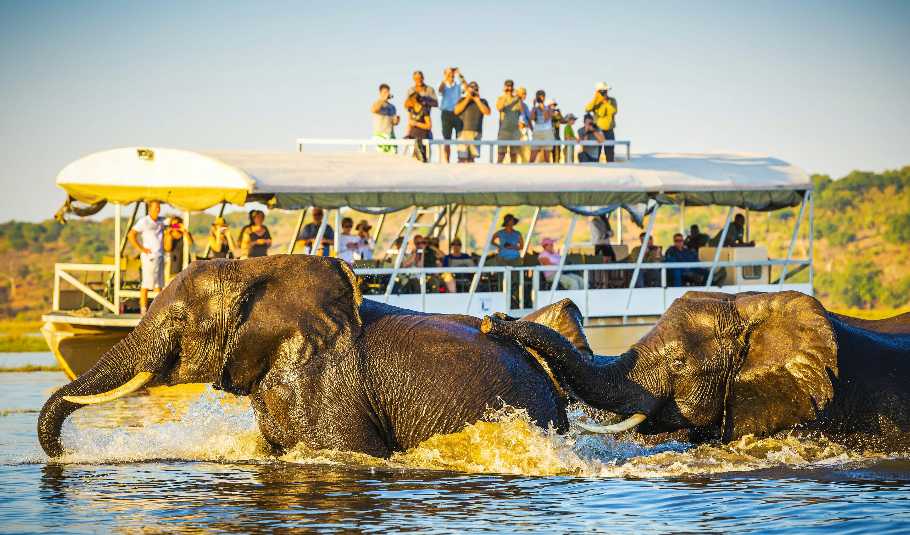 This is a year-round location for seeing wildlife, but there are things to take into account because the landscape changes greatly with the seasons.
The best time to visit Botswana for the first time is during the dry season, which lasts from April to October. This is because wildlife is most active during this time. Animals move toward the Chobe in quest of water when water holes dry up, providing breathtaking viewing possibilities.
From August onward, temperatures increase and reach their highest point in October.
The ideal time to witness migratory birds, huge zebra herds, and young animals is during the wet season, which lasts from November to March. The wettest months are January and February, but don't let that deter you from going on that Chobe River Cruise.
Types of Chobe Cruises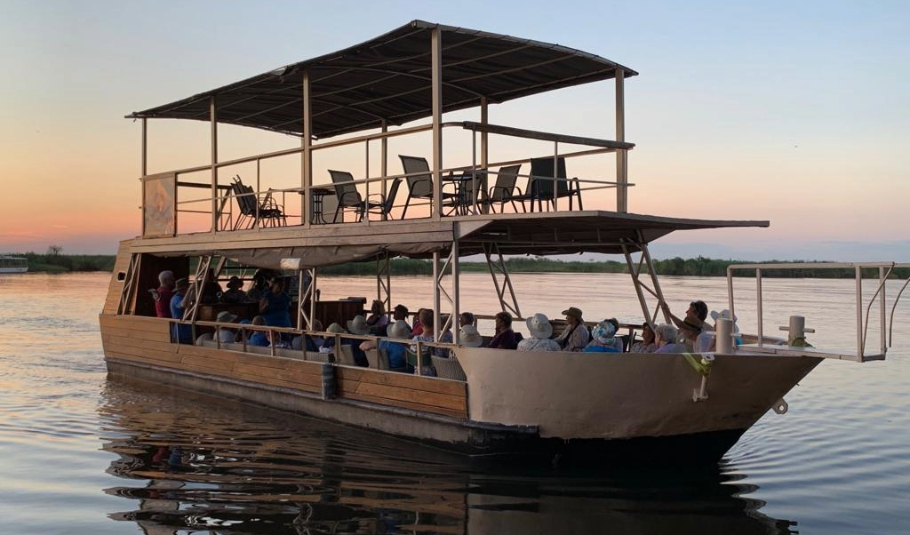 The good thing about a Chobe cruise is that you can go at your preferred time and extend the amount of time spent on the river. On a daily basis, you can choose between going on a cruise in the early morning or late afternoon for a sunset cruise.
Morning Cruise:
The morning cruise is an excellent time to soak in that fresh smell of water and enjoy a cool and quiet excursion on the water. It is an excellent opportunity for birdwatching and spotting hippos outside the water before it gets too hot.
The morning is also a perfect time to spot big cats, particularly the lions which move around in the cooler temperatures of the morning and mostly sleep throughout the hotter temperatures of the day. The cruise, starting at 9 am and ending at 12 pm noon, lasts for 3 hours, after which you will be taken to a hotel or lodge by the riverbanks to enjoy lunch.
Sunset Cruise:
If you don't prefer waking up too early then you will surely enjoy a sunset cruise. After a long day of activity, one of the best ways you can relax and unwind is to enjoy a sunset cruise while sipping away on cool drinks and exotic cocktails.
It's the perfect time to spot elephants swimming and plenty of animals making their way to the river for a drink. The cruise also lasts 3 hours and starts at 3 pm and ends at 6 pm.
Houseboat:
The Chobe National Park and all its beauty for some intrepid travelers looking for adventure is simply not enough to explore in just one day. To get quite a full-on experience the best option is to stay on a houseboat and go on an adventure day and night and really explore the river including the quiet times of the night that many people don't get to explore.
Chobe Cruise Tips
We recommend booking your cruise well in advance or on the day before your intended trip.
Leave your fancy clothes at home. In any event, since these cruises don't have strict dress codes, you can keep it casual when packing.
Bring comfortable shoes or sneakers for strolling ashore on uneven terrain, as well as T-shirts, shorts, cotton slacks, long-sleeved tops for sun protection, hats, and sunglasses.
Grab your binoculars. You need to carry something with a little zoom if you want to capture the greatest views of the various wildlife viewing chances. Binoculars are often provided by boats, but if you have a nice pair, you might prefer to bring your own.
Cruising Along The Wilderness In Chobe River Cruise
As your Chobe River Cruise journey comes to an end, you will be left with indelible memories of wildlife encounters and beautiful landscapes. Navigating the wilderness along the Chobe River will be a lifetime of adventure, etching itself into your hearts as an unforgettable voyage.