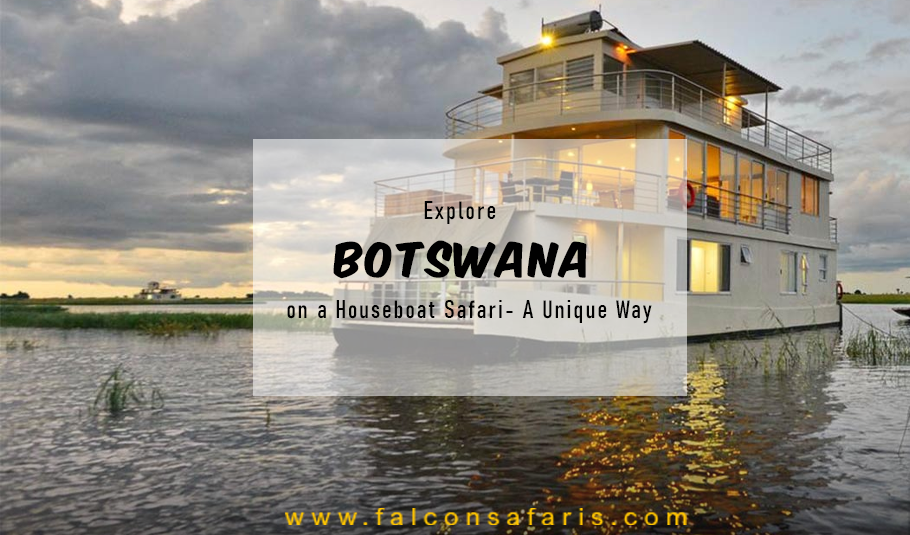 Botswana has an array of Safari options to choose from. The most popular are the Botswana 4WD Safari, Botswana Walking Safari, Botswana Self Drive Safari, etc. But, if you're looking to explore Botswana uniquely, you can't ever go wrong on picking a Botswana Houseboat Safari.
The Botswana Houseboat Safari experience is in a class by itself. It offers a distinctive river-based experience that is perfect for selective Safari travelers. And those seeking a more exclusive and uncommon Botswana Safari experience. If you're looking to explore Botswana on a Houseboat Safari, then we've arranged a definitive guide for a Botswana Houseboat Safari.
Houseboat Safari – A Terrific River-Based Safari Excursion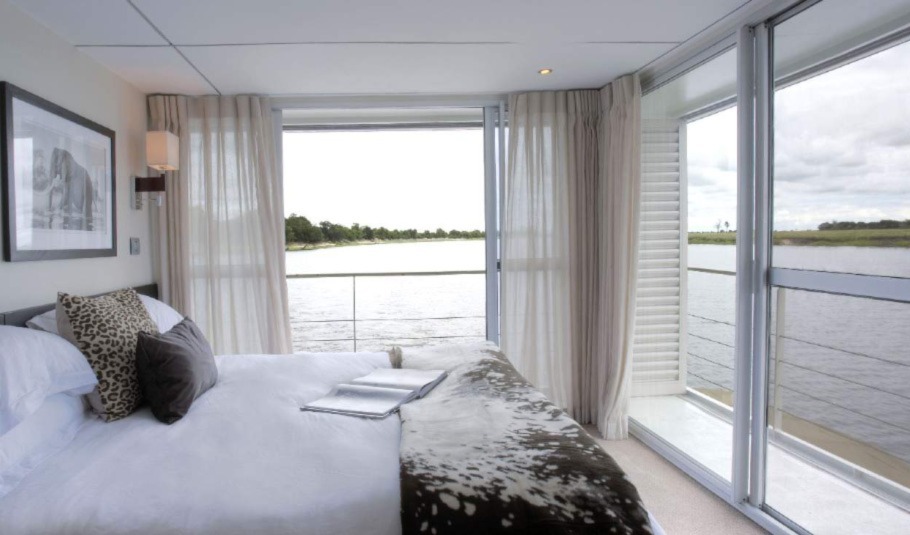 Aboard a Botswana Houseboat, visitors may anticipate getting lots of relaxation. The houseboats include spacious sun decks with dive pools and loungers in addition to a cozy bar and lounge space. Typically, tour guides and housekeeping staff make sure guests have everything they need. When the weather permits, the boat's chefs prepare meals and serve them outside, ensuring a personalized stay for the guests.
When designing tailor-made Botswana Houseboats, the designers take into account each client's needs.
There's space on board for everyone. And the houseboat staff will make every effort to accommodate your needs throughout your stay.
Whether you're a wildlife enthusiast, an eager photographer, a bird lover, or some general relaxation, there are enough amenities for everyone.
Depending on the houseboat, three staff members are on board, and visitors may anticipate a customized agenda.
The motor boats can also be used for Botswana Photographic Safaris, birding or fishing expeditions, or game viewing. And a private guide will be with you on every trip.
Who Can Go On A Botswana Houseboat Safari?
A Botswana Houseboat Safari excursion is ideal for small social gatherings or family outings. Smaller boats are positioned next to the houseboat. Most houseboats use these smaller boats for all the Botswana Safari Activities.
A Botswana Houseboat Safari avoids the high-season crowds. And, is great for wildlife and sunset photography.
Travelers who're visiting Botswana for the first time may wish to combine a houseboat excursion with a stay at a resort that offers game drives.
In this manner, tourists are guaranteed a thorough Botswana Safari adventure. Along with both water-based and land-based Safari experiences.
Amenities Offered By Botswana Houseboats
In and around Chobe National Park, houseboats are an excellent alternative to lodges and guesthouses. During your stay on the Chobe River, you can choose the ideal Chobe houseboat with an all-inclusive package. These packages are all-inclusive and offer a great Botswana Safari Package.
A houseboat offers incredible comfort. Your Botswana Safari Package includes all meals, beverages, and water-based activities.
Game viewing from the houseboat's deck along the Chobe River is one of the most incredible houseboat experiences.
Some of the spectacular sunset views over the Chobe floodplains could be yours to experience. Superb Fishing and Birdwatching are further options.
As per your Botswana Houseboat Package, you can even arrange a game drive in Chobe National Park.
The uninterrupted stargazing at night and the sounds of nature are incomparable.
The smaller houseboats can be rented out. You can have a private experience by renting a houseboat with your family or friends.
It's a great choice for people on a Botswana Family Safari and Botswana Honeymoon Safari.
Floodplains and flowing waterways surround the Chobe houseboats. On the floodplains, 300 or so elephants may be present at any given moment. In the luxury of your houseboat, take in the beauty of Botswana Wildlife.
What Differs Botswana Houseboats From Others?
When you go on a Chobe Houseboat Safari, there are several animals and birds in Chobe National Park that you'll get to witness. There's an easily accessible airport at Kasane. And, a variety of houseboats are offered.
There are scheduled trips available, or you can reserve a private charter for a Chobe houseboat. The houseboats will take you on a voyage of a lifetime. The proximity of Victoria Falls to Chobemakes for an excellent experience too.
Some Houseboats That You Can Book In Botswana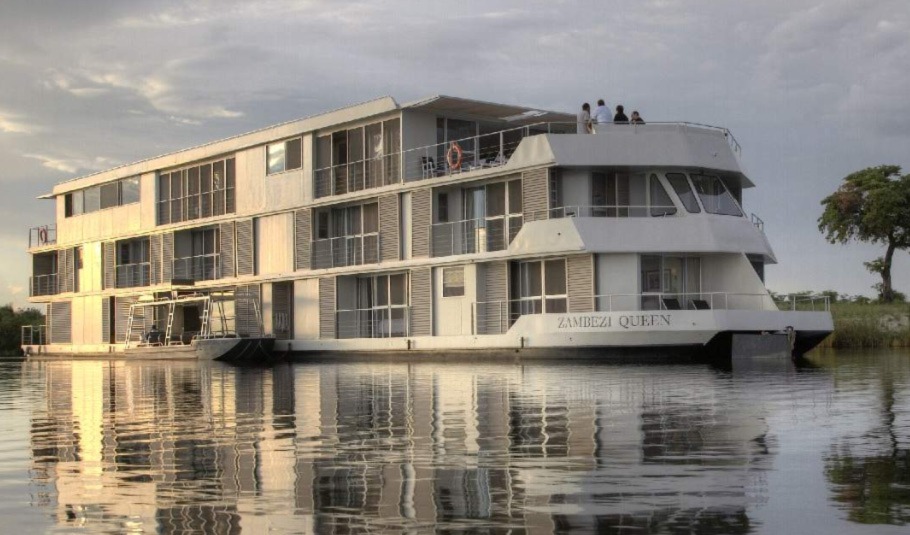 The Zambezi Queen
The Zambezi Queen is anchored on the Chobe River and has decks with views of wildlife-filled floodplains. It provides unparalleled luxury in the heart of the elephant region. This sleek, smooth-lined houseboat with 14 cabins delivers boutique hotel refinement. And is perfect for a Botswana Honeymoon Safari or special occasions.
Crisp linen and sleek African-chic decor are prominent inside the Zambezi Queen.
The amenities include a library, a swimming pool, and internet access. Fine dining is enjoyed in a welcoming, sophisticated dining room. And the top-deck bar is the perfect place to take in the frequently stunning night skies.
A safari on land is very different from a boat safari aboard a floating boutique hotel.
You will go through one of Africa's game-richest regions. Islands along the riverside remain green during the dry season, drawing species from all over.
You'll quickly realize that the Zambezi Queen, which runs between Botswana and Namibian waters on the Chobe River, provides a genuine hotel experience. This 45-meter-long luxury vessel glides serenely down the river. While also provides breathtaking views of Chobe National Park and the Caprivi Strip on each side.
Enjoy water-based safari activities from tender boats. Like seeing elephants (Chobe is home to one of the world's largest elephant populations), spotting birds, buffalo herds, lion pride, hippos lounging around, and much more.
Visit a nearby community on a tour to learn more about the vibrant culture of Botswana, or go on a game drive in Chobe National Park.
Following the afternoon's Botswana Safari excursion, they offer a sundowner, dinner, and breathtaking African skies.
Every evening, the Zambezi Queen is moored in Namibian waters. And provides you with the most breathtaking views of the continent's setting sun. A safari on the Zambezi Queen is smooth sailing.
The Pangolin Voyager
The Pangolin Voyager is a charming houseboat that offers boat safaris on the Chobe River. This charming houseboat is small but well-formed. It has 5 rooms, and is exclusively available for private use, making it the perfect choice for families and groups. Safaris on the water are conducted on the Voyager's tailored speedboat. Profit from the chance to go along the Chobe River in your floating residence and avoid the crowds on land.
The Pangolin Voyager is specifically made to maximize your game-watching experience.
The houseboat has three decks. With the majority of the cabins on the lower deck, dining space and living room on the middle deck, and a welcoming top deck where guests can unwind and bask in the glory of the scenery at any time of day.
The air conditioning in the rooms provides additional comfort during the summer.
The Pangolin Voyager can only be reserved for exclusive use, and a minimum of three nights must be reserved. There's space for up to 8 individuals.
The seasons affect how much wildlife can be seen along the Chobe River. Between November and April, when the "migrants" establish their yearly residence, there will be a swarm of birds everywhere.
The Caprivi floodplain ecology provides visitors with a rich and varied game-viewing experience from the river. Furthermore, it's among the top locations in Africa to observe wildlife.
It will continue to be a great time for a Botswana Photographic Safari. Because there will be plenty of baby animals and vibrant green backgrounds. As well as large mammals like elephants, buffalo, hippopotamuses, local crocodiles, and antelopes.
Elephant populations will increase throughout the (African) winter months of May to October. It's when water becomes more limited inland and the river becomes more popular with certain other animals too.
Chobe Princess Boat Cruise
Have you ever fantasized about owning a waterfront villa? When you board one of the three Chobe Princesses, this might happen. The small number of visitors per boat and the lack of a predetermined schedule create a feeling of living on a personal, well-appointed houseboat here.
Open your curtains to breathtaking sunrises, and indulge in delicious meals while taking in a panoramic view of Botswana. All while drifting down the Chobe River.
The employees will spoil you with genuine generosity and compassion and do everything they can to make your trip special.
You will cherish the wildlife viewing for the rest of your life. Several anchoring locations along the Chobe and Zambezi Rivers provide excellent opportunities for game viewing.
The Pride of the Zambezi places five luxurious en-suite cabins on its lower deck and positions one en-suite cabin on its upper deck. With fans, mosquito nets, and built-in cabinets, each cabin can be configured as a twin or double. Get ready for the day so you can watch the game from the comfort of your bed.
The chambers are wonderfully peaceful and sleekly designed. And they provide a delightful sense of tranquillity.
The centre of the boat is the middle deck, which has a dining space, a lounge, and a café that is completely furnished.
Comfy couches can be found on the upper deck (a great place to spot wildlife while sipping a cold beverage). While the boat travels down the river, every location offers magnificent sights.
You can also browse some of our other blogs as well:
Must See Botswana Destinations To Visit Before It's Too Late
Botswana Travel Guide – Everything You Need To Know About Botswana Safari
Untamed Botswana – An Unparalleled Botswana Safari Experience
Conclusion
In a nutshell, if you're burned out on the various typical Safari excursions, then ensure to hop on a Botswana Houseboat Safari. And, you'll get to have a distinctive and exclusive experience. And, it'll heighten your Botswana Safari adventure.