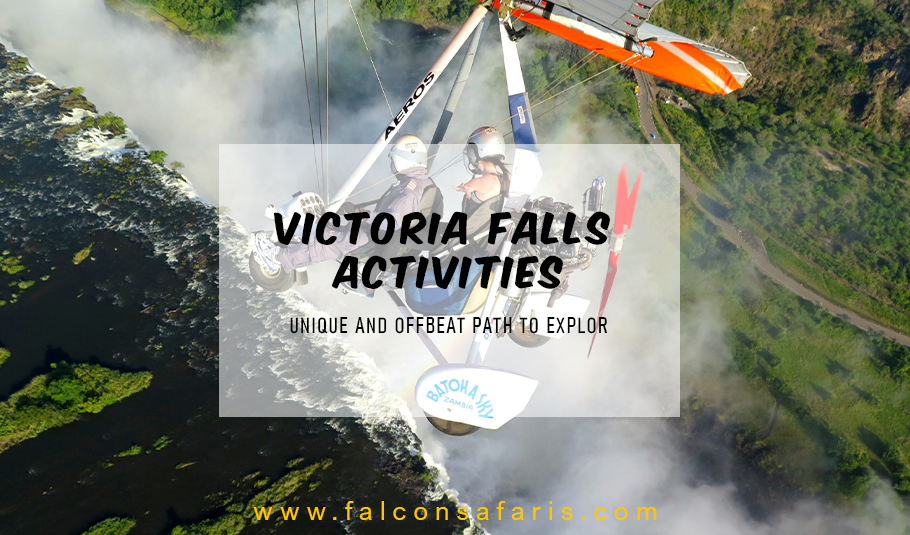 Beyond the falls themselves, there are other offbeat adventures to be had on Victoria Falls Activities . One such activity is the Helicopter Tour over the endless horizons. This provides a bird's eye view of the fall and the surrounding vistas. Want more? You can take a microlight a scenic helicopter flight for a unique adventure that's sure to get your adrenaline pumping.
Victoria Falls has its fair share of adventures too. Like bungee jumping off the Victoria Falls Bridge, zip lining over the Batoka Gorge, and white water rafting on the mighty Zambezi River.
All in all, you're meant to have a great time experiencing the offbeat Victoria Falls Activities beyond the falls. Whatever may be your cup of tea, there will be something for everyone in this wonderful corner of Africa.
Discovering the Local Culture at Victoria Falls
Discovering the local culture nearby Victoria Falls is a great way to enrich your travel experience. Also, gain a deeper understanding of the region as well. You can immerse yourself in the traditions and customs of the local people, and gain a greater appreciation for the rich history and culture of the area.here are some ways to experience the local culture Victoria Falls:
Take a guided tour of a local village and learn about the locals' traditions and way of living.
There are several cultural performances held in Victoria Falls that showcase the traditional music, dance, and dress of the local people. You can watch and admire those while on your Victoria Falls Tours.
Explore the local markets to find unique handmade crafts and souvenirs made by local artisans.
Victoria Falls is known for its diverse and flavorful cuisine. You can sample local dishes and traditional stews made with meat and vegetables.
You can visit the Victoria Falls Bridge, built in 1905, and learn about its history and impact on the local community.
Adrenaline-Fueled Activities in Victoria Falls
Victoria Falls is known as the adventure capital of Africa, and for good reason. It is a haven for adrenaline junkies by offering a plethora of adrenaline-fueled activities that will blow your mind away and provide an enduring experience. Here are some of the top Things To Do In Victoria Falls:
| | |
| --- | --- |
| Adrenaline-Fueled Activities | Descriptions |
| Bungee jumping | Bungee jumping from the Victoria Falls Bridge offers a 111-meter drop over the Zambezi River. It's an exhilarating experience that will leave you with a rush of adrenaline. |
| White-water rafting | White-water rapids are done in the Zambezi River. The rapids range from Class I to V, making it suitable for all levels of experience |
| Zip lining | Experience the thrill of soaring above the treetops on a zip line tour. You'll get a bird's-eye view of the stunning landscape surrounding Victoria Falls. |
| Devil's Pools | For the ultimate adrenaline rush, swim to the edge of Victoria Falls and peer over the edge into the Devil's Pool, a natural rock pool located at the top of the falls. |
| Helicopter tours | Take a scenic helicopter tour over Victoria Falls and get a unique perspective on one of the Seven Natural Wonders of the World. |
| Microlight flights | If you want to feel the wind on your face and experience the thrill of flying, take a microlight flight over Victoria Falls. |
| Gorge swing | Swing over the Batoka Gorge on a 95-meter high wire and experience a heart-stopping free-fall before swinging back and forth over the gorge. |
Wildlife Encounters At Victoria Falls
Victoria Falls is not just about thrilling adventures and stunning scenery, it's home to a diverse range of wildlife, offering visitors a chance to have some incredible wildlife encounters. For example:
You can go on safari game drives in one of the nearby national parks, such as Mosi-oa-Tunya National Park, Chobe National Park or Hwange National Park. You'll have a chance to see a wide variety of wildlife, including elephants, lions, giraffes, and many more.
Get up close and personal with the wildlife on a walking safari. Led by experienced guides, you'll have the opportunity to learn about the local flora and fauna and encounter wildlife in their natural habitat.
Interact with these gentle giants on an elephant encounter experience. You'll have the chance to learn about elephant behaviour, feed them, and even take a ride on their backs.
Visit a crocodile farm and learn about the behaviour and habitat of these prehistoric creatures. You can also witness feeding sessions and even hold a baby crocodile.
Victoria Falls is home to over 450 bird species, making it a paradise for birdwatchers. You can go on a guided birdwatching tour to spot some of the rare and endemic bird species in the area.
Head to the nearby Mosi-oa-Tunya National Park and track endangered white rhinos with experienced guides.
Victoria Falls is a treasure trove of wildlife experiences, offering visitors the opportunity to see some of the most incredible animals in their natural habitat. Whether you choose a game drive, a walking safari or an elephant encounter, a wildlife encounter in Victoria Falls is sure to be an unforgettable experience.
Scenic Flights and Helicopter Tours
While going on a Victoria Falls Tour, visitors will be offered scenic flights and Helicopter Tours Of Victoria Falls. Those companies allow visitors to take in the spectacular views from above. They can be offered a range of flights and tours, including helicopter flights over the falls, microlight flights over the gorge, and fixed-wing flights over the Zambezi River. They also offer combination packages that include multiple activities.
The guests can be taken over the falls, the Zambezi River, and the surrounding area. These helicopter tours offer spectacular views of the landscape and wildlife below. Though, scenic flights and helicopter tours can be expensive, they offer a unique perspective experience of Victoria Falls.
Pro Tips: Visitors should also be aware of the potential safety risks associated with air travel and should only book tours with reputable companies that prioritize safety.
Relaxation and Wellness in Victoria Falls
In addition to its stunning natural beauty, Victoria Falls also offers visitors the opportunity to relax and rejuvenate with a range of wellness activities. Here are some options:
Spa treatments: Many hotels and resorts in the area offer spa treatments, including massages, facials, and body treatments. Some spas also incorporate traditional African healing practices and ingredients.
Yoga and meditation: Several hotels and wellness centres offer yoga and meditation classes, often with views of the falls and surrounding nature.
River cruises: A relaxing way to take in the scenery and wildlife around Victoria Falls is by taking a sunset or dinner cruise on the Zambezi River.
Nature walks: Walking through the nearby nature reserves and national parks is a great way to connect with nature and relax in a peaceful environment.
Outdoor activities: For those who prefer a more active approach to wellness, there are plenty of outdoor activities available, such as white-water rafting, bungee jumping, and zip-lining.
Victoria Falls offers a range of opportunities for relaxation and wellness, whether you prefer a quiet yoga class or an adrenaline-pumping adventure.
Cultural Performances in Victoria Falls
Apart from many breathtakingexperiences to get from Victoria Falls Tours, the cultural experience is unique to get engage with. The locals live in the surrounding area of Victoria Falls. By visiting them, you can learn many things about those indigenous people and their rich culture. Check out some cultural performances and experiences given below:
Many hotels and resorts in the area offer traditional dance performances, where local dancers showcase their skills in colourful costumes.
Several tour companies offer guided tours of nearby villages, where visitors can learn about the local customs, traditions, and way of life. By working with us, you can get these opportunities easily.
There are several craft markets in the area where visitors can purchase handmade goods, such as baskets, carvings, and textiles.
Throughout the year, there are several music festivals and events that celebrate African music and culture. You can also participate in them while on your tours to Victoria Falls.
Food and Drink Tours in Victoria Falls
Victoria Falls is not only famous for its scenic beauty and cultural experiences, but also for its delicious food and drink. By taking part in these food and drink tours and experiences, visitors can enjoy the delicious flavours of Zimbabwe. For example:
Zimbabwe has a growing craft beer scene, and there are several breweries in the area that offer tours and tastings.
Several hotels and restaurants in the area offer wine tastings, with a focus on South African and Zimbabwean wines.
Afternoon tea is a British tradition that is popular in Zimbabwe. Several hotels and restaurants in the area offer high tea with a local twist.
Watching the sunset Victoria Falls while sipping on a cocktail. Local beer is a must-do experience in the area. The view is a must-do experience in the area.
Get immersed in this adventure hub- Victoria Falls!
Victoria Falls is a world-renowned natural wonder that attracts visitors from all over the globe. While the falls themselves are undoubtedly the main attraction. There is so much more to see and do in the surrounding area. From scenic flights and helicopter tours to cultural performances and food tours. There are plenty of unique and offbeat activities to explore beyond the falls.
So come and discover the unique and offbeat path With Falcon Safaris and create everlasting memories! No matter what your interests are, there is something for everyone to discover beyond the falls with us.Whether you're seeking relaxation, adventure, cultural immersion. We will plan a wealth of activities and experiences for you to explore.