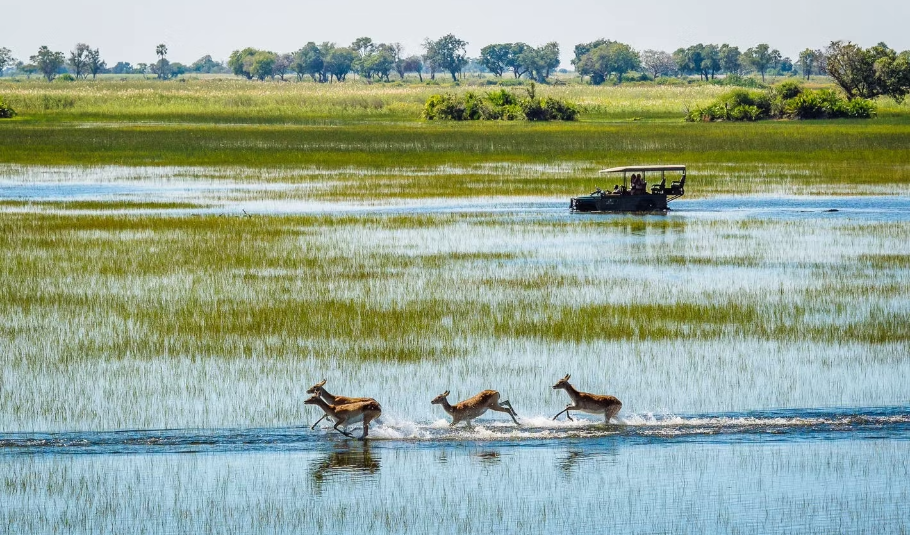 When should you plan your Okavango Delta adventure? Well, here's the scoop – the Best Time To Visit Okavango Delta is from June to August and then from September to October. These months offer an unbeatable blend of permanent wetlands and a wealth of resident wildlife. But hold on, there's more to this story.
Now, let's talk about the rainy season, which stretches from November to April. During this time, the Delta undergoes a remarkable transformation. It shifts from being a fantastic birdwatching destination to an absolutely sensational one. So, When Is The Best Time to Visit the Okavango Delta? The answer is – it's incredible throughout the year.
Experiencing the Okavango Delta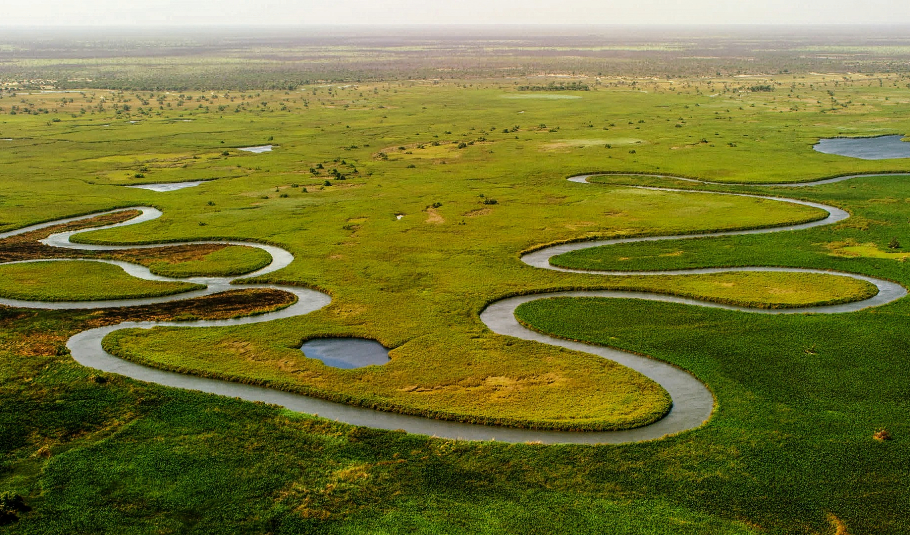 Before we dive into the Best Time To Visit Okavango Delta, let's briefly understand what makes this destination so special.
This vast inland delta, formed by the Okavango River, creates a unique haven in the heart of the Kalahari Desert. It's a place where seasonal floods transform a semi-arid landscape into a lush mosaic of channels, lagoons, and islands, attracting an abundance of wildlife.
Understanding The Seasons of Okavango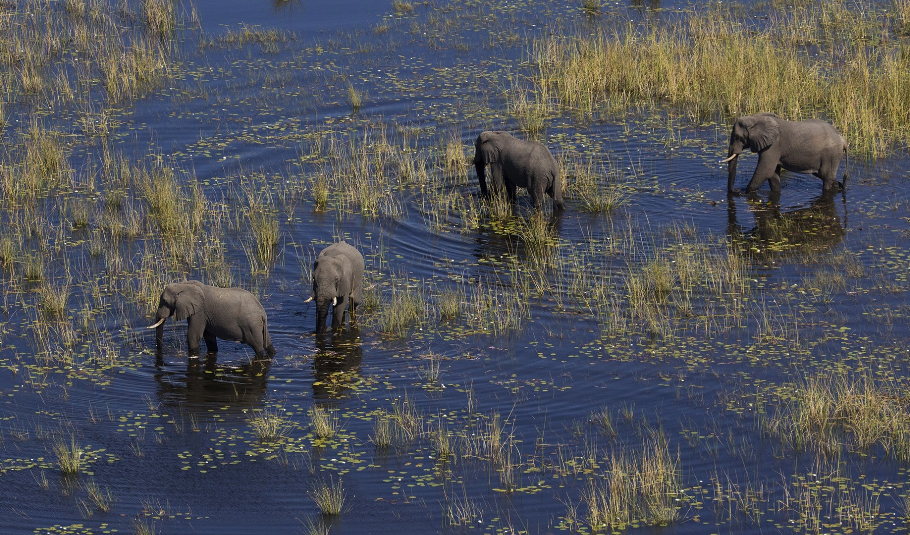 Though every season sounds fair and good for visit but how do you know When Is The Best Time To Visit The Okavango? Well, there are two seasons to choose from: Dry and Wet season (Early wet season and Green season).
Most tourists opt for the dry season, and it's a great choice. But don't dismiss the rainy season too quickly. In fact, it has its own charms.
During the wet season, you'll find fewer tourists, creating a more intimate experience. Plus, many Okavango Delta Accommodations offer flexible child policies during this time.
Even when they're full, the Delta's cozy camps and lodges never feel overly crowded. So, whether you prefer dry or wet, you're in for a memorable journey.
And, here's short introductions of these tourist Seasons Of Okavango:
#Dry Season (May to October): This is when the Delta takes on a more arid character. It's the prime time for wildlife watching, with animals gathering around the water sources.
Think lions, elephants, and buffalo. This is generally considered the Best Time To Visit Okavango Delta.
#Early Wet Season (November to December): During this period, the first rains start to fall, marking the beginning of the wet season.
While it's not as wet as the peak wet season, it's a fantastic time for birdwatching. Many animals give birth to their young during this time.
#Green Season (January to April): This is the heart of the wet season when frequent rainfall transforms the Delta into a lush paradise.
The landscape turns vibrant green, migratory birds arrive, and the Delta bursts with life. It's a great time for photography, birding, and enjoying the tranquillity of the Delta.
Top of Form
| | | |
| --- | --- | --- |
| Various Aspects | Dry Season (May – Oct) | Wet Season (Nov – April) |
| Tourist Flow | High | Lower, less crowded |
| Weather | Clear skies, warm days, cool nights. | Occasional thunderstorms, lush greenery |
| Wildlife | Abundant, concentrated around water sources | Wildlife dispersed, more birdlife |
| Activities | Ideal for game drives, boat safaris, and mokoro trips | Game drives possible, road conditions may be challenging |
| Highlights | Witness large animal gatherings, crystal-clear visibility | Experience lush green landscapes, vibrant birdlife, and baby animals |
Best Time For Wildlife and Bird Watching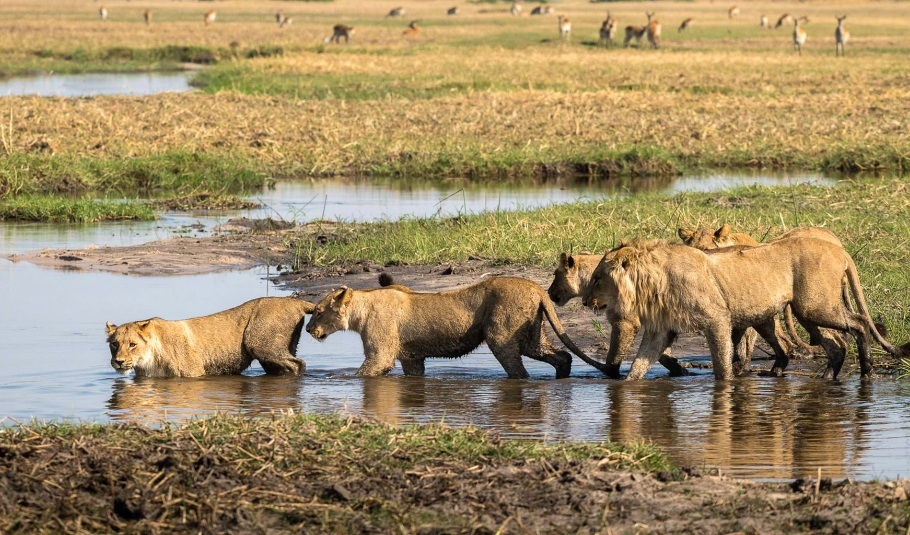 The Best Time To Visit The Okavango Delta In Botswana for wildlife and bird watching is largely depends on your preferences:
If you're eager to see iconic African mammals in action, such as the Big Five (elephant, lion, leopard, buffalo, rhinoceros), the dry season (May to October) is your best bet.
If you're a bird enthusiast or enjoy seeing baby animals, visiting in the early wet season (November to December) can be rewarding.
For a unique and peaceful experience, the green season (January to April) is a photographer's dream. The Delta's lush landscapes and vivid colors make it a fantastic time for capturing the beauty of nature.
Best Time For Different Activities and Experiences
Your choice of activities and experiences can also influence the Best Time To Visit The Okavango Delta. Here are some suggestions:
| | | |
| --- | --- | --- |
| Activity/Experiences | Best Time To Visit | Season |
| Wildlife Viewing | Dry Season (May-Oct) | Dry Season |
| Bird Watching | Green Season (Jan-Apr) | Wet Season (Early Wet Season and Green Season) |
| Game Drives | Dry Season (May-Oct) | Dry Season |
| Mokoro Safaris | Wet Season (Nov-Apr) | Wet Season (Early Wet Season and Green Season) |
| Photography | Anytime | Year-round |
| Interacting with Locals | Anytime | Year-round |
Keep in Mind: While certain activities are more suitable during specific seasons, the Delta's natural beauty and wildlife offer something special year-round.
Tips for a Memorable Visit To Okavango Delta
Hopefully, you have a better understanding of the Okavango Delta Seasons and what each has to offer. Now, we're providing some tips to help you plan a memorable Safari In Okavango Delta:
Book in Advance: The Okavango Delta is one of the Best Botswana Destinations. So it's wise to book your accommodations and activities well in advance, especially during the peak dry season.
Pack Appropriately: Depending on the season you choose, pack suitable clothing and gear.
Travel Insurance: Consider purchasing travel insurance to cover unexpected events like trip cancellations due to weather-related issues.
Respect Wildlife: Always remember that you are a guest in the animals' habitat. Maintain a safe distance, follow your guide's instructions and make the Best Okavango Delta Wildlife Safari Tours.
Connect with Locals: Take the time to interact with the local communities and learn about their culture and traditions.
Make Memories in Every Season – Okavango Calls You!
So, there you have it – a glimpse into the magic of the Okavango throughout the year. No matter which time of the year you choose, get ready to be surprised by every season as the Best Time To Visit Okavango Delta In Botswana. And here's a tip to make your journey even more extraordinary – consider booking your trip with Falcon Safaris. With our expertise and passion for preserving the Delta's natural wonders, we can turn your Okavango dreams into a reality. So, don't wait any longer. Choose your ideal season, plan your Botswana Safari Tours adventure – the time is now!