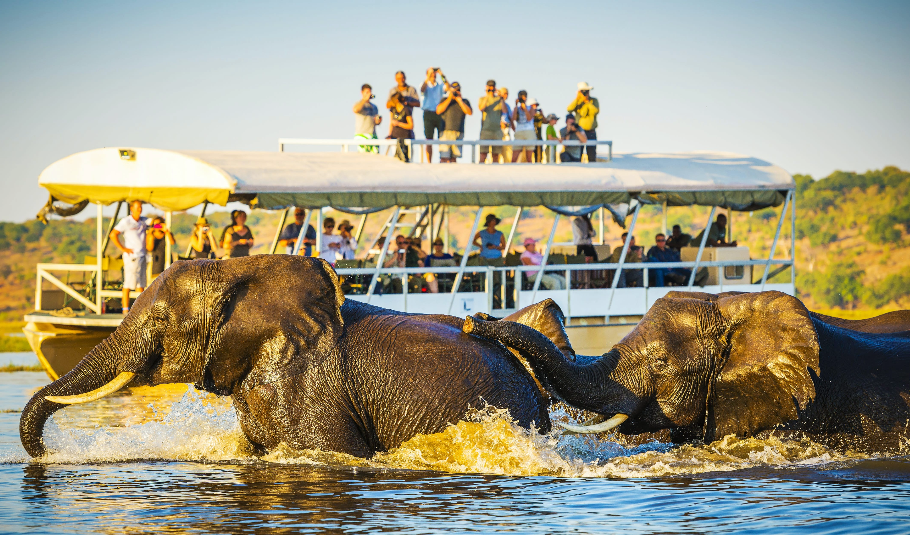 The wonders of Africa are vast and diverse, and one of the must-visit locations is Chobe, Botswana. Known for its breathtaking landscapes and abundant wildlife, there are numerous Things to Do in Chobe National Park, from safari tours to river cruises.
The region offers a variety of Botswana Attractions and Activities, making it an ideal destination for travellers seeking adventure, nature, and culture. This blog will guide you through the top 10 activities and attractions you can explore in and around Chobe on Botswana Safari Tours.
Ten Things to Do in and Around Chobe
From river safaris that put you face-to-face with Africa's majestic elephants to market visits offering a glimpse of local life, Chobe offers a well-rounded trip you will never forget.
Here is the list of the top ten Best Things to Do in Chobe National Park.
1. Take a Boat Safari
The incredible Chobe River is the main reason to explore Kasane and the surrounding Chobe Region. This river not only forms Botswana's border with Namibia but also offers some of the best wildlife sightings in the country.
Best Time to Go: Either during a sundowner cruise in the evening or a private boat ride early in the morning.
Where to Stay: Many Kasane lodges offer boat safaris, but the Chobe Safari Lodge gives you the most accessible access to the park.
Don't miss the chance to see Africa's highest concentration of elephants and much more on your boat safari. This is one of Botswana's Best Things to Do and a must-add to your Botswana Travel Packages.
2. Go on a Land Safari
After exploring the aquatic life, it's time to get up close with wildlife on land. Chobe National Park is Botswana's third-largest conservation area and houses Africa's largest elephant population.
Animal Encounters: You will likely see elephants and predators like lions and leopards.
Duration: Most lodges offer three-hour game drives, perfect for a half-day adventure.
High Elephant Population: With an estimated 120,000 elephants, your chances of spotting these majestic creatures are high.
This land safari offers a different lens to experience the rich Botswana Attractions and Activities. It doesn't matter if you look forward to viewing elephants and predators; a land safari should be on your Things to Do in Chobe list.
3. Discover Nearby Namibia
To explore beyond Botswana's borders, take a short boat ride across the Chobe River to Impalila Island in Namibia. Experience local life on these 26 km-long islands that house a population of 2,100.
Local Culture: Take a guided tour through a village, showcasing traditional buildings made from sand and reeds.
Off-The-Grid: The island doesn't have electricity, offering a glimpse into a different way of life.
Close Proximity: It's just a short boat ride from the Chobe River, making it easily accessible.
Adding a day trip to Impalila Island will give you a unique experience beyond the usual. It's a small step into another country but a giant leap into understanding regional cultures. Thus, making it a noteworthy inclusion in your Botswana Travel Packages.
4. Experience Starlit Dining on the Chobe River
If buffets are getting monotonous for you, switch things up with a romantic dinner cruise on the Chobe River. Enjoy the peaceful night ambience with delectable food and a backdrop of twinkling stars.
Romantic Setting: The cruise features candle-lit tables, creating an intimate atmosphere.
Starry Skies: Use the boat's upper deck for stargazing between courses.
Nocturnal Symphony: Listen to the sounds of nature as you dine, enhancing the experience.
Don't miss this once-in-a-lifetime romantic experience under Botswana's night sky. It's more than just a meal; it's a journey through nature's wonders, making it one of the Best Things to Do in Botswana.
5. Capture Wildlife Like A Pro on Pangolin Photo Safari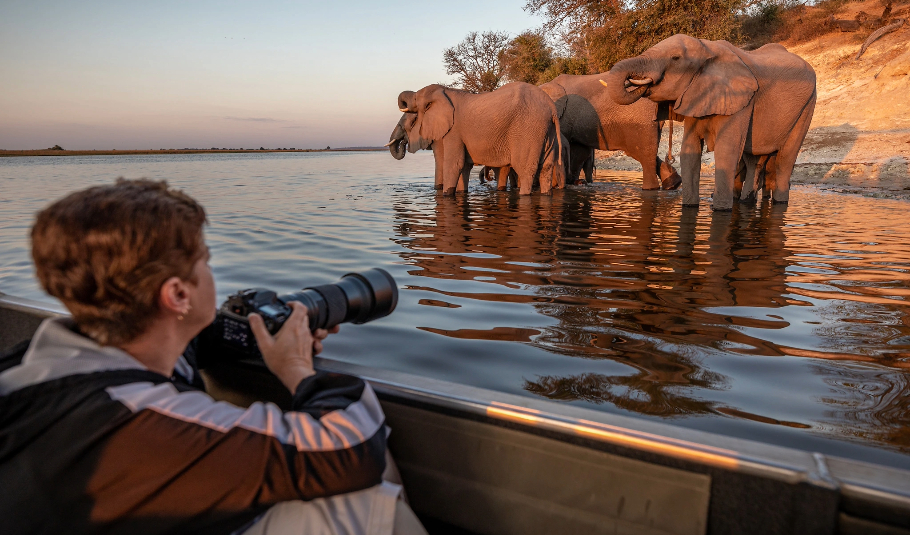 Looking to capture some stunning wildlife photos in the Chobe region? A specialised Pangolin photo safari is your ticket to incredible images. These three-hour tours on the Chobe River give you expert guidance and top-notch equipment for capturing the perfect shot.
Stable Boats: Specially designed boats minimise motion, ensuring clear, sharp photographs.
High-End Gear: Every guest is provided with a DSLR camera equipped with a 600mm zoom lens.
Expert Guidance: Experienced guides will give tips on focusing, timing, and adjusting settings as lighting changes.
If you're serious about wildlife photography, this is an Adventure Activity in Botswana you can't afford to miss. It's a unique way to engage with Chobe National Park Activities.
6. Discover Local Treasures at Kasane Market
Kasane's bustling street markets offer everything from vibrant fabrics to local delicacies. It's a great place to absorb local culture and pick up a unique gift on your Chobe National Park Safari.
Variety of Goods: Find everything from colourful cloth to dried fish and even edible mopane worms.
Affordable Transport: Taxis are easy to find and reasonably priced for when you're ready to head back.
Safety Tips: Remember, Kasane is open to Chobe National Park. Always stay aware of your surroundings.
Visiting the Kasane market is a unique way to experience local culture and shop for one-of-a-kind gifts.
7. Explore History at the Kasane Baobab
Right next to Kasane's police station, you'll find an ancient baobab tree used as a jail during the colonial era. Visit to learn about its fascinating history and multiple uses over the years.
Historic Importance: This baobab was a makeshift jail and even a post office!
Location: Conveniently located opposite the small mall that houses the Choppies grocery store.
Visiting the Kasane Baobab is not just a walk near a tree; it's a journey into the country's intriguing past. It's undoubtedly one of the Things to See in Botswana you won't want to miss.
8. Enjoy Sunset Drinks at Sedudu Bar Top of Form
Unwind with a chilled St Louis, the local beer, while basking in the glow of the setting sun over the Chobe River. This rustic bar is part of the Chobe Safari Lodge and offers a close-up view of Chobe National Park's natural beauty as dusk falls.
Best Time to Visit: Sundown, for obvious reasons.
Location: The bar is nestled within Chobe Safari Lodge's campsite.
If you're after a serene ending to your day in the Chobe area, spending it at Sedudu Bar is a prime choice. As one of the laid-back Things to Do in Kasane, it's a tranquil alternative to a Chobe National Park Safari.
9. Explore Birdwatching by the Chobe River
Chobe is a birdwatching paradise with over 450 types of birds. The summer months bring vibrant migratory birds to the riverbanks. Whether on a boat or land, you'll hear the cries of fish eagles and spot rare birds like the African Jacana, commonly known as the 'Jesus bird.'
Best Time to Visit: Summer for colourful migrants.
What to Bring: A checklist and binoculars for a wholesome experience.
If you want to engage in Things to Do in Chobe National Park, which is relaxing and educational, don't miss the birdwatching opportunities.
10. Take a Day Trip to Victoria Falls
Known in Tonga as 'The Smoke Which Thunders,' Victoria Falls never disappoints. Visible mainly from Zimbabwe, the park offers 16 unique viewpoints. It's an easy day trip from Kasane that you won't forget.
Best Time to Go: The falls are majestic, even during low water seasons.
Where to Eat: Grab some lunch under the shade at the adjacent Rainforest Cafe.
Victoria Falls Day Trips are a spectacular addition to your list of Things to Do in Botswana. Visiting here can be the cherry on top of your Botswana Safari Tours.
Endless Adventures Awaits at Chobe Top of Form
Before you dive into the endless Things to Do in Chobe National Park, Botswana, remember a few essential considerations.
Pula is your go-to currency when coming for Botswana Safaris; the best wildlife viewing is from April to October.
Direct flights to Kasane Airport make the journey easy, and our Botswana Safari Tours often offer convenient airport shuttles. Now, you're all set to experience Chobe's distinctive wonders!Top of Form