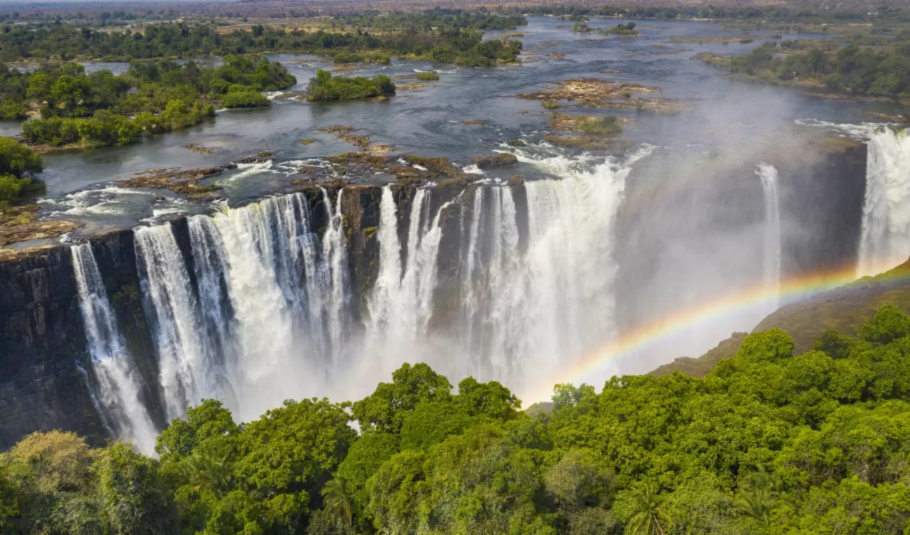 Navigate the stunning landscapes of Zimbabwe's crown jewel with our comprehensive guide to Victoria Falls in 2024. Drenched in natural beauty, Victoria Falls presents a glorious panorama that leaves spectators in awe. Whether you are captivated by its powerful cascades, intrigued by its rich biodiversity, or excited by the thrill of adventure activities, our guide ensures your Victoria Falls Tours are cherished forever.
From securing the right visas to choosing the perfect accommodation, we've covered every detail in this blog post to make your journey effortless. Delve into Zimbabwe's majestic appeal and unravel the mystique of Victoria Falls with Falcon Safaris.
How to Visit the Zimbabwean Side of Victoria Falls?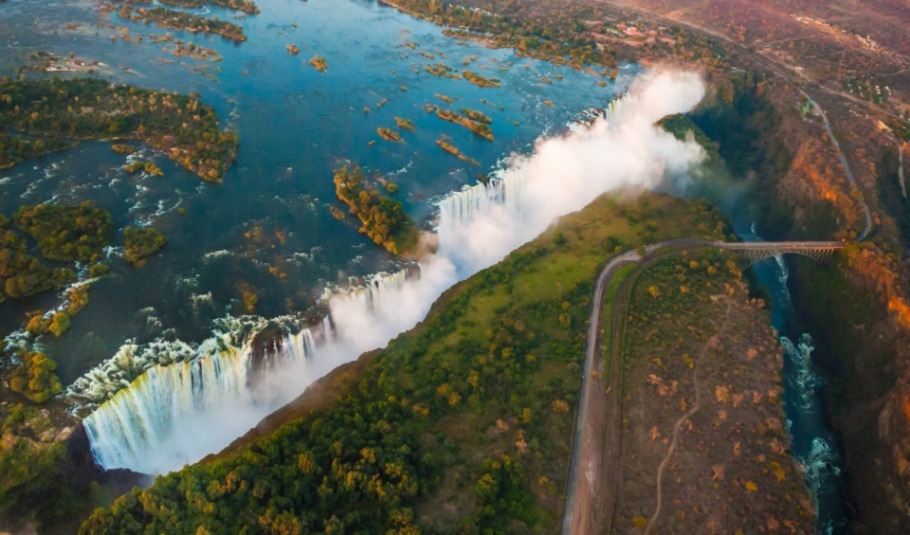 Let's begin by addressing a common point of confusion among travellers coming on Victoria Falls Tours – the town and the waterfall both bear the same name: Victoria Falls.
The waterfall is nestled a bit outside the town's limits, whereas most Victoria Falls Accommodations and facilities like restaurants are conveniently located within the town itself. Moreover, the Victoria Falls Airport, which also shares the name, is a quick 20-minute drive from the town.
"The most impactful place that I've been to where I was just completely awestruck, happy, and moved is Victoria Falls between Zambia and Zimbabwe. It is probably the most beautiful and romantic place in the world." — Hill Harper, American Actor
How to Get to Victoria Falls Zimbabwe?
Getting to Victoria Falls (here we are talking about the waterfall), Zimbabwe is as easy as strolling down the main road through the town centre. About a 15-minute walk from the town centre and you will find entry to Victoria Falls Park, the site of the waterfall. There is a small parking lot near the park's entrance where there are a few vendors selling refreshments and souvenirs.
Entrance Fee and Park Information
The Victoria Falls Park entrance fee depends on the nationality and age of the traveller.
The entrance fee for non-Zimbabwean adults is $50.
Fee payable in USD, euros, or by card (5-6% charge).
The fee covers single entry only – you'll need to pay again to re-enter.
Summer Opening Hours- 6 am – 6 pm
Winter Opening Hours – 6:30 am -6 pm
What to Expect when you enter Victoria Falls Park?
As you start your Victoria Falls Tour, park staff will guide you to a trail for a self-guided trip. This Victoria Falls Excursion covers 16 unique viewing spots. You'll first stop near the David Livingstone statue, then continue to the other 14 spots.
Usually, Victoria Falls Day Tours take around one to two hours, giving you plenty of time to enjoy the stunning falls.Falcon's Suggestion: While planning your Victoria Falls Itinerary, consider a brief visit to the bridge that links Zimbabwe to Zambia. You can enter the bridge without needing to buy a Zambian visa by telling the border guards you're only crossing for the view. If you've acquired a Kaza Univisa, you'll have no problems, but don't forget your passport!
Plan your Victoria Falls Day Tours to enjoy the falls at a leisurely pace.
Best Time to Visit Victoria Falls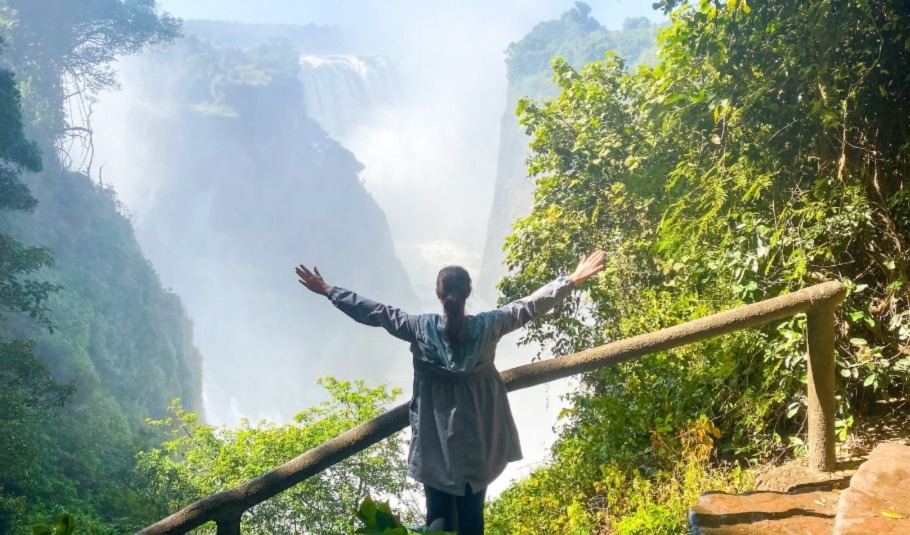 Deciding the Best Time to Visit Victoria Falls can greatly enhance your experience. The season you choose should align with the Victoria Falls Activities you wish to engage in and the sights you hope to see. Here's a closer look at how the different times of year impact your visit:
If you are eager to see the might of the falls in all their glory, the rainy season from November to April would be ideal.
This period transforms the falls into Mosi-oa-Tunya or 'The Smoke that Thunders'. Expect a stunning spectacle of 625 million litres of water cascading over the edge every minute, creating an upward rainstorm and an echoing roar.
Many consider June or July to be the Best Time to See Victoria Falls. These months strike a balance between the voluminous water flow and clear visibility, giving visitors a chance to fully appreciate the grandeur of the falls.
Adventure enthusiasts keen on walking across the top of the falls should aim for the peak dry season between September and November. However, during this time, you are more likely to see rock faces than cascading waterfalls from the viewing platforms.
Align your Victoria Falls trip with the season that best suits your preferences, Chat with our expert now!
Exploring the Best Victoria Falls Activities and Tours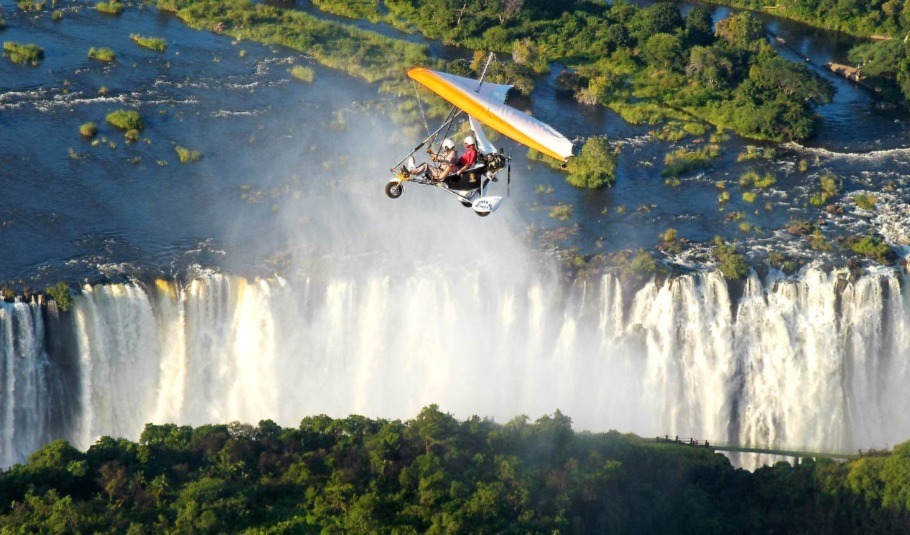 While a significant part of your journey will certainly involve marvelling at the iconic falls, there's a rich variety of Things to Do in Victoria Falls that are sure to make your trip even more memorable.
White Water Rafting Victoria Falls
This isn't for the faint-hearted, but if you love thrilling adventures, experiencing the powerful grade-five rapids of the Zambezi River will get you as close as possible to the falls.
Remember, safety comes first, so opt for reliable Victoria Falls Tours which prioritize safety without compromising the excitement.
Victoria Falls Helicopter Tours
Regarded as a 'bucket-list' experience by many, Victoria Falls Helicopter Tours are an unbeatable way to witness the majesty of the landscape. While not the cheapest activity, the breathtaking views make it worth every penny.
Sunset Tour on the Zambezi River
This popular Victoria Falls Excursion takes you on a serene journey down the river at sunset, accompanied by unlimited drinks and snacks.
Bungee Jumping from Victoria Falls Bridge
If you're up for an adrenaline rush, try the 111m Victoria Falls Bungee Jump. Although not for everyone, this is considered one of the best jumps in the world.
For those who won't be visiting the Zambian side, a Victoria Falls Bike Tour that takes you through a local township, over the border bridge, and along the Zambezi is a fantastic option.
Chobe National Park Day Trip
Ideal for wildlife enthusiasts, this Chobe Day Trip from Victoria Falls offers river and 4×4 safaris in Botswana's Chobe National Park.
These Victoria Falls Tours provide a plethora of options for travellers of all tastes and temperaments, ensuring your trip to this natural wonder is packed with unique experiences. For more exciting options, check out our guide on Victoria Falls Activities.
Discover your perfect Victoria Falls adventure by connecting with our experts today!
Victoria Falls Accommodations
Victoria Falls boasts an array of accommodations fitting any traveller's preferences and budget.
These range from the opulent Victoria Falls Hotel, providing a taste of colonial charm, to the eco-friendly Victoria Falls River Lodge, which offers a unique safari experience. For a spectacular view of local wildlife, consider staying at the Vic Falls Safari Lodge.
Options also abound for self-catering accommodations and luxury stays, like the Victoria Falls Lodge. The diversity in the offerings accommodates different price points, making Victoria Falls an accessible destination for many.
For a deeper dive into the options available, please visit our Victoria Falls Accommodations page.
Your Victoria Falls adventure begins with the perfect stay. Discover more now!
How to Get to Victoria Falls?
The most convenient way to start your Victoria Falls Excursions is by air. There are multiple weekly flights from cities such as Harare, Cape Town, Johannesburg, Windhoek, and Addis Ababa. Those visiting from other continents, and planning for Day Trips from Victoria Falls, will typically connect through these airports.
On arrival at Victoria Falls Airport, taxi services are available and can be organized at the information desk. The trip takes about 20-30 minutes and costs approximately USD 30.
Here's a helpful tip from Falcon: If you're looking to save some money on your Victoria Falls Tours, especially when travelling alone or with a partner, consider booking our pre-arranged Victoria Falls Airport Transfer Service online at least 24 hours before your arrival. Make sure to schedule your pick-up time properly and inform us in case of any potential flight delays. This will ensure that your Tours to Victoria Falls start smoothly.
Keep in mind that the immigration process at Victoria Falls Airport can be time-consuming, as many travellers need to secure visas on arrival. This often results in lengthy queues which may slightly delay the beginning of your Tour to Victoria Falls.
Fly with ease to Victoria Falls - Book your airport transfer now!
What Visa Do You Need for Zimbabwe?
As a traveller arriving at Victoria Falls Airport, Harare Airport, or the Kazungula and Victoria Falls Road Borders, you should consider obtaining the KAZA Uni-Visa.
This visa is a smart choice for those considering Victoria Falls Tours as it facilitates easy travel between Zambia and Zimbabwe. The KAZA Uni-Visa permits up to 30 days of stay in either or both nations, and it also encompasses day excursions to Chobe National Park in Botswana.
This is particularly beneficial if you have a Victoria Falls Tour Package that includes tours in and around Victoria Falls regions. Moreover, the KAZA Uni-Visa is expected to evolve into a "universal visa", potentially including entry to Angola, Botswana, and Namibia in its second phase, with more Southern African countries joining in the third phase.
Therefore, it's a promising choice for anyone planning their Victoria Falls Travel Packages offering greater flexibility for your Victoria Falls Itinerary.
Ready for your Victoria Falls adventure? Don't forget to secure the right visa for smooth and exciting Trips to Victoria Falls!
What to Pack for Victoria Falls?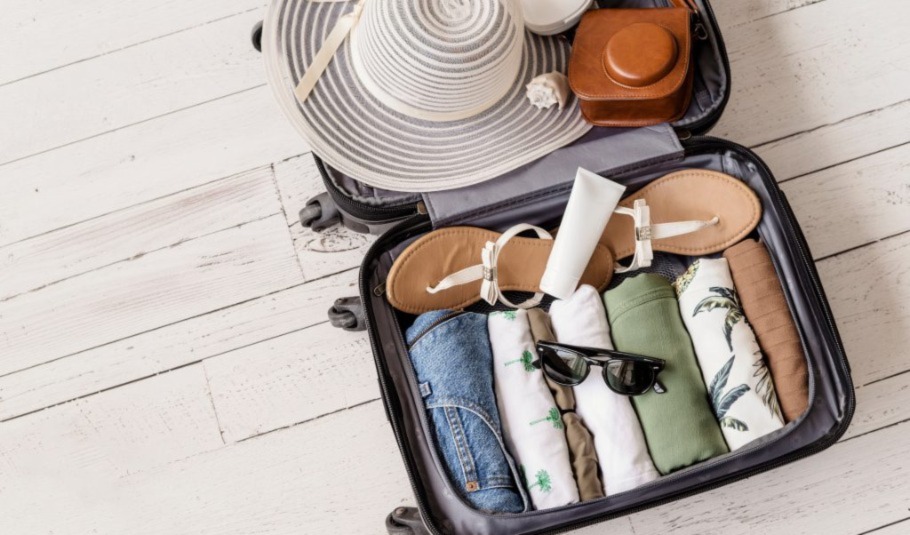 It's important to know What to Pack for Victoria Falls during the preparation phase to ensure a comfortable, safe, and enjoyable journey. Here are some essentials to include:
Sunscreen. Given the high temperatures in the region, even in winter, it's crucial to protect your skin with a good, waterproof sunscreen.
Mosquito Repellent. Despite the necessity of anti-malarial medication, it's advisable to avoid mosquito bites as much as possible. Consider packing a natural, effective repellent.
Waterproof Jacket/Poncho. If you're visiting during the rainy season, you'll want to pack a waterproof jacket or poncho. It's an essential item for your Victoria Falls Day Trip.
While available at visitor centres, purchasing in advance can be more cost-effective and environmentally friendly.
GoPro. A GoPro camera is invaluable for capturing the memories of your Trips to Victoria Falls without risking water damage to your primary camera, particularly near the world's largest waterfall.
Waterproof Phone Case. Protect your phone with a waterproof case – a small investment that can prevent potential damage.
Practical Shoes. Comfortable, grippy shoes that can handle getting wet are ideal for your Tours to Victoria Falls. Although pathways are paved, practical footwear ensures comfort throughout your journey.
Water Filtration Bottle. A water bottle with a built-in filter is an environmentally-friendly solution that ensures you have safe water to drink.
Excited for your Victoria Falls adventure? Ensure a memorable and hassle-free experience by packing these essentials for your Victoria Falls tour!
Discover the Spectacle of Victoria Falls with Falcon Safaris!
Let your wanderlust guide you on an exceptional journey with Falcon Safaris Victoria Falls Tours. We ensure every Victoria Falls Tour Package is designed to impress, inspire, and create unforgettable memories. Your adventure is a call away—contact our experts today!