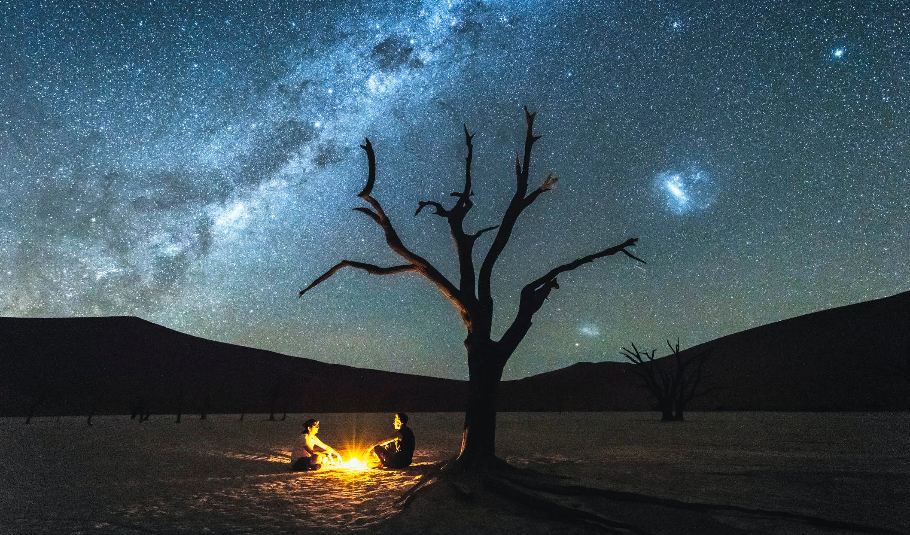 If you're fascinated by stars and constellations, the Kalahari Desert in Botswana should be on your must-see list. Want to know why? This is because it is one of the few places on Earth with almost no light pollution, making it a top spot for stargazing. Its exceptional dark skies have increased the popularity of Kalahari Holiday Tours for stargazing enthusiasts.
But the Kalahari isn't just for star lovers. It's also a perfect destination for a rich and varied adventure. From the unique wildlife to the stunning landscapes, these Botswana Safari Tours offer a one-of-a-kind experience that complements the heavenly night skies.
Why Choose the Kalahari for Stargazing?
The Kalahari Desert has a sky quality meter score of 21.9 (out of a maximum of 22), symbolising complete darkness). With this almost perfect score, it's no wonder why Kalahari Tours attracts stargazers and astronomers globally. Moreover, you can see constellations like the Southern Cross that you can't easily see elsewhere during Kalahari Holiday Tours.
Did you know? 
National Geographic named the Kalahari Desert, or the! Ae! Hai Kalahari Heritage Park has been one of the top places to visit in recent years. Why?

Because it's one of the very few places on Earth designated as an International Dark Sky Sanctuary, there is hardly any light or noise pollution. The sky is mostly clear of clouds throughout the year, making it an ideal spot for stargazing.
Best Time to Visit Kalahari Desert
The dry season from April to October offers the most transparent skies. These are winter months in Botswana when the sky is clear, and stars shine at their brightest.
Also, these months have the slightest rain so you can make the most of your Kalahari Holiday Tours. Even though Safaris in Botswana are most popular this season, the Kalahari Desert remains less crowded.
This is because, the Kalahari is large and isn't usually considered a typical wildlife-watching spot. So you can enjoy a quieter, more peaceful experience away from the crowds.
Luxury Accommodation in the Desert
Without a doubt, you'll need a comfortable place to stay when you're not busy staring at the sky. The Central Kalahari Game Reserve houses luxurious lodges tailored for those seeking both comfort and a magnificent stargazing experience.
One notable location is the Kalahari Plains Camp. This luxurious camp ensures that every guest is well-catered for. Each of its eight tents has been recently renovated and now includes its stargazing deck.
Picture yourself finishing dinner, then wrapping up in a blanket with a drink in hand, gazing at the vast night sky. If you are curious about the constellations, the camp rangers are well-versed in astronomy and will happily guide you through the night sky with a laser pointer.
Our Botswana Safari Packages offered at Falcon Safaris often include luxurious accommodations. Discover more by exploring our Botswana Accommodations Page now!
Self-Drive Holiday in the Kalahari
One of the best things about choosing Central Kalahari Tours is the option for a self-drive holiday. You can explore the Makgadikgadi Salt Pans and the greater Kalahari Desert at your own pace. Botswana is an excellent place for your first self-drive safari experience, allowing you to explore as you wish.
Birdwatching Opportunities
Stargazing isn't the only activity here. The area around Nata Lodge is a birdwatcher's paradise. During your Central Kalahari Wild Tours, you can see several species, like the helmeted guineafowl and the glossy starling.
If you're interested in birds, visit during the wet season. The flooding of the Nata Sanctuary attracts flamingos and pelicans for breeding. Seeing the Central Kalahari Game Reserve is a different but equally compelling reason.
Falcons' Insight: To make the most of your trip, consider Botswana Travel Packages. These packages often include stargazing and birdwatching activities, making them perfect for anyone looking to experience the Kalahari's dual attractions.
Your Ticket to Stars and Adventure
When it comes to stargazing and experiencing nature, the Kalahari Desert is the place to go. You'll get the best sky views on your Kalahari Holiday Tours. Plus, our Botswana Safari Tours make seeing more than just stars easy. From birdwatching to comfy stays, we've got it all covered.
Want to experience stargazing in the Kalahari Desert? Check out Falcon Safaris for travel plans that fit you best.