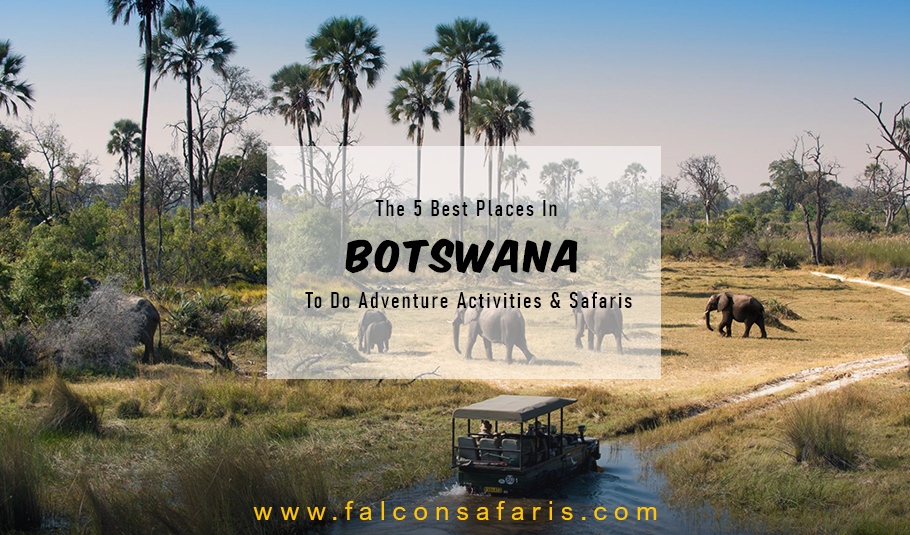 In terms of places to go on safari in Africa, Botswana Safari Tours is a little unique. The country checks all the boxes for extensive wildlife and seeing the Big Five, yet what truly sets it apart is the variety of its terrain.
Botswana is a largely unexplored environment where adventurous visitors can enjoy safaris with a sense of solitude. It delivers everything from the barren desert of the Kalahari to the swampy marsh of the Okavango.
If you're planning a Botswana Safari Tours, we've curated a list of some of the best places in Botswana for Safaris and Adventure Activities.
5 Best Places for a Safari in Botswana
There are many places in Botswana Safari where you can take part in adventurous activities. We've arranged a list of the 5 best places.
Go on a Safari in Chobe – The Elephant Capital of Botswana
One of the finest safari destinations on the planet, if not the best, is most likely Botswana. There are many Botswana National Parks to choose from, but Chobe National Park, which is close to the borders of Namibia, Zambia, and Zimbabwe, always stands out.
Chobe is massive and has many different areas. Including the more isolated Linyanti and Savuti concessions. Even so, most people typically visit the Waterfront area because of its location, which is close to the town of Kasane, as well as Livingstone (Zambia) and Victoria Falls (Zimbabwe). It's also possible to travel from Victoria Falls to Kasane for a day tour.
There are several accommodations within the park and many services that can arrange camping safaris. While staying nearby in Kasane, Victoria Falls, or Livingstone, you can also take easy day trips into the park on a Botswana Self Drive Safari.
Usually, you'll need to fly in or go on a Botswana Mobile Safari to reach the more isolated locations.
Activities
In Chobe National Park, you can engage in a variety of activities like:
Bush Safari – You can visit the Chobe Forest Reserve while on a guided Botswana Walking Safari.
Fishing – Chobe National Park offers visitors a laid-back fishing environment.
The Pride of Zambezi is the name of the boat cruise offered by Chobe Princess Cruise. In one of the five gorgeous cabins, you can reserve your suite. As well as taking a Botswana Luxury Safari.
Visit traditional tribal settlements in a rural village, and appreciate Botswana as it truly is.
Photographic Safari – You can join others who share your interests on a Botswana Photographic Safari. And, you can document your favorite Botswana Safari Tours experiences.
Chobe Wildlife – What will you See?
The Big Five can be seen in Chobe National Park, which also contains the greatest population of elephants in Africa (around 50,000). It includes around 450 different bird species.
There are other Botswana Wildlife you can also witness. Including African Cape Buffalo, Crocodiles, Leopards, Hippopotamuses, Blue Wildebeests, etc.
Witness Meerkats in the Makgadikgadi Pans National Park
The region around the gorgeous and rich Jack's Camp or the San Camp on the edge of the Ntwetwe Salt Pan is the finest site to see habituated meerkats. From the town of Gweta, you can arrange day tours or overnight camping excursions to the Makgadikgadi Pans
Hop on a Horseback Safari in Okavango or Northern Tuli Game Reserve
One of the popular Botswana Activities is going on a Horseback Safari.
These are quite expensive. But it's unlike any other activity because you can frequently get closer to the animals than you would be able to on a Botswana 4WD Safari or a Botswana Walking Safari. Because the animals won't be afraid of horses.
The Northern Tuli Game Reserve, Okavango Delta, and Makgadikgadi Pans are some locations to go on a Botswana Horseback Safari.
Pop by to the Okavango Delta
The Okavango Delta, one of the world's most distinctive landscapes and a UNESCO World Heritage Site, is a given for a Botswana Safari Tours.
There are several luxurious lodges in Okavango that are located on islands. They're only accessible by plane or helicopter. But, you can also enter by boat or canoe if you're camping. If time or money is an issue, Maun also provides day tours that are included in your Botswana Safari Packages.
Khwai Concession and Moremi Game Reserve, two of the top Botswana Safari locations in Okavango are reachable by road from Maun.
You can also arrange boat trips into the canals from the lodges and campsites in the area.
You can pretty much count on seeing incredible Botswana Wildlife sightings. Because the area borders Chobe National Park which is home to the big five and many predators like cheetahs and leopards.
Riding in a mokoro across the waterway of Okavango is one of the most well-liked Botswana Activities. This will likely be how you enter the Delta if you're camping.
Whether you are camping or staying in a lodge, all of the lodges in the area can arrange this activity for you, and you will typically have a mokoro ride or two included in your Botswana Safari Packages.
Witness the annual Zebra Migration and Flamingoes in Kalahari
Great locations to observe the yearly zebra migration are the Makgadikgadi and Nxai Pans.
December to January (when the herds are coming) and March to April (when the herds are departing) are the perfect months to see the Annual Zebra Migration.
The Central Kalahari Game Reserve Is a great place to come during the Wet Season (November to April). It's also quieter and you'll likely see some reduction in prices. The only downside is that it makes driving a little more challenging.
Some Adventure Activities to take part in Botswana
There are some other adventure activities that you can also take part in like:
Ride a Quad Bike across the Makgadikgadi Pans
You can hop on an ATV or quad bike. It's one of the most popular activities for adventure lovers in Botswana. This can be organized through the Botswana Accommodations that you'll be staying in.
You'll also get an opportunity to stay in a star bed and witness the clear blue sky. Most of the camps will provide this Botswana Activity for you.
There are some unique hiking destinations in Southern Botswana. You can go hiking up in Kgale Hill and enjoy the exceptional view from up top. Another view that's popular among visitors is the Mab Hill in Tiokweng.
You can arrange a gorgeous helicopter trip to give your Botswana Safari some extra flavour. Due to the recent arrival of new helicopters and pilots who have been stationed permanently at various locations near Maun, they have significantly decreased in price.
You can see the gorgeous Botswana scenery below without any obstructions. The helicopter experience is greater than a scenic flight on a fixed-wing aircraft.
Climb on a Hot Air Balloon Safari
Hot Air Balloon Safaris above the picturesque Okavango Delta is another adventurous activity you can participate in Botswana. It takes place every year from April to September. And provides visitors with an unparalleled game viewing experience. A bonus is that you won't constantly hear the loud noises that come with a helicopter engine.
The Hot Air Balloon Safari will improve your overall understanding of Botswana. It enables you to leisurely float above the sky while admiring the beautiful landscapes of the Okavango Delta.
If you're looking for the best places to do Safaris and Adventure activities in Botswana, then make sure to follow the above guide to make your Botswana Trip memorable. If you have any queries/and, or suggestions, feel free to contact us on the following details
+263 83 284 1840/1 or
Email: info@falconsafaris.com
Also, check out some of our other blogs on Botswana
Conclusion
Finally, when planning your Botswana Safari, ensure to visit the above-mentioned places to have an unparalleled Botswana Safari experience. These places have the best game viewing and adventurous Botswana Activities. And, you're guaranteed to have a memorable Botswana Trip which will leave an excellent experience in your mind.