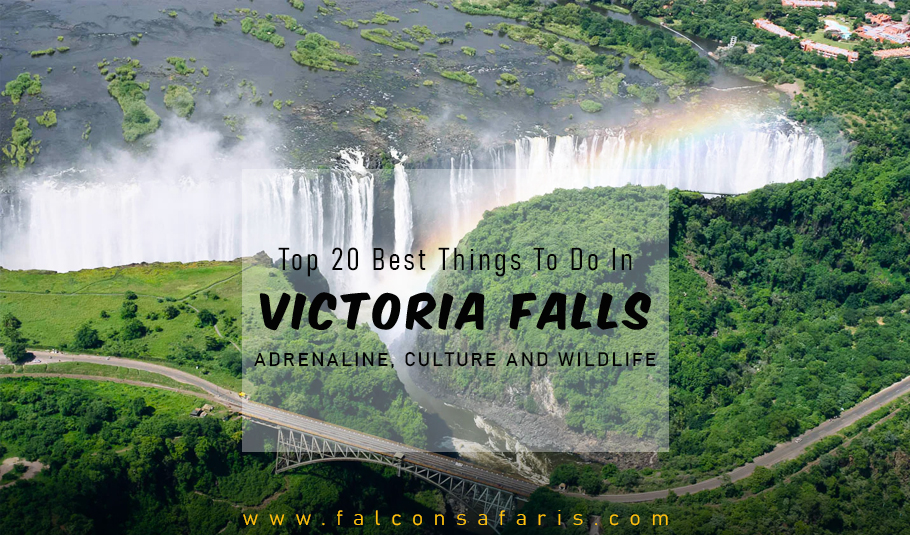 A visit to one of the Seven Natural Wonders of the World is something you need to consider at least once in your lifetime. It is often said that "water is life," then how can you say you've started living if you haven't seen the incredible 625 million litres of water that flow over the edge of Victoria Falls every minute. Many who have visited the area have marvelled and promised to visit again and again. Let's get into the Things To Do In Victoria Falls.
In fact, that's not all, to add some icing on the cake; there are so many other great sights to see and things to do whilst in Victoria Falls, and as Falcon Safaris we are ready to take you by the hand and cater for your holiday needs, whether you are up for an adventure or you'd rather relax, there is always something for you. Below are the top 20 Victoria Falls Activities to explore.
Visit the Victoria Falls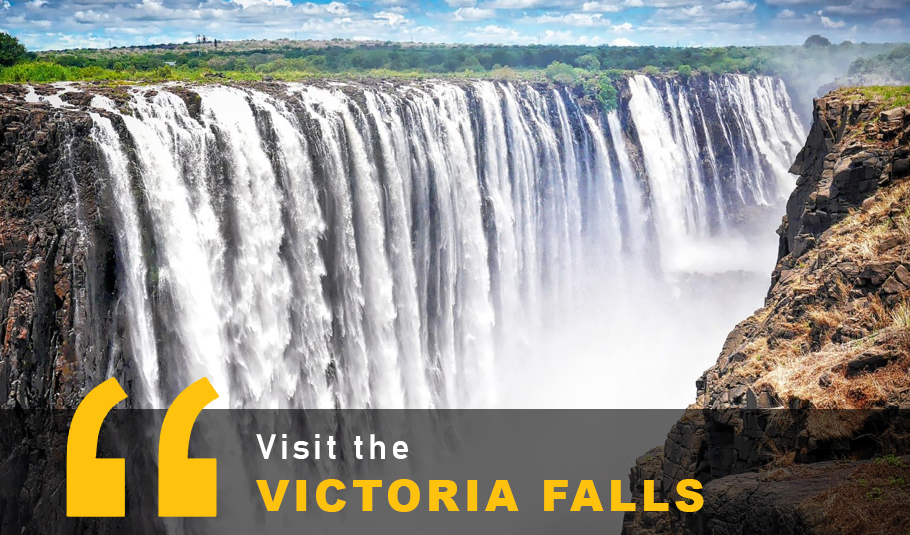 This comes as a no-brainer; Victoria Falls Tours should be the number one activity on your list before anything else. You have to see why it is one of nature's greatest wonder for yourself because explaining it might not give it the credit it deserves. It is the world's largest curtain of falling water and a UNESCO World Heritage site.
On the Zimbabwe side, you will find 75% of the falls and the Victoria Falls Rainforest. Which is evergreen and ever moist making it home to bushbuck, warthog, monkeys, and a variety of bird species. You will also find the David Livingstone statue overlooking the falls. Expect to be in the falls for 2 to 3 hours or even more as you will be following a network of paths that will take you through 16 viewing points where you will pass through Devil's Cataract, Horseshoe Falls, Rainbow Falls before seeing a beautiful view of the Victoria Falls Bridge towards the end.
Go On A Helicopter Flight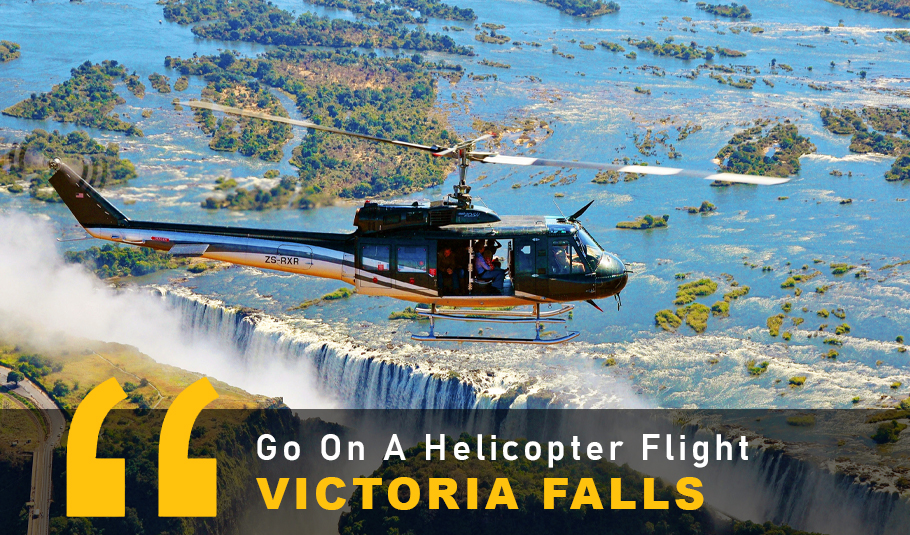 If you want to see the falls in style and in a completely different and exhilarating way then this activity is for you. The Victoria Falls Helicopter Tour takes you over to see them from a bird's eye view and it has to be the most beautiful thing you will ever see. David Livingstone described the view as scenes so lovely that they must have been gazed upon by angels in their flight. You will also see the surroundings, and the gorges, and get a chance to spot games from high above.
Soar above one of the world's most spectacular waterfalls on this Helicopter Flight over Victoria Falls. Fly up the Zambezi River and past the Batoka Gorge on your chosen 12-13 or 25-27 minute flight.
Dare To Swim In Devils Pool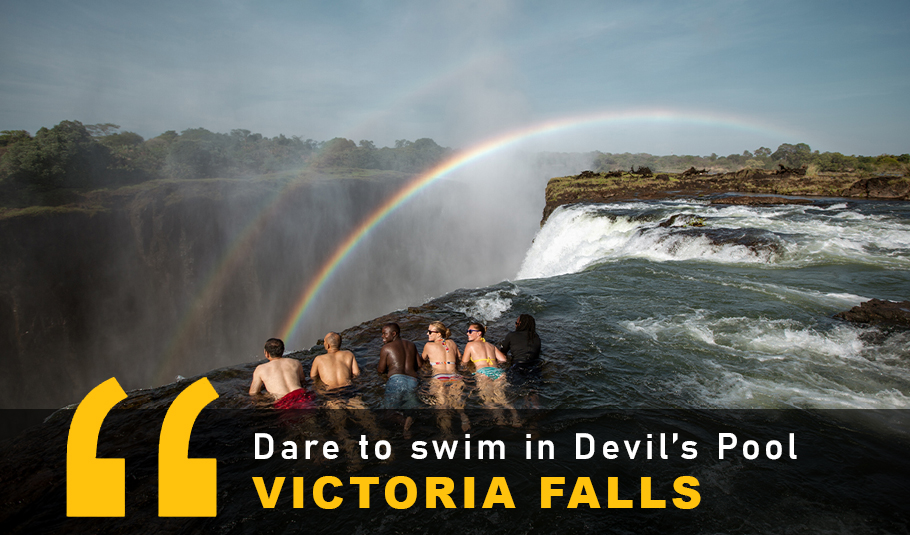 This is definitely a blood-rushing, heart-pumping activity to do whilst you are visiting Victoria Falls on the Zambian side. It allows you to swim to the edge of the waterfall to the daring Devil's Pool where you can feel the water as it cascades all the way down to the bottom. It can only be done during Low Water Season when the current is calm and stable. You also get an opportunity to explore Livingstone Island and stand at the exact same spot where the famous David Livingstone first set eyes on the falls whilst you are there.
Embark On The Feast Of Beasts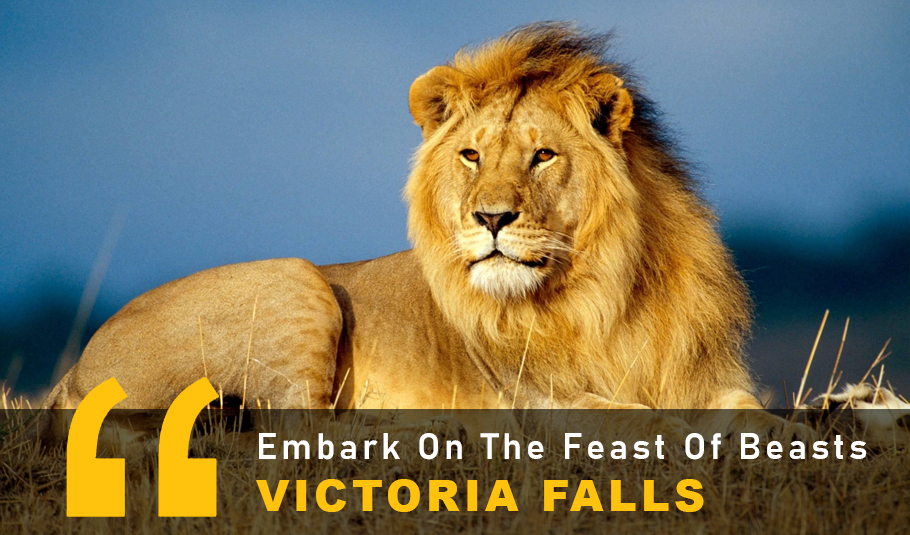 Described as an experience like no other, this is a must-do activity in Victoria Falls Tours. It allows you to jump into a game vehicle and take a drive to meet a pride of lions in their natural habitat. It not only guarantees you to see the big cats but it is educational and helps spread the word of conversation. The biggest highlight of the activity is when you watch the incredible beasts as they feast. They charge toward you and devour their food that is placed a few meters in front of you giving you an adrenalin rush not to be missed.
Go Bungee Jumping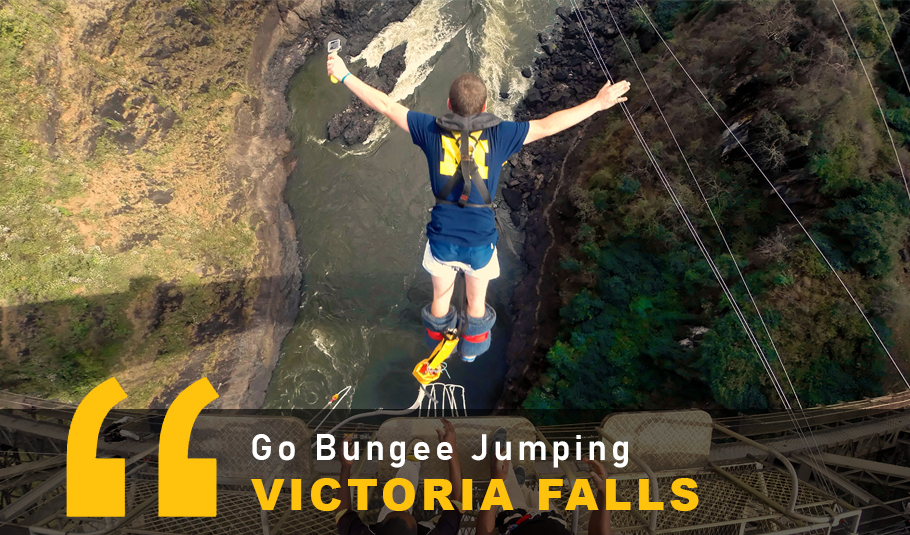 This is one of the most dreaded Victoria Falls Activities but also one of the most exciting. You get to jump of the 110m long bridge and take a free fall towards the rushing rapids of the Zambezi River with the scenic Victoria Falls behind you as a backdrop. You will be safely secured with a bungee rope and Bungee Jumping Victoria Falls considered a very safe activity.
White Water Rafting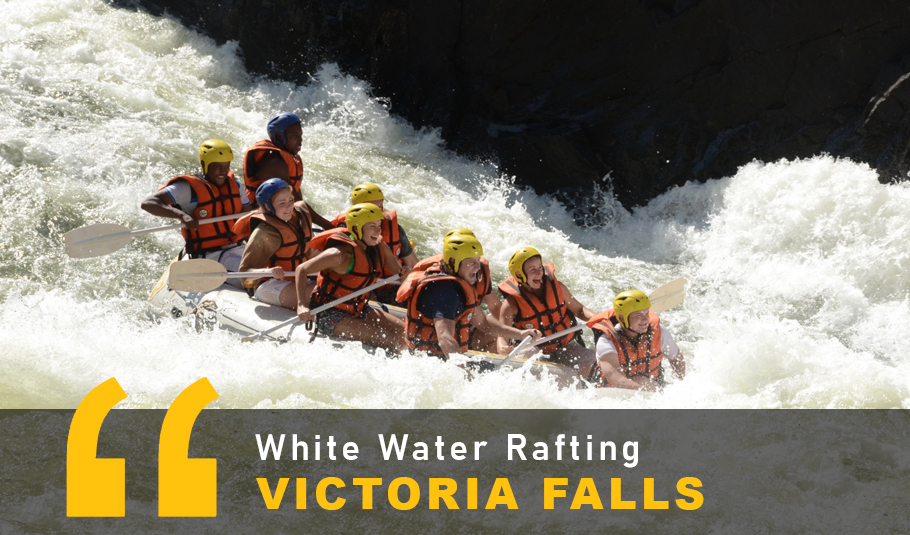 With this activity, you are in for a wild ride flowing downstream of the Zambezi River. White Water Rafting Victoria Falls season is opened during the dry season and closes in the wet season because of the difference in water levels. It is safe and fun to do when the Falls are not in full flood. You go on an adventurous Victoria Falls Activities like White Water Rafting excursion below the falls while the currents aren't too strong for your safety. From August to Early January is the ideal time to experience the thrills and spills of some of the world's most dangerous rapids. Choose between a Half-Day or Full-Day Excursion with an expert guide.
Go On A Sunset Cruise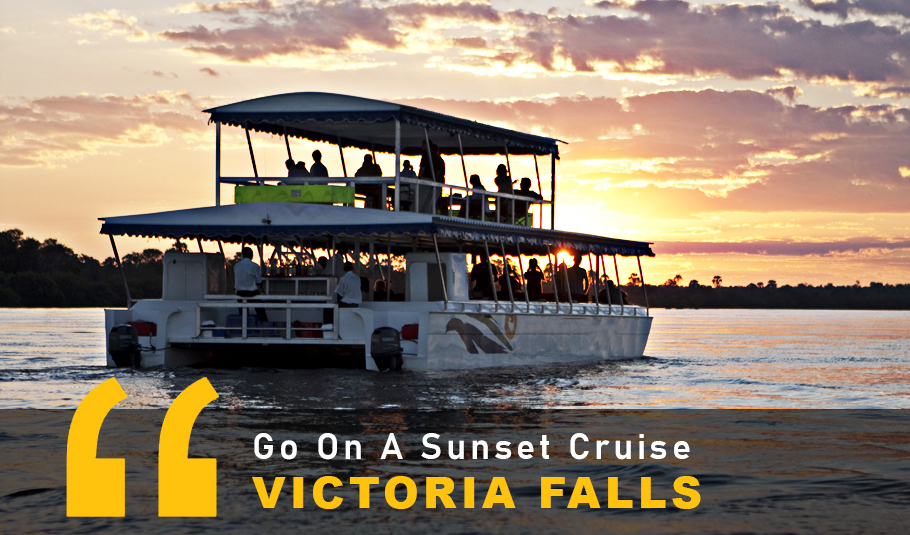 This is one of the most relaxing activities you can do in Victoria Falls Tours. It gives you the chance to cruise above Africa's 4th largest river and view its finest sunset giving you beautiful scenery to marvel at and Wonderful Photographic opportunities. You will be cruising about 2 kilometres away from the Victoria Falls upstream, where the river is broad and slow and the current is calmer. There is a high chance to see hippos, crocodiles, giraffes and elephants. Normally elephants are good Swimmer across the river.
Boma Dinner And Drum Show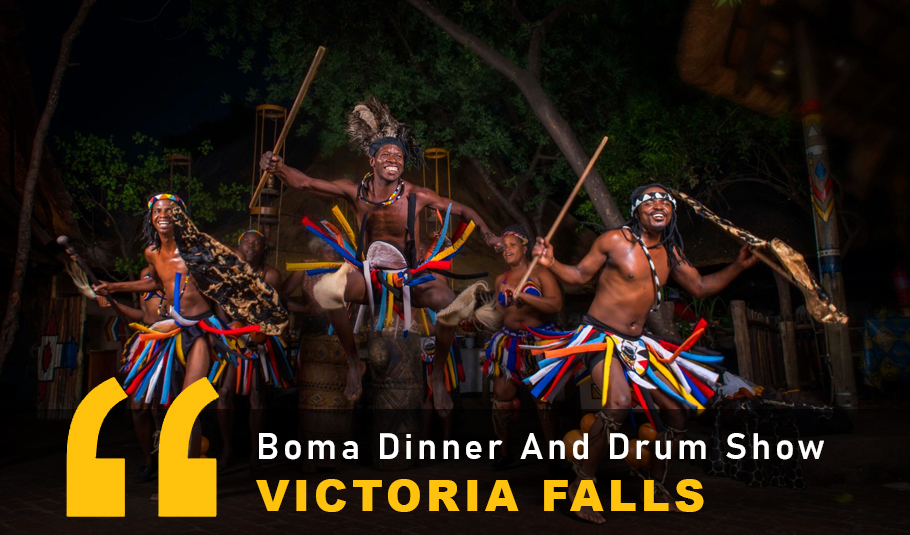 Visit the Victoria Falls Safari Lodge's famous Boma restaurant for an evening of good food, vibrant dance and drumming entertainment. This is a unique experience of being fully immersed in the local culture. You'll be entertained by music and traditional dancers while enjoying delicious cuisine (including local specialties like our traditional beer, kapenta fish and mopani worms). You will hear stories about culture and legacy from a sangoma and get you palm read if you so wish. The best part is that you'll get the opportunity to participate in a fantastic drumming session.
Morning And Night Game Drive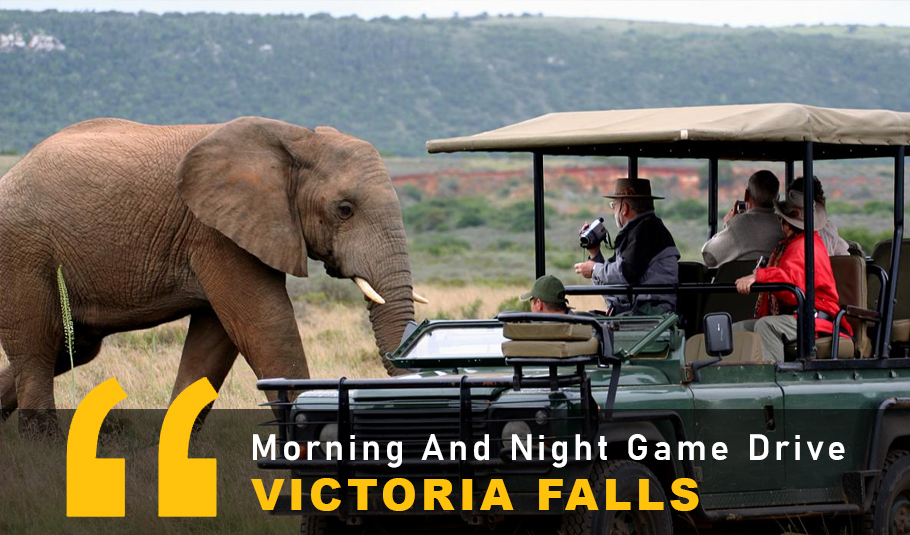 There is nothing more exciting than going on a Game Drive In Victoria Falls in the Zambezi National Park that is 5 minutes away from town. These night game drives are quite a thrill and provide a wonderful opportunity to spot the nocturnal animals which are more active at night than during the day. The area is rich in wildlife and animals draw closer from the wild in search of greener pastures and to be in close proximity to the source of water. You will be in for an amazing adventure as you will see a wide range of the game. Morning game drives allow you to see mostly the big cats as they tend to sleep during the day when it's hotter.
Go For High Tea At The Victoria Falls Hotel.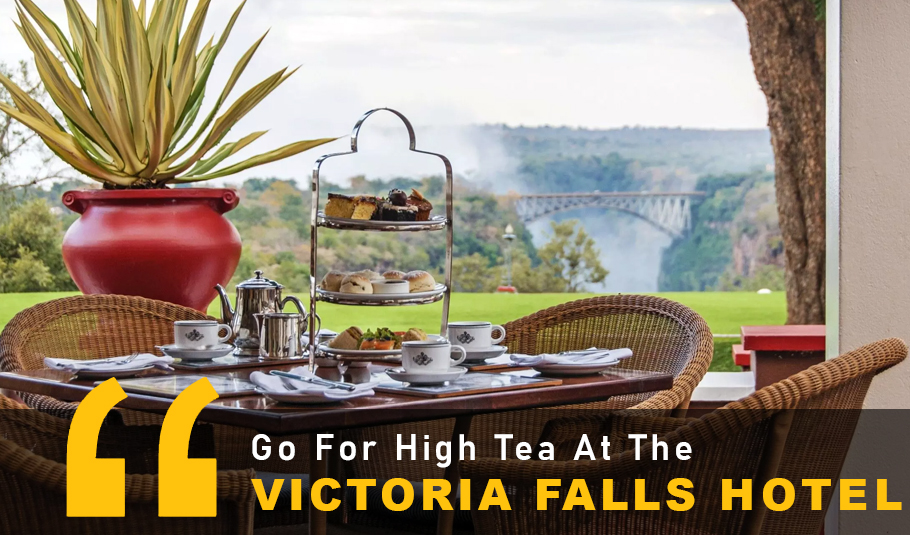 The Victoria Falls Hotel is one of the oldest and grandest hotels in Victoria Falls. It was once graced by the presence of Queen Victoria herself long back and it boasts of a feel of royalty and elegance. Visit in the late afternoon for an elegant high tea on the terrace that overlooks the famous Vic Falls Bridge. You will be served with sweet and savoury treats and some sunset cocktails as you watch the spray from the falls like and feel part of more than a century of history.
Do The Exciting Township Tour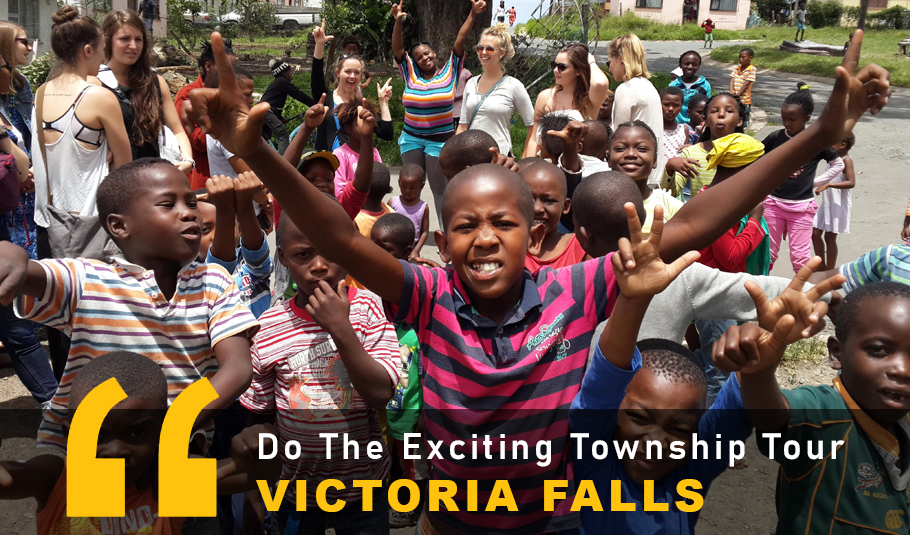 The Chinotimba Township, which is a fantastic area to meet and greet the locals, is home to a substantial percentage of Victoria Falls' population followed by Mkhosana. The Township Tour will take you to visit some of the local bars, the market, or some churches so that you gain insight into township life and appreciate the life of the locals. Visiting the local primary school to see the kids is a highlight during the school year, and they may even perform for you. Zimbabweans are among Africa's warmest and friendliest people, but remember that this is their home, not a tourist attraction. Before snapping pictures, make sure you've asked.
Do The Village Tour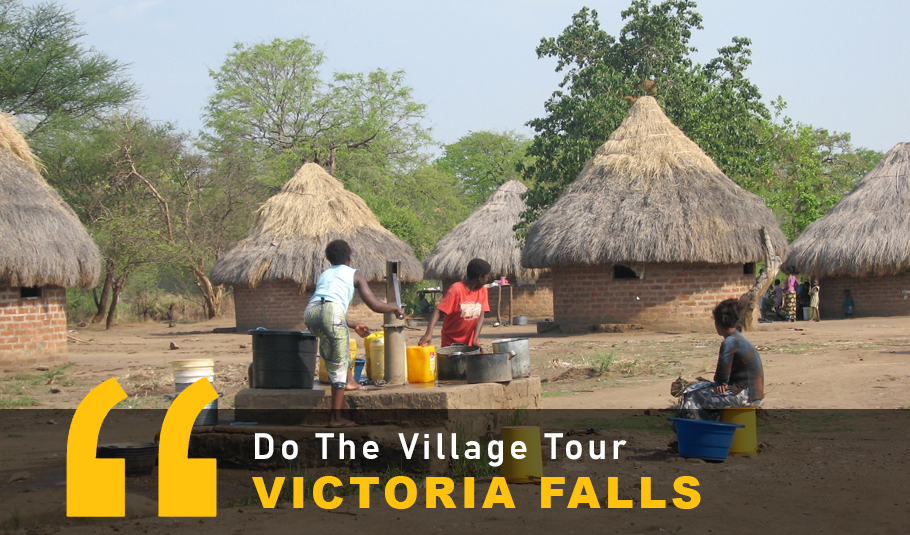 This is similar to the township tour but is done in the small villages around Victoria Falls. Victoria Falls Traditional Village Tour allows you to see and spend time with the locals living outside the city which they really appreciate. You get to experience the local culture as you explore a traditional village just 20 minutes out of town. At the village you are given the chance to interact with the local villagers in their rural homes going about their daily activities With Victoria Falls Tours.
Chobe Day Trip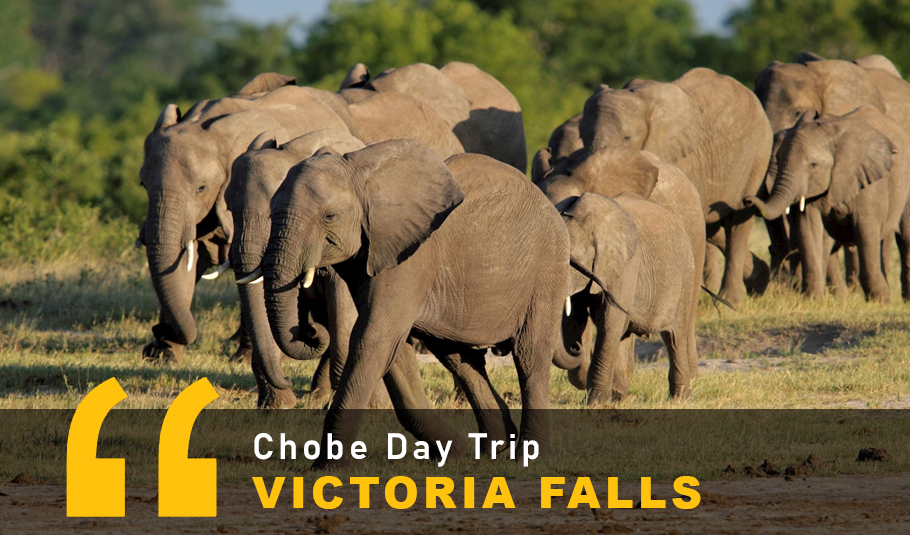 Chobe National Park in Botswana is only 80 kilometres away, making it an ideal addition to your Victoria Falls Activities. It's ideal to travel during the dry winter months, when wildlife needs to drink from the Chobe River. Improving your chances of seeing elephants, buffalo, antelope, and lions.
Hwange Day Trip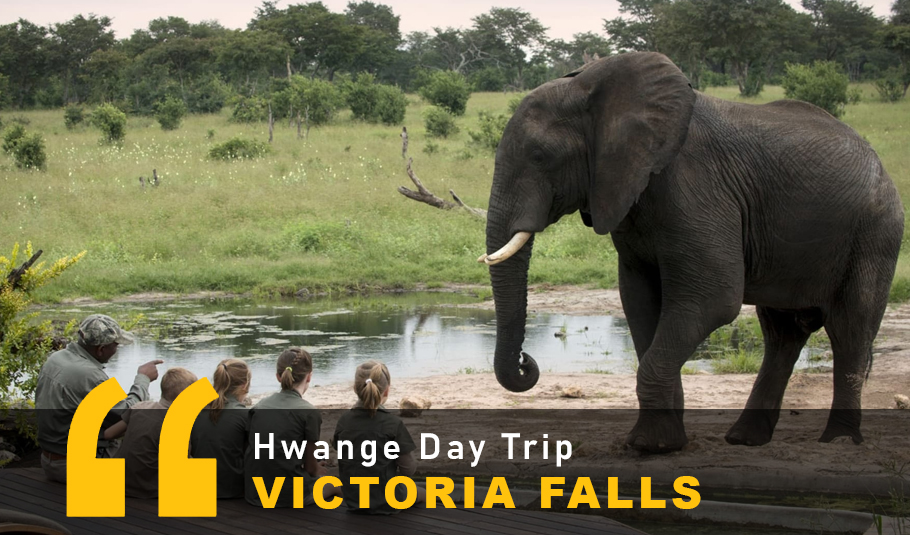 The Hwange National Park, Zimbabwe's premier game reserve is just 150 kilometres from Victoria Falls. And offers a great addition to your Victoria Falls Activities. There are more than 100 species of mammals, including lion, leopard, buffalo, cheetah, wild dog, zebra, wildebeest, and antelope such as eland, kudu, and sable. There are over 400 bird species, including the colourful carmine bee-eater in the summer. It is so rich in wildlife that you will love it.
Bridge Activities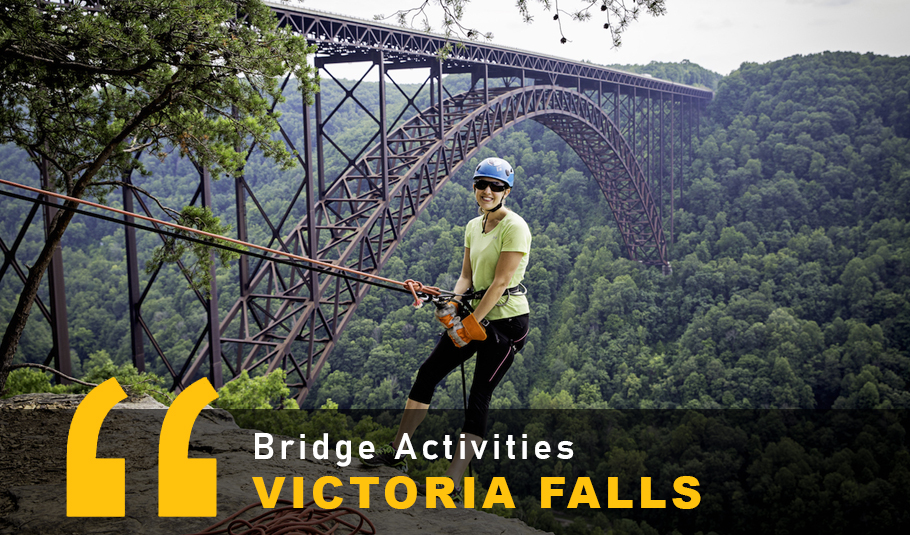 This includes a wide range of activities that you can do on the Historic Victoria Falls Bridge. Victoria Falls Bridge activities on the border between Zimbabwe and Zambia, are the most epic heart-thumping activities offered in the Victoria Falls area. These include a bridge tour, which is very informative and educational. There are also adrenalin activities like the Victoria Falls Bridge Swing and slide.
Gorge Activities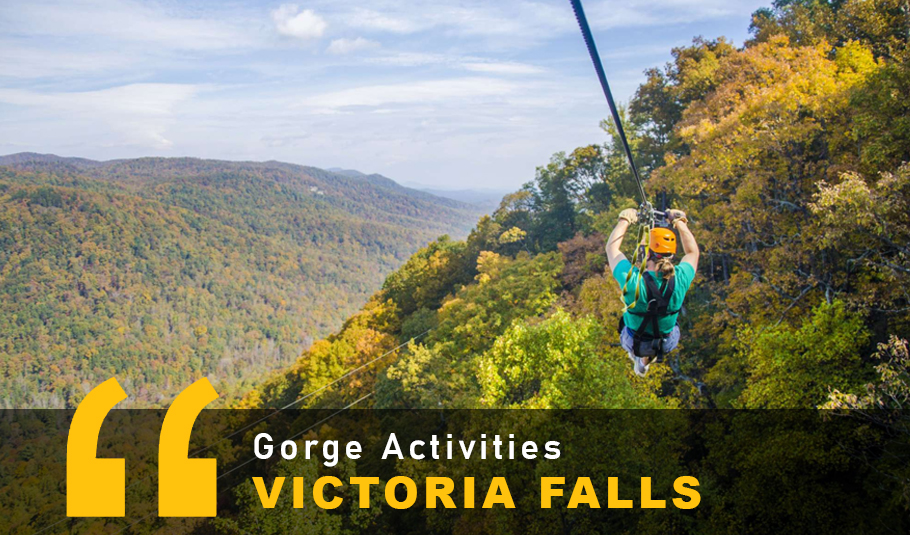 The gorges also have so many activities that you can do from Zip Lining, to Gorge Swings, canopy tour and Flying Fox. You can always find at least one or two of these activities worth trying.
Micro Light Flights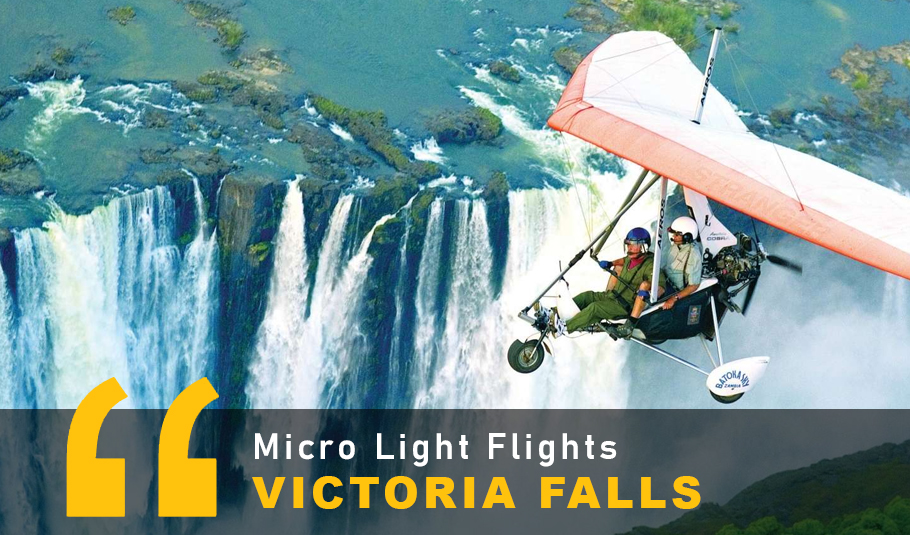 This is similar to the Victoria Falls Helicopter Flight except it is done in a Microlight Flight Victoria Falls and is only available in Zambia. It offers unique breath taking views of the Victoria Falls and the spectacular gorge that the Zambezi. Has carved into the surrounding landscape over many thousands of years.
Lunar Rainbow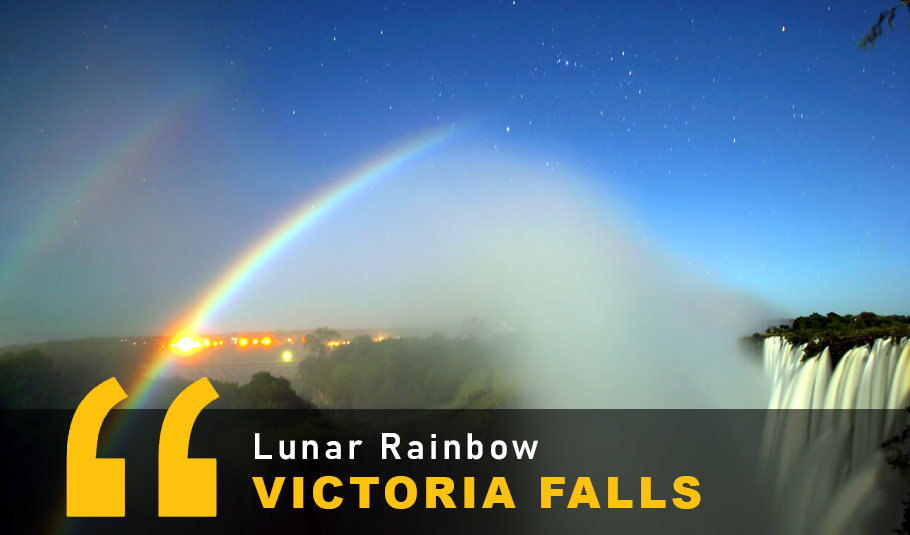 This has to be one of the most beautiful views you will see during your stay at Victoria Falls. lf you are lucky. Victoria Falls is one of the only 2 places on earth where you see the Lunar Rainbow Tour on a continuous basis. You can see the ghostly lunar rainbow when there's enough spray to create the moon bow effect during a full moon. The moon bow happens when water particles in the air refract light to form a rainbow. The Falls are opened for three nights during a full moon, including the day before and the day after. For safety reasons, this activity is available only with qualified guides.
Horse Back Safari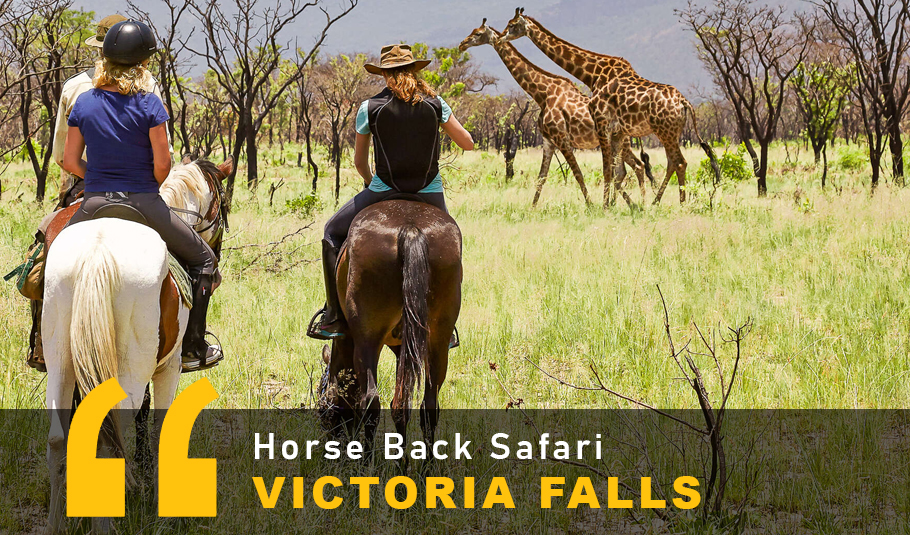 Get a chance to explore the Victoria Falls region in an entirely new way, go on a horseback safari. And get up close and personal with the wildlife of Victoria Falls Tours, while exploring the Zambian landscapes. You are provided with spectacular views of the falls & you have better chances of seeing some of the local games.
Elephant Encounter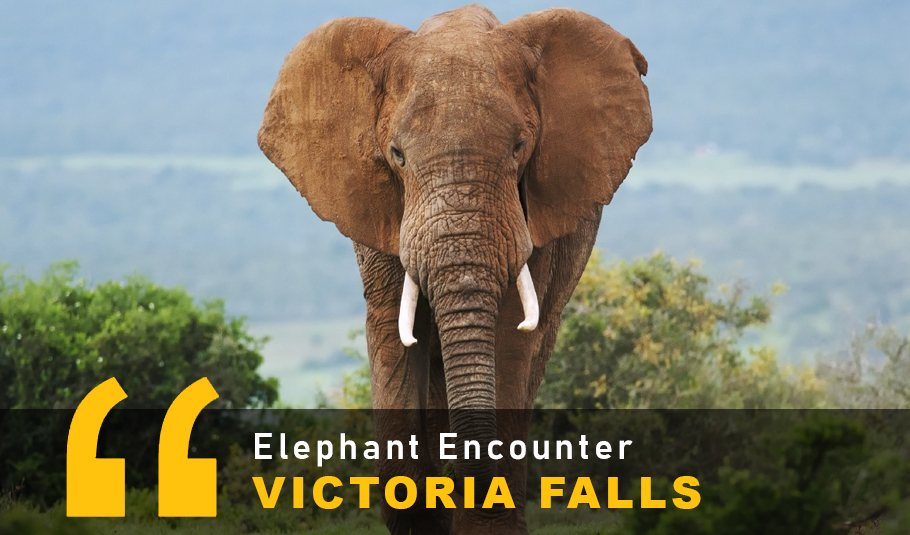 Why not go on an encounter with Africa's Biggest Giants. Getting your blood rushing as you interact with elephants and watch them as well as feed them. For those into art, you can get a chance to paint them up close and personal.
These are not the only activities you can do in and around Victoria Falls. But some of the top 20 Victoria Falls Activities. You can do that guarantee a memorable fun filled vacation. Falcon Safaris is ready to help you in deciding the activities that best suit you. The next time you visit please do consider them and have an unforgettable experience.