Botswana Honeymoon Safari has gained the limelight with the likes of Elizabeth Taylor, Meghan Clarke, and Prince Harry visiting this luxury destination.
In 2024, we can say that a honeymoon safari to this destinationis one of the most luxurious and adventurous experiences a couple can share. This is because of the country's high-quality expeditions and low-volume tourism policy.
Botswana Safari Tours for honeymooners offer them an environment of solitude and romance where couples can simultaneously immerse themselves in nature and luxury. Here is what you need to know before choosing Botswana as your honeymoon destination in 2024.
Is Botswana a Good Honeymoon Destination?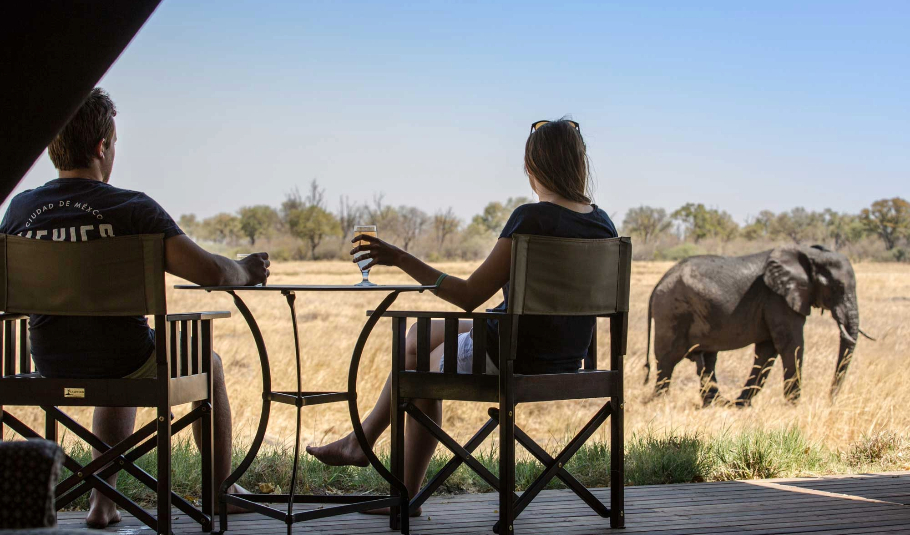 Absolutely, Botswana is an excellent choice for couples seeking a honeymoon that goes beyond the traditional.
How many couples can say they've enjoyed a candlelit dinner next to a watering hole frequented by elephants? A Honeymoon Safari in Botswana will allow you to witness this and much more and will be an exceptional bonding experience for couples.
Botswana's high tourism standards ensure that your adventurous safari doesn't compromise comfort or amenities. This country uniquely blends comfort, luxury, and raw, untamed beauty.
As you navigate your new life together, each Botswana Safari game drive offers fresh surprises and insights—not just about the wilderness but about each other.
Exciting Fact: Botswana focuses on high-quality, low-impact tourism, meaning your honeymoon will be exclusive and eco-friendly.
The Pros of a Botswana Honeymoon Safari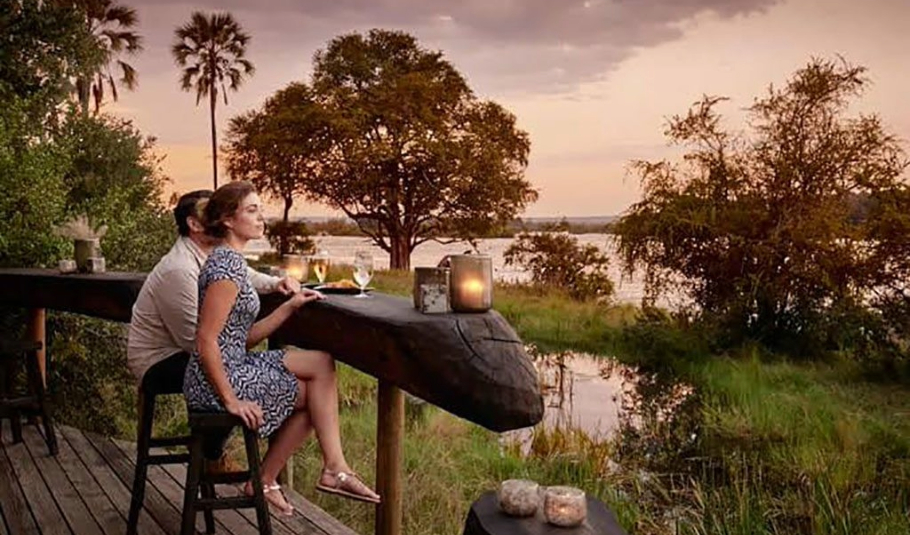 A Botswana Honeymoon Safari is a top-tier choice if you're looking for a luxurious and memorable adventure. So, what sets Botswana apart? Let's look into its advantages:
Botswana Destinations maintains high standards in its tourism sector, ensuring that your experience exceeds the norm compared to other safari destinations.
Most tourism professionals speak English in this Commonwealth nation, making communication straightforward for most international visitors.
Typically, you'll fly into Johannesburg and then take another flight to Maun. From Maun, it's just a short hop on a bush plane to reach your safari destination.
Most Botswana Safari Packages include everything—from food and lodging to game drives—making your stay truly full-service.
The warmth and friendliness of the local people add an extra layer of enjoyment to your Botswana Honeymoon Packages.
Luxury lodges provide a complimentary laundry service, so you don't have to worry about the dust and mud from your adventures.
Many first-timers find themselves so impressed by the safari experience that they keep returning. The French call this phenomenon "Mal D'Afrique," a nostalgic longing to return to Africa.
The pros of opting for a Honeymoon Safari in Botswana are numerous. With a focus on quality and luxury, coupled with exceptional local hospitality, Botswana makes for an unforgettable start to married life. So, if you're planning your honeymoon, consider one of our Best Botswana Safaris as a top contender.
The Cons of a Botswana Honeymoon Safari
Opting for a Botswana Honeymoon Safari has unique challenges that could make it less suitable for some couples.
Limited Connectivity. You'll find limited internet and mobile services access in remote safari zones.
Fear of Flying. The bush planes used in Botswana Safari Tours may not be ideal for those apprehensive about air travel.
Long Journeys. Travelling from distant places like the U.S. means up to 48 hours of travel time, with the added nuisance of possible jet lag.
Health Concerns. You'll need to consult your doctor for malaria medication and vaccines well in advance.
High Botswana Safari Cost. This dream trip comes with a hefty price tag, making some Botswana Honeymoon Packages more common among well-established couples rather than young newlyweds.
Despite these drawbacks, the adventure and luxury Botswana Honeymoon Safari Packages offer make it an attractive choice for those who decide it's the right fit for them. The hurdles can add to the sense of adventure and make your Botswana Safari Holiday Packages more memorable.
The Best Time for Botswana Safari Vacations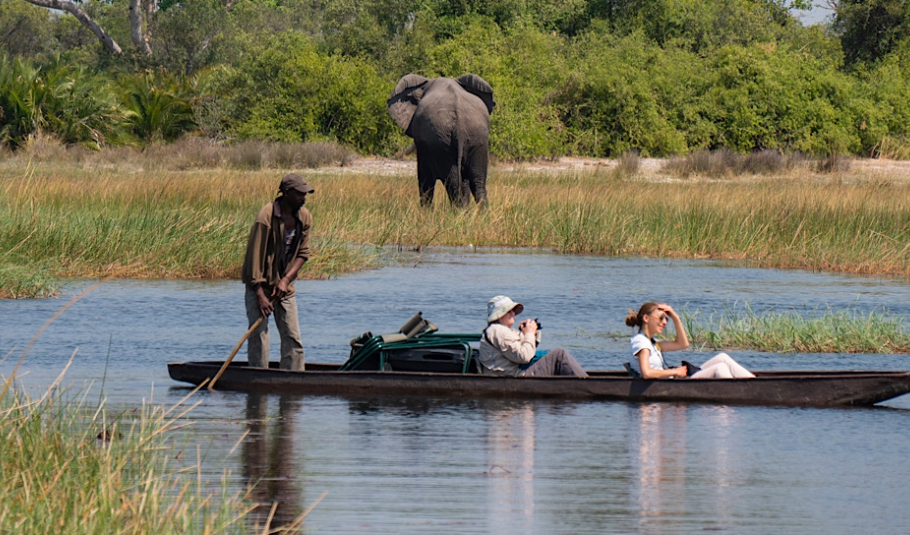 After going through the pros and cons of a Botswana Honeymoon Safari, you might wonder when is the optimal season. Let's break it down:
Dry Season: It's the dry season from May to October. You'll see a lot of animals gather at water holes. It's a fantastic time for Botswana Safari Vacations if you're into wildlife photography.
Wet Season: November to April is when Botswana gets its rains. This is when the landscape turns green, and you'll see newborn animals. But be prepared for muddy trails.
Mixed Bag: July and August are in-between. You get fewer crowds, but it can get chilly at night.
To summarise, the Best Time for Botswana Safari depends on what you want to experience. Go in the dry season to witness clear skies and observe animal activity. But if you love lush landscapes and don't mind a bit of mud, the wet season has its charms, too. Either way, with the suitable Botswana Honeymoon Packages, your experience will be unforgettable.
Things to Do in Botswana
With plenty of Things to Do in Botswana, we assure you there will never be a dull moment on your honeymoon. Let's give you a glimpse of what this luxurious destination has in store for you:
Morning Safari in Chobe Park
Wake up early and go on a safari. This way, you skip the long lines and see animals like lions and zebras up close. It's a great way to start your day on your Botswana Honeymoon Safari.
This is called a 'sundowner'. Picture yourself sipping a drink with your loved one while watching a beautiful sunset over the Okavango Delta.
Imagine sleeping outside safely in a comfy bed. The sounds of nature will surround you. This is a special treat in many Botswana Honeymoon Packages.
Take a calm boat ride together. You'll see animals like elephants and hippos in a quiet and beautiful setting on Okavango Delta Safari.
Look for Animals in the Evening
As the sun sets, animals like elephants and lions come out to play. Your evening safari can be a highlight of your Botswana Honeymoon Safari.
Want something extra special? Take a helicopter ride to see the Delta from the sky. It's a fantastic experience you can share.
After all the excitement, relax at your luxury camp. Maybe take a nap before you head out again.
Some trips let you visit a school or do something good for the community if you like.
So, for couples, this list of Things to Do in Botswana offers excitement and relaxation. Your honeymoon can be as chill or thrilling as you want!
Accommodations for a Botswana Honeymoon
Botswana has something to cater to every couple's taste, from luxury lodges to tented camps. Some top picks include:
Sanctuary Baines' Camp
San Camp
Camp Okuti
Xugana Island Lodge
Muchenje Safari Lodge
Ready to experience the best of Botswana in style? Browse our curated selection of Botswana Accommodations to find the perfect setting for your dream honeymoon.
What to Pack for a Botswana Honeymoon Safari?
Going on a Botswana Honeymoon Safari is more laid-back than fancy spots like Dubai or the French Riviera. But it would be best to still pack smart, as small bush planes have luggage limits. Here are some essential items to include in your Botswana Safari Packing List.
Comfy Clothes in Earth Colors. Suitable for game drives. Light fabrics like linen are best.
Hat and Sunscreen. The sun is intense, so protect your skin.
Bug Spray. Keep those insects away. And don't forget malaria pills from your doctor.
Good Shoes. Pack boots or sneakers if you don't mind getting dirty. High socks are suitable for Botswana Walking Safaris.
Something for Cold Evenings. Nights can be chilly. So, a light sweater will do.
Lastly, getting trip insurance for your Botswana Safari Tours is a good idea. Now, once you're packed, you can focus on enjoying your time in Botswana. You'll find different Botswana Safari Vacation Packages to pick from. Choosing the right package makes your Botswana Safari Holiday even better.
Love, Adventure, and Luxury on Botswana Safari
A Botswana Honeymoon Safari offers an unparalleled blend of adventure, luxury, and intimacy. From marvelling at incredible wildlife to savouring sunsets with your loved one and unwinding in high-end lodges, the moments you create here will last a lifetime.
As you start this new chapter of your lives together, our Botswana Honeymoon Packages are designed to help you make memories you will cherish forever.
Are you eager to begin this romantic adventure? Secure your dream honeymoon now with Falcon Safaris!